Main Page

Shingo Mama

Shingo Katori

Pictures

Breakfast!

SMAP

Japanese Stuff

O'Ha- Rock

Drama Special

Info

Links

Guestbook

Contact me
.
.
..
.
.
..
.
.
.
.
.
.
.
.
.
.
.
.
.
.
.
.
.
.
.
.
.
.
.
.
.
.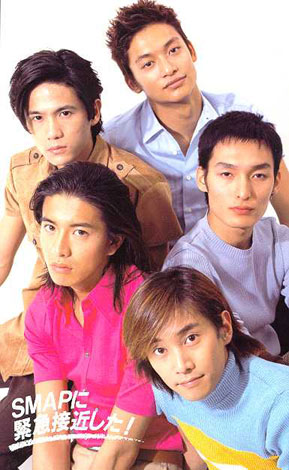 SMAP!!! What is it? If you don't know by now, you don't live in Japan. SMAP is a super-popular, super-marketed five member group owned by Johnny's Entertainment. (You can find out more about JE here, or further down the page.) SMAP stands for Sports, Music, Assembly and People, which is exactly what the group is all about! Except there hasn't been much sports since rollerblading went out with Hikaru Genji and music, well... each to his own. SMAP debuted in 1988 from Johnny's Juniors and were previously the annoying backup skaters for the then super popular boy band Hikaru Genji. (See more about that here.) When they debuted they had six members: Masahiro Nakai, Tsuyoshi Kusanagi, Shingo Katori, Kimura Takuya, Inagaki Goro and Katsuyuki Mori. Mori left, however, to pursue a career in motorcycle racing. A still existant link for a page on him is here.

SMAP does everything. They sing, they act. They are comedians, writers, talents and icons. Most of them are now in their mid to late twenties. This is a little info at the time of writing this page: Kimura Takuya is probably the most popular Japanese actor there is. He's so popular that even the kids like him; in a survey a couple of years ago, middle schoolers voted him the person they'd most like to have as a father. Kimura recently got involved in an unfortunate shotgun marriage. Nakai is the leader, and the oldest. Next to Kimura, he's the most popular member of SMAP, because he has a really pretty face. Kusanagi is a comedian and has acted in dramas such as "Messenger" and "Ii Hito". Inagaki Goro released a book less than a month ago and is now in trouble with the law for hitting a police officer with a car. Unfortunate, too, since SMAP was touring and then had to perform with only four members for a while. And Shingo, our lovely Shingo, is the pretty goof off boy this page is about.

SMAP is constantly on TV and in the media.

In addition to running so many shows off and on that it's useless for me to write them all down, they promote a number of products in magazines and on television. SMAP or one of their members are spokesmen for Levi's, Compaq Computers, NTT, various bank cards, Toyota, ANA, Sony Playstation, and numerous others companies. There are a number of Japanese dramas they act in, and some of the best are still Kimura's, but if you want an entertaining movie to laugh your heart out at no matter what language you speak, Messenger is the one for you.

Johnny's Entertainment - the most difficult thing to describe in a paragraph. Officially, Johnny's Entertainment is a talent agency which specializes in male talents. It's owned by a man named Johnny Kitagawa, who grew up and made his fortune as a talent himself in Florida way back when. Johnny's has produced the majority of the big ones in Japan: Four Leaves, Hikaru Genji, SMAP, Kinki Kids, Tokio, V6, and others which I wasn't around to know. The thing is, none of the talents have to be talented in any way; they ultimately just have to look good, which is where the confusion comes in. Kitagawa has a very, very strong control over the media in Japan. So ultimately, if he wants to make someone famous, he can do it with the snap of his fingers. On the other hand, he can very nearly ruin an artist's career in the same way.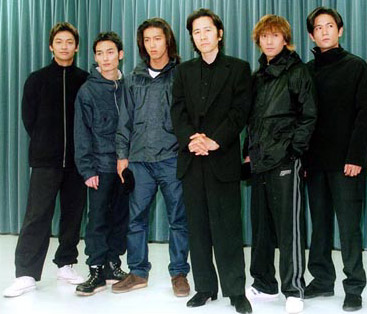 The system works in this way: young boys in their early teens send in their photos and profiles. More often than not, it's done by older sisters who have a dream of having a connection into the agency (rather like my boyfriend's sister did with him!). Then there are tryouts. Those who are chosen begin as backup singers and dancers for the current stars: see, Hikaru Genji began as backup for Four Leaves, SMAP was backup for Hikaru Genji, Kinki Kids was backup for SMAP and Johnny's Juniors were backup for KinKi Kids. In that way, the "juniors" are they're currently called, get used to the environment of being on stage and performing without having to worry about messing up or whatnot. When the kids are eventually grouped off and find their own talents, they debut as groups themselves, and from there on develop their own sound and identity.
Naturally with such a selective and ambiguous agency has a number of rather negative rumors surrounding it. After all, the selection process is identical to that of the Playboy Magazines, and any newspaper which dares to criticise the agency has been severely rebuked. A page which covers a little bit more about the Johnny's Entertainment scandals can be found here, and other articles can be found in the New York Times. Of course, whether all these things are true or not doesn't bother me, because I like Johnny's and I like their cute boys and ultimately, I like what work they do put out.