*Important Note*: These are all my cyber-pets and will stay rightfully mine. Please do not steal them or their names from my site. I have observed proper cybernettique by providing links to the places where I got my cyberpets, so go to those sites to adopt your own, ok? Thank you so very much!
---
The mouth of the caves is completely black and you squint your eyes as you try to see through the thick darkness. You turn around to look at me, as if in asking whether it is safe to go in. I nod my head & snap my fingers. Torches lining the wall burst into flames and fill the caves with their light. The walls are covered and lined with gems of every size and color, each reflecting the light and throwing it back at each other. As you gingerly touch one of these precious jewels, you hear a low growl from deep within the caves and jump back in fear. A lumbering sound slowly approaches the light and if you listen carefully, you hear the soft sound of leathery wings flapping against the cool air of the cave. I step forth and stroke the scaley forehead of the first beast to emerge.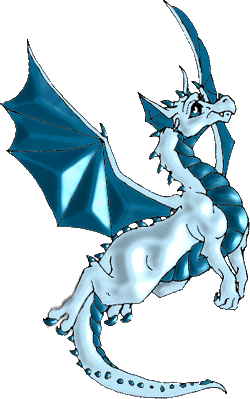 This is Smygol, my first dragon. He was orphaned when his mother was killed by a knight (the knight was probably paid to do it) while defending her nest, or so I was told. I picked him up from Downloadable Dragons and I built this cave for him. He has learnt to get along well with the others and although he likes a cow or two once a week, he doesn't touch any of my other pets. Smygol likes to leave his cave occasionally and circle around the mountain to stretch his wings from time to time, as well as to patrol the area. That's how I knew you were coming *smiles mysteriously*. Sometimes, he takes Gorbash with him and they will race from mountain top to mountain top (they both love the challenge of a good flying race). Most of the time, Smygol likes to try digging deeper tunnels into the cave walls to make extra chambers (that's what he tells everyone, but he actually hopes to find more jewels and gold for his horde). Otherwise, he stays in his chamber to count the jewels on the walls. Oh, did I mention he's an ice dragon? So try not to go to his chambers, or you'll be a popsicle. I installed a cooler unit from a factory freezer in his chambers. I don't allow fire-breathers in the cave...too risky, especially when they get colds. And Smygol loves Oreo cookies. Don't ask me why, but when I brought home a bag of Oreo cookies one day, he started acting like a hyper-active puppy just to get one. *grin*
---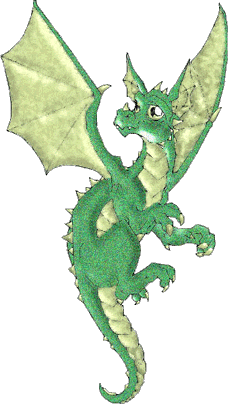 Gorbash is my second and 'baby' dragon. Smygol started getting a little lonely all by himself in the caves and wanted a dragon sibling, so I adopted Gorbash from the same place as Smygol, Downloadable Dragons. Might as well get another dragon from the same place, right? Gorbash has been named after the original Gorbash in the movie 'Flight of Dragons' (one of my childhood favorites), because he looks and behaves so much like the ego-inflated Gorbash in the movie. He's an earth dragon and he isn't a fire-breather either. Gorbash has developed a liking to emeralds, so I always try to keep an eye out for these beautiful pieces whenever I'm taking walks with Steel. Of course, Gorbash insists on coming along sometimes...but he has a tendency to eat someone's cattle along the way.




---
Would you like to make your way to
The Pool or The Barn or The Cottage?

---
Gems courtesy of

---
[Mainpage]
[Datasheet]
[Journal]
[Family]
[Pet Gallery]
[Love Life]
[Friends]
[Site Fights Stuff]
[Coven of the Silver Unicorn]
[Articles]
[Art Cove]
[Library]
[Philatelic Corner]
[Cyberpets]
[Singapore]
[Awards]
[Webrings]
[POW/MIA]
---