You Can Help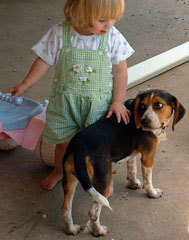 Send in your donation


* * * Please send check or money order payable to one of our representatives.
Mailing adress:
Lone Star Beagle Rescue

Please contact us for valid mailing adress
* * * UPDATES * * *
Abandoned Beagle Needs Help


Baily - Richardson
Beagle male 9+ yrs. Very sweet old boy that deserves better. The neighbor Rescue Angel found him. His owners moved and abandoned him in thier yard. Needs TLC and vet care before he is available. Has grossly overgrown and ingrown toenails. Will also need shots, HW test, dental and other geriatric vetting. We will be needing funds to provide for his veterinary care.
Returned Beagle Needs Help


Lexi - Fort Worth
Beagle female 5-6 yrs. Tricolor. Lovable girl seeking commitment. Returned to our rescue. Has had knee surgery but recovered. Needs pain medication as well as maintenace for allergy problems. We will be needing funds to provide for her ongoing veterinary care.



Beagles from Hurricane Katrina


Most every beagle originating from the recent disaster in New Orleans has come up heartworm positive. Requiring treatment which costs $100 - $300 dollars per hound. Without treatment they will die of heart failure or other pulmonary/circulatory complications. However with treatment, these beagles will be adopted and can go on living a normal healthy life with thier new family.
LSBR not in imediate need of such funds. However there are beagles in need elsewhere. LSBR stongly encourages and endorses any donations *specific* to beagles be sent to our associates in beagle rescue.
Houston Beagle and Hound Rescue
Houston, Texas and surrounding area
website: http://www.houstonbeaglerescue.org/
email: [email protected]
Flower Mound Humane Society
Flower Mound, Texas (Dallas-Fort Worth)
website: http://www.fmhs.org
email: [email protected]




Shopping for Beagles

Our associates Houston Beagle and Hound Rescue have a virtual mall of beagle products to enjoy. The proceeds to these sales go directly towards funding rescue operations for needy beagles in the Houson, Texas area and beyond.
Check it out
Become a Foster Parent

Our greatest need is for foster parents. We try to help all beagles in need. But there are so many in desperate situations waiting for a foster home. There are even more arriving in in kill shelters everywhere. The need is greater than what rescue can provide. Please consider becoming a foster parent for beagle rescue today! If you can find it in your heart to foster a homeless beagle please contact us
For more information on fostering see Foster Homes




Volunteer


We also need volunteers for other rescue duties. Transport, home visits, shelter pulls, etc. Please consider becoming a volunteer for beagle rescue today! If you are interested in any kind of rescue work helping beagles please contact us




Rescue Angels


If you have found a stray beagle or know of any beagles that need our help,
please contact us We will go that extra mile to help you help that beagle that found you!
We are currently in the process of developing a program for our Rescue Angels