Beagles Across State Lines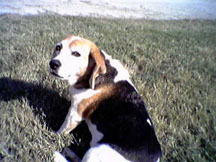 Original story: * * * 9/15/04 Five beagles were dumped at a ranch in East Texas. They were left with many other dogs of different breeds and mixes. Of the beagles there were three males and two females. All are spayed and neutered. These are such sweet and well behaved hounds. Housebroken too! Two older fellows will be going into our rescue program. Two more, a boy and a girl will be going out of state. The last one is a verrry old girl. "Miss Oggie" (pictured right) will soon be travelling to West Texas where she will live out her twilight years in comfort at Old Hound's Retirement Home





Rescue Updates: * * * 9/22/04 Two of the older gentlemen "Wally and Amos" are picked up by rescue. * * * 9/25/04 They are then vetted and cared for by a wonderfull foster family in the Dallas Suburbs. * * * 10/02/04 Petunia and Roscoe, (pictured right at a stopover in West Texas) have been transferred to New Mexico Beagle Rescue Two gratefull Collies, Angus and Blarney joined them on the way to New Mexico Collie Rescue thanks to Dona Anna County Humane Society * * *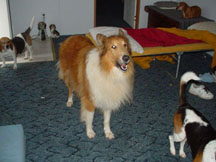 10/04/04 Sadly Blarney passed away from Heart failure. His last day was spent romping the Pecan groves near Las Cruces. This special Collie now has a place in Heaven * * * 10/05/04 Back in Texas, Wally and Amos undergo dental to have teeth cleaned. Both have some teeth extracted.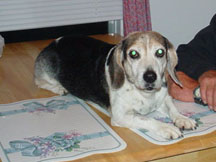 Wally being the more severe case contracted a bad infection in his Jaw that required surgery which he would have died from if not rescued in time. * * * 10/9/04 Still recovering from dental surgery, Wally and Amos are transported to West Texas. They are posted and will be available for adoption Thanksgiving. * * * 10/15/04 Wally is selected as poster hound for the newly formed Lone Star Beagle Rescue. * * * 10/31/04 It has been discovered Amos (pictured right) is deaf but that doesn't slow him down one bit. * * *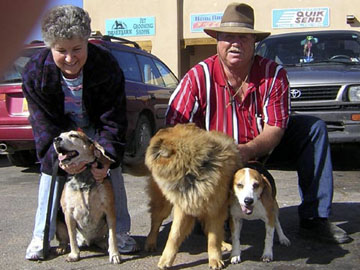 11/10/04 In New Mexico, Petunia and Roscoe have been adopted as a pair and are on the way home to Colorado! * * * 11/17/04 Up in Colorado, the lucky family of Petunia and Roscoe (pictured left) report they are doing well and get along great with their other canine buddy, Zach. * * *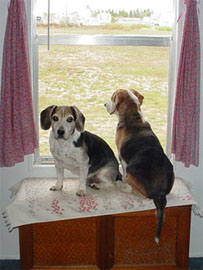 01/28/05 Amos and Wally (right) await adoption through Lone Star Beagle Rescue * * * 02/01/05 Good reports from Colorado in a letter from Roscoe and Petunia. * * * 08/13/05 "Amos & Wally" have been adopted! 9/30/06 "Wally" has passed away due to complications from Sinus tumors. 1/29/07 received notice that "Miss Oggie" has passed on.
* * * More updates coming soon! * * *
...Thanks everyone for the photos.