Mani Ratnam - Sounds of success: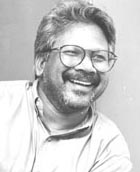 The man who gave us Roja, Bombay and Dil Se.. also gave us Idaya Kovil, Pagal Nilavu and Mouna Ragam! Surprised? Welcome to the world of India's truly trans-lingual movie maker! Did you know Mani Ratnam actually started his career with a Kannada movie, Pallavi Anu Pallavi (1983)? Its all the more surprising that this movie starred Anil Kapoor and the glam girl of Julie - now veteran of Tamil film industry, Lakshmi!

However let me confine myself to the musical scores of Mani Ratnam movies! I'd rather set aside the first two movies of Mani, the Kannada movie, Pallavi Anu Pallavi and the Malayalam movie, Unaru, due to the fact that they are most often not remembered as Mani's movies! 'Experimental' would be a better word!
Not too many people in the world would have had the opportunity to work with two top music directors of the world - both Ilayaraja and A R Rahman. And not many would readily answer a question on how to rate the two, and who was better in comparison. This is a question that one would prefer to duck.

However, ace director Mani Ratnam was candid in his assessment of the two music directors, when fans and music buffs posed this question at Landmark where a collection of DVDs of his films was released.
Mani Ratnam says:

"Both Ilayaraaja and Rahman are fantastic music directors and I had the good fortune to work with two great music directors," Mani said.

"However, they are poles apart - perhaps very little in common," added the director. When he said they are worlds apart, someone wanted to know whether he was referring to Ilayaraaja working in the day, and Rahman late at night. Mani laughed and said he was referring to their style of working.

In fact, initially he had go through a culture shock, when Rahman was signed up for 'Roja'. Ilayaraaja, once he made up his mind, would not make too many changes. With Rahman, it was different. He would keep adding to the song.

However, Mani Ratnam, put Ilayaraaja on a higher pedestal, and lavished praise on the maestro's re-recording, so important for a film. Ilayaraaja would look at the scene once, and immediately start giving notes to his assistants, as a bunch of musicians, hovering around him, would collect the notes for their instrument and go to their places. When the orchestra played out the notes, they would be perfect, not just in harmony but also in timing - the background score would commence exactly where it should and end at the exact place required, pointed out Mani Ratnam, amidst applause. Ilayaraaja was a genius, he said, who could compose music with just one look at the scene.

However, for a director, there was just one handicap. "Ilayaraaja will listen to you as you explain the scene, and what he intends to convey. Once the film rolls, Ilayaraaja's gaze will be on the screen and a few seconds later, papers would go to the musicians giving them the score, and then there would be no further changes. A director can be taken by surprise at the speed of events. If at all you want to convey anything to Ilayaraaja, it must be before he watches the shot (before the background score is added) on to the screen," said Mani amidst both laughter and applause.

There were several questions flung at Mani on why music was important to him and why he needed songs in his films. Mani said he couldn't imagine his films without music. "Music is an integral part of my films. If you look at 'Anjali', 'Mouna Raagam' or 'Dhalapathi' without music, it would be a different experience for the viewers. Similarly, Rahman's songs have been a big contributing factor too. However, we directors do have problems in providing for songs while we do the screenplay! The toughest thing is to break the story to provide a song. I would like to do away with songs, but everyone wants songs in an Indian film."

Looking at P C Sreeram, who was seated in the front row, "Among the few who have made films without songs is Sreeram, who provided Kuruthipunal," Mani said.

"I like listening to songs, even watching clips of songs on TV but the tough thing is to provide songs in films," he added.
Mani Ratnam's musical influences in his movies may be broadly classified into two phases – Ilayaraja and A R Rahman. Lets start with the Ilayaraaja phase!
An Article from Idle Brain.com by Satya.

Not so long ago, it was a much awaited combination for both music and film buffs in Southern India who took Tollywood and Kollywood by storm for more than a decade. If one is capable of knitting an excellent story line, the other is competent enough to compose soul-stirring music. That's what the duo Mani Ratnam and Ilayaraaja together gifted for us.
And all those Tamil dubbed films which were released in 1980s and 90s were just like native to the Telugus. Speak about Mouna Raagam, Nayagan, Dalapathi and Anjali. These films had all that naive touch be it projecting different hues from the lens eye of Mani Ratnam or for those background scores, which haunt the audience even today. Their phenomenal output included a unique melodious mix of different elements ranging from folk, Indian classical with western strokes, modern electronic music and every song or a background music was like a full scale symphony.
Mani Ratnam who brought out the mischievous side of children, innocently asking an elderly man, "Uncle, Pillalu ela pudataaru?" (How are children born? in Telugu) in the film Anjali was immediately followed by a background bang echoing the cheers of other naughty brigade in that residential apartment, was always a scene to recollect not just because Charuhasan wears a shaded face, but for that agreeable sound scored by Ilayaraaja.
Can anyone forget the background score on violin strings and the pathos song rendered by S Janaki for Aadajanmaku enni sokaalo (Telugu), where a baby was cuddled in Yellow cloth? Take it from us, you will surely end up with tears in your eyes, every time you watch this.
It was told that the style of wearing a French plait has become popular among the young girls, only after looking at the sexy dancer, in a gagracholi, without a chunni, of this yesteryears, foot-tapping item number, Chilakamma Chitikeyamma. Mani Ratnam never ignores the latest trends, his heroines are always in vogue. They may be asked to stand before camera, without make-up, yet they are beautiful. Remember grown up Baby Shalini in Sakhi? What all you have to do is to look from Mani Ratnam's eye!
Anyhow, this 1991 composition Chilakamma Chitikeyamma by Maestro Ilayaraaja and Mani Ratnam continues to remain as the popular song according to BBC Song of the Century Poll!
Why not? The pulsating music suddenly turns classical as slim Shobana with all her tactics in the eyes tries to catch the glimpse of Rajinikanth, who was dancing in frenzy. Can we ever forget this song and or turndown our music sets as it don't have ear-blaring music.
It is our own Geetanjali now. The dialogue "Lechipodaama" uttered by cute Girija to the cancer patient Nagarjuna raised many eyebrows those days. Remember that teasing background score whenever Girija was caught in the plot of Nagarjuna.
Providing no mention for the song Om Namaha may make this incomplete. It is all about love in the form of passionate kissing. It was classic, artistic and of course enthusing. It was a song in the history of Telugu films, which had all the ingredients in the correct mix, be it romance, lyrics, picturisation and the soothing music.
Each and every reel in the combination of Mani Ratnam and Ilayaraaja is unique in its own kind. It is all about having good taste, talent and the determination to bring out a beautiful film, which we find them in common.
They have another thing in common too, which may sound surprising. They both may have considerable age gap, but June 2 is a day to mark in our calendars to wish them Happy Birthday.
However, let us request that we are looking forward a film in their combination. Aren't we? - Idle Brain.com
The humble beginning: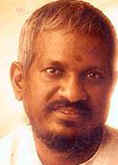 Pagal Nilavu (1983) was Mani Ratnam's first Tamil movie and had a very raw feel to it. Ilayaraja had come up with his usual decent score including the raaga Kalyani based Vaidehi Raman. Fairly more popular were Poomaalaye thoal saera vaa.., sung by Ilayaraja himself and Poovile medai.., with Jayachandran and P Susheela. The Poomaalaye.. number, in particular had the typical Ilayaraja style of interspersing the male and female voices right in the 3rd line of the song. The music was just about adequate in this movie.

Idaya Kovil (1985) had a very musically-exploitable theme of that of a singer who makes it big and loses his lady love to the same city that gave him fame! One still remembers the song penned by Paavalar Varadharajan (Ilayaraja's brother) tuned very beautifully by Ilayaraja in Vaanuyarntha solayile... The pain of separation was so beautifully expressed by both the brothers taking credit for the words and the tune. Other noteworthy song included, Kootathila koyil pura.., Paattu thalaivan paadinal.. and the woefully slow but very beautiful title song, Idayam oru kovil.. and Naan paadum mouna ragam.., which was incidentally based on raaga Sivaranjini. The situation so goes that the hero, now a very famous singer plus a compulsive drunkard happens to arrive late for a gathering where he was supposed to sing. He comes so late that the entire crowd is actually leaving. Ilayaraja had actually composed Sivaranjini into an immensely slow and melancholic number, that brings the crowd back, as if in a trance. This movie actually flagged off the successful combination between Mani and Ilayaraja.

Mouna Ragam (1986) is still remembered for its music. Ilayaraja came up with a very sensitive score for this sensitive theme of marital discord! Manram vantha thendralukku.. (based very soulfully on raaga Keeravani) is probably the best number in the movie, sung with a lot of feel by S P Balasubramaniam. Interestingly, when the Hindi version was made as Kasak, starring Rishi Kapoor, Neelam and Chunkey Pandey (with Mani Ratnam credited only for the story), Rajesh Roshan came up with the equally beautiful Ek Taj Mahal dil pe.. in the same position. It went unnoticed due to the poor faring of the Hindi version. The cameo of actor Karthik was a memorable one, but he gets killed halfway and appears just for about 30 minutes in the movie. Mani had consciously not given him a song with Revathy, inspite of the fact that his role was extremely lively. The Hindi version did have a number with Chunkey Pandey (playing Karthik's cameo) and Neelam, but less said about the movie's fate, the better! However, the more popular tracks from this movie were, Nilave vaa.. (the beautiful solo by SPB), the lively Oho megham vandhadhoa.. and Chinna Chinna vanna kuyil.. (based on the raaga Suddha dhanyasi). The last two, interestingly present the 2 phases of the heroine. While Oho megham vandhadhoa.. number has the heroine as a carefree teenager against marriage, Chinna Chinna vanna kuyil.. presents an altogether changed woman, who has now learnt to appreciate and love her husband. The contrast has been presented by the music very effectively, the pre-marriage song with a strong western influence and the post marriage song with stronger emphasis on folk music. The movie was sober and sensitive with no melodrama and the music more than adequately, complimented it.

Nayagan (1987) was a trend setter of sorts in the Tamil film industry. Mani had roped in the versatile Kamal Hassan to don the title role. The name Nayagan even today, invariably evokes memories of Kamal Hassan's voice singing Then paandi cheemayile... So, crucial and effective was the theme composition. The song, Naan sirithal deepavali.. was another trend setter with Ilayaraja resorting to a 40s Tamil film music kind of tune to this number shot aesthetically, in a brothel! The protagonist meets the heroine there and finds her too young and inappropriate for that place and apparently falls in love with her. The background music with soft guitars and flute-toned keyboards were very evocative to the feeling of love at first sight. But, the most beautiful number was Nee oru kaadhal sangeetham... Shot very aesthetically, with what is now known as the 'Mani Ratnam touch', the song had very well written lyrics combined with a lovely dosage of raaga Desh and sung very effectively by Mano and Chitra. And of course, the raunchy, Nila adhu.. number. Extremely catchy, this number was an instant success. Nayagan had a musical score that blends so well with the movie. It proved that Mani Ratnam and Ilayaraja make a formidable combination.
The trend setter sets the trend!

Agni Nakshatiram (1988) was the MTVisation of Indian film music long before MTV made its inroads into this country! The song sequences are still regarded one of the best in Indian cinema. It was all the way a cult movie. Agni Nakshatiram was a very suave potboiler, without the melodramatic trappings. A tale of a man and his two wives, and their respective sons, and of course how they cope up with each other. Though the story was no great shakes, it's the screenplay and the narration which got Mani all the attention. Raja Rajathi rajan indha.. is a tapori number with stylish picturisation and sleek camera lightings by P C Sreeram. The more melodious Thoongadha vizhigal rendu.. and Vaa vaa anbae anbae.. borrowed very beautifully from Carnatic raagas, Amirthavarshini and Sivaranjini respectively. Again, the Hindi version (Vansh) in which Mani Ratnam merely shared the credit for the story, had a lovely number in Aa ke teri baahon mein.. by Anand Milind who apparently, used the same Thoongadha vizhigal rendu.., but with greater customization to the Hindi audiences. As in Kasak, it did not reach the people, thanks to the movie's commercial failure. The raaga Mohanam-based song Ninnukori varnam.. and Roja poo naadi vandhadhu.. numbers had Ilayaraja in great form with his orchestration. The other number, Oru poongavanam.. was a rather slow number, but very apt for the sensuous mood of the song.

Mani Ratnam next shifted to Telugu with his trial blazer Geetanjali (1988). I would rate this as the best out of this combo more so because, a love story evokes the best music in any music director. Ilayaraja, being a genius, exploited this opportunity to the core and came up with a brilliant score, which is well remembered in both Telugu and Tamil - Idhayathai Thirudathey (1989). The film opens with Jagada jagada.. and Jallantha.. for the introduction of the hero and the heroine respectively. Jagada jagada.. is a fast paced, dancy number with a Latin undercurrent. In contrast, Jallantha.. is a lively and rhythmic number apt for the heroine's character. Looks like, Mani has briefed Ilayaraja very well about his lead characters! The two slow melodies, Aamani padave.. and Oh pappa laali.. were soulful, to say the least. Aamani padave.. had some thought provoking lyrics expressing the anguish in hero's mind. Rightly so, because the Hero's days are numbered, thanks to a deadly disease! Oh pappa laali.. on the other hand is a song about separation where the hero expresses his pain of separation to the heroine's kid sister, who's missing her too! It was a beautiful situation and the song expresses the mood very appropriately. The most popular number in the movie Oh Priya Priya.. (with a heavy Sivaranjini base) was all the more in news, thanks to Anand Milind who used it in their Dil! Nandi Konda.. is a spoof on a spooky number and the last number Om namaha.. is a very differently tuned sensuous number. The tune based on one of the not-so-used raaga Hamsanandham lifts this song entirely, with minimal orchestrations. Geetanjali had a score that was sweet and very listenable. The music of this movie was the 3rd protagonist.

Anjali (1990) was Mani's next movie, now in Tamil. The story was a trend setter again, about a mentally retarded child and how the world moves around her. The film was aimed as a fun movie, targeted both at kids and adults. The music by Ilayaraja was, similarly, universal. The title song - Anjali Anjali.. epitomized the mood of the movie. The Motta maadi.. number had some great orchestrations and had the right amount of kiddish curiosity about a couple in love, meeting alone in the terrace of their apartment! Raathiri nerathu.. is a number sung amazingly by SPB in a altogether different voice to suit the Star Wars like picturisation. Usha Uthup pitched in for Vegam Vegam.. after a long sabbatical from Tamil. Altogether, Anjali was more situational and best enjoyed with the movie.

Mani Ratnam's last movie with Ilayaraja was Dalapathi (1991). With Rajinikanth in the helm of affairs, a lot of people wondered what Mani has come up with! But, Mani carefully stayed away from formulas and ended up giving a modern day Mahabharata in Dalapathi. Ilayaraja tried going national with his music, roping the Hindi singer Mithali to do the Yamunai aatrile.. number. This eloquently tuned number was appropriately based on the raaga Yamunakalyani. The main background music with the sounds of a cooing of an engine, was also added in the Chinna thai aval.. song. This is one of most well-remembered theme pieces of Ilayaraja. The song however was a remarkable adaptation of raaga Charukesi.

Then, of course, were the chart-busters Rakkamma kaiya thattu.. (The last song recorded by Ilayaraja for Mani Ratnam, which went on to join the BBC poll Top 10 after 12 yrs in 2003.) and Kattu kuyilu... The most beautiful song in the movie was Sundari kannal oru.. - a duet with SPB and S Janaki based on the ever popular raaga Kalyani... It was sheer brilliance. But there was another song, which was released in the soundtrack but was never added to the movie! That song, Putham pudhu poo.. was a marvelous concoction of raaga Hamsanandi and was supposedly yanked off because it had Rajinikanth's love interest (Shobana) with Aravind Swamy, his brother. Did Mani fear a backlash from the fanatical fans of the superstar? One never knows!

Dalapathi saw Mani and Ilayaraja parting ways forever! The most common reason in circulation was that Ilayaraja was too hot headed for Mani and took his own time against Mani's wishes by prioritizing other movies over Dalapathi. It was generally rumored to be a severe clash of egos.
The advent of A R Rahman:



Every crunch situation brings with it, a solution. And the solution came in the form of an ad jingle composer A S Dilip Kumar aka A R Rahman. Roja (1992) heralded this new musical whiz into the film industry. The music of Roja was a trial blazer of sorts. It was one of the few movie soundtracks that had a pan-Indian and cross-lingual appeal. In a country, where there are more languages than the number of states, this was nothing short of an achievement. In a sense, Roja saw Mani turning modern. Modern in terms of his movie's appeal, in terms of his content and presentation.

Roja had 5 songs, each of which have carved a special niche in the hearts of Indian audiences (Roja, was dubbed in Telugu, Hindi, Malayalam and also Marathi). The opening song Chinna chinna aasai.. (Dil hai chota sa..) is a classic combination of raagas Harikaambodhi and Shankarabaranam. With its reggaeish rhythms and a new sound of fusion, it was an instant success. The vangelis inspired Pudhu vellai mazhai.. (Yeh haseen vaadiyan..) had the striking base of raaga Kaanada and was a haunting duet which started the trend of a sophisticated erotica on screen, sans crudity. And of course the most popular Kaadhal Rojavae.. (Roja jaaneman..). Sung by the inimitable SPB, this was a song that expressed the pain of separation so well. It was, by the way, based on the raaga Kapi. Rukkumani rukkumani.. was a new-age first night song and Rahman had craftily used Shewtha Shetty and Baba Sehgal to sell the song better in Hindi. The Hariharan number Tamizha Tamizha.. (Bharat humko..) showcased Rahman's creativity in full form. The tune reaches a chorus after the initial peaceful composition and then goes on to a crescendo with the same chorus. It was an amazingly composed track which won praise on all quarters. The background music of Roja was another landmark. Though Rahman had himself used most of the backgrounds in his later movies (ala Shankar-Jaikishan?), the background track of Roja played an integral part in setting the mood of the movie.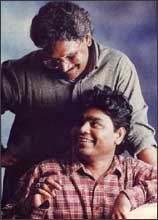 Rahman has said in one of his interviews that he was told by Mani, when they met first, that he was to start composing for a movie by name, Thiruda Thiruda. It was by chance that Mani started Roja first, instead. However, Thiruda Thiruda (1993) was to be their 2nd movie together!

I'd personally rate Thiruda Thiruda as the best, these two have produced together, just above Dil Se.. and Iruvar. Thiruda Thiruda opens with the Sivaranjini based composition Kannum kannum... Since, the movie was a fast-paced fun thriller, Rahman had produced a very 'hep' sound, never heard in the Indian movies before. Kannum kannum.. had heavy guitars interspersed very well with the vocals. Even its interludes are well remembered today. The Michael Jackson styled Konjam nilavu.. had some great vocals by newcomer, Anupama and some excellent picturisation by ace lens man PC Sreeram. Veera paandi kottayilae.. was a number so impressive, that Shankar (of Gentleman and Jeans fame) wanted this number when he heard it at Rahman's studio! But it was destined for Mani's adventure saga! Again, some brilliant cinematography and a great use of orchestration. Putham puthu bhoomi.. was the lyricist Vairamuthu's song all the way. Imaginative sentences added to the slow and rhythmic tune made this a very pleasant number. The slow capella (Is there any other capella in Indian films?) Rasathee.. (omitted in Hindi) was probably the best use of harmonious chorus in Indian movies. Shorn of every instrument, this song shot to fame more so because of the late Shahul Hameed, who sang the number with amazing dexterity. The last number, Thee thee.. is what I consider, the best by Rahman, to date. The use of dance jadhis and a (supposedly) Chinese singer Carolene made this song an experience! A memorable one, at that. Thiruda Thiruda had a soundtrack that literally stood on its own, even without the movie, partly because a movie of the Indiana Jones genre doesn't actually need a soundtrack!

Bombay (1995) was supposed to be the 2nd of a trilogy, which started with Roja. Bombay was all the way planned as a multi-lingual and Rahman this time had to come up with a score which appeals to both the north and the south india. When the soundtrack was first released, India Today reviewed it as nothing brilliant, but gave all its marks to the theme music! This theme music, based on raaga Desh, was also adapted later by Rahman himself for a full song Naalai ulagam.. in the movie Love Birds, apart from Malarodu malar.. in Bombay itself!. This theme piece was so popular, that the celebrated French techno composer Jean Michael Jarre played it as a part of his Millennium concert amidst the pyramids in Egypt on the night of 31st December, 1999!

Bombay was a typical Rahman soundtrack, that did not have the instantly appealing quality. It needed time to grow on you. Humma humma.. (sung by Rahman himself in Tamil and by Remo Fernandes in Hindi) had a middle eastern influence and splendid rhythms. Kannalane.. (Kehna hai kya..) had a Sufi flavour and was perfect for the Muslim background of the heroine. Uyirae.. (Tu hi re..) and Kuchi kuchi.. saw Hariharan come to the forefront. While the former was a painfully slow love ditty sung remarkably, the latter was a fun song with very sweet chorus by a group of kids! The much less publicized Halla gulla.. was a brilliant number used in more than one place in the movie. This was a very unique number with innovative use of silence and a lot of good chorus. Bombay's music was absolutely integral to its narration, in the mainstream format of movie making. Apart from heart felt backgrounds (on the lines of Queen's everlasting 'we will we will rock you!), you also had the Idhu annai bhoomi.. chorus number that signified the tragedy and terror that was unleashed after the demolition of Babri Masjid. Bombay's soundtrack transcended across boundaries and soon television channels were beaming Kuchi kuchi rakkamma.. in 3 languages, Tamil, Hindi and Telugu!
The bond thickens:

Iruvar (1997) was the next from the Rahman-Mani duo. Iruvar was a very bold and experimental attempt in Indian cinema primarily because it tried to portray the lives of 2 of the most popular figures in Tamil Nadu politics - the late MG Ramachandran (MGR) and the current Chief Minister Mr. Karunanidhi. The clash of ideologies between these two close friends formed the crux of the movie. This theme demanded a very innovative musical score that, at one point sounds like the 60s Tamil music and at the same time appeal to modern day audiences. The classical Narumugayae.. had classical singers Unni Krishnan and Bombay Jayashree singing it. It had a 40s Tamil film feel to it, shot in black and white and a very chaste Tamil lyrics, penned by Rahman's favourite, Vairamuthu. Kannai katti.. (with some splendid usage of guitars) and Aayirathil naan oruvan.. were a tribute to the kind of music glorified by MGR - a style where he communicates his ideologies and his populist policies! Both were composed very well by Rahman, who retained a modern feel to them to enable them to reach present day audiences. Hello Mr. Ethirkatchi.. (a number which borrows heavily from the Dave Grusin composed Memphis Stomp, from the soundtrack of 1993 Tom Cruise starrer, 'The Firm') and Vennila vennila.. were jazzy numbers that reminded the audiences of the bygone period of the 60s in Indian cinema when jazzy numbers were popular. But Rahman cleverly, stayed away from the filmi jazz that ruled the roost and instead resorted more true blue, world jazz for his compositions, for a touch of novelty! Pookodiyin punnagai.. was a typical soft 60s Tamil number, with no attempt to change its style. Iruvar was an experiment, very successful, restrained only by the commercial failure of the movie. The soundtrack was etched in the screenplay and the songs actually pushed the story ahead!

Mani had one more installment left in his trilogy and he did Dil Se.. (1998) as the final. Dil Se.. was planned as a Hindi movie and saw the talented Mani-Rahman duo join hands with the immensely talented Gulzar, for the lyrics! The result was sheer magic. But, the insurgency in the North East, which is supposed to be the crux of the movie did not play a part in the soundtrack. The songs, however good they might be, posed as commercial attractions alone. I personally feel that Mani, being a Masters in Business, could have redone his positioning of Dil Se..! Instead of clubbing it as a part three of his trilogy, if it would have been marketed as an intense love story, which it rightly was, it could have had a better audience! And people really did not want their superstar dying with his woman in the end. Aravind Swamy would have been a better choice, I suppose. But, for the soundtrack, Rahman roped in none other than the legend Lata Mangeshkar for the remarkable fusion number Jiya jale... Combined with some innovative use of Malayalam lyrics (one of the leading ladies was a Malayalee as per her character!). The Chaiyya chaiyya.. number with Bollywood's energizer bunny Shah Rukh Khan doing his jumping act, was considered a 'paisa vasool' song, both for its picturisation and for the catchy tune. Satrangi re.. with Sonu crooning it, was a song heavily influenced by Flamenco and Latin music and some heart stopping urdu-Hindi lyrics. The title number sung by Rahman himself was a high pitched song with incredible singing and orchestration. Rahman's voice modulation deserves a special mention here. That leaves us with the slow and mellow ae ajnabi sung by Udit Narayan. The song has a lovely sing along feel to it. Also included in the movie is an Assamese version of a small bit of this song, which really sounds exotic!

That brings us to the latest movie with Rahman composing music for Mani Ratnam - Alai Payuthey (2000). The movie was planned as a songless movie but ended up having as many as nine songs. The best of the lot is the Kitaro-ish Pachai Nirame... With some very innovative lyrics based on colours, this song was an absolute stunner. Snegidhanae.. had Sadhana Sargam in amazing form and some very imaginative lyrics by Vairamuthu. The song is an ode to the husband by his wife, who considers him more of a friend. Kaadhal sadugudu.. (brilliant guitar riffs and the coming of age of SPB's son, Charan), the RD Burman-ish September maadham.., Yaaro yaarodi.. (a kind of psuedo rustic number with an assortment of folk instruments peeping every now and then) and Evano oruvan.. which has a distinct Egyptian base to it were the other numbers. And of course the title number, a classic raaga Kaanada composition by Oothukaadu Venkada Subbaiyyar. One of the reviewers suggested that he'd be turning up in his grave if he listened to this remixed version by Rahman! Well, since its entirely a matter of opinion, I feel Rahman and Mani have effectively removed the oft-used mirudangam background and adopted a very interesting fusion effect by using a more modern rhythm.
And the latest being a master piece by both Mani and Rahman in their own respective work, Kannathil Muthamittal... The opening, Vellai pokkal.., sung by Rahman himself, had a brilliant score and some beautiful singing. The title track in both the male and female versions (sung beautifully by new-comer Chinmayi and legendary Jayachandran had a difficult composition), beautifully picturised by Mani, swept the feet of the audience and also critics commented that Rahman's music has come of age and attained maturity. Then, the Sundari.., with Ravi K Chandran's cranky camera angles, depicting a leading character, Amudha's childish acts. The soul stirring, Vidai Kodu.. sung by the legendary, M S Vishwanathan and Balram. The Sinhalese song penned by B H Abdul Hameed, Senyorae.. was a peppy number by Rafi and Anupama.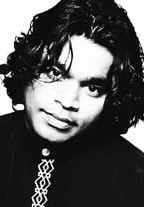 Aayitha Ezhuthu

When a genius and a creative magician come together for a venture, the result is wonderful, soul-lifting and nerve-tingling. Mani Ratnam and A R Rahman have achieved this in every album from Roja. They achieve it to a good extent in their latest venture, Aayitha Ezhuthu.

The cassette has six songs with no repeats (phew, thank god!). ARR explores new regions in music, those of high techno stuff and emerges triumphant, showcasing his creativity yet again.

Side-A

The album begins with 'Hey Goodbye Nanba', sung by Sunitha Sarathy, Shankar Mahadevan, Lucky Ali and Karthik. The starting features a husky Sunitha and the transition from slow to fast is superb. Rumour has it that this was ARR's answer to Harris Jayaraj's 'Uyirin Uyire' (Kaakha Kaakha). This song is bound to be a super hit.

Next comes the best song of the film, a personal favourite, 'Jana Gana Mana' sung by ARR and Karthik. A 'revolutionary song', telling the youth not to give up their dreams; it has great lyrics by Vairamuthu. ARR proves his singing/rapping prowess in style. Will definitely become popular among the youth.

'Sandai Kozhi' - Madhusree, ARR - is a melody. Madhusree sounds very much like Sadhna Sargam. She does chew and bite the words a bit, but sings nicely. Traces of Ilayaraja's song from Dalapathi are evident in the 'ayya ayya' frill. A song that melody lovers will like.

Side-B

ARR goes techno creative with 'Dol, Dol'. With beats similar to 'Shakalaka Baby' (Mudhalvan), Blaaze sings/chants this number like only he can. One can't understand what Blaaze's trying to say (when have we, after all?). A 'too-Englipish' rock song.

'Nenjam Ellam' has a beautiful tune. Sujatha's singing scintillates. The song on the whole is great to hear and has only one flaw - the male singer, Adnan Sami (why did he have to sing this song? Haven't Tamil audiences had enough of him chewing words in 'Boom Boom' - 'Boys'?).

'Yaakkai Thiri' has awesome lyrics. Sung (rather chanted) by Sunitha Sarathy, Shalini Singh and ARR, it is powerful. Rahman's singing is outstanding in this number, as outstanding as it was in 'Jana Gana Mana' (Side-A). Another sure superhit.

The verdict:

Aayitha Ezhuthu may not please people who are looking for some ARR melody like in Roja, Bombay, etc. But, it certainly will alter song ratings and become mighty popular in the near future. A peppy, youthful and creative album from Rahman.
Yuva
What do you anticipate when they all get together? High expectations! Yes, the album of Yuva does live up to the hype.

Rahman can make his singers go totally bold and non-apprehensive in their rendition style giving them the liberty to experiment with their infinite hidden range. And then his unique touch lends an indomitable grace to the track which otherwise would appear as insane crooning in India.

This is proved in the opening track of Yuva, which also happens to be the title track of the film. The track apparently would be a background theme piece in the movie highlighting youth distress and uprising.

The best part of the track is its catch-line Dhakka Laga Bukka rendered in a grotesque fashion by the singer-lyricist-musician threesome of Karthik-Mehboob-Rahman.

Composed in the groove of jungle beats the lyrics of the song are hardly perceivable (both from the rendition and the cumbersomely designed album leaflet). But then who is complaining! The tune is intriguing enough to set you in mood from the very start.

The non-apprehensive rendition continues with the ethnic opening vocals by Shaheen Badar in the instrumental theme piece Dol Dol, where Rahman takes you to the world of trance. The unconventional rap by Blaze is much better in comparison to what he did for Chori Pe Chori from Saathiya. And though the track lacks variation throughout it's run it's still infectious and addictive. Check out the sound clip of this one for yourself at the official website of the film.

After working with unconventional singers like Adnan Sami, Daler Mehendi and Kunal Ganjawala, this time Rahman ropes in the husky-voiced Lucky Ali for Khuda Hafiz. Giving him company are Karthik and Sunitha Sarathy. This one happens to be a mixed bag composition but the tune varies so much that after a point it dilutes in overall effect.

Mehboob's lyrical expertise comes forth with Kabhi Neem Neem expertly rendered by Madhushree who sounds so much like Alka Yagnik. Madhushree's saccharine-coated vocals instantly remind of her previous number Naina Milaike from Saathiya. Rahman uses a folksy ballad throughout the background of this track imparting it a primitive touch. His alaap in the mid-way is simply mesmerizing.

Rahman regular Asha Bhonsle is conspicuous by her very absence in the album. However Alka Yagnik and the somniferous Adnan Sami attempt to fill up the vacuum in the resplendent duet Badal. Rahman's synthesizer makes all the difference in this track.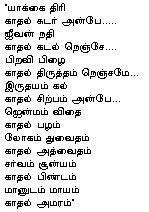 The album concludes with an exemplary disco track Fanaa by Rahman, Sunitha Sarathy and Tanvi. Rahman very expertly keeps all the sophisticated tracks of the album for himself, perhaps to add the perfect essence. It's simply enchanting when Rahman throws off the word Fanaa (whatever that means) and allows it to fade off with the temperament of the track. His sa-ni-dha-pa alaap over here is evidently derived from the classical alaap of the number Kehna Hi Kya from Bombay.

Yuva is surely a classy album, which would go very well with the elite though it may not have a consistent appeal with the masses. Music of Yuva does take some time to get on you, but eventually becomes pretty likeable.
Vibrant musical differences:

To sum up, the phase with Ilayaraja saw Mani Ratnam blending his scores well into the psyche of the theme. It could be possible because then, Mani's movies were still very regional, restricted to Tamil and Telugu. But with Roja reaching new heights on the national scene, Mani went national with his other movies too. Post Roja, Mani made a pan-Indian movie with Bombay while Dil Se.. was a predominantly Hindi movie. Thiruda Thiruda and Iruvar were Tamil straights.

But, the undercurrent in all these movies was the fact that, all had universal appeal. The music was expected to cross borders even before the movie was released. And beyond the Vindhyas, it definitely did, though no sign of the movies being released - Chor Chor for instance. Due to this reason, inspite of the extraordinary music churned out by Rahman, the scores, more or less were pieces on their own, with very little significance in the movie, apart from being prominent distractions. Iruvar, is the only exception to both the above mentioned theories!

Mani Ratnam's view was limited to the southern movie industry before Roja. And its no surprise that the music of those films did not reach the north (with the exception of Oh Priya Priya.., used in Dil and Rakkamma kaiya thattu.. used in Bol Radha Bol..). Even when the movies were remade in Hindi, the entire score was redone by a Hindi composer!

An interesting point here is the dubbed version of Nayagan in Hindi. Inspired by the success of Roja in the north, Nayagan was dubbed in Hindi as Velu Nayagan. While all the other songs were retained with Hindi lyrics, Nee oru kadhal sangeetham was entirely redone by another music director! This proves that the music was composed with the southern audience in mind.
Also read MANI RATNAM"S SONG AND DANCE

NOTE: I found this article in a website, that I really do not remember. Since, this is an article worth reading, I have hosted this page in this site. Original author, kindly pardon me.