---

The first movie, that he made was Pallavi Anu Pallavi in Kannada. It was later dubbed into Tamil as Priya O Priya. It had Anil Kapoor and Lakshmi in the lead roles. It did not create any ripples, though one song in the film shot stylishly in an auditorium gives a good hint of the Mani Ratnam to come in later years.

Mani Ratnam's first Tamil movie was Pagal Nilavu (Moon at Daylight) featuring Revathi, Murali, Sathyaraj, Radhika, Nizhalgal Ravi, Sharath Babu, Venu Aravind and Goundamani. It was an okay movie and had a couple of great songs. The story of a gangster, in love with a policeman's sister. Goundamani's jokes were irritating.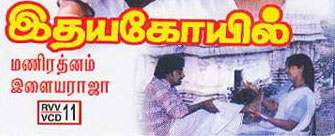 The next one was Idaya Kovil (Temple Heart) in Tamil with Mohan, Radha, Ambika. It had fantastic songs. In his earlier movies, Mani Ratnam always used Ilayaraaja and I guess, Mani Ratnam movies would always be a part of any Best of Ilayaraaja and now Best of A R Rahman. However, Ilayaraaja music is very regional and it is seen that North Indians do not really enjoy his music that much. This film also had the then comedy kings, Goundamani and Sendhil. The film had a very musically-exploitable theme of that of a singer who makes it big and loses his lady love to the same city that gave him fame!
Then came a Malayalam film Unaru (Feelings) with Mohanlal in the lead.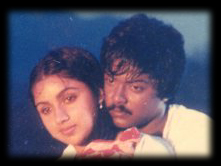 The real Mani Ratnam, started revealing his true colours only in his next venture Mouna Ragam (Silent Symphony). It had Mohan, Revathi and Karthik. It is a classic in its own right. Songs as usual by Ilayaraaja was fantastic.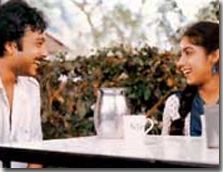 It was movie about an estranged couple and how they get together again. The marriage between Mohan and Revathi never takes off because Revathi was in love with Karthik who gets killed in an accident. A woman who is forced into an arranged marriage and lives with her husband in Delhi. She recalls her carefree days with her first boyfriend, a gangster who was shot dead in front of a Registrar office even as she waited to marry him. She seeks a divorce but as the law requires the couple to stay together for a year, they stay separately in the same house and by the year's end decide to stay together. The film is notable for its sophisticated approach and execution. It had a great screenplay and got many awards. In fact, it was rumoured that Dil Se.. was to be a remake of this movie, which turned out to be false. I think this was the movie in which Mani Ratnam and P C Sreeram teamed up and it was the first movie of Mani Ratnam which had great cinematography. It was Mani Ratnam's first commercially successful movie.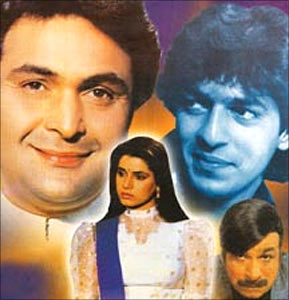 It was remade by some director in Hindi as Kasak and also remade in Kannada in the 1990's.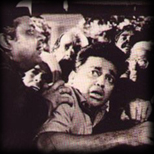 His next movie Nayagan (The Leader) is probably the most famous. It was the first Indian movie of its genre. Great songs. It was remade in Hindi by Feroz Khan, as Dayavan, but it did not do well. Again it was dubbed from the Tamil version and called Velu Nayagan. It was a big hit. The film, with stunning cinematography by P C Sreeram (taking its cue from Gordon Willis) and art direction (The entire Mumbai, Dharavi slum was recreated in Chennai) with meticulous detail to cars and decor much like the Hollywood gangster films, established Ratnam as the leading Tamil director of his time and won its star Kamal Hassan the National Award for Best Actor. Initially, Sathyaraj, was approached for the title role, but he refused the film, for reasons, best known to him. The film draws on 30 years of Tamil Nadu's star/politician images and directly plays to Tamil people's anti-Hindi feelings when the hero, beaten up, tells the Hindi speaking Mumbai Cop in Tamil, If I ever hit you, you will die.

Then came Agni Nakshatiram (Fire Star), with Karthik, Prabhu, Nirosha and Amala. It was remade in Hindi by director Pappu Varma as Vansh. Needless to add, it was butchered and the spirit of the movie was lost. This movie is basically about the friction between two step brothers. Great songs and great cinematography. It was good one. In this, Mani Ratnam and P C Sreeram tried a different style of cinematography. The whole movie was sort of in the dark with shades of dark and light. Shot in an ad like manner with glossy camerawork using extensive backlighting and flare filters with rapid cutting and extensive dissolves much like a long slick music video. The film set a trend for a whole new visual style in Tamil Cinema. Comedy track by V K Ramaswamy and Janakaraj were good. Bollywood was still caught up in garish sets, loud, inane songs and megavision dishum dishums. But in Chennai, one filmmaker was making audiences eat out of his hands. Subtlety, diffused lighting, realistic fights, plain logic, a controlled Prabhu and a livewire Karthik were his weapons. And AAgni Nakshatiram was the film. A landmark movie which never got the recognition it deserved up north; the film maker had the final laugh when his Roja was a stupendous all-India hit. The film-maker, by the way, was Mani Ratnam.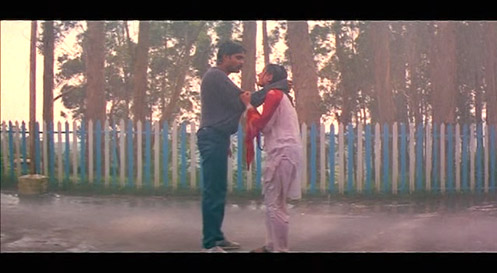 His next movie, Geetanjali. It was first made in Telugu with Nagarjuna and Girija and later dubbed in Tamil as Idhayathai Thirudathey (Don't steal my heart). It was a movie about two terminally ill patients falling in love. But, in spite of the serious story line, it was probably one of the most light hearted movie ever made. It is funny at times, very moving at times and very thought provoking too. A love story between two people who both have less than six months to live. The film was mainly shot in the misty landscape of Ooty to give the film an almost soft and poetic feel. The comedy track in the film however was totally forced and unnecessary ruining what was otherwise a great film. It was a big hit in both languages. It was also remade in Hindi as, Yaad Rakhegi Duniya with Aditya Pancholi by director Deepak Anand.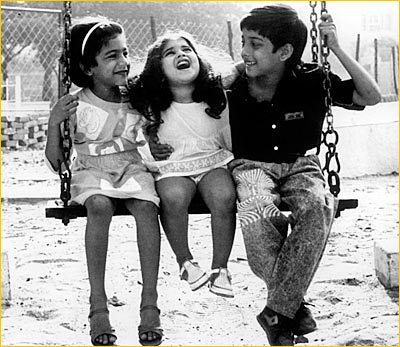 Then came Anjali. It was a big hit too. It was nominated for the Oscars. I think Mani Ratnam is the only director on earth who would give a hit with a subject like that. It was about a mentally handicapped child brought back to her family with two normal siblings is perhaps sourced in a novel by Fynn, Mr. God, This is Anna. The scenes and songs with elaborate choreography featuring the children and neighbouring kids are the film's highlights.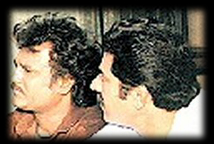 Then, Dalapathi, Dalpathi (The Commander) in Hindi (starring superstar, Rajinikanth, Mamooty, Aravind Swamy, Sri Vidhya and many others. It was the most hyped of all Mani Ratnam movies. A big hit in Tamil. The relationship of brothers as in Mahabharatha, the Karna and Arjuna.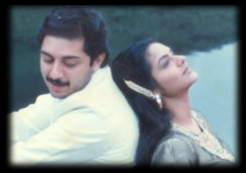 Then came Roja (The Rose). Story adapted from writer, Sujatha's novella 14 Natkal. It was ground-breaking for it heralded a new age in Indian cinema and music. For years the North was influencing Tamil films and music, but after Roja quite the opposite started happening. The film was A R Rahman's debut and cinematography by Santosh Sivan. It was Roja however, a patriotic love story against the backdrop of Kashmir terrorism that made Ratnam a household name all over India as it was dubbed and released in Hindi, Telugu, Malayalam, and Marathi, and proved to be a huge success all over the country. A semi-political, romantic thriller, the film reinforces in a big way Ratnam's reputation as a filmmaker of style and substance. The film also marked a highly auspicious debut for young music director A R Rahman, whose music contributed to the film's success in a major way. India's then election commissioner T N Seshan took the unusual step of officially endorsing the film. Mani Ratnam won the prestigious Rajiv Gandhi award for National Integration for Roja.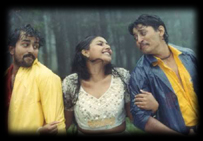 Then he made Thiruda Thiruda, a fun filled caper. Story co-written by another successful Telugu and Hindi director, Ram Gopal Varma. It had no storyline but a lot of fun. Great songs by A R Rahman, great cinematography by P C Sreeram. A lot of people did not like it because we are used to very serious story lines. It was Mani Ratnam's first flop after a long time. It was a misfire about two petty thieves and a girl on the lines of Butch Cassidy and the Sundance Kid (1969) but Ratnam bounced back with his next film, Bombay (1995).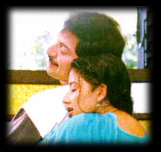 Then came Bombay. The movie which focused on the Hindu Muslim riots in Mumbai in the early 1990's. A love story between a Hindu boy and a Muslim girl against the backdrop of the Mumbai riots of 1993, again released nationwide but ran into controversy as the film was released in Mumbai only after getting clearance from Shiv Sena Chief, Bal Thackeray. The film was attacked for its anti-Muslim stand, its misrepresentation of widely reported events in order to blame the Muslims for having started the riots and for its tendency to equate the 'voice of reason' with Hindu majority. Mani Ratnam's residence was attacked. But all the controversy helped the film as it scored heavily at the Box-Office. Just when you're starting to feel comfortable with Bombay, everything changes -- and the unexpected shift in tone hits like a punch to the gut. Gone is the fun and frivolity, as death and violence suddenly fill up the screen. Now we understand the full extent of Ratnam's purpose in the first half -- he was setting us up to like these characters so that when tragedy strikes, we can feel the pain and hopelessness of their situation. It's melodramatic and manipulative, to be sure, but it works.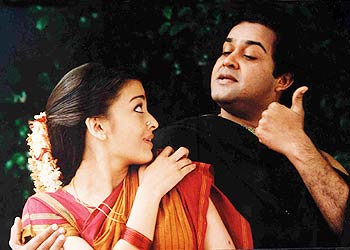 Then came Iruvar (The Duo) with Mohanlal, Prakash Raj and Aishwarya Rai. Aishwarya Rai made her debut in this, with a dual role. It was based on the life of MGR and Karunanidhi. It was the biggest Mani Ratnam flop in years and it was out of the halls in just 9-10 days. Anybody who followed politics of MGR would love this movie and if you have not, I guess you have no clue as to what is going on. But, I thought it probably had the best characterization, and great dialogues among Mani Ratnam movies. Moreover, the performance of all actors was fantastic. Prakash Raj got the national award for the best supporting actor. If you do not know MGR, keep away from this movie.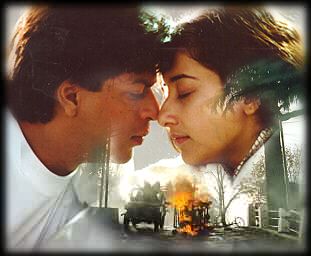 He then stepped into Bollywood with Dil Se.. (From my heart), in which Bollywood star, Shah Rukh played the lead along with Manisha Koirala. The story dealt with the Assam terrorism and a parallel love story between a terrorist and an All India Radio reporter. The movie also portrayed the seven shades of love. A program executive with All India Radio, tracking down a beautiful female human bomber from the North-East to Ladakh, and finally to the capital and preventing her from blowing herself up at the parade by blowing himself up with her. So much anger and such violence must have deep roots, but the film barely skims the surface. She is a member of a terrorist organization; he is a journalist looking for an interview with the terrorist leader. What makes Dil Se.. so remarkable is Chaiyya chaiyya, one of the most exhilarating musical sequences in all of cinema, in which the romantic leads dance on top of an actual moving train that winds precariously along a mountain path.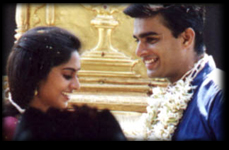 Back to the Tamil industry, Mani Ratnam made his next venture, yes, the super hit, Alai Payuthey (The Waves are restless). In the director's words, "it is just a simple love story." Technical mastery combines with a fluid narrative that mixes past and present in this study of a romance in crisis. Actress Shalini, who began her career as a child star was the heroine; her sister (Shamili), also a child star, worked with Mani Ratnam on his film Anjali. R Madhavan is an electronics student turned model and small screen in Mumbai. With, Alai Payuthey, he graduates from television work to his first feature film role. A movie which is an exploration of the divergent facets of love and marriage. It had music by A R Rahman, which was simply mind-blowing. It was remade as Saathiya in Hindi.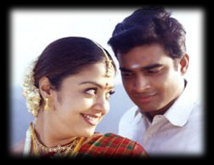 In the year 2001, Mani Ratnam produced Dumm Dumm Dumm, directed by his long time assistant, Azhagam Perumal. The film had R Madhavan, Jothika and Vivek in the star cast. The film was a romantic comedy. Karthik Raja's music is also one of the highlights of the film.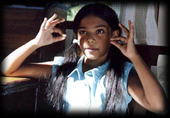 His recent movie is Kannathil Muthamittal (A Peck on the cheek), a story that deals with the emotions of an adopted child who feels disowned, betrayed and left out of the society. The child tries to run away from the house in search of her biological mother. His latest film Kannathil Muthamittal, set in beautiful, strife-torn Sri Lanka and the golden beaches of Rameshwaram, follows the same successful formula. Mani's cinematic landscapes are painted with good intentions. His themes are relevant and thought provoking: disability in a child militancy in Sri Lanka, adoption. He received the Swarna Kamal Award for this Tamil film from President APJ Abdul Kalam.
In the same year 2002, Mani produced a film, Five Star, directed by another long time assistant, Susi Ganesan, starring six new comers. It was a story about five friends from an engineering college, who pledge that their friendship is inseparable and the twists that occur in their life's.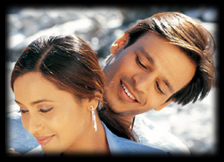 Well known Hindi Director/Producer Yash Chopra, Mani Ratnam and Bobby Bedi remade Mani's Alai Payuthey, in Hindi, which is directed by Mani's erstwhile assistant, Shaad Ali, called Saathiya (staring Vivek Oberoi and Rani Mukherjee). The same Tamil tunes were reused for the Hindi version too.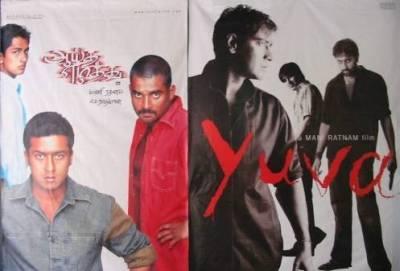 Then in 2004, he has come up with his first Hindi-Tamil bi-lingual, Yuva/Aayitha Ezhuthu, starring, R Madhavan, Surya, Siddharth, Esha Deol, Meera Jasmine, Trisha Krishnan, Janakraj, Bharathiraaja, Sindhu, Krishna, Sreeman, RJ Suchitra Ramadurai in Aayitha Ezhuthu. And, Ajay Devgan, Abishiekh Bachchan, Vivek Oberoi, Esha Deol, Rani Mukherjee, Kareena Kapoor, Sonu Sood, Karthik Kumar, Anant Nag, Om Puri, Vijay Raaz, Sourabh Shukla, Sujatha Sehgal in Yuva. 3 young men...from 3 strata of the society...With entirely different points of view towards life...Their paths crossover.. on Thursday morning at (Napier Bridge in Tamil) Hoogly, Vidhyasagar Bridge...Their lives change irreversibly. Mani Ratnam's Yuva is a radical departure from the familiar way of presenting a commercial masala concoctions serving all the nine rasas. Mani has made an attempt to combine mainstream Tamil film aesthetics with international cinematic sensibilities. However those raised on a sugar-n- spice masala movie diet may find the outcome unpalatable.
In any business, success and failure alternate. Undaunted by the vicissitudes of the industry, Mani Ratnam continues to believe in making good cinema and all his efforts reflect this philosophy. Without falling a prey to either extremes - the incomprehensible and often purposeless serious cinema and the commercial gibberish, he has struck a middle path and has been successful. Keeping abreast of the latest trends in IT and having a clear understanding of technology has probably been the key to making good films.
---
Here is an article written by Sureshmehcnit, that I found in the website, mouthshut.com

Mani Ratnam needs no introduction. He is one of the finest directors in Indian cinema. I got matured and started to understand the real cinema and admired the creativity and brilliance of the people behind the screen only after watching his movies especially the movie "Mouna Ragam" which is the first movie I watched from his direction. It still remains as my all time favorite. Here I don't want to give any personal details about him, as many of them would know about him. Let me analyze his movie making style and no gossips about his personal life.

Importance to Kids in Mani Ratnam Movies

Mani Ratnam has always used a child character in his movies whatever the subject may be.
He is one in India to extract best and natural performance from kids in his movies. When asked about this in an interview he replied, "Kids are innocent and very spontaneous and they have got extreme absorbing power, it is very easy to extract work from a kid but the only thing is you have to select the right kid for the character".

Anjali and Kannathil Muthamittal – in both these films the protagonist is a kid. Shamili as Anjali in Anjali and Keerthana as Amutha in Kannathil Muthamittal ( Peck on the cheek) gave a brilliant performance and both of them got National award as best child artist. Tarun and another girl as brother and sister of Anjali in the film Anjali also came up with good performance and got national award. Can anyone forget the dialogue "Enthiri Anjali enthiri" delivered many times by the girl after the death of Anjali. The unforgettable Kamal Bashir and Kabhir Narayanan, the twins in Bombay and entire second half revolve around them. Yet another noteworthy performance from the two kids.

Apart from these, he has deliberately inserted kids as brother/son, sister/daughter of main characters in almost all movies. These inclusions and the conversations of these kids in the movie make it more lively, natural and believable. Bhanupriya's daughter in Dalapathi, Revathi's sister in Mouna Ragam, Madhubala's village girl friend in Roja, Madhavan's brother's daughter in Alai Payuthey and though not a kid a teenage brother of Siddaharth in Aayitha Ezhuthu (Brother character of Vivek Oberoi in Yuva), Sister character of the heroine in Geethanjali / Idhayathai Thirudathey are the other kid characters.

Path between Commercial Cinema and Art cinema

If you look into the premise of most of his movies, it looks like can be made only as an art movie or a documentary but Mani Ratnam has found the right formula to make such sensitive and strong subjects commercially acceptable. His screenplay dilutes the subject to make it understandable to a layman without compromising it artistic appeal and also sensitivity of the subject. Though many moviemakers are doing well in this new path these days he is the one who started it. The scripts of Roja, Bombay, Anjali, Nayagan, Kannathil Muthamittal are very sensitive and heavy but yet he added all elements to entertain and also gives some food for thought in the movie. That is why all these movies are internationally acclaimed and also well received by local audience for whom it is made.

Versatile themes

Though predominantly one may say that Mani Ratnam always makes movies with Love caught in Terrorism as the theme. He has tried various themes. Each movie is different from one another. Anjali dealt with sufferings of a parent having a mentally retarded kid which is counting its final days. Thiruda Thiruda is an adventurous action movie about two thieves. Roja is based on story of Sathyavan, Savithiri that is about how a wife struggles to save her husband from death with terrorism as a background. Bombay is about riots between Hindus and Muslims. Iruvar is docu drama and a true portrayal of real life of two friends cum ex-chief ministers of Tamil Nadu Karunanidhi and M G Ramachandran. Mouna Ragam is about how a newly married couple applied for divorce falls into love on each other in one year before getting divorce. Alai Payuthey is a joyful, romantic and realistic portrayal of Next Gen lovers and their love and problems they face after marriage. Kannathil Muthamittal is about a nine-year old girl's search for her biological mother who has turned a terrorist in Srilanka. Aayitha Ezhuthu is about politics; he insists the educated youth should enter politics. Idhayathai Thirudathey is about two cancer patients falling in love and its consequences. Thalapathi is modern Mahabharatha, it portrays stylishly the friendship between Karna and Dhuriyodhana and also the mother-son relationship of Kunthidevi and Karna. Dil Se.. / Uyirae is about suicide bomber falling in love and caught in a dilemma between love and love (for mother land). Agni Nakshatram is a courtroom drama about clashes between two youngsters who have father in common but different mother. "Nayagan" is the jouney in the life of a Bombay dada called "Velu Nayakkar" based on a real story. How diversifying isn't it?

Technical perfection and brilliance

Mani Ratnam has never gone to any foreign locales to shoot his songs and never used graphics unnecessarily. His technical crew is meant to support his screenplay and nothing more. But yet you can see some technical brilliance and perfection in his movies. Mani Ratnam always had a great technical crew for his movies. The way he composes the shot is always very different. All his movies had Breath-taking visuals supported by popular cinematographers like P C Sreeram, Rajiv Menon, Balu Mahendra, Santosh Sivan and Ravi K Chandran. Realistic Audiography supported by A S Lakshminarayanan in all his movies. Authentic set in the background supported by famous art directors like Sabu Cyril and Thotta Tharani. His movies bagged many national awards in technical categories.

Songs and BG score in Mani Ratnam movies

Mani Ratnam has great music sense and he concentrates more on Background music too. Ilayaraaja was a great BG composer himself and when such a director joins with him, you get nothing less than a masterpiece. Ilayaraaja's background score for Mani's movies like Nayagan, Mouna Ragam are still ringing in all cell phones in Tamil Nadu.
He is the one who brought A R Rahman to Indian film music (Thanks to the clash with Ilayaraaja). A R Rahman would have become a music director even without Mani Ratnam but such a terrific start would have been impossible. We know even know Mani Ratnam extracts the best from A R Rahman, which ARR himself accepts.

The choice of Title

He chooses very title for his movies. The very poetic ones are Kannathil Muthamittal (Peck on the Cheek), Mouna Ragam (Silent Symphony) and Pagal Nilavu (Moon in Daytime). Conceptual with in depth meaning in title are Aayitha Ezhuthu and Agni Nakshathiram". Romantic title Alai Payuthey, Dil Se.. / Uyirae. Obvious apt titles Iruvar, Roja, Anjali and Bombay. He has never used English title for his movies and that is one quality I like in him.
"Odi Polaamaa???!!!"

I was in my teens, sitting baffled in one of the back rows with my parents in a theatre in Madurai. That was the first time I got bitten by the Mani Ratnam bug without even realizing it! I barely understood cinema those days, still was getting fascinated by the shot in which mist enters the room and informs the hero the arrival of a small Neena inside. A relatively slow scene, that adds to the deep misery of the hero.

Yes, Idhayaththai Thirudaathey! is one my all time favorites. The story is actually an one-liner. But he manages to capture our attention for more than 2 hours. Man, that's y this guy is considered the best screen-writer of Indian film industry. The same goes with his Thiruda Thiruda where a couple of thieves, police, smugglers, an innocent village girl, a dancer, and some CBI investigators all take you on a roller-coaster ride. I agree Thiruda-Thirudaa wasn't a box office hit but nevertheless it had its own attractions like the visuals and Rahman's music!

Mani Ratnam is one director who is meticulous that each and every frame should say some story to the audience. That's why you see the dinning table in Anjali very small in height and almost every shot is taken at the a of Shamili who plays the title role. That shows the world through her eyes. One of the girls who played a friend of Shakti in Alai Payuthey is my friend. Her role is relatively small but still he had caller her to shoot for 15 days running in one full year for it. Now that's what we call as being a perfectionist.

Once the Tamil film critics were complaining about his films are always dim-lit, but none of them realized the planning that went into it by P C Sreeram and Mani to arrive at that angle of light. There used to be another funny complaint that Mani writes his movie dialogues in one postcard. Puleez, those who want pages of dialogues go and read a book!

He is a professional who is comfortable to work with. Madhavan and Aravind Swamy are repeated in his projects. Rahman feels that his best challenge comes when he works for a Mani Ratnam movie. When he is the producer and the screenplay is his, Vijaykanth gives a Chatriyaan. Naasar and Vivek are ready to shed their images and start exploring a new role if it's his movie. Shah-rukh Khan doesn't mind if Dil Se.. bombed the box office coz he's happy with the experience of working with him. Sathayraj considers his role in Pagal Nilavu as one of the best villain roles he has ever done and Karthik could never forget becoming an overnight youth icon with his Manohar. Kamal and Rajini had their career best in Nayakan and Dalapathi…same goes with Mamooty and Mohanlal in Dalapathi and Iruvar respectively.

Of course his movies have failed in Hindi but that doesn't stop him from venturing into to Bollywood again and again. It is true that he gets some of his inspirations from Hollywood. But who cares when the final dish is fabulous?

Yes almost all of his dialogues are telegraphic

"Odi Polaama??"

"Niruthannum…ellathayum niruththannum"

"Dei..anna inga vaada!!"

"Nee azhagaa illaa….."

"Kambali poochchi orrurua maathiri irukku!!"

But his characters are too smart to waste time in talkin...aren't they?

Very rarely, the way his characters express their emotions look repetitive. Both Madubala in Roja and Manisha Koirala in Bombay started crying slowly and then leaned on the wall or door and then sat down helplessly loosing strength on seeing their loved ones at last.

There is also another complaint that Mani Ratnam uses or manipulates the audience emotions to get the easy way out of problems and I personally feel it is true to some extent. In other words his endings are too good to be true. Be it the way people join hands in Bombay or the terrorist turning good in Roja or Surya winning the elections in Aayitha Ezhuthu. He builds the emotions of the audience towards the climax and gives a fairy tale ending and not a true solution to the issue taken.

Nevertheless, people don't watch movies for solutions to their problems and he has been the trendsetter of Indian movie industry from Pagal Nilavu days even now striking a difference with his Aayitha Ezhuthu. He's been guru for Gautham, who gave Khakka Khaaka. So let him make more movies and let him leave more footprints !!
---
DAILY BULLETIN 4 November 13, 2002

REGIONAL FILMS ARE MORE ROOTED, MORE REAL-MANI RATNAM.



At face to face today, Mr. Mani Ratnam, who need no introduction to film buffs in India, was as candid as his films. "the anger and agony that feel cines into the films I make. It is something that comes from the heart", said the noted film maker. Commenting on what ever makes are films or commercials ones, he said that he makes films within the popular cinema format. Commercial films can be made and are made artistically and art films are also commercially successful, he opines. Speaking on censorship he said that filmmakers should be given a little more freedom and space like artists in other branches of art. Mr. Mani Ratnam allows his stories to take his own form. He believes that after an idea is conceived, it takes its own course. It is relationship that he deals with. His characters are ordinary folks like as who live through a certain situations. Even thought the terrorists are ordinary men, only, they feel differently. One has to understand their point of view too. He makes films, which his audience would understand. He thinks that the style pattern ought to synchronize with the narrative.

Expressing his faith in the new generation he said that we transmit our values to our children who carry them forward. This new generation is evolving just as we had, developing ourselves by interacting with the world. The responsibility of a film director is only as much as any other citizen in this matter. He feels that he is not here to preach, but can only express certain opinions; his angst. He shares a story, something that can be communicated.

He strongly feels that regional films are so rooted to a region's culture and thus so real that they are often more focused than Hindi/National cinema.

Inspired by Kaurosawa, he feels that certain bad films are inspiring in the sense that they make you think how to do better.

Just like any sensitive filmmaker, Mani Ratnam feels that his best is yet to come. When ever he sees a good film by any film maker across the globe, he feels there is much more to do; a long way to go.

MANI RATNAM: "NEVER TALK DOWN AND NEVER PREACH"

As David Overbey mentions, "they never talk down and never preach, but that does not mean they are without a vision or frail to engage issues of great importance." We are talking about an Indian director who has bridged the gap between commercial films and parallel cinema. The last time I saw him was in the Kolkata Film Festival, two years ago with his latest film Kannathil Muthamittal, Mani Ratnam is certainly a name to reckon in contemporary cinema.

Kannathil Muthamittal resolves around an adapted child who feels disowned, betrayed and left out of the society. The child tries to run away from the house in search of her biological mother. "Mainstream Indian cinema has been rightly accused of trivializing or avoiding real issues more often than not. With my latest venture I have tried to prove the wrong", said Ratnam. In Kannathil Muthamittal, Ratnam chooses his favorite issue of terrorism but refuses to take a side on it.

Born in 1955 on second June at Madurai, Chennai and a commerce graduate from Madras University, Mani Ratnam has revolutionized the Tamil Film Industry with technically strong films. His father was a distributor, a man who lived with the business side of films rather than its creative or aesthetic aspects. Like most every person of his generation, Mani Ratnam grew up watching films. In his mid-teens, Mani Ratnam had a moment of realization as he sat in a dark cinema theater watching larger than life heroes leading larger than lives…..for the first time, he discovered that films were conceived and directed. And that was all. No internship as assistant director. No searching for that elusive director who would transform his screen play into a living breathing entity. One day many years later from that first moment of cognition, Mani Ratnam stopped and started….. and changed the course of his life. From management consultant to movie maker.

The first film Pallavi Anu Pallavi (1983) in Kannada fetched him the Karnataka State Award for best screenplay, but the film bombed at the box-office. With his two Tamil ventures Pagal Nilavu and Idaya Kovil he had three flops in a row. The zeal of Ratnam was only felt with Mouna Raagam. A film about an estranges couple and their re-union. His next movie Nayagan is probably the first Indian movie of its genre. With stunning cinematography by P.C. Sriram (taking his cue from Gordon Willis) a la Hollywood gangster genre, Ratnam established himself as the leading Tamil director. Then followed insignificant films like Agni Nakshathiram and Geetanjali. With Anjali, Ratnam proved his mettle as a director. A film about a mentally handicapped child brought back to her family with two normal siblings is perhaps sourced in a novel by Fynn-Mr. God, This is Anna. Dalapathi, Dalpathi his first Hindi venture was the most hyped of the all Mani Ratnam movies. But with Rosa he became a star director overnight. Based on Sujatha's novel 14 Natkal, it is a ground-breaking for it heralded a new age in Bollywood cinema and music. For years the north was influencing Tamil films and music, but after Rosa quite the opposite started happening. The film was A R Rahman's debut and the cinematography was by Santosh Sivan. It was a patriotic love story against the backdrop of Kashmir terrorism that made Ratnam a household name all over India.

As a journalist I admire how he delves into Hindu methodology and creates contemporary renderings. Rosa is actually the story of Savitry and Satyavan retold and the relationship of the brothers in Dalapathi is drawn from the story of Karna and Arjuna.

A sequel of Rosa was Bombay. The movie, which focused on the Hindu Muslim riots in Mumbai. A love story between a Hindu boy and a muslim girl against the backdrop of Mumbai riots of 1993. the last in the series was Dil Se…..the story dealt with the Assam terrorism and a parallel love story between a terrorist and a All India Radio reporter. A US journalist Grant Tnaka mentions in her article that , "Ratnam's Grand Gignol riot sequence (In Bombay) ends with dreamlike idealism….The closing image, of outstretched hands coming together to end the pointless fractricide, as silly and utopian as it may be, is still a potent antithesis to the repugnant nature of war.".

Frames in Ratnam's venture are perfectly composed and beautifully backlit even if this style involves total violation of tonal, focal and color continuity. The connoisseur can well appreciate his efforts at different color combinations, in each film, to make the experience for the audience, unique, each time. Mani favors subtlety in his visual images: the backward glance, the veiled face, the windswept profile, the half-hidden gaze.

Explosions, fire and smoke enter not only the to even the songs. Yet, he finds the fire imagery visually exciting. "What do you want?" ask his heroes, from Rishi to Amar. "Independence", reply the terrorists. "From whom? Why all this violence? Why take innocent lives?" Ratnam's heroes ask. The screen bristles with sanctimonious speeches, but the same slogans echo relentlessly.

Ratnam is nothing but a 'good' filmmaker. He wants to make 'human cinema''. As Khushwant Singh rightly mentions in Sunday Observer: "Mani has done a great service to motherland (after Bombay)". If I were the Prime Minister, I would have recommended him for Bharat Ratna." And yet, in Theodore Bhaskaran's Swarna Kamal awarded book, Eye of the Serpent-An introduction to Tamil cinema, there is no more than a cursory mention about Mani Ratnam.

Staff Reporter
Bengal On The Net
---
Mani Ratnam and P C Sreeram

P C Sreeram [J S Films] is one of India's most acclaimed cinematographers.
He began his journey as a photographer at the age of nine when his grandfather gifted him a Brownie camera. Though Sreeram's first attempt at using the camera was a disaster, he gradually mastered the technique. Thereafter he began experimenting with the medium.
Sreeram's days at the Pune Film Institute opened his eyes to world cinema. As the cliché goes, there was no looking back for him.
Sreeram says a film's script must excite him. Else, he does not accept the project. "If I see passion in the eyes of a director, I accept the film."
A veteran of more than two decades and 25 movies, Sreeram considers every film of his a journey. "Cinematography is not a mechanical job," he says. "I don't want to do it that way."
P C Sreeram lists some of his favourite films: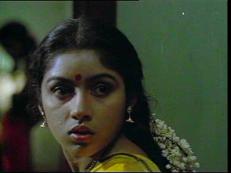 Mouna Raagam: This was his first film with Mr. Mani Ratnam.
We planned so many things before we actually started shooting. Mouna Raagam was the story of marital disharmony. My work was very simple because my approach was simple.
I used a lot of dark shades in the latter part of the film, in tune with the story. I felt the long shadows and the light and shade effect accentuated the marital disharmony between the husband and wife.
Similarly, in the flashback, when the girl was studying in college, I tried to give a different energy level. The film had a beautiful tone. I must say, Mouna Raagam shook the industry then!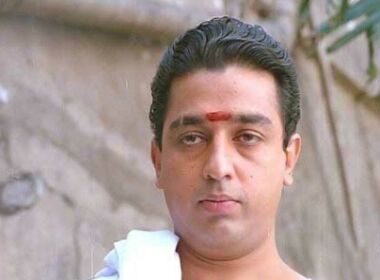 Even before Nayagan, I had tried some top lighting in my earlier films. Top light is used to enhance the atmosphere.
In Nayagan, I shifted the concept of pushing the key light on a different axis. For some time, actors did not have a clue about lights because I would light from unnatural areas. But artistes like Kamal Haasan grabbed such technicalities fast.
I tried to show Velu Naikar's evolution from a bachelor to a husband to a father and, finally, a powerful man through light. As he grew, the light axis slowly shifted.
I visited the slum in Mumbai's Dharavi where the man [Varadaraja Mudaliar], based on whose life the film was made, lived. He was alone when I met him. When I saw the room, the way he sat on the sofa-cum-bed, I had many pictures passing through my mind. That was when I decided on changing the axis of lighting.
I like expressing myself through light. I got the National award for Nayagan.
His third get together with Mani Ratnam was Agni Nakshathiram, in which PC used some dark and light shades to differentiate the charecterisations of Karthik and Prabhu.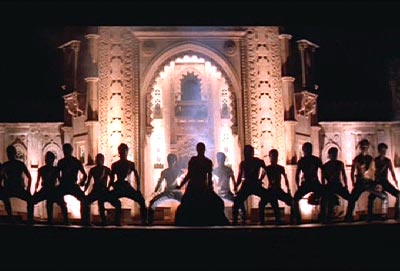 In Thiruda Thiruda, there is a concept of a light show in a song. It is almost like the son et lumiere you see in New Delhi. The concept was that the light had to dance in sync with the music.
After the first day's shoot, I realised that planning was very important for that song. As we didn't have automatic control panels, the light was not in sync with the music.
Raju Sundaram was the choreographer and the song was picturised on Anu Agarwal and a group of dancers. I told Raju to make the dancers dance with the control panel. For example, as they danced, they would bring the dimmer from zero to 19. As they were in rhythm, they could control the light in sync with the music. Once we achieved that, dance and light went on smoothly and beautifully.
This song sequence is much talked about even today. Many have forgotten the film, but not the song.
The moment I heard the words Alai Payuthey, my mind was a moving camera. I felt the camera should never remain still in this film; it should have the lyrical quality of a moving picture. When the story was discussed later, I was convinced.
So, when we went to the Andaman Islands, though we carried very few things with us, I made sure we carried the crane that is required for our movement concept.
But I fell into my own trap, because it was difficult to go for continuous movement when shooting indoors, especially in a small house. But we managed.
What is discussed in the film fraternity is the use of colours in the song Pachai Niramae... When we landed in Kashmir to shoot the song, I saw only a dry, barren land with no leaves or flowers. The colour came from the chinar trees.
But the song called for vibrant colours in pastel shades. So we used a graduated filter to enhance colour. In fact, we used a lot of filters, While I was working on the song, all these things did not come to my mind. Now, on looking back, I feel it was an adventure.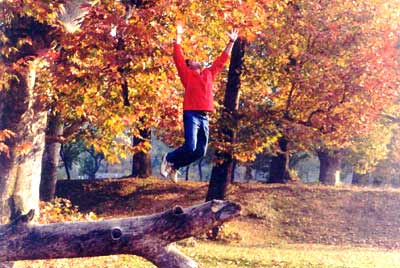 Arguably the best picturised song of A R Rahman and one of the best song of ARR and Mani Ratnam combination...Pachai Niramae.. coming I would have argued it could be the Chandralekha.. song from Thiruda Thiruda. Even today Chandralekha.. is one of the outstanding songs in Tamil cinema. Even if Mani wants to picturise a similar song it would be difficult for him, now. It is such a potent combination of extraordinary camera angles, awesome choreography and fresh vocals (rendered by Anupama). My cousin couldn't believe that the whole Chandralekha.. song was picturised in the Chennai museum located at the heart of Chennai.

Alai Payuthey by itself is such a engrossing movie. But, Pachai Niramae.. clearly stands out. It could be said as a song with nearly no flaws. The picturisation glues with the tune and color combination is so pleasant that there isn't any diminishing marginal utility funda with this song. Though there is a clear exaggeration of color and this has been achieved by the color grading. I had read in an interview of P C Sreeram that he and Mani Ratnam took more than a couple of weeks for the color grading for this movie which is far from normal. The result is such a clean product that will stand over time.

Mani Ratnam loves the Taj Mahal. Not the usual way which others show and see. It is an angle that many haven't even thought about. From Panni Vizhum Iravil in Mouna Raagam to Pachai Niramae.. in Alai Payuthey he has shown this tomb of love in some real exciting angles. In Mouna Raagam it was a nightly view with a long panning shot. It was mostly a backdrop for that song. But the most interesting angle was in Iruvar. Many haven't even attempted to see the movie in theatre. In Iruvar's Vennila Vennila (rendered by Asha Bhonsle) song when Aishwarya seduces Mohanlal, the camera shows a blurred green leaf and suddenly moves in a fast fashion opening up the Taj from the side angle. It is a very close angle where the viewer is surprised by the sudden appearance of Taj. Only someone of Mani's caliber could think this shot. A similar backdrop of Taj is filmed in Pachai Niramae.. just as the last shot when Madhavan takes a huge leap among a maze of white clothes and taj forming the white backdrop for that shot. The whole shot lasts just for 4 seconds and it is real piece of class. And so I sipped my morning filter coffee watching Mani's masterpiece.
---
---