---

Since Mani Ratnam produces his own movies, he has the flexibility to experiment with new ideas; he returned the money to his distributors when Iruvar bombed. This a big plus, a great strength, for Mani Ratnam, the director. By focusing on current issues in his films, he is able to generate interest, controversies and hence visibility.
One of his weaknesses is that most of his movies don't touch a chord in an average Tamil movie goer, at times may appeal only to the sophisticated audience. Agni Nakshatiram fulfilled this to some extent, whereas Alai Payuthey did not. The portrayals in his recent movies have all been alien to the typical Tamizhian way of life/family and hence success cannot be taken for granted. There are critics for and against Mani Ratnam, but no one can deny that he has a special place in the annals of Indian cinema. Let us celebrate the fact that a prestigious PadmaSri award has gone to a deserving artiste!



A movie director, talking about Mani Ratnam had this comment to make, History of Tamil Cinema. Very true! Time was when Mani Ratnam took a lot of flak from critics who derided him saying he was a postcard dialogue writer, and was the master of movies shot in darkness! His taste was different and few appreciated his works. Though a good artiste does not always look for awards, the PadmaSri award conferred on Mani Ratnam is noteworthy, because for a Tamil artiste to get this honour, despite the Bollywood lobby is an achievement. It is a well-known fact that good artistes do not always get the awards they deserve, and there is a powerful lobby at work all the time, pushing and pulling!
Director Mani Ratnam's films have themes that are relevant and thought provoking, but they fail to explore issues in depth. Mani, who has been making films for about two decades now, is one of India's most successful commercial film directors. Wonderful music, emotional plots, trend-setting song sequences and much melodrama are all hallmarks of his films. His latest film Kannathil Muthamittal, set in beautiful, strife-torn Sri Lanka and the golden beaches of Rameshwaram, follows the same successful formula. Mani's cinematic landscapes are painted with good intentions. His themes are relevant and thought provoking: disability in a child; terrorism in Kashmir; communal riots in Bombay; insurgency in the North-East; suicide bombers in the capital; militancy in Sri Lanka; adoption.
---
Maddy should be more Obscene: Courtesy: Music India Online.com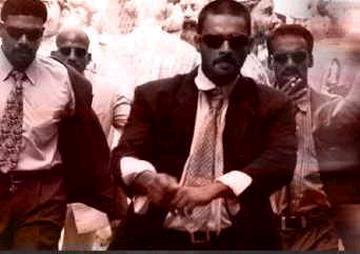 Ace Tamil director Mani Ratnam feels actor Madhavan in Aayitha Ezhuthu film should have mouthed dialogues in a particular fashion 'Ponoma!' 'Vandoma!''Senjoma'- About this when we quizzed Mani Ratnam, the director said: " In fact Madhavan should have spoken more obscene dialogues than what he did, "he said. However, in Aayitha Ezhuthu Ė there is one scene where Madhavan speaks to his friend in a kind of style 'Ponoma' 'Parthoma' 'Senjoma' etc, which has attracted criticism from some quarters. Mani Ratnam feels " You see, Madhavan's to get out of his problems, had a door kept opened and wanted go through that. But he just could not leave this girl; and sod away. He is head over heels in love with the girl. Itís a character, which is lolling around the streets. We must imagine the story in his angle. In fact, the language he speaks, we should have mixed up a few more obscene words. But again we cannot over the top. Thatís why, we could not cross the border line," adds Mani Ratnam. The relationship of Madhavan and Meera is seen more of a sexual urge than love" all for which Mani Ratnam is ready with an answer. "Sexual urge is not an obscene word! Who said so! This is what Britishers have thrust upon us. It is just a creation of mind. " This is very bad, and it is rather feeds for very low feelings" is what Britishers taught us to think. If 'love' is sacred, 'Sexual urge' also equally sacred. After all least is the extension of love. Their relationship, is feeling oriented. It has transcended even body. That girl has a conviction that, without letting him down, he can be corrected. In him, he has a love which would not like get separated from her" - Mani Ratnam explained".
---
Mani Ratnam Vs Bollywood: Courtesy: CineSouth.com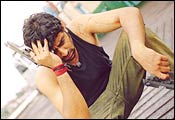 Yuva is a second blow to Mani Ratnam in Bollywood. The 1998 flop Dil Se.. was his first blow. Though directors like Balachander and Bhagayaraj had done some very successful films in Hindi, it is Mani Ratnam who is acknowledged as the South Indian director. He had directed about 18 films and with exception to Pagal Nilavu and Idhaya Koil, almost all the other films had been either dubbed or remade in Hindi.

Only Roja and Bombay did well. Everything else failed. These are films that did very well in Tamil.

The reason behind this is baffling- though Mani Ratnam is very talented in composing frames, he is still a very Tamil director. In the case of Roja and Bomba, he didnít have any ideas of remaking the films in Hindi. But the success of these films inspired him to make Dil Se.. and Yuva.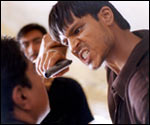 In Bollywood, the narratives are very much like those in Hum Aapke Hain Koun and Company. But, Maniís narrative belongs to neither the former nor the latter. Abhishek Bachchanís character in the film ĎYuvaí was done a hundred times better in Ram Gopal Varmaís Company.

When Mani was asked if he will remake the film Kannathil Muthamittal in Hindi, he replied that films have to be made keeping the nativity of the people, their lifestyles and culture in mind.

But, he has forgotten this and this is the reason why the film Yuva bombed. The films that he didnít make for the Bollywood culture has done so well there and the film that was specifically made for them had bombed. This only shows that he is a typical Tamil film director.
---
Ahead of its time: Courtesy: The Hindu
These are the criticisms that have surrounded Mani Ratnam's latest bi-lingual, Aayitha Ezhuthu (Tamil) and Yuva (Hindi). Here is a review of Aayitha Ezhuthu (Tamil) from Chennai Online.com. Here is a review by Taran Adarsh from IndiaFM.com of Yuva.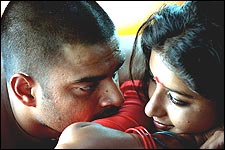 "YUVA" AND "Aayitha Ezhuthu," Mani Ratnam's latest have opened to mixed reactions from the youth. Those who love it, love it and think it is the best movie of the year. As a friend says, "I loved the violence in the movie. I think it's reflective of the frustrations we want to take out and our desire to kick evil out of the system." One would quite agree.
Those who don't like the movie, have their issues, like a colleague, who found it to be "an assault" on her senses. The other common reaction was: "How can Mani Ratnam make a movie with a Shankar kind of Utopian ending?"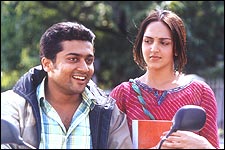 But that is understandable given the story was essentially about three men and their roles within a violent system: good, bad and indifferent. And, why should one look at it as a Mani Ratnam film? Why not see it just as a movie that entertains and makes you think? Besides, the director has had a history of finding conveniently easy solutions to his conflicts like in "Roja," "Bombay" and now "Aayitha Ezhuthu." And if not for the movies, where can we see such optimism?
"Real life and corruption aren't inspiring. We need the movies for that. I was inspired watching this movie. We can make a difference," says Sravan, who has just passed out of college.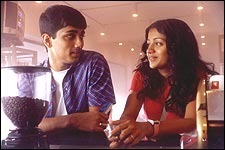 The conservative women in the audience, however, are objecting to the portrayal of the women in the movie. "What is this woman doing going back to the man who keeps hitting her? And what is the other girl doing with a useless boy she met at the disco? Practising swimming? And couldn't he find any other actress who at least could speak the language for the doll role?" But the point is: Haven't we seen them around? The women in the slums who live with the men they love in spite of all the abuse? Haven't we seen the girl in college who goes out for coffee with another guy even when she's engaged? And the romantic one who is even willing to move in? Maybe some people find the movie "ahead of its time," but that's only because they are losing touch with the current crop of young people living in the metros.
It is a metropolitan movie. Mani Ratnam delivers a classy film, which truly reflects the different ideals of the youth of today. He stops the film just short of realism, shirks away from telling us more and stops his fantasy a little abruptly. But isn't cinema about living the fantasy and not waking up before the climax?
SUDHISH KAMATH
---
Through a shrinking camera: Courtesy: The Hindu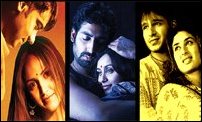 Its problems are larger than life, but its solutions are too easy. UMA MAHADEVAN-DASGUPTA takes a look at Mani Ratnam's latest film Yuva.
MANI RATNAM'S intense personal dramas tend to unfold in interesting locations. In "Nayagan", we see the slums of Dharavi; in "Bombay", the city during the riots; in "Roja", the beautiful, terror-ridden Kashmir Valley; in "Kannathil Muthamittal", a war-torn Sri Lanka; and now, with his latest release "Yuva", he takes us into the streets of Kolkata.
The problem however is that we get to see very little of these places, not only literally but also in terms of the struggles that they represent. "Roja" showed us hardly anything of Kashmir beyond the usual mountainscapes; "Bombay" showed us riots and burning streets, but little else of this lively and turbulent metropolis; and "Yuva" shows us an airbrushed, sanitised Kolkatta that is hardly like that great city. We do see a few images of Kolkata ó some disparate elements put together in the hope that they will suggest a seamless whole. A fleeting glimpse of the Victoria Memorial; a sweetly filmed tram ride; the Telegraph; the beach at Chandipur; a flooded street; a Durga idol being taken in procession. A game of kabaddi in the prison compound, in pouring rain. A bunch of Presidency College boys getting into a fight with some shady goons. The Howrah and the second Hooghly Bridge, both overused, although there is a terrific fight sequence located on the bridge at the end of the film.
Rural Bengal, too, has been airbrushed almost out of recognition: it is all rather like one long television commercial. Villages, it seems, are made up of long processions of people walking rapidly along a dusty road as brown, bare-bodied boys watch from a tree, rather like that soft drink commercial that used to appear on television during cricket season. And all those who stand for elections, it seems, are met with cheers and victory. If only real life were as glossy, as glorious!
"Even Kolkatta looks clean to me now," says the happy-go-lucky Arjun when he falls in love ó and that is precisely the problem. The film diminishes the city into a murky backdrop that is quickly set right, first by romantic love, then by political success. For a film that professes to be about the street-fights of politics and the reformative power of youth, "Yuva" manages to avoid, as far as possible, any direct look at sleaze and violence. The camera itself seems to shrink from looking at evil. Three young men are taken hostage, but the "treatment" given to them is mostly behind a closed door. As Lallan pumps three bullets into his brother's body, we see the man crumpling up tidily; similarly, when Lallan shoots his friend for letting the hostages escape, the camera doesn't stop to linger at the scene. And as for noise, crowds, dirt, adda, sweet shops, music, history, all of which make up the spirit of the city ó these have been missed out entirely.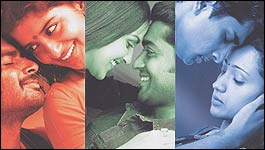 The problem, really, is in the script. There are several Kolkattas, and in his attempt to show us three of them, Ratnam has created a loose and undefined patchwork. The most successful part of the film is the story of the Bihar-born street thug and survivor Lallan Singh and his Bengali wife Shashi. Rani Mukherjee has given one of her better performances as the lower middle class Bengali girl who loves her man fiercely. Abhishek Bachchan, too, (although his acting talents are evidently less than adequate ó just think how brilliant Amitabh would have been in this role!) manages to make an impression as Lallan. Their alternately violent and passionate relationship is the most interesting thread of the story.
Unfortunately, the film chooses not to sustain this thread. Compulsively ó or at least to justify its Rs.20-crore plus budget ó it moves on to tell upper-middle-class stories. We meet the idealistic youth leader Michael Mukherjee (Ajay Devgan, with four hunky guys behind him) and the happy-go-lucky Arjun (a sunshiny Vivek Oberoi), busy pataoing girls and dreaming of the U.S. There are also their mandatory romantic links, played by Esha Deol and Kareena Kapoor.
In Ratnam's typical style, the women are used as little more than ornaments: while they show occasional flashes of emotional strength (Roja, Shaila Bano), Ratnam's women are almost never depicted as professionally strong. The youth leader pulls his girlfriend out of her workplace to take her on their campaign; even in the revolutionary politics of youth, it seems, there is little place for women to lead. Except by means of their feminine wiles. Meanwhile, Lallan's wife Shashi is a strong and loyal woman ó her angry tirade at the ticket checker in the train, and at men in general, is one of the better scenes in the film ó but she is just not given enough to do. The film, like the politics of youth, it seems, belongs to the men.
As for the baddie, played by Om Puri, he suffers not only from a poor Bengali accent, but also from a role that has no angles at all. The talented Vijay Raaz is underused as Lallan's buddy. Indeed, the film suffers from poor casting. Ratnam has fallen into the Rs.20-crore-plus trap, which has forced him to cast stars, especially a mid-thirties Ajay Devgan in a role that deserved a young and fresh face.
Ratnam has tried, unsuccessfully, to work within the Bollywood star system and its song-and-dance routines, and still retain the social message of his film. In his earlier films, he has managed to get away with intrusive song and dance sequences because of some great music and choreography. One recalls "Chaiyya Chaiyya", "Choti Si Asha", "Vellai Pookkal". But in "Yuva", Rahman's music is less remarkable, and as for the song sequences, though competently done ó for Ratnam is always so good at showing us the little delights of domesticity, or the breezy joys of young love ó they intrude in the telling of what is essentially a gritty street story.
After the intense and very real drama of the Indian elections this year, then, "Yuva" comes as a letdown. If the problems are larger than life, the solutions offered by the film are too easy. Four young men contest the elections against a club of geriatrics ó and all of them win. In the final scene of the film, we see the inside of the state assembly, with a sea of old men in white kurtas and dhotis ó and then our four denim-clad heroes strut in. Is it a note of hope, or is it the same old, same old? Surely this is where the story really begins, but then the credits begin to roll.
---
WHERE DID 'YUVA' FALTER? Courtesy: IndiaFM.com
Mani Ratnam has missed the bus yet again!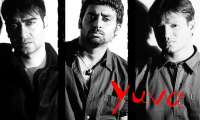 YUVA was touted as one of those biggies that would bail the industry out of its current crisis. Unfortunately, the film has not lived up to the gargantuan expectations. The film trade is in a state of shock, what with the distributors and exhibitors having invested all their faith and fortune in this mega venture that was expected to be a money-spinner.

But what saddens me is that the film just didn't fetch a decent opening at several places. With Mani Ratnam in the director's seat and an attractive star cast as one of its USPs, the film should've taken a flying start at the box-office, setting new records in its opening weekend.

The general feeling within the industry is that films targeted at the youth work wonders at the turnstiles. In this case, not only does the film star six top-of-the-line youngsters, even the title [YUVA] is youth-oriented. So why did the audiences accord a cold welcome to this flick?

Could it be because the promos were not too hot? Or, perhaps, Rahman's music didn't really catch on? Whatever the reasons, the not-too-happening opening response to the film indicates that big names do not necessarily guarantee big openings.
---
Guest Blog 14 - Anand C
Good students are good students in the Indian education system, regardless of how well others perform. You get "first class" if you have 60%. Simple!
However in the American educational system you could get a 'B' if you got 60% and half the class scored higher than you. On the flip side, you could get less than 40% and still get a 'B' if most of the class is behind you. The key to decide which side of the 'bump in the bell curve' one sits on is which class you get compared to!
If Mani Ratnam's Aayitha Ezhuthu is analyzed a la the Indian education system (i.e., by itself, not in comparison with his past films), he would get a great grade - commercially and critically speaking. Most current reviews though seem biased in one form or another by the "relative grading" syndrome.
What do you think?
---
Rituparno planning a film with Abishiekh: Courtesy: Sify.com
By Subhash K Jha
Wednesday, 09 June , 2004, 09:25
So enamoured is the pride of Bengal, Rituparno Ghosh with Abhishek Bachchanís performance in Mani Ratnamís Yuva that he wants to cast him in a Bengali film.

"Iíve been looking for a dark brooding intense presence, like Mithun in Mrinal Senís Mrigaya. And I think Iíve found him. Weíre meeting very soon."

After seeing Yuva Ritu immediately spoke to Abhishek. The two met over lunch at the Bachchan residence, and Abhishek liked the story idea. Interestingly Abhishek has done a Bengali film ó Raja Senís Des where he played his own motherís son.

"Resembling his father is no longer an issue for his critics ó thank God for that! He says he canít cope with the Bangla language, but thatís ok because the character in my film doesnít speak much. I just loved Abhishek, Bebo (Kareena), Rani and of course the film Yuva," says the director whose first Hindi film Raincoat has just been invited in the competition section of the Karlovy Vary festival.

Does Bollywood feel threatened when internationally renowned regional directors like Mani Ratnam and Rituparno Ghosh make a Hindi film?

Observes Ritu, "I canít comment on that. But I love Yuva. Itís the kind of Indian film that can take us to an international level. It has the right blend of message and entertainment. In Mumbai they keep talking about crossover films. Well Yuva is a genuine crossover film. Look at a Tamilian filmmaker crossing over to a completely different culture in Bengal. Yuva has a pan-Indian relevance. Itís about the homecoming of three young urban males. ItĎs truly modern and fascinating, without being outrageous."

Does Ghosh empathize with Mani Ratnam? "He has made a Hindi film earlier Dil Se.. which was panned in Mumbai. But it was a wonderful film. Choti mooh aur badi baat...but is Bollywood capable of rating Mani Ratnam? Is there anyone of his stature in Bollywood? Very few filmmakers can match his skills. I remember watching Maniís Iruvar with Adoor Gopalkrishnan in Japan. If Adoor didnít explain the politics of South India to me I wouldnít have understood Iruvar. To assess a work by Mani Ratnam we need someone as qualified as Adoor. Yuva is as layered as Iruvar. Iím going to watch it again. Iíve requested Mani to send me a copy with subtitles. Itís high time Bollywood relinquished the formula."

Interestingly like Mani, Ritu too crosses over to Hindi with a star-centric film.

"And why not?" defends Ritu. "The stars bring a definite audience. Producers and distributors want the stars. Besides, actors like Ajay Devgan, Aishwarya Rai, Kareena, Rani and Abhishek are very talented. Just because theyíre stars have they done less than complete justice to the films?"

The tentative release date for Ghoshís Raincoat is 22 July. Karlovy Vary is the only international film festival that occurs before that date. Locarno and Venice film festivals come in August. But once Raincoat is released internationally it cannot be eligible in the competitive section of any festival.

Raincoat is in the last stages of mixing. Was Ritu as daunted by the Hindi as Mani? Apparently Mani had to depend on his dialogue writer Anuraag Kashyap even to brief his actors.

Sighs Ghosh, "I donít think I was inhibited by the Hindi language. Yes I did have initial problems. But I took on the challenge with grace. In fact IĎve written the Hindi lyrics of the songs in Raincoat."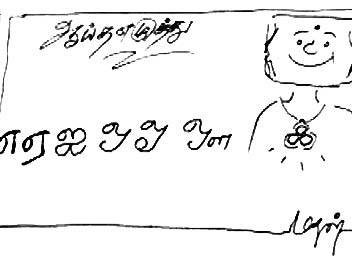 Here is Ananda Vikatan's former cartoonist Madan's way of congratulating "Aayitha Ezhuthu".
In any business, success and failure alternate. Undaunted by the vicissitudes of the industry, Mani Ratnam continues to believe in making good cinema and all his efforts reflect this philosophy. Without falling a prey to either extremes - the incomprehensible and often purposeless serious cinema and the commercial gibberish, he has struck a middle path and has been successful. Keeping abreast of the latest trends in IT and having a clear understanding of technology has probably been the key to making good films.
---
---