---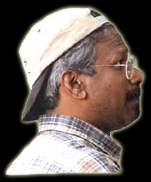 Being an MBA himself he also knows how to market his films. He has a loyal audience for his films in Europe. He knows their tastes and he caters to that audience - a shining example is Kannathil Muthamittal. Since he produces his own movies, he has the flexibility to experiment with new ideas; he returned the money to his distributors when Iruvar bombed. This a big plus, a great strength, for Mani Ratnam, the director. By focusing on current issues in his films, he is able to generate interest, controversies and hence visibility.
One of his weaknesses is that most of his movies don't touch a chord in an average Tamil movie goer. Agni Nakshatiram fulfilled this to some extent, whereas Alai Payuthey did not. The portrayals in his recent movies have all been alien to the typical Tamizhian way of life/family and hence success cannot be taken for granted. There are critics for and against Mani Ratnam, but no one can deny that he has a special place in the annals of Indian cinema. Mani Ratnam's 'Madras Talkies' also produced a daily soap in Sun TV called Anbulla Snehidiyae, starring Anu Hassan and Swarnamalya.
Here are a few films reviewed on Mr. Mani Ratnam's films by Mr. Balaji Balasubramaniam. The reviews are collected and compiled from various websites for the esteemed visitors to read.
---
1) PALLAVI ANU PALLAVI
| | |
| --- | --- |
| Film Name: | Pallavi Anu Pallavi |
| Year: | 1983 |
| Music: | Ilayaraaja |
| Camera: | Balu Mahendra |
| Language: | Kannada |
| Notes: | The film handled the relationship of a young man in between a divorcee and and his girl friend. It was not a very interesting movie. Appealed to the classes than the masses. The screenplay was neat. |
| Cast: | Anil Kapoor, Lakshmi, Kiran Vairale, Master Rohit Srinath and Suresh Heblikar. Dubbed in Tamil as Priya O Priya. |

Mani Ratnam made his entry into the Movie world with this Kannada original. When the name Mani Ratnam started spelling success, it was dubbed into Tamil into Tamil as Priya O Priya.
The "Pallavi" (part) forms the episode of an Estate Manager deserting his Wife and Kid, after being caught red-handed with another Woman. "Anu Pallavi" (part) narrates the Story of a young Guy who comes to the neighbouring Estate for work and his relationship with the deserted Woman.
Suhasini reportedly turned down a role in this first film by her future hubby, Mani Ratnam. The movie fetched him the Karnataka State Award for best screenplay.
---
2) UNARU
| | |
| --- | --- |
| Film Name: | Unaru |
| Year: | 1984 |
| Music: | Ilayaraaja |
| Camera: | Ramachandra Babu |
| Language: | Malayalam |
| Notes: | It was not a very interesting movie. |
| Cast: | Mohan Lal. |
NO DETAIL REVIEW AVAILABLE.
---
3) PAGAL NILAVU
| | |
| --- | --- |
| Film Name: | Pagal Nilavu |
| Year: | 1985 |
| Music: | Ilayaraaja |
| Camera: | Ramachandra Babu |
| Language: | Tamil |
| Notes: | It was an okay movie and had a couple of great songs. But it was a flop and it did not even complete 100 days. The story of a gangster, in love with a policeman's sister. |
| Cast: | Murali, Revathi, Sathyaraj, Sarath Babu, Radhika, Venu Aravind, Nizhalgal Ravi, Goundamani. |
| Stills: | |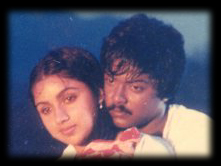 It is hard to believe that the man behind this movie is the same director who just one movie later, gave us the classic Mouna Raagam. This is a rather generic tale of a village under the grip of a rich man and a youth who rescues the villagers from their life of servitude. On its own, the story is strong and told quite well but knowledge of Mani Ratnam's later efforts makes us view it with a different eye. The subtleness and class evident in his later movies are nowhere to be seen and only Sathyaraj's effective and measured performance saves the movie from being completely forgettable.
Selvam (Murali) is an irresponsible, unemployed youth leading a careless life. His mother's illness jolts him back to reality and he becomes a loyal servant to the rich man in the locality, Devarajan (Satyaraja), who helps save his mother's life and also offers Selvam a job. So Selvam turns a blind eye to Devrajan's unlawful activities and becomes his henchman. Robert Manohar (Sarathbabu), the town's new police officer who is not swayed by Devarajan's influence or bribes, quickly becomes a thorn in Devarajan's side. Meanwhile Selvam falls in love with Jyothi (Revathi), Robert's sister.
Almost the reverse of Mani Ratnam's later style can be witnessed here. Movies like Agni Nakshathiram and Idhayathai Thirudaathey, had one-line stories propped up by engaging screenplays that literally crackled with excitement and fun. Here, the story is quite meaty with lots of important characters and smaller side stories but the screenplay fails to make use of this and lags noticeably at several places. Clichés abound, especially in the acts and dialogs of Sathyaraj's sons, and sentiments are loud and overt.
Inspite of the so-so quality of the end product, there are several moments in the movie which remind us that it is Mani Ratnam who is wielding the camera. The romance between Murali and Revathi is cute in the initial portions when he poses as a blind man. And Revathi's actions and dialogs when she dislikes Murali remind us of her actions towards Mohan in Mouna Raagam. The romance between Sarathbabu and Radhika is the exact opposite and is mature and polished. The way Sarathbabu expresses his feelings to Radhika strikes the right note. But Radhika's flashback is quite routine.
Mani Ratnam's luck with hit soundtracks is evident right from here. Though not all songs are good, unlike his later movies starting right from his next one Idhaya Koil, Poomaalaye... is a memorable song and arguably one of Ilaiyaraaja's all-time best. This song is also picturised in a very lively manner. Myna Myna... is a fun song that also provides a nice background score for several scenes between Murali and Revathi while Vaaraayo Vaanmathi... is a slow but melodious number.
Sathyaraj steals the movie with his performance. He never raises his voice and is an affectionate family man but cold-blooded when it comes to dealing with his enemies. The climax further elevates his character. Murali plays the fiery youngster well while Revathi looks very pretty and comes up with a good performance too. Goundamani is loud and the comedy sequences involving him are vulgar and painfully unfunny.
In some ways Pagal Nilavu (Don theme) served as a precursor to Nayagan.
Ramachandra Babu also served as Mani Ratnam's Cinematographer for Unaru (Malayalam).Ravi K Chandran the cinematographer of YUVA is the youngest brother of Ramachandra Babu. He now serves as a board member for one of the film societies in Kerala.
---
4) IDAYA KOYIL
| | |
| --- | --- |
| Film Name: | Idaya Kovil |
| Year: | 1985 |
| Music: | Ilayaraaja |
| Camera: | Rajarajan |
| Language: | Tamil |
| Notes: | The film had a very musically-exploitable theme of that of a singer who makes it big and loses his lady love to the same city that gave him fame! It had fantastic songs, moderate success and ran for 150 days in Chennai. |
| Cast: | Mohan, Radha, Ambika, Suresh, Goundamani. |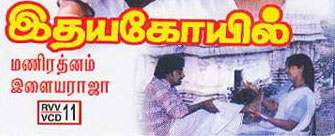 Story of a Singer (Mohan) who makes it big, but tragically loses his love and inspiration (Ambika) and his ways and eventually is redeemed. When he fails to reciprocate the love of another (Radha) the story ends in a tragedy. The successful combo of Ilayaraaja and Mani Ratnam offered a more complete memorable hit with this movie.
---
5) MOUNA RAAGAM
| | |
| --- | --- |
| Film Name: | Mouna Ragam |
| Year: | 1986 |
| Music: | Ilayaraaja |
| Camera: | P C Sreeram |
| Language: | Tamil |
| Notes: | It is a classic in its own right. Songs as usual by Ilayaraaja was fantastic. It was movie about an estranged couple and how they get together again. The marriage between Mohan and Revathi never takes off because Revathi was in love with Karthik who gets killed in an accident. It has a great screenplay and got many awards. |
| Cast: | Mohan, Karthik, Revathi, V K Ramaswamy, Kamala Kamesh, Kanchana, Vani, Kalaichelvi, Shakila, Sonai, R Shankaran, Bhaskar, Rani Patel, Suresh. Dubbed in Telugu. and remade in Hindi as Kasak with Rishi Kapoor, Poonam Dhillion and Chunkey Pandey and also later remade in Kannada with Ramesh Aravind, Prema and Shivarajkumar. |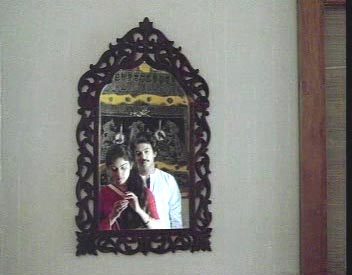 Nowadays we see new directors enter the film world with huge first efforts only to stumble on their subsequent offerings. Not so with Mani Ratnam. Neither Pagal Nilavu nor Idhaya Koyil gave us a hint as to what was coming next from him. While both those were good films, they were hardly what one would call classics. It was Mouna Raagam that made us sit up and take notice of him as a director. It is a beautiful film with memorable characters, good performances, subtle sentiments, great photography and an amazing soundtrack. Almost every frame of the movie oozes with class and the movie features several ideas that have since become trademark Mani Ratnam touches but were a breath of fresh air back when the movie was released in 1986.
Divya (Revathi) is a playful girl who is unwillingly pushed into marriage with Chandrakumar (Mohan), a personal manager in Delhi. Her dissatisfaction with the marriage is painfully obvious as she hurts him with every word and action and Chandrakumar's accommodating character has no effect on her. A divorce is what she asks for as her first gift after the wedding! When pressed for a reason for her behaviour, she reveals to him her brief romance with Manohar (Karthik) that ended in tragedy. Seeing no change in her, Chandrakumar offers her the divorce papers but the court stipulates that a couple must have lived together for at least a year before the divorce can be given. So they decide to stay together as husband and wife until they can finalise the divorce.
If there is one segment in Mouna Raagam that never fails to charm, it is Revathi's flashback that introduces Karthik. While almost every romantic hero in Mani Ratnam's films since then has had shades of Karthik's Manohar, the character here captivates us even more since it is fresh and original. His "Mr. Chandramouli routine" and his antics in the bus and the library are cute and charming. The role made Karthik probably the first Tamil heartthrob since Kamal Hassan and laid the foundation for his long stay in Kodambakkam.
The other two main characters in the movie are no less endearing. Revathi's Divya is the perfect college girl, scared of marriage with someone unknown and unable to forget her past love. Her gradual transformation after the marriage and her aching for acceptance from Mohan are believable. Mohan is the perfect contrast to Karthik as the calm and patient husband who is ready to give Divya the leeway she needs to come to grips with the marriage. His comments about not caring about her past and his handling of her request for divorce are softly done. Its no wonder that every girl who saw Mouna Raagam when it was released came out wishing for a boyfriend like Karthik and a husband like Mohan!
The movie doesn't feature the abrupt dialogs that Mani Ratnam has since become famous for and instead, has several sharp lines that serve to convey the emotions of the characters clearly. Revathi's scathing comments bring out her undisguised hatred of married life and Mohan uttering the same lines to her later, effectively makes her realise the enormity of the lines and his feelings when she uttered them. In the same way, Karthik's dialogs (like his comment about the others at the library) convey his fun-loving nature. Revathi's father is a nice mixture of sternness and love. His explanation of his situation to Revathi when she says 'no' to the wedding and his later request to Mohan to keep her happy are moving.
Comedy has never been Mani Ratnam's strongpoint but his brief forays into it here are much better here than the long, vulgar comedy tracks in Agni Nakshathiram and Idhayathai Thirudaathey. Revathi teaching the Sardarji the wrong Tamil phrases initially seems mean-spirited but V K Ramaswamy's bafflement when he hears them raise some laughs. There is also a sense of closure and a moment of poignancy when the Sardarji responds using the same wrong phrase after Revathi thanks him for his help.
Mohan underplays his role well to portray the affectionate husband. Revathi is the star of the show whether she is laughing at Karthik's antics or crying over Mohan's ignoring her. She looks very pretty and her face easily conveys all the emotions the character goes through. Easily one of the best performances of the talented actress' career. Karthik was starting his second innings after a long gap and quite a comeback it turned out to be. He looks handsome and his dialog delivery suits the playful nature of the character well. Ilayaraaja continued his habit of providing Mani Ratnam with chartbusting numbers. Chinna Chinna... gets my vote for one of the best combinations of song and picturisation in Tamil cinema. The colorful dresses, the simple dance steps and the photography aid the already catchy song. The melodious Nilaave Vaa... is soulfully rendered by S P Balasubramaniam, as is Panivizhum Iravu.... Meaningful lyrics are the strength of Mandram Vandha.... P C Sreeram was the other behind-the-scenes artist whose work was noticed in Mouna Raagam. The lights and soft shadows in the indoor scenes are as beautiful as the shots of the Taj Mahal in the evening light.
The Story had a close resemblance to Nenjathai Killadhae (Prathap Pothen, Suhasini and Mohan).
P C Sreeram wields the Camera for Mani Ratnam (first time).
Mouna Raagam stands as the one of the best melodies in Tamil cinema.
---
6) NAYAGAN
| | |
| --- | --- |
| Film Name: | Nayagan |
| Year: | 1987 |
| Music: | Ilayaraaja |
| Camera: | P C Sreeram |
| Language: | Tamil |
| Notes: | Kamal Hassan got the National award for it, P C Sreeram for Best Cinematography. It was the first Indian movie of its genre. Great songs and great script. Loosely based on The Godfather-I. |
| Cast: | Kamal Hassan, Janakaraj, Charanya, Nizhalgal Ravi, Karthika, Nasser, Tinu Anand, Goga Kapoor, Delhi Ganesh, Pradeep Shakthi, Tara and others. Remade by Feroz Khan in Hindi with Vinod Khanna, Madhuri Dixit and Amala as Dayavan. |
| Stills: | |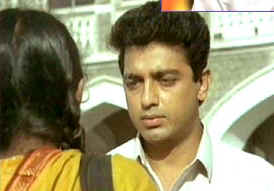 "Are you a good man or a bad man?". So asks the grandson to his grandfather Velu Naicker, close to the end of this extraordinary movie from Mani Ratnam. "I don't know", replies Velu Naicker even as he is being led by the police to court to stand trial for his crimes. The answer seems strange, especially in the light of the thousands of people standing outside the court, hoping and praying for his release and well-being. But it is fully understandable.
Nayagan begins with a young Velu running away to Bombay after killing a police officer who betrayed him. He is taken in by a Tamil boy (in a terrific scene, the boy, who wants to know why Velu ran away, suggests the typical scenarios for a boy to run away like stealing or failing his exams until Velu replies that he killed someone) whose father is a smuggler. As a young man, his intrusion into his father's job gets his father killed. He searches out the policeman responsible and bludgeons him to death. But the people living there see him as their savior and protect his identity. So begins his rise as a leader to the people in Dharavi. He marries a young prostitute Neela (Saranya) and becomes the father of two children. But he loses his wife to the guns of a rival mafia gang. Wishing to protect his children from the life of crime he has been leading, he sends them away. But he continues doing good to his people. Inspite of his best efforts, he is unable to keep his son away from his business and this leads to disastrous consequences. He alienates his daughter too and she marries a police officer to repent for the sins of her father. This police officer ultimately becomes responsible for bringing Velu Naicker to justice.
With is larger-than-life yet human portrayal of a mafia don, Mani Ratnam's picture is an example of film-making at its finest. The obvious similarities to Godfather in no way reduce its lustre. Velu Naicker is presented not as a legend but as a man, with all his flaws and triumphs. From production design to human drama to sharply-etched performances, Nayagan has it all. There is not a single scene here that does not work at some level. From the very first scene to the last, the viewer's attentions is riveted to the screen and only when the final credits roll is he finally distracted to deliver a well-deserved applause.
The movie is successful in making us laugh as easily as it moves us to tears. It is impossible not to smile when Velu Naicker's son imitates his father in their courtyard. He offers his solutions to his friend's problems (he orders a 'hit' a teacher who beat one of them!) and then bumps into his father who has moved into the end of the line. Quickly recovering his senses, he asks his father what he wants. On the other hand, there are scenes, like when an old woman gives up her own life to save Naicker from the police, which melt our hearts. The scene where Naicker gives in to his son's desire to follow in his father's footsteps is an example of high-class filmmaking. Kamal calls his son "Naicker" for the first time and offers him betel leaves from his own box, which Ravi quickly tucks into his mouth after turning away from his father.
Kamal Hassan delivers the performance of a long and impressive career as Velu Naicker (he won his second national award for best actor for the role). For two and a half hours, he is Velu Naicker himself and looks at home in all the different stages of his life captured here. Be it threatening a doctor to treat a poor boy or crying with a high-pitched shriek on seeing the body of his son, Kamal is outstanding. He ages convincingly, altering his whole posture and walk at each stage. There is not a wrong step in any of the other performances either. Janakaraj stands him in good stead throughout, shining in the scene where he is caught between Kamal and his daughter, who detests the violence. Saranya, in her first film, earns our sympathy as the school-going girl thrown into the life of prostitution. Pradeep Shakti is memorable as the rogue police officer. Smaller characters like ARS (a police officer who is forced to come to Velu Naicker for justice) and 'Nizhalgal' Ravi (Velu Naicker's son) are powerful too.
Mani Ratnam assembles a top-notch team to assist him. Ilayaraaja, for his 400th film, delivers a superb soundtrack and a powerful background score (listen to the score in the scene where Kamal and his group rampage a man's house and when the Telugu mafia dons stare threateningly at Kamal when he challenges them). Thenpaandi Seemaiyile... is particularly soothing while Nilaa Adhu... is a dappanguthu by Kuyili and Janakraj is a dancer's delight. Photography is spectacular with its innovative use of lighting in many places (a feature of most Mani Ratnam movies). The way the camera weaves amidst the houses as Kamal follows the police officer leaves us amazed. There are some effective set pieces like the muddy area where Kamal kills the police officer, with water spurting out from a broken pipe.
---
7) AGNI NAKSHATHIRAM

| | |
| --- | --- |
| Film Name: | Agni Nakshatiram |
| Year: | 1988 |
| Music: | Ilayaraaja |
| Camera: | P C Sreeram |
| Language: | Tamil |
| Notes: | This movie is basically about the friction between two step brothers. Great songs and great cinematography. It was good one. In this Mani Ratnam and P C Sreeram tried a different style of cinematography. The whole movie was sort of in the dark with shades of dark and light. Still, the movie was a big hit. V K Ramaswamy and Janakraj had a done a good comedy track. |
| Cast: | Karthik, Prabhu, Amala, Nirosha, G Umapathi, Vijayakumar, Sumithra, Jayachitra, Tara. Dubbed in Telugu and remade in Hindi as Vansh by director Pappu Varma. |
Mani Ratnam ventures into pop culture and MTV-land for his Nayagan follow-up. Two half-brothers fight it out at each other's home, in the streets, on the field and literally everywhere they meet, 'cause the first one (from the legitimate wife) hates the second one (from the ...). They engage in their own flirtations finally coming together to help their father fight a common cause.
According to Film critic K Hariharan, "the real hero of the film is actually behind the camera, pulling out every gimmick available in the ad-man's repertoire".
The climax of AN borrows liberally from 'The Godfather' where Michael is protecting his bed-ridden father in Hospital.
Agni's 'villain' late G Umapathi ("Thambi, Naan Romba Mosamanavan", who owned Anand Theatre(s) in Madras was no different in real life (the menacing way he talks) to guys who threw a ruckus and caused disturbance at his theatre.
It is now a legend that Prabhu Deva could be spotted (with a little straining of the eye and the help of the slow-mo button on your remote) among the dancers behind Karthik in the song "Raja Rajadhirajan Indha Raja".
---
8) GEETHANJALI / IDHAYATHAI THIRUDATHEY
| | |
| --- | --- |
| Film Name: | Geetanjali |
| Year: | 1989 |
| Music: | Ilayaraaja |
| Camera: | P C Sreeram |
| Language: | Telugu |
| Notes: | It was a big hit in both languages. It was a movie about two terminally ill patients falling in love. But, in spite of the serious story line, it was probably one of the most light hearted movie ever made. It is funny at times, very moving at times and very thought provoking too. |
| Cast: | Nagarjuna, Girija, Vijayakumar, Chandramohan, Neena, Sumitra, 'Disco' Shanthi. Dubbed in Tamil as Idhayathai Thirudathey. It was also remade in Hindi as, Yaad Rakhegi Duniya, with Aditya Pancholi by director Deepak Anand. |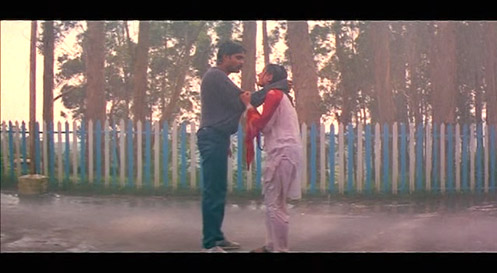 Romance has always been an integral (and interesting) part of Mani Ratnam movies. From Karthik's playful but persistent wooing of Revathi in Mouna Raagam to Madhavan's winning over Shalini in the recent Alaipayuthey, Mani Ratnam has always portrayed romance in a way that is cute and instantly appealing. So when he makes a full-fledged love story, it is no wonder that it turns out to be youthful, spirited and one of the best in its genre. He keeps away from almost all the cliches that have haunted love stories in Tamil cinema. So we get a romance that is not set in a college and is not threatened by religion, caste or the parents' status. Idhayathai Thirudaathey makes us wish we could fall in love all over again.
That is not to say that the movie is without its faults. Mani Ratnam has his own distinctive style and so a few scenes have a familiar feel to them. Nagarjuna's acts, like asking Girija to show up at a particular time, remind one of Karthik's similar acts in Mouna Raagam while Girija's playful and outspoken character has large shades of both Amala and Nirosha in Agni Natchathiram. Both Nagarjuna and Girija seem hale and healthy and show absolutely no outwardly sign of being afflicted with fatal illnesses. The unconnected comedy track is vulgar and unfunny and a very big turnoff. In the company of a lesser movie, it would have sliced off more than half a star. But Mani Ratnam's handling of the romance portion itself overcomes these blemishes to make the movie hugely entertaining overall. The movie is both funny and touching in equal parts.
The story itself couldn't be simpler. When Prakash (Nagarjuna), a carefree, happy-go-lucky youth (his first two "I Love You's" are to his university dean at his graduation and to his doctor in the hospital!), is in the hospital for a minor injury, he learns that he is afflicted with a fatal disease. He becomes depressed and unable to bear the sympathy and tears of his parents, he moves out to a guesthouse. There he has several run-ins with Geetanjali (Girija), a playful and energetic girl. Learning that she too is afflicted with a fatal disease gives him a new outlook on life while making him fall in love with her.
Movies where one of the lovers is afflicted with a fatal disease (usually cancer) are common in Tamil cinema (Vaazhve Maayam and Payanangal Mudivadhillai, to name a couple of big ones). But Mani Ratnam throws a twist in this tale by making both the hero and the heroine fatally ill here. And he succeeds in doing this without immersing the movie in a load of tears and sentiments. Fun is predominant, especially until Nagarjuna and Girija explicitly express their love for each other. Scenes like Nagarjuna kissing Girija in the hospital and bringing her grandmother along when she wishes to speak to him alone are extremely cute and funny. Same goes for Nagarjuna's tactics like crying out to God in the church and visiting Girija when she is being treated by her father.
Mani Ratnam, effortlessly brings in the romance or sentiments and the shift is mostly seamless. He makes us genuinely like the characters and wish for their happy union. I remember people clapping in the theater at the end of the O Priya Priya... song (when Nagarjuna and Girija unite after surmounting various problems) when I first saw this movie. That is always a signal of the audience's sympathy with the characters and involvement in the movie. Purely sentimental scenes are few but these really work. Scenes like the one where Girija, who philosophically tells Nagarjuna how she deals with the fact of her days being numbered, asks her father if he can make her live a few days more, tug at our heartstrings.
There is even a dash of philosophy thrown in, by means of the radically different ways Nagarjuna and Girija view their impending, inevitable deaths. Girija's explanation of her easygoing behavior inspite of her situation is practical and the way Nagarjuna's attitude undergoes a change after listening to her is a nice touch.
Ilayaraaja's contribution to this movie cannot be measured easily. While the songs are all memorable without exception, it is in the background music that he really scores. From the haunting I love you... tune when the titles are shown to the playful tune at several instances where Nagarjuna and Girija one-up each other to the fast-paced music during the climax, his background score sets the perfect mood for every scene and is an inseparable part of the movie. Of course, the soundtrack was a huge hit with Mano taking over for all songs from SPB, who sang the songs in the Telugu original. Om Namaha... and O Papa Laali... are my favorites with their melodious tunes. Kaattukkulle..., like the scene itself, is a nice blend of comedy and horror. P C Sreeram's camera does wonders with the mist-filled hill station weather. The scene where the fog floats up from the door to Nagarjuna, at which point he realises that someone has opened the door, is spectacular. As is the scene where the beam of light from his flashlight pierces the fog in the forest when he searches for Girija.
Nagarjun portrays both the carefree and heavy hearted portions of his role well but the star of the show here is Girija. Her expressive eyes speak volumes and convey a whole gamut of emotions. Just see the widening of her eyes when Nagarjuna tells her "I Love You" and you'll understand what I mean. The scene at the railway station where she blames Nagarjuna for not telling her of his illness proves that she can handle heavier scenes too. Its a wonder she disappeared completely after this movie. Neena, who has graduated to heroine status with movies like Vidukathai, is the most noticeable of the girls who play Girija's sisters. Her grandmother, her father (Vijayakumar) and Nagarjuna's mother (Sumitra) also play their roles well.
Idhayathai Thirudaathey steals our hearts.
---
9) ANJALI
| | |
| --- | --- |
| Film Name: | Anjali |
| Year: | 1990 |
| Music: | Ilayaraaja |
| Camera: | Madhu Ambat |
| Language: | Tamil |
| Notes: | It was a big hit too. I think Mani Ratnam is the only director on earth who would give a hit with a subject like that. First Mani Ratnam film nominated for the Oscars. |
| Cast: | Baby Shamili, Raghuvaran, Revathi, Charanya, Prabhu, Master Tarun, Janakaraj, Nishanthi, Shruthi. Dubbed in Telugu and Hindi as Anjali. |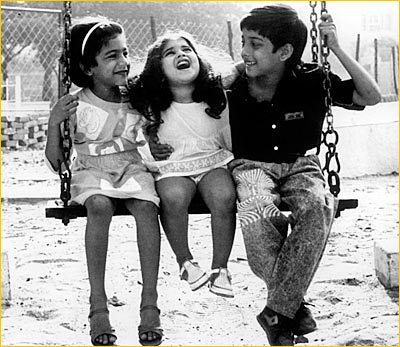 Mani Ratnam's touching film, Anjali, tackles the difficult topic of mental illness head-on, telling the story of a young family's struggle to raise a child with severe learning difficulties. Following a problematic birth, mother of two, Chitra, is devastated to learn that her baby Anjali was stillborn. Slowly the family learns to live with their loss but years later their lives are once more disrupted when it is discovered that Chitra's husband, Sekhar, has been hiding a dark secret; their daughter, Anjali, is not dead but hidden away in a home for the mentally disabled. When she is brought to live at the family home, the real challenges begin for the family, as together they must overcome their own prejudices and those of their neighbours.
Raghuvaran plays an Architect w/ a happy family, until a secret is revealed. He has hidden the fact that there is one more person from the family living elsewhere.
Anjali, the angel-like third child born to the couple (Raghuvaran & Revathi) is declared mentally ill and not expected to live long. When the truth about Anjali gets out the family has to reconcile to the new family member and finally get ready to let go.
The Story is supposedly sourced from the novel "Mr God, This is Anna".
"Rathiri Nerathil..." paid direct tributes to Spielberg's E.T and George Lucas' "Star Wars". SPB reportedly hurt his vocal cord screaming this song.
Prabhu plays a cameo jailbird role.
---
10) DALAPATHI
| | |
| --- | --- |
| Film Name: | Dalapathi |
| Year: | 1991 |
| Music: | Ilayaraaja |
| Camera: | Santosh Sivan |
| Language: | Tamil |
| Notes: | It was the most hyped of all Mani Ratnam movies. A big hit in Tamil. |
| Cast: | Rajinikanth, Shobana, Aravind Swamy, Mamooty, Banu Priya, Geeta, Sri Vidhya, Amrish Puri, Nagesh, Charu Hassan, Nirmalamma, Charlie and others. Dubbed in Telugu and Hindi as Dalpathi. |
| Stills: | |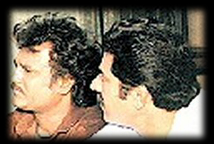 Mani Ratnam once mentioned in an interview that the three Indian actors most difficult to make a movie with were Rajnikanth, Chiranjeevi and Amitabh Bachchan. His style of moviemaking clashes with the image these actors have cultivated for themselves and the expectations their fans have from their movies. But he manages quite nicely in Dalapathi with Rajnikanth. It is definitely more a Mani Ratnam movie than a Rajnikanth movie. The basic, familiar story (with its roots in one of our most famous epics) has been skillfully modernised with his trademark screenplay and dialogs, great cinematography and foot-tapping numbers.
Surya (Rajnikanth) was abandoned by his mother as a baby and has grown up as a rowdy in the slums. The area is ruled with an iron hand by local dada Devaraj (Mammootty), whose thug is killed by Surya. The two are against each other initially but become thick friends soon. Surya thereafter becomes Deva's Dalapathi (commander), carrying out his orders. Surya's mother (Srividya) has since married and has a son Arjun(Arvind), who comes to the town as collector. Surya loves Brahmin girl Subbulakshmi (Shobana) but her father marries her off to Arjun while Surya weds Padma(Banupriya) whose husband he had earlier killed. Surya and his mother soon comes to know the truth but are torn between relations and loyalties since Arjun vows to eliminate Deva and Surya while Deva swears revenge on Arjun for police atrocities.
Mani Ratnam uses the Mahabharath as the base with modern day versions of the main characters here and makes several nods to leave us in no doubts about this fact. So we have characters named Surya (for Karnan) and Arjun (for Arjuna). There also a couple of other hints like the name of a town where Arjun goes to quell some riots (Pandavapuram). The ending is different here, though I believe this might have something to do with the standing of its main stars.
Dalapathi gives us some strong characters and then builds on the emotional interactions between them. Naturally, the movie works best during the scenes of confrontation between these characters. Sparks fly during Rajni's meeting with Mammootty in the rain and later, when the two go up against Aravind Swamy. This scene is picturised very well with the camera cutting between the two teams on opposite sides of the table and Rajni's aggression providing an effective foil to Mammootty's calmness. Sentiments take the upper hand once the hidden relationships are revealed. Rajni's loyalty to Mammootty and Srividya's desire to see neither Aravind or Rajni hurt provide ample fodder for sentiments.
Romance takes a backseat to emotions and we see very little of Mani Ratnam's touches in this department. Shobana falls for Rajni a little too quickly but the scene where she reveals that she likes Rajni's 'goonda' activities is nicely picturised in a great location. Their meeting after her marriage to Aravind is also conducted naturally and decently. Rajni only has a 'guardian' relationship with Banupriya, inspite of their marriage but the girl who plays her daughter is cute and delivers her lines well in her conversations with Rajni. Mammootty and Geetha make a nice radiant couple.
Rajnikanth gets a chance to emote quite a bit more than his other recent movies and does quite well though his fans would not have been happy to see their hero being tortured by a policeman and not fighting back (though he gets his revenge later) or losing the girl he loves. He displays some nice footwork in two songs. Mammootty is dignified and the Mani Ratnam's clipped dialogs suit his character well. Aravind Swamy looks young and smart in his debut and stands up well to the much more senior artistes. Shobana uses her large, expressive eyes to good use in the initial scenes when she is scared of Rajni and later when she tearfully asks Mammootty to let go of her father. It looks rather odd to see Srividya, who played Rajnikanth's wife in his first movie, play his mother here but she does her job well while Jaishanker gives her good support. Banupriya is underused.
Dalapathi, like all Mani Ratnam movies, is technically excellent. Mani Ratnam stuck with Santosh Sivan, his cameraman for Roja. The photography though is completely different. Here, all the scenes have an orange hue and this lends an even greater effect to the already glorious scenes like sunsets. Ilayaraaja reserved some of his best songs for Mani Ratnam and things are no different here. Adi Raakkaamma... is extremely catchy and the change into the slow tune towards the end is surprising and done very smoothly. Yamunai Aatrile... is melodious and its shortness leaves us asking for more. Sundari... is another melodious duet while Kaattukuyilu..., with SPB and Jesudas lending voices to Rajni and Mammootty, is fast-paced and nicely choreographed.
---
11) ROJA
| | |
| --- | --- |
| Film Name: | Roja |
| Year: | 1992 |
| Music: | A R Rahman |
| Camera: | Santosh Sivan |
| Language: | Tamil |
| Notes: | Story adapted from writer, Sujatha's novella 14 Natkal. This was a ground-breaking for it heralded a new age in Bollywood cinema and music. For years the North was influencing Tamil films and music, but after Roja quite the opposite started happening. The film was A R Rahman's debut. The only film that was dubbed in Telugu, Hindi, Malayalam and Marathi. |
| Cast: | Aravind Swamy, Madhu, Pankaj Kapoor, Nasser, Janakaraj, Vaishnavi. Dubbed in Telugu, Malayalam, Marathi and Hindi as Roja. |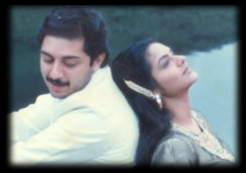 Roja is probably Mani Ratnam's biggest commercial and critical success to date. Though diluted considerably, he skillfully brings to screen the volatile situation in Kashmir with this tale of a woman from a small village in Tamil Nadu who sees her husband being kidnapped by terrorists and struggles to get him back unharmed. Sure it is quite a lightweight treatment of a serious issue but he can be commended for bringing the issue to light. Roja is entertaining while at the same time showing us all sides of the issues in Kashmir.
Rishi Kumar (Aravind Swamy), a computer engineer born and brought up in Madras, has his heart set on wedding a village girl. He arrives in the village to see Senbagam (Vaishnavi) but when she asks him to 'reject' her since she is in love with another man, he points to her sister Roja (Madhubala) as the woman he wishes to marry. Roja, who is initially angry at the turn of events, has a change of heart when she learns the real reason behind why Rishi opted to wed her instead of her sister. An unexpected honeymoon to Kashmir comes up when Rishi's boss falls ill and Rishi has to take his place. But there, Rishi is kidnapped by terrorists who want one of their leaders Wasim Khan released in exchange for Rishi. In a land where she doesn't even know the language, Roja struggles to get her husband released unscathed.
Mani Ratnam serves up a perfect blend of patriotism and romance without going overboard in either. The words spoken by Aravind Swamy in captivity are tinged with naturalness and are inspiring rather than seeming like soulless movie lines. His questions to Pankaj Kapoor about the terrorism and killings are intelligent and are an expression of the questions that arise in our minds whenever we read about violence in Kashmir. The scene where he douses the burning Indian flag, with Rahman's rousing background music, is scintillating and is guaranteed to generate a patriotic flavour, even in the most cynical of Indians. The scene where a simple act like breaking a coconut at the temple brings soldiers to the scene is a telling sign of the volatility of the situation there.
The first half of the movie is no less engaging with no shortage of Mani Ratnam's trademark cute touches. The entire sequence, where Aravind goes to the village, is skillfully done with some subtle humor involving the oldies in the village. The playful interactions between Aravind and Madhubala (like when he places a cigarette in her mouth in the split second his mother has her back turned to them) are cute and funny. Madhubala's anger when she thinks she has taken her sister's place and her softening up after realising the truth are picturised naturally. There is also a scene in the second half, where Aravind makes Madhubala wear his sweater, that lightens the heavy mood of the second half without seeming out-of-place.
Roja is a complete movie in that there is no aspect of it that comes up short. Mani Ratnam proved that he had an eye for genius by picking A R Rahman, who had so far been composing commercial jingles, as the music director. With a superb soundtrack, Rahman gave notice of his talent and started on a hugely successful career that shows no signs of slowing down even 10 years after this. Chinna Chinna Aasai... is catchy and has some wonderful lyrics by Vairamuthu. Pudhu Vellai Mazhai... and Kaadhal Rojaave... are soothing and melodious while Rukkumani... is rowdy. Santosh Sivan's camera captures both the greenery of the village in Tamil Nadu and the snowcapped peaks of Kashmir with elan. A couple of well-placed close-up shots (like the droplet of water on Madhubala's shoulder) take our breath away. Dialogs by Sujatha are intelligent and add a sense of believability to many scenes. The point where Madhubala asks Nasser why the life of her husband is worth less than that of a Minister's daughter is a classic.
Arvind Swamy piggybacked on Roja's success to become a heartthrob to millions of girls in Tamil Nadu. He performs well in the scenes in captivity. Madhubala, probably one of the most underrated actresses, comes up with a surprisingly strong performance. Her outbursts at Nasser and the terrorist in jail are delivered convincingly and she brings out the trauma of a woman who has lost her husband in a land that is foreign to her when she spots Aravind's photo in the paper but has no idea what the accompanying caption says. Nasser and Janakraj do their jobs well. Pankaj Kapoor manages to bring out the humanity in his character of the terrorist.
Roja is one of the most fragrant flowers in the garden of Tamil cinema.
---
12) THIRUDA THIRUDA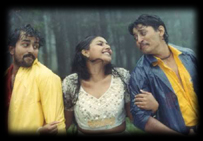 | | |
| --- | --- |
| Film Name: | Thiruda Thiruda |
| Year: | 1993 |
| Music: | A R Rahman |
| Camera: | P C Sreeram |
| Language: | Tamil |
| Notes: | A fun filled caper. It had no storyline but a lot of fun. Great songs, great cinematography. A lot of people did not like it because we are used to very serious story lines. It was Mani Ratnam's first flop after a long time. The script was co-written by Ram Gopal Varma. |
| Cast: | Prashanth, Anand, Heera, Anu Agarwal, S P Balasubramaniam, Malaysia Vasudevan, Salim Ghouse, Madan Bob. Dubbed in Telugu and Hindi as Donga Donga and Chor Chor respectively. |
| Stills: | |
NO DETAIL REVIEW AVAILABLE.
---
13) BOMBAY
| | |
| --- | --- |
| Film Name: | Bombay |
| Year: | 1994 |
| Music: | A R Rahman |
| Camera: | Rajiv Menon |
| Language: | Tamil |
| Notes: | Shown at the Philadelphia Festival of World Cinema. Bombay recalls how forceful a motion picture can be. It also reminds us of the maxim that those who don't learn from history are doomed to repeat it. Hopefully, some day, humankind will understand the lesson that Ratnam is teaching here. A big hit in Tamil, Telugu and Hindi too. |
| Cast: | Aravind Swamy, Manisha Koirala, Nasser, Prakash Raj, Tinu Anand, Akash Khurana. Dubbed in Telugu and Hindi as Bombay. |
A movie review by A Film Review by James Berardinelli
India, 1995
Running Length: 2:10
MPAA Classification: No MPAA Rating (Violence, mature themes)
Theatrical Aspect Ratio: 1.85:1
Shown at: the Philadelphia Festival of World Cinema, 5/4/96, 5/7/96, 5/12/96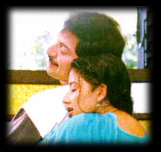 It's a fairly well-known fact that the Indian film industry is the most active in the world, producing more movies each year than any other (including Hollywood). Few of those films, however, reach screens beyond their domestic market. Largely because of their limited North American appeal and dubious quality, Indian movies are routinely ignored by distributors. There are exceptions, of course -- the work of Satyajith Ray and last year's Bandit Queen, for example. Occasionally, however, a worthwhile picture causes enough people to take notice that it becomes a favorite on the international film festival circuit. One such movie is Bombay, the fourteenth feature from celebrated director Mani Ratnam.
In many ways, Bombay is deceptive, but the manner in which it deceives the audience adds to its eventual impact. For the first hour, it's a relatively-lighthearted romantic musical. Aravind Swamy plays Shekhar, a Hindi journalism student who hails from a high-caste family. Manisha Koirala is Saira Bano, a beautiful young Muslim woman. Because of the extreme religious prejudice existing between the Hindu majority and the Muslim minority, Shekhar's father absolutely forbids a marriage. Saira Bano's father goes one step further, arranging an "emergency" marriage for his daughter to another Muslim. But Shekhar and Bano's love will not be denied. They elope to Bombay, where, estranged from both of their families, they start a new life.
Three lavish musical numbers highlight Bombay's first half, as Shekhar and Bano sing about their love for each other and their happiness at having children. These songs, penned by A R Rahman, set the film's initial tone, which is one of soaring joy and passion. And, while the music isn't exactly of the toe-tapping variety, it's stronger and more memorable than most songs in American movies over the past year or two.
Just when you're starting to feel comfortable with Bombay, everything changes -- and the unexpected shift in tone hits like a punch to the gut. Gone is the fun and frivolity, as death and violence suddenly fill up the screen. Now we understand the full extent of Ratnam's purpose in the first half -- he was setting us up to like these characters so that when tragedy strikes, we can feel the pain and hopelessness of their situation. It's melodramatic and manipulative, to be sure, but it works.
On December 6, 1992, Hindus destroyed a mosque in the northern Indian city of Ayodhya. This led to a wave of Hindu/Muslim riots in Bombay that left thousands dead. Bombay's second half takes place during this time period. Shekhar and Bano have been living in the city for six years. They have twin boys and are beginning to repair relations with their parents when the riots begin. Suddenly, their world is turned upside down. While the religious division in their family puts both Shekhar and Bano at risk from extremists on both sides, their children, who don't have a fixed faith, are in constant danger. At one point, radical Hindus douse the boys in gasoline and prepare to set them on fire.
Cinematographer Rajiv Menon captures the chaos of the riots. Cameras move relentlessly through mobs of men hacking at each other with machetes, lobbing bombs at houses, and trampling helpless children underfoot. It's grim and terrifying, and, at times, difficult to watch. The second half of Bombay is as dark and harrowing as the first half is light and gay.
Bombay is a gripping indictment of racial hatred. The emotions that fueled the Bombay riots are the same ones that ripped apart the former Yugoslavia (the film Vukovar uses a similar Romeo and Juliet story to even better effect for the Serb/Croatian war). The reasons given by both Hindus and Muslims for fighting sound suspiciously like those used by Hitler when justifying his Final Solution. Shekhar's cry that "we are all Indians first of all!" isn't heeded. The only response is echoed many times over: "The divide will never heal".
Bombay ends on a hopeful note, but not before etching a series of wrenching images in the minds of viewers. Director Ratnam has shown great courage in making this picture (bombs were thrown at his house after it opened in India), which speaks with a voice that many will not wish to hear. Bombay recalls how forceful a motion picture can be. It also reminds us of the maxim that those who don't learn from history are doomed to repeat it. Hopefully, some day, humankind will understand the lesson that Ratnam is teaching here.
---
14) IRUVAR
| | |
| --- | --- |
| Film Name: | Iruvar |
| Year: | 1996 |
| Music: | A R Rahman |
| Camera: | Santosh Sivan |
| Language: | Tamil |
| Notes: | It was based on the life of MGR and Karunanidhi. It was the biggest Mani Ratnam flop in years and it was out of the halls in just 9-10 days. Anybody who followed politics of MGR would love this movie and if you have not, I guess you have no clue as to what is going on. But, I thought it probably had the best characterization, and great dialogues among Mani Ratnam movies. Moreover, the performance of all actors was fantastic. Prakash Raj got the national award for the best supporting actor. If you do not know MGR, keep away from this movie. |
| Cast: | Mohan Lal, Prakash Raj, Aishwarya Rai (dual role), Tabu, Madhu, Nasser, Rajesh, Revathi, Gowthami, Rajesh, Nizhalgal Ravi, Delhi Ganesh. Dubbed in Telugu as Iddaru. |
A movie review by D S Ramanujam Courtesy: The Hindu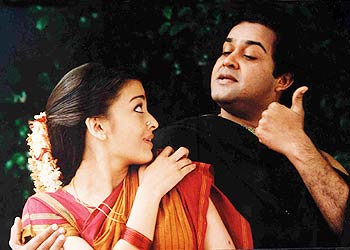 Director Mani Ratnam, completes a hat-trick of controversies, through his Iruvar, a Madras Talkies production. The theme is, friendship between two budding personalities, one an inspiring actor and another, a writer, both on the threshold of breaking new grounds in their chosen professions and the rift that develops when they enter the political arena. The title card declares that the characters are fictitious. But there is no denying the fact that the drama enacted on the screen strongly resembles the happenings in the lives of the two prominent figures of the Tamil film industry, including their personal life.
On choosing such a canvas for operation, controversies are bound to rise from many quarters (it came from the Censors and political party leaders and admirers). Being aware that his project is going to stir a hornet's nest at the preparatory stage itself, Mani Ratnam has diligently worked on his screenplay to focus more the friendship angle and the involvement of the two in the rapid growth of their political party. The film is not a biography to dwell on acts of omission and commission and the director has projected the duo as two extraordinary men who changed the fate of State, one using his pen to awaken the Tamizhians and the other as an actor creating an imperishable imprint on the masses with his charisma.
In an effort to strike a balance between the activities of the two characters, fictitious, as stated, with his cinematic additions, Mani Ratnam does the tight 'rope walk' with the felicity of a well-trained circus artiste. He knows pretty well that one false step means a big dent to his reputation, for such is the 'explosive' nature of the theme chosen by him where mixing reality with fiction calls for expertise of high order, Mani Ratnam being equal to the task. Some of the extraordinary visuals of Santosh Sivan are beyond one's conception. He catches the descending sun on top of a peak through the dancing legs of the artiste creating an illusion that she is moving the sun. 'Steadycam' on a rotating table is used in three places, the one where it focuses on the writer and his sweetheart lying on the floor, the lady's hair spread on the writer's chest, making it a valuable portrait picture; the viewers are bound to ignore the dialogue here, such is the impact. The same application has not been well received in the final tribute the writer pays to his departed actor friend, a sort of Anthony's oration after Caesar's death. Some clippings from the actor's films on the sidelines would have heightened Vairamuthu's poetic prose echoing through the walls.
The director resorts to the black and white medium while narrating the screen achievements of the actor including a sword fight, riding a horse while singing the praise of Tamil and romancing by the side of a waterfall (Madhubala figures in this dance), all in folklore costumes, and playing an inspector, too, which gave the actor the much needed breakthrough in films. The director goes full swing in embellishing the segments which cement the friendship worth watching, the renovated Madurai Nayyakar Mahal proving the memorable meeting ground for the two.
A R Rahman resorts to mellifluous music in areas where the actor's rise has been picturised and backing the visuals and dance sequence with energetic stuff. The rapid beats of the string instruments go well in the scene when the writer goes to the house of the actor to pay his last respects.
Mohanlal is actor Anandan. In the scene where he is deprived of an inspector's role because he could not memorise the lengthy lines and is given a constable's part instead, he is superb. Unmindful of the Malayalam tinged Tamil, he emotes excellently in areas where political overtones dominate the drama, like the delayed manner in which he goes to the public meeting being addressed by the CM, Tamilzhchelvan (Prakash Raj), his former writer friend, to test the strength of his following.
The friendship phase is dominated by Prakash Raj, his delivery of lines being impeccable like the language that comes into play here. When the saree of his newly wedded wife (Revathi) catches fire on the first night, the wife deems it a bad omen. But the non-believer does not think so. A last minute choice for the role, Prakash Raj elevates the character to the expected level. Mohanlal and Prakash Raj reach the zenith when they meet at a wedding, their last meeting. Seated next to each other they silently admire each other, their eyes conveying the friendship they cherish despite the rivalry.
Miss World, Aishwarya Rai takes on a dual role. She is the first wife of Anandan, a village belle with strong convictions and later the bewitching budding actress. Anandan gets smitten by her because she resembles his first wife, the actress trying to wangle a position which is curtailed by a mysterious accident. For a newcomer, Aishwarya Rai demarcates the two roles elegantly. Her photogenic face is bound to sway young hearts in the dance sequence. Tabu is the other woman in the writer's life and Gouthami, the ex-actress who gives up her career to become the second wife of the actor, all the three (Gouthami, Revathi and Tabu) are mere passengers, thanks perhaps to the Censors. Nasser is the party leader who uses the two to energise the activities of the party while Ravi (manager of Gouthami who ill-treats her), Rajesh (a party functionary), Delhi Ganesh (a sort of PA to the actor) and Sunder Rajan (the police chief), provide adequate support.
---
15) DIL SE.. / UYIRAE
Film Name:

Dil Se..

Year:

1998

Music:

A R Rahman

Camera:

Santosh Sivan

Language:

Tamil

Notes:

This movie was based on the Assam terrorism and the love story between a terrorist and an All India Radio reporter.

Cast:

Shah Rukh Khan, Manisha Koirala, Priety Zinta, Meetha Vasisht, Arundhathi Nag, Raghuveer Yadav.
Dubbed in Telugu as Premato and Tamil as Uyirae.
By Anish Khanna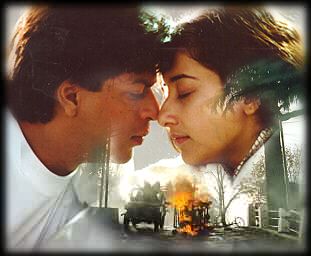 It is indeed a case of truth proving stranger than fiction with the release of a film on terrorism at the very height of a global terrorist scare. One would think that this fact could only aid Dil Se.. by heightening the impact on the audience. Unfortunately, this is not the case. Dil Se.. is a valiant effort on Mani Ratnam's part but gets lost somewhere along the way in a weak screenplay and sketchy characterizations.
The first half of Dil Se.. relies more on images than a solid screenplay, but Santosh Sivan's camera work is simply stunning and perhaps the best I've ever witnessed on the Hindi screen. Every image is like a celluloid poem and thus very effective. Chaiya Chaiya, Dil Se re.., and Satrangi Re are some of the most aesthetically pleasing songs ever shot. The locations are gorgeous! Mr. Sivan single-handedly holds the audience's interest despite the fact that they are left to contend with the very drawn out interactions between Amar (Shah Rukh) and a cold, lifeless caricature called Meghna (Manisha).
Amar is on a terrorist interview assignment for All-India Radio somewhere in a northern territory, where he keeps bumping into Meghna (which she says is not even her real name). Despite repeated attempts to get close to Meghna, all Amar really finds himself in is trouble, and after being ditched by Meghna, Amar quickly returns to his family in Delhi and an engagement to the frank and outspoken Preity (Preity Zinta). The audience then learns that Meghna is a terrorist.
The script completely falls apart after intermission. Manisha's character waxes and wanes between acting human and acting for her terrorist cause, but with no real pattern or logic to her actions. One minute she will feel guilty about using Shah Rukh in order that she may be incognito in Delhi, while the next minute she doesn't bat an eyelid when he's arrested or in danger. Her breakdown scenes seem extremely forced into the script, and the only reason why these scenes prove even somewhat effective is because Manisha is and remains a phenomenal actress, even in an improperly-defined part like this. The sequence where she tries to cry but the tears won't come out is mind-blowing, and no other actress could have portrayed this scene as well.
Shah Rukh's character talks forever about how much he loves Manisha, but his "love" really has no reason to be anything more than infatuation and intrigue. Not once do you have reason to suspect otherwise. Again, Shah Rukh does the best one can do with his role, but the redundancy and ignorant nature of the part work against him. The chase sequence towards the end shows a new, diversely intense side to Mr. Khan's acting. Preity Zinta, in the brief but welcome appearance as a real 90's woman, has a gol-matol face and child-woman quality reminiscent of the late Divya Bharti.
What was the message Mani Ratnam was trying to portray with this film? If he wants us to see how the mind of a terrorist works, he failed, as I could never tell what Meghna's pattern of thought was. If it was a statement on the futility of terrorism, the statement is incomplete as we never find out if the assassination plan is carried out by the terrorist group. If it is a statement on love vs. warfare, I don't believe it, because - again - I have no reason to believe that Meghna loves Amar or that Amar is more than infatuated with Meghna. Maybe if Mani highlighted Meghna's transition more from stoic terrorist to sensitive lover, it would be more plausible. Her action at the very end (one that supposedly proves her love for him) seems to come out of the blue. One moment Meghna is telling her group leader how confident she feels about their terrorist plan, and the next moment she gives up the whole terrorist thing by making her final "act of love" to be with Amar.
I was very sad and disappointed by this film. Mani Ratnam's strengths are always his intensely-filmed sequences and the portrayal of relationships between people. This film had several great sequences, but the relationship aspect was lacking. This is especially disappointing after we have just seen Maachis, which excellently portrayed the humanity and love of terrorists. A film that had the potential to be in the league of some of the best cinema ever ends up falling flat on its face. If it weren't for Manisha and Shah Rukh's excellent performances and Santosh Sivan's unbelievably good cinematography, I would give this film a much, much lower rating. Ironically, with a title like Dil Se.., the film loses its heart somewhere along the way.
---
16) ALAI PAYUTHEY
| | |
| --- | --- |
| Film Name: | Alai Payuthey |
| Year: | 2000 |
| Music: | A R Rahman |
| Camera: | P C Sreeram |
| Language: | Tamil |
| Notes: | The emotions, skirmishes, squabbles, sentiments, petty jealousies and the teething troubles that middle class newly-weds undergo, is told in a fresh, natural style. Incidents that blow up into rows have been given a deft treatment with novelty. Moreover, it is an exploration of the divergent facets of love and marriage. |
| Cast: | R Madhavan, Shalini, Swarnamalya, Jaya Sudha, Sukumari, K P A C Lalitha, Ravi Prakash, V NatarajanVenu Aravind, Hari Nair, Vivek, Aravind Swamy, Kushboo. Dubbed in Telugu as Sakhi and remade in Hindi by Shaad Ali as Saathiya with Vivek Oberoi and Rani Mukherjee. |
| Stills: | |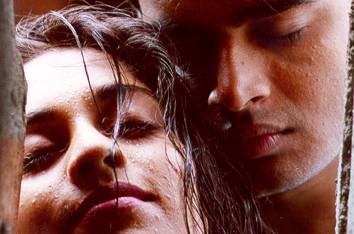 We have been witnesses to scores of love stories on screen where marriage (or in some cases, suicide) is the natural culmination of the love affair and the movie. In Alai Payuthey, that is only half the story. Mani Ratnam then focuses his camera on wedded life and the rough course it typically takes, even in love marriages. But inspite of the heaviness of the theme, the tone is predominantly light.
After dealing with dons (Nayagan), communalism (Bombay), politics (Iruvar) and terrorism (Roja and more recently, Uyirae), Mani Ratnam looks closer to home in Alai Payuthey. The canvas is much smaller, the characters are people you might run into on a daily basis and the problems they face are readily identifiable. This might bring back memories of his break-out film, Mouna Raagam. Though it is no Mouna Raagam, Alai Payuthey is still a quality movie that is charming and endearing.
Karthik (Madhavan) and Sakthi (Shalini) are the young lovers whose romance starts and grows on the Madras electric trains. These portions are filled with the cute interactions that Mani Ratnam is so famous for. When ego and status problems prevent them from getting married, they decide to get married secretly but live separately. But circumstances force Sakthi to let the cat out of the bag. So they move out and start their new life under one roof. But they soon realise that marriage is not the bed of roses they had thought it would be.
The movie flits between the past and the present with scenes of Madhavan anxiously awaiting Shalini's arrival intercut with flashbacks of their love affair and married life. This is definitely an innovative technique and the way the past and the present are finally merged deserves a round of applause. But the climax that follows is overly melodramatic and seems more than a little drawn-out.
Mani Ratnam's depiction of love has always been cute and there is no dearth of cuteness in the romance between Madhavan and Shalini either. Their initial meetings are charming and the scene where Shalini and Swarnamalya attend a function at Madhavan's house elicits a broad smile. The 'thaali' sentiment is also debunked in a delightful scene. There is also a touch of practicality in their proceedings (for instance, their dialogs when they decide to go their own ways) and this helps make Shalini's eventual change of heart more effective and believable.
The light-hearted tone persists, even after their wedding and this works both ways. There is just the right amount of seriousness to make the proceedings entertaining without seeming too heavy. For instance, the quarrel arising out of Madhavan being stranded outside without a key and his subsequent attempts to pacify Shalini are realistic. But it also gives the events a cinematic feel. In one scene, Madhavan comes in to tell Shalini a joyous news but inexplicably postpones it and never brings it up later either.
Madhavan is promising in his debut feature and his character is designed to set hearts aflutter. Shalini has shown improvement with every movie and continues the trend here. She will definitely be missed if she stops acting after her marriage to Ajith. V Natrajan, a producer, has several sharp one-liners which he delivers with good timing. He leaves us asking for more since he disappears in the second half, with the focus shifting to Madhavan and Shalini after their marriage. Vivek is wasted in a role that not only has no comic potential but also has very little screen time.
The dialogs are down-to-earth and sensible and Mani Ratnam has kept away from his usual curt dialogs. P C Sreeram is behind the camera and it shows. As in Mugavari, the images are sharp and clear and some of the outdoor visuals, especially in the Pachai Nirame... song, are breathtaking. And on a completely different note, the picturisation of an accident makes the audience gasp with its suddenness and brutality. A R Rahman also does his part with a catchy soundtrack. Kaadhal Sadugudu... and Snegidhane... are tops and enhanced by well-choreographed song sequences. But the skimpily clad dancer in September Maadham... could have been avoided.
With his track record, Mani Ratnam movies will always be accompanied by certain expectations. As a self-confessed Mani Ratnam fan (I loved the commercially disappointing Iruvar and was not as harsh as other reviewers on Uyirae), the expectations are even higher in my case. With Alai Payuthey, he has not disappointed though it is doubtful if the movie will stand up to its name and create any waves at the box-office.
---
17) KANNATHIL MUTHAMITTAL
| | |
| --- | --- |
| Film Name: | Kannathil Muthamittal |
| Year: | 2002 |
| Music: | A R Rahman |
| Camera: | Ravi K Chandran |
| Language: | Tamil |
| Notes: | A story that deals with the emotions of an adopted child who feels disowned, betrayed and left out of the society. The child tries to run away from the house in search of her biological mother. |
| Cast: | R Madhavan, Simran, Keerthana, Prakash Raj, Nandita Das, Pasupathi, Delhi Kumar, Bala Singh. Dubbed in Telugu as Amrita. Released in rest of India with sub-titles in English. |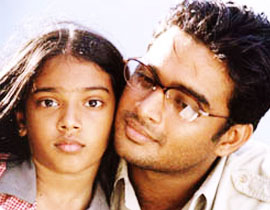 Mani Ratnam has good experience dealing with human relations against a serious backdrop. Roja and Bombay had romances set against terrorism and communal violence respectively. In Kannathil Muthamittal too, he chooses the serious setting of the Sri Lankan conflict but the issue set against it - adoption and a girl's search for her roots - is serious too. Both issues are handled with the sensitivity they deserve and so the movie, with its strong dialogues, eye-catching cinematography and suitably melodious soundtrack, is both thoughtful and entertaining, a combination that has become increasingly rare in Tamil cinema these days.
Amudha (Keerthana) is the eldest daughter of Thiruchelvan (Madhavan), an engineer and writer, and Indira (Simran), a TV personality. With loving parents, an affectionate grandfather, two younger brothers and lots of friends at school, her life is complete. But on her ninth birthday, it all comes crashing down when Amudha learns that she was adopted by Thiru and Indra. Her mother Shyama (Nandita Das), whose husband Dileepan (Chakravarthy) had gone to join the Sri Lankan war, had returned home after the delivering her at a Red Cross camp in Rameshwaram and her whereabouts are now unknown. Amudha wants to meet her and Thiru and Indra take her to Sri Lanka where a friend Wikramasinghe (Prakash Raj) helps them search for Shyama.
It is debatable whether a nine year old needs to be told about her roots and once told, if she will develop such strong feelings about knowing her biological mother. But no such doubts arise while watching the movie because of the way Mani Ratnam handles the issue. Keerthana's new insecurity and her lack of sense of 'belonging' are brilliantly portrayed and the reactions of Madhavan and Simran convey their confusion about the right way to handle her. Simran's character is especially well-crafted as she struggles between conveying her love and true feelings and alienating Keerthana even more as a result of that.
Sure Madhavan and Simran share some nice moments with and without their children as they run their family but it is the flashback sequence that once again proves that Mani Ratnam is in a class of his own when it comes to portraying romance. The romance between Madhavan and Simran has it all - mild romance, comedy, sharp dialogues and sentiments - and their reactions to the baby help define their characters and make us love them. While Madhavan's sister has some very funny lines (that are even funnier because of the matter-of-fact way they are delivered), the scenes with the baby are touching without being overly sentimental.
The second half is essentially Keerthana's trip to see her mother with the usual ploys of mistaken identities, close misses, etc. used to pad the running time. Though this causes the movie to feel stretched at a couple of points, Mani Ratnam, manages to effectively convey the state of life in Sri Lanka. The sight of the people being forced to leave their village at a moment's notice and the chaos as they are bombarded while being herded away are very touching. The fact that Mani Ratnam is able to invoke these feelings though we do not know any of those characters is testimony to his talent in the execution of these scenes. The scene where Madhavan and co. are caught in the crossfire at the park is another scene that is executed with skill.
The scene where Keerthana finally meets her mother is handled sensitively and the fact that it is underplayed serves to make it more effective. Nandita's final decision is understandable and the change that she has undergone is conveyed through her uttering the same dialogues her husband spoke (which she then refused to accept) when she requested him not to leave. The closing scene is again masterfully executed with the single act conveying a lot more than words could ever have.
Madhavan does the best he can with a character that has not been defined very well (at least compared to Simran's). He has put on a lot of weight and surprisingly looks more suited to play the father of three kids than the young man in the flashback. Simran finally gets the role that allows her to convey her seriousness about looking for roles that allow her to act rather than just add glamour. There are no figure-hugging, navel-revealing dresses or hip-shaking dances. She is excellent, bringing forth the complete complexity of her role. Keerthana, daughter of Parthiban and Seetha, looks at ease in front of the camera and acting seems to come naturally to her. Nandita Das has little to do but emotes well in the few scenes she is onscreen. Prakash Raj slips admirably into the role of the Sri Lankan but brushes with overacting a few times.
This is probably Mani Ratnam's first movie where the song sequences do not stand out on their own. While his trademarks of picturesque locations, crystal-clear photography and interestingly-mounted sequences are present, the sequences do not overwhelm and take our attention away from the movie. Rahman's tunes too are muted and suit the seriousness of the movie. Vellai Pookkal... and Vidai Kodu... are both haunting melodies while Kannathil Muthamittal..., picturised independently on both Madhavan and Simran with Keerthana, is catchy. Sundari... is fast and features some interesting camera movements by Ravi K Chandran.
---
18) AAYITHA EZHUTHU
| | |
| --- | --- |
| Film Name: | Aayitha Ezhuthu |
| Year: | 2004 |
| Music: | A R Rahman |
| Camera: | Ravi K Chandran |
| Language: | Tamil |
| Notes: | 3 young men...from 3 strata of the society...With entirely different points of view towards life...Their paths crossover.. on Thursday morning at Napier Bridge...Their lives change irreversibly. Mani Ratnam's Aayitha Ezhuthu is a radical departure from the familiar way of presenting a commercial masala concoctions serving all the nine rasas. Mani has made an attempt to combine mainstream Tamil film aesthetics with international cinematic sensibilities. However those raised on a sugar-n- spice masala movie diet may find the outcome unpalatable. |
| Cast: | R Madhavan, Surya, Siddharth, Esha Deol, Meera Jasmine, Trisha Krishnan, Janakraj, Bharathiraaja, Sindhu, Krishna, Sreeman, RJ Suchitra Ramadurai. |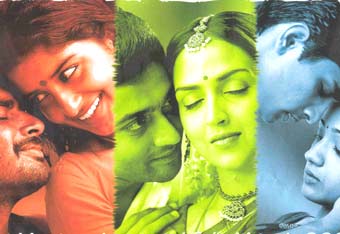 Mani Ratnam's Aayitha Ezhuthu is a radical departure from the familiar way of presenting a commercial masala concoctions serving all the nine rasas. Mani has made an attempt to combine mainstream Tamil film aesthetics with international cinematic sensibilities. However those raised on a sugar-n- spice masala movie diet may find the outcome unpalatable.
The movie opens with a hit man Inba (Madhavan) of a politician following motor cyclist and student leader Michael Vasanth (Surya) along the Marina Beach Road in Chennai. Meanwhile a young couple Arjun and Meera (Siddharth and Trisha) obviously madly in love with each other are thrust into the frame.
On the Napier bridge as Inba pumps bullets into Michael, Arjun tries to save him and the story of the three characters intertwine. From that deadly intersection the story moves back and forward in time, following three separate flash-backs that occasionally brush against each other.
Each of the tales would be interesting on their own, but cobbled together as uniquely as they are the film becomes a devastating story about fate and relationship. The concept of three juxtaposed narratives can be traced to Mani's favourite director Quentin Tarantino's Pulp Fiction and Alejandro Gonzales Inarrito's Amores Perros.
Mani has used a format similar to Amores Perros as it relies on fast pacing and jump cuts to tell three overlapping and intersecting stories dealing with loss, reject and life's harsh realities. But can the ordinary viewer stomach this kind of story telling and presentation?
Actually Mani the master story teller has very little to say and is depending more on style and techno-razzle-dazzle. Perhaps the snag lies in the absence of a solid, straight forward plot with an emotional core. Also disappointing is the climax as he is unable to tie-up the loose ends, the ending appears tame and contrived. The film also drags as the flashbacks take almost three-fourth of the time and the story unfolds only in the last 30 minutes.
At the moral centre of the film are the three men - Inba, a scum of the earth gangster who knows nothing but the violent methods of survival (strong resemblance to Little Ze of City of God) and even makes love violently with his live-in girl friend Sasi (Meera Jasmine) who dotes on him.
Michael the brilliant student leader and social activist who has refused a scholarship in US because he wants to fight for the cause of the poor and down-trodden bringing him in direct competition with professional politician like Selva (Bharathiraaja) who uses Inba to stop his growing influence among the electorate. His girl friend Radhika (Esha) is a French teacher who moves in to live with him.
Arjun Balakrishnan a Engineer chasing American dreams who falls in love with Meera (Trisha) before faith intervenes and he is sucked into politics due to the influence of Michael. Michael wants to cleanse the political system so he and three others contest the election (against whom and the purpose is not told). They win not only the election but is able to beat Inba to pulp in the middle of a crowded traffic and send him to jail. The film culminates in a typical Mani Ratnam climax which asserts that traditional human values will triumph over evil.
Surya as Michael the `hero' of the film has given a finely calibrated performance and is smashing, while Madhavan in a negative role as the `Villain` Inba is terrific, Siddharth as Arjun is cool and discovers his comic side with some great one-liners. The lovely Meera Jasmine as Sasi has a meaty role and she pitches in her career best act. Esha is surprisingly fresh and sparkling while Trisha has only to look attractive and is competent. Bharathiraaja makes a cameo as the wily-old street smart politician who manipulates the system.
Mani has totally neglected his biggest selling point - Song picturisations which are a total let down. At places the songs do not gell into the narration and the music of A R Rahman sounds more like Mexican pop. However sync sound has come of age along with Ravi K Chandran's great camera work, Vikram Dharma's superbly choreographed action scenes and Sabu Cyril's simple sets.
The bottom line is Aayitha Ezhuthu is a bold and daring move by Mani Ratnam to change the staid style of our commercial cinema. But will the audience accept his new style of film making?
---
19) YUVA
| | |
| --- | --- |
| Film Name: | Yuva |
| Year: | 2004 |
| Music: | A R Rahman |
| Camera: | Ravi K Chandran |
| Language: | Hindi |
| Notes: | 3 young men...from 3 strata of the society...With entirely different points of view towards life...Their paths crossover.. on Thursday morning at Hoogly, Vidhyasagar Bridge...Their lives change irreversibly. Mani Ratnam's Yuva is a radical departure from the familiar way of presenting a commercial masala concoctions serving all the nine rasas. Mani has made an attempt to combine mainstream Tamil film aesthetics with international cinematic sensibilities. However those raised on a sugar-n- spice masala movie diet may find the outcome unpalatable. |
| Cast: | Ajay Devgan, Abishiekh Bachchan, Vivek Oberoi, Esha Deol, Rani Mukherjee, Kareena Kapoor, Sonu Sood, Karthik Kumar, Anant Nag, Om Puri, Vijay Raaz, Sourabh Shukla, Sujatha Sehgal. |
Mani Ratnam. The name itself is enough to generate tremendous curiosity and excitement for a film. So, as the lights go off in a cinema hall and the titles roll, you expect nothing short of a masterpiece from a master film-maker.

Unfortunately, YUVA is high on hype, but low on substance. Or, let's just say, naam bade aur darshan chhote.

Coming from the maker of classics like NAYAGAN, ROJA and BOMBAY, his latest offering is a complete letdown. It simply fails to connect with the viewer!

YUVA tells the story of three youngsters -- Michael [Ajay Devgan], Arjun [Vivek Oberoi] and Lallan [Abishiekh Bachchan].

Michael is a student-politician, who dreams of cleansing the corrupt political system some day. Arjun is a student as well, who nurses a desire of settling down in the U.S. Lallan is a ruffian, who works for another hooligan [Sonu Sood], who in turn is a henchman of the corrupt politician [Om Puri].

The three youngsters, completely unaware of each other's existence, cross path one day. And suddenly life undergoes a change...

Loosely based on Alejandro Gonzalez Inarritu's Oscar-nominated Spanish film AMORES PERROS, YUVA is divided into three chapters. But, sadly, none of the chapters hardly make an impact!

Mani Ratnam is an accomplished storyteller, but he seems to have got confused this time around. He has opted for a theme which not many would take a fancy to -- politics -- since the issue has been beaten to death by several makers in the past.

Nonetheless, rehashing a story is pardonable, since every maker has his way of interpreting a tale. But what makes matters worse is that Mani's storytelling lacks the hammer strong impact that this genre demands. In fact, the stamp of a genius is sorely missing in the film, even though the film does boast of some fine performances. But can the best of performances camouflage the harm inflicted by a weak screenplay? Never!

The film has loopholes aplenty. To start with, the film has been treated in an episodic fashion; the first 30-35 minutes focus on Abishiekh and Rani's story. Then Ajay and Esha's track takes over, followed by Vivek and Kareena's portions And then politics and politicians take precedence.

The film moves at such a lethargic and leisurely pace that you start getting restless even before the first segment [Abishiekh-Rani] wraps up.

Another drawback is that barring Abishiekh and Rani's track, which at least has some interesting moments, the other two stories are dull and drab. And the latter reels, when the dirty political games are unveiled, the film falls into an altogether new low.

Even the finale leaves the viewer with the feeling of complete discontent and disapproval. There should've been a proper culmination to Abishiekh's character. Similarly, Ajay and Vivek winning the elections don't make you jump with joy either.

Director Mani Ratnam fails completely in keeping the viewer's interest alive. The film banks too heavily on the student politics, which may not find flavour with a majority of the audience. Such topics hardly interest the viewers of today, also because the viewer tilts more towards escapist cinema. Not only is Mani's choice of the subject debatable, even his treatment is not as expected.

Frankly, Mani is letdown by the script of the film. The film tries to strike a balance between realism and make-believe, but falls flat from tip to toe. Neither does the student politics appeal, nor does the saccharine-sweet romance between Vivek and Kareena make your heart beat faster. In fact, the romantic track of Vivek and Kareena is devoid of any excitement whatsoever.

A R Rahman's music is a mixed bag. While 'Ae Khuda' and 'Fanaa' are hummable [both are well shot], the remaining tracks are just about okay. Cinematography [Ravi Chandran] is first-rate. The stunts are fantastic, especially the climax fight on a busy road.

YUVA clearly belongs to Abishiekh Bachchan, who delivers his best performance so far. Playing a crude, lower middle class ruffian is no child's play, but Abishiekh has handled it with amazing confidence. This performance surely merits an award!

Vivek Oberoi may have looked uncomfortable in his last few films, but he is back in his element this time. He comes up with a natural performance. Ajay Devgan doesn't come across as strongly as the other two actors. He's just about okay.

Amongst the leading ladies, it is Rani Mukherjee who is the best of the lot. The role demanded an actress of substance and Rani more than lives up to the expectations. Kareena is highly competent, despite a half-baked character. Also, she looks gorgeous throughout, despite minimal make up. Esha Deol justifies her part, but her role doesn't demand histrionics either.

Om Puri enacts the corrupt politician part with conviction. Sonu Sood is okay. Anant Nag is fair. Saurabh Shukla and Vijay Raaz are adequate.

On the whole, YUVA disappoints big time. At the box-office, the film will neither appeal to connoisseurs of meaningful cinema, nor strike a chord with the hardcore masses. Its business may be better at multiplexes, thanks to the hype surrounding the film, but its fall is inevitable.

Rating:- *
---
---