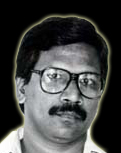 Born in 1956 in Madurai, an MBA from the Jamnalal Bajaj Institute of Management, Mani Ratnam was not interested in pursuing a professional career. He worked initially as a management consultant before getting in to films. (His father was a producer - Venus Gopal Ratnam and his brother G Venkateshwaran, a distributor turned producer, GV Films).
Probably he is the only person who has become a director without ever working as an assistant director!
His father was a distributor; a man who lived with the business side of films rather than its creative or aesthetic aspects.
Like almost every person of his generation, Mani Ratnam grew up watching films. In his mid-teens, Mani Ratnam had a moment of realisation as he sat in a dark cinema theatre watching larger than life heroes and heroines cavorting, crying, laughing, leading larger than life lives. For the first time, he discovered that films were conceived and directed.
And that was all. No internship as assistant director. No searching for that elusive director who would transform his screenplay into a living breathing entity. One day, many years later from that first moment of cognition, Mani Ratnam stopped and stared and changed the course of his life. From management consultant to moviemaker.
For almost a year, Mani Ratnam and a few friends dreamed, debated and grappled with a screenplay another friend was working on. The film never got made. But Mani Ratnam had served his term as apprentice to the art of cinema.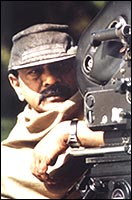 Mani Ratnam after deciding to enter the tinsel world, had approached veterans like Bharathiraaja and Mahendran to work with them as assistant director, but was unsuccessful. He then approached Balu Mahendra, ace cameraman and director, who had just finished with his Moondram Pirai (Sadma in Hindi) and told him that he wanted to direct a Kannada film. Balu Mahendra asked him if Mani was qualified at the film institute or worked as an assistant to any directors. Mani's answer was No!. But Balu Mahendra was infected by Mani Ratnam's enthusiasm about his film and agreed to handle the camera in that film.

That film would be Pallavi Anu Pallavi in Kannada. It was later dubbed into Tamil as Priya O Priya. It had Anil Kapoor and Lakshmi in the lead roles and Ilayaraaja for music. It did not create any ripples, though one song, O Premi... in the film shot stylishly in an auditorium gives a good hint of the Mani Ratnam to come in later years. He has revolutionised the Tamil Film Industry with technically strong films that are beautifully photographed with well picturised songs. Every frame in a Mani Ratnam film is perfectly composed and beautifully backlit even if this style involves total violation of tonal, focal and colour continuity. Today Mani Ratnam is happy that many qualified professionals from various fields are showing interest towards making good films.
Mani Ratnam also had the support of his brother, Mr. G Venkateshwaran (film distributor and producer). In the 1980's most of Mani Ratnam's films like; Mouna Ragam, Nayagan, Agni Nakshatiram, Anjali, Dalapathi, were produced by him. Later Mani Ratnam started to produce his own films under the name AALAYAM PRODUCTIONS (with Mr. S Sriram) and then later MADRAS TALKIES (with Mr. G Srinivasan). Mr. G V also produced the Suhasini Mani Ratnam directed, Indhira. As a shocking incident, Mr. G V committed suicide on May 2003, at his residence in Chennai, unable to pay his debts and severe financial crisis. The entire Tamil film industry was left with shock on his unnatural demise.