---
Mani Ratnam has introduced several artists and technicians to the film industry. Some of them are:
| | |
| --- | --- |
| Esha Deol (in Tamil) | Aayitha Ezhuthu |
| R J Suchitra (in films) | Aayitha Ezhuthu |
| Prasanna | Five Star (Susi Ganesan) |
| Krishna Kumar | Five Star (Susi Ganesan) |
| Kaniha | Five Star (Susi Ganesan) |
| P S Keerthana | Kannathil Muthamittal |
| R Madhavan | Alai Payuthey |
| Swarnamalya | Alai Payuthey |
| Priety Zinta | Dil Se.. |
| Aishwarya Rai (in Tamil) | Iruvar |
| Manisha Koirala (in Tamil) | Bombay |
| Surya | Naerukku Naer (Vasanth) |
| Aravind Swamy | Dalapathi |
| Baby Shamili | Anjali |
| Nirosha | Agni Nakshatiram |
| Saranya | Nayagan |
| Anil Kapoor (in Kannada) | Pallavi Anu Pallavi |
All these people are faring really well now. Lets hope he gives us many more talented artists and technicians to the film world.
---
---
"It's only fair to say that I am as good an actor as my dad permits me I don't think I have contributed single handedly to a film. I just do what the direction expects me to do. In some films the contribution is larger than the others. I think in Mani's film the contribution is maximum. I have the liberty to what I want and how I want to do it. And interacting with Mani in over the 3 and half years and continuously acting in three of his films and most importantly completely in three different characters has been a lifetime challenge for me. It is certainly a great award for an actor like me; he is the best director the country has seen for a long time. And to continuously act in three of his films at a stretch, it is a big compliment for me. And I am aware of the responsibility as well. When he cast me he expects a certain level of performance and certain level of commitment. I know that I am right up there in terms of commitment. I do my lines and do what ever is required for the role. For me its very relaxed at the same time taxing experience - relaxed - I don't have to worry about any other aspects like music, production cost, timing - nothing. Taxing because I have to act. And to act in Mani's film is a demanding job". Even if Mani Ratnam's film were in Egyptian instead of Tamil, I would still do it. Forget playing the main lead, even playing a small role in a Mani Ratnam film would certify the fact that you are an actor. I am happy I did three films under his direction and one for his production, and hope to do more in the future". Interview

R Madhavan, Actor, given a break by Mani Ratnam in the Tamil hit Alai Payuthey.

Nothing short of GREAT! Mani, as we all know, is a highly acclaimed and respected director. It was definitely my dream to work with him. I am happy I worked with him early in my career. He is just brilliant. I do not have enough words to explain the experience of working with someone like Mani. It is a great honour to be in his film. Apart from what he does in films, he is also a great guy.

Abishiekh Bachchan, Actor, worked with Mani Sir in Yuva.

The film was very clear in Mani Sir's head. He knows exactly what he wants. He is a slavedriver [smiles]. He made me do so many drafts even after having so much clarity, which made me learn so much from him.

He had come down looking for a writer. I think Ram Gopal Varma recommended my name. Mani Sir saw Paanch as well. I was doing my own film [at the time]. I had written a film [Sangam Mail] for Shaad Ali. Shaad also told Mani Sir [about me].

I write very fast. And Mani Sir wanted someone who could do it [the Yuva script] very fast. I went down to Chennai for 20 days. I stayed in a hotel and did the drafts. I came back and started doing my own film. After that, he called me whenever he needed changes.

The experience of working with Mani Ratnam was extremely rewarding. He pushes you to the limit and beyond. When I write for myself, I do a draft. I know where things are wrong. I formulate it in my head and make changes on the spot. I don't spend a lot of time on paper.

Mani Sir's working style is very different from everybody else's. He wants to design everything on paper. There is also a lot in his head that we don't know about till the final product comes out.

There is one spontaneous option: He says this is what is not working.

So I say spontaneously, this is how we can do it.

And he will say, "No, what if we do this?" He keeps pushing you.

There are as many as eight options he brings out of you; you end up being surprised with yourself. The thing is that you never realise that Mani Sir slowly manipulates you towards getting the best out of you.

He also makes you realise, "Don't think you are not capable of doing this."

Before working with him, I never thought I could work on light-hearted stuff. Everybody used to treat me as somebody very serious. He brought all these elements out of me. I realised I am as vulnerable and emotional as many other people.

He is a man of very few words. Mani Sir doesn't gossip. That's the best thing about him. There is no frivolous talk. There is always work. He is always the first one to reach the office. The man wakes up at 5 am, reads the paper, and goes for a one-hour walk and still has that passion for cinema after so many films. He lives and breathes films.

Work with Mani Ratnam again? Anytime. I will go down on bended knee [to do so]. I have all of Mani Sir's films on DVD.

Mani Sir constantly attempts to go into an area [subject] where no one has gone before. My expectations are very high.

Anuraag Kashyap, Dialogue Writer for Yuva.

"Mani Ratnam is so organized. Read the script and you won't need any further explanations. I sometimes am surprised by the zest that these filmmakers show".

Simran, Actress, worked with Mani Ratnam in Kannathil Muthamittal.

"Throughout Alai Payuthey this film, I got to know a lot of good people. Mani sir, despite his achievements, has no air about him. We share a good rapport. I still remember the first day of the shoot which was at Express Estates. Mani sir, P C Sreeram and Shekhar Kapoor were sitting behind the camera and watching me. They kept cracking jokes and winking at me. I felt like running away but somehow I held my cool and did my scene".

Swarnamalya, Actress, worked with Mani Ratnam in Alai Payuthey.

Aravind Swamy, another actor introduced by Mani Ratnam in the mega hit, Dalapathi, which was totally a Rajinikanth movie, but he shot to fame with Mani Ratnam's Roja and Bombay. Aravind even did Suhasini Mani Ratnam's Indhira and even played a cameo role in the super hit Alai Payuthey.

Aravind Swamy, Actor, given a break by Mani Ratnam in the Tamil hit Dalapathi.

"Mani Sir is an institution."

Miss World. Aishwarya Rai, Actress, given a break by Mani Ratnam in Iruvar.

"When I performed a scene well, Mani uncle would pick me up and give me a big hug", "When shooting was completed, Mani uncle carried me on his shoulders and asked me who the heroine of Kannathil Muthamittal was? I said Simran aunty. He nodded his head and told me to guess again. Mani uncle always has a question as soon as you give him an answer!, when I finished dubbing, Mani uncle asked me what I wanted. I told him I wanted to join him as an assistant director. He said OK!"

P S Keerthana, Child Artist, given a break by Mani Ratnam in the Tamil hit Kannathil Muthamittal.

"We both wanted to create a new entity with Five Star, we approached Mani Sir with a few samples and the director Susi Ganesan selected us" says Sriram Parasuram, who are the first music director couple in the country. Five Star is a Mani Ratnam production, directed by Susi Ganesan, a Mani Ratnam assistant.

Parasuram Radha, Music composers duo, given a break by Mani Ratnam's Production in Five Star, directed by Susi Ganesan.





Usually, Mani Ratnam repeats his actors in his movies; R Madhavan in Alai Payuthey, Kannathil Muthamittal and Aayitha Ezhuthu, Mohan in Idaya Kovil and Mouna Ragam, Karthik in Mouna Ragam and Agni Nakshatiram, Prabhu in Agni Nakshatiram and Anjali, Aravind Swamy in Roja, Bombay, Dalapathi and Alai Payuthey (cameo role), Revathi in Pagal Nilavu, Mouna Ragam, Anjali, Iruvar, Madhu in Roja and Iruvar, Manisha Koirala in Bombay and Dil Se.., Mohanlal in Unaru and Iruvar, Prakash Raj in Bombay, Iruvar and Kannathil Muthamittal and many more artists have had the golden opportunity to work with the great director more than just once and there are many more of them still awaiting their first opportunity.
Some of the technicians like Cinematographers; P C Sreeram and Santosh Sivan, Ravi K Chandran, Ramachandra Babu; Editors; B Lenin, V T Vijayan, Sreekar Prasad, Suresh Urs, Choreographers; like Farah Khan, Sundaram, have also worked with Mani more than once.
---
---
"His enthusiasm is infectious".

Balu Mahendra, Cinematographer of Pallavi Anu Pallavi.

Mani Ratnam's long time friend and cameraman, P C Sreeram for his films; Mouna Ragam, Nayagan, Agni Nakshatiram, Geetanjali, Thiruda Thiruda and Alai Payuthey. Their combination has worked wonders in the industry. P C Sreeram's work was applauded in Mani Ratnam's films, as he always had the freedom to experiment.

P C Sreeram, Cinematographer.

Santosh Sivan, one of the greatest cinematographers of the country has worked with Mani Ratnam, in Dalapathi, Roja, Iruvar and Dil Se..

"I enjoyed working with him in Bombay. Mani Ratnam is a perfectionist. He will not stop until he is satisfied with his work. He is one of the very few directors in India who never compromises on details".

Rajiv Menon, Cinematographer for Bombay

"Mani Sir is the fastest, among the directors, I have worked with." The good thing about Mani Ratnam is that he gives you the full concentration and energy required to shoot.

Ravi K Chandran, Cinematographer for Kannathil Muthamittal, Aayidha Ezhuthu and Yuva.

Manikandan shot the mammoth song sequence Yakkai Thiri ... " for Aayidha Ezhuthu and also some of the Ajay Devgan scenes for Yuva. Describing the experience of working with Mani Ratnam as "ultimate" the cameraman says, "Mani would be on the sets at 5 in the morning, and would work through the day. We would have a 30-minute break for breakfast and lunch and that's it. None would leave the sets and neither would he. The shooting was down South in Pollachi and Theni. Ajay Devgan would tell us that he had never seen sunrise till he began shooting for Yuva. But that's how Mani Ratnam worked."

Mani Ratnam initially had the music maestro Ilayaraaja for music and they worked together to give real hits like Pallavi Anu Pallavi, Unaru, Pagal Nilavu, Idaya Kovil, Mouna Ragam, Nayagan, Agni Nakshatiram, Geetanjali, Anjali, Dalapathi.

The year was 1991. Mani Ratnam was on the lookout for a new composer to give music for his films. One day, at an awards function for excellence in the field of advertising, Mani Ratnam chanced upon a young man who received the award for the best ad jingle which he had composed for the popular Leo Coffee ad (directed by Rajiv Menon). At the celebrations party that followed the awards presentation ceremony, Mani Ratnam was introduced to the young composer by his cousin Sharada Trilok of Trish Productions for whose company the young man had produced some outstanding work. Sharada had words of high praise for the young composer. Mani was curious and requested him for a sample of his wares. The composer readily complied and invited the director over to his studio. Mani Ratnam turned up at the studio only after six months, where the 24 year old lad played out a tune that he had been pushed into composing by his school friend G Bharat alias Bala when they both had been greatly disturbed by the socio-political tensions in South India over the Cauvery river waters issue. Listening to the tune that was played, Mani was hooked instantly. Without a second thought he signed on the composer to score the music for his next film. That film did not work out but Mani signed him on for a new film which was to be produced by the veteran Tamil director K Balachander for his respected Kavithalayaa banner. That film was Roja. That tune would become the song Tamizha Tamizha in Roja. The music of the film would be a phenomenal success that would revolutionise modern day Indian film music. The name of the 25-year old composer was A R Rahman. And the rest, as they say, is history. Rahman and Ratnam have worked together to give the sure musicals, Roja, Thiruda Thiruda, Bombay, Iruvar, Dil Se../Uyirae, Alai Payuthey and the latest Kannathil Muthamittal.

Ram Gopal Varma (Telugu and Hindi film director), one of the leading film directors in the country, shares a friendly relationship with Mani Ratnam. His Telugu film Gaayam, was co-written by Mani Ratnam and Mani Ratnam's Tamil film Thiruda Thiruda was co-written by Ram Gopal Varma. In a way, it can be said that both the directors have ventured into new wave cinema with Company (Ram Gopal Varma) and Kannathil Muthamittal (Mani Ratnam) in 2002. Mani Ratnam's Dil Se.. was co-produced by Ram Gopal Varma. Mr. Varma tells that until he saw Mani's films, he never took song and dances seriously. His inspiration for visuals comes from Mani.

"Before Rangeela I hated shooting song sequences. Then I saw Mani Ratnam's Roja and was fascinated by the visual impact of his music and choreography. Mani has been a strong influence on my song picturisations." - Ram Gopal Varma.

Giri (A film producer and distributer) "I worked as an assistant for Mani Ratnam for films like Geetanjali and Gharshana and I address him as 'Thalaiva' (Leader). With his inspiration, I bought the remake rights of his latest film and released it as Amrutha. Though the film failed at box office, it gave me immense feeling of owning a film made by my most favorite director Mani Ratnam. He has got terrific visual sense. Other directors can make equally visually rich shots. But nobody can make them look good with minimal resources and budget the way Mani Ratnam does. I still remember one shot in Geetanjali film. The camera hovering over misty hills of Ooty shot was actually taken on a miniature set erected on a table. When they shot that scene I asked P C Sreeram about it, and he replied me to have a look at it when projected on big screen. After sound mixing, the final effect is terrific and unbelievable.

I started as a distributor for Mani Ratnam's Bombay and I did distribute all his films in Nizam since then.
---
---
Here are a few assistant directors of ace director, Mani Ratnam, who have made their mark in the Film Industry. His assistant directors are all very well educated. He surely knows how to select the right people.
---
Milind
(All set to debut in a movie jointly to be produced by Prakash Raj and Ram Gopal Varma.)
---
Siddharth
MBA from Mumbai.
(Acted in Shankar's Boys, Ratnam's Aayitha Ezhuthu, Rakyesh Om Prakash Mehra's Rang De Basanthi, Prabhu Deva's Nuvostanante Nenodantanaa, Shivakumar's Chukkalo Chandrudu)
An interesting aspect of Boys was the casting of the lead character. When Shankar was looking for a young, fresh-faced lad, writer Sujatha Rangarajan recommended that he check out Siddharth, a youngster who was then serving as assistant director to Mani Ratnam (in, among other films, Kannathil Mutthamittal, which had Madhavan in the lead).
Siddharth was born in Tanjavur. His father is the vice president of Nestle. He has a sister who had done her PhD from Singapore and is a research assistant there. Siddharth had studied in Chennai, Mumbai and Delhi. When he did his MBA, he had job offers from some very good companies. But, he was crazy about films, so he made his way to Chennai. He loved the stage even as a school kid. He had also written scripts. He had come here to become a director. When he was in Delhi, he had contacted Mani Ratnam over emails. He had even spoken to the director over the phone. Mani interviewed him and made him his assistant director in the film Kannathil Mutthamittal. But fate had other plans. Shankar saw him and made him the hero of Boys. Mani Ratnam followed suit with Aayitha Ezhuthu. Siddharth is 25 now. He had married his sweetheart, a Punjabi Chartered Accountant named Meghna. Talk of strange twists of fate.
---
Karthik
MS from USA.
(Acting in Ameer's Paruthiveeran)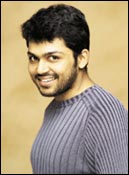 Actor Surya's younger brother, Karthik (son of actor Siva Kumar) who has completed his education (MS and also a course in World Films) from the USA is also said to be assisting Mr. Mani Ratnam in Aayitha Ezhuthu. He was also asked by Ratnam to act in the film, but Karthik stuck to assisting the maestro.
Karthik, Sivakumar's second son and actor Surya's brother is being launched as a hero by director Ameer.
Karthik is an assistant to director Mani Ratnam and his dream was to direct a film. There were some rumours that he will be debuting as a director with Surya as the hero but nothing came out of it. Karthik was also managing Surya's career.
Ameer who has made his debut with Surya in Mounam Pesiyathe shares a great rapport with the Sivakumar family. His latest film Raam won him a lot of accolades and now he was waiting for Surya's dates to start his new film with a very exciting script.
But unfortunately Surya's hands were full and could not accommodate him, so Ameer decided to launch Karthik as the hero in this untitled film which he is also producing. An official announcement is awaited today evening from Sivakumar's residence.
---
Ms V Priya Bhushan
Film Institute DFT
(Kanda Naal Mudhal)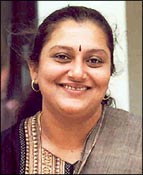 Mani Ratnam's associate directors in the film are Ms. V Priya (directed serial, Anbulla Sehidiyae and also associated with Revathi's Mitr - My Friend). S
It has been a long wait for Priya to direct her first feature film, the Tamil movie Kanda Naal Mudal. Till it happened, Priya occupied herself by writing the script of Revathy's directorial debut Mitr- My friend, assisting Mani Ratnam in Iruvar, Dil Se, Yuva and Aayitha Ezhuthu, and Ratnam's wife Suhasini in her directorial debut Indira.
Priya has also directed several television serials for Telephoto Films (owned by Suresh Menon and Revathy) and Madras Talkies (Mani Ratnam's production house).
Even today, she is known as Mani Ratnam's assistant and she has no qualms about it. "Yes, that is my address; Mani Ratnam's Assistant, and I am proud of it."
Kanda Naal Mudal is produced by National Award-winning actor Prakash Raj's production house, Duet Movies. Its first production, a small film titled Azhagiya Theeyae (starring Prasanna and Navya Nair) was a surprise hit at the Tamil box office.
Priya has known Prakash Raj from the days when she assisted Mani Ratnam in Iruvar.
She does not claim Kanda Naal Mudal is a 'different' film but assures that her characters are as normal as "you and me." They behave like normal people, and that is what makes them 'different,' she says.
This love story has Prasanna and Laila in the lead, with Evam Karthik, the hero of P C Sreeram's Vaanam Vassapadum, playing an important role.
Sreeram is the cinematographer for Kanda Naal Mudal, Sreekar Prasad is the editor, Thotta Tharani is the art director and Yuvan Shankar Raja is the music director. Priya V's Interview at Rediff.com.
---
A Shivakumar
(Chukkalo Chandrudu)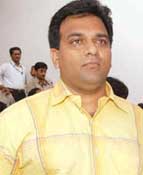 Another talented person, who is yet to make his debut film.
Siddharth pens story and screenplay for a Telugu film, directed by Shivakumar.
---
Azhagam Perumal
BSc. and a Gold Medalist from the Chennai Film Institute.
(Udhaya, Dumm Dumm Dumm, Jhoot - Are you Ready)

"I assisted Mani Sir, as an apprentice from Dalapathi to Iruvar. Frankly, I started liking the commercial aspect of filmmaking only after I joined him. I enjoyed working with him. Those were some of the most memorable days of my life. I feel that however much you learn, what you need is creativity and it should be there within you. The kind of films that you want to create, the kinds of characters you want to create are within you. Working with Mani Sir and watching all those international movies may help you shape well but ultimately what matters is the creative element that you have. If you don't have creativity, no amount of learning can help you become a good filmmaker. I tried to imbibe all the qualities that Mani Sir has. Lots of things. He is so passionate about movies, I don't think I can achieve that level of passion and devotion. Besides, I also respect his devotion to his profession. I follow the Mani Ratnam style. It will take me many more movies to evolve my own style. But what is wrong in imitating Mani Ratnam who has created his own style and is a world-class director".
Azhagam Perumal, Director, long standing assistant of many years to Mani Ratnam. He has directed Dumm dumm dumm, for Madras Talkies. Azhagam Perumal's Interview at Rediff.com.
---
Susi Ganesan
BSc. and B.Tech from the MIT, Chennai.
(Virumbugirean, Five Star, Thiruttupayale)

During his engineering college days itself I was enamored of cinema. I once went to invite Mani Ratnam for the college day. We never got across to him and some one else came instead. My stint as a journalist was yet another reason to come to films.

I was always focused from the very beginning. I did not want to join anybody else but only Mani Ratnam. As a student of cinema I knew that he has given cinema a new dimension. I wanted to be a part of his kind of filmmaking. I went straight to his house and told him my intention. At that time he was final stage of Thiruda Thiruda. He curtly told me to go to his office and get an appointment. I hung around his office for months together but the appointment never came. The office boy used to tell me that I should take up a good job instead. I then through art director Thotta Tharani managed to get across to Mani Ratnam. At first he suggested that like him, I too should straight away get into direction and to find a producer. I persisted. He then asked me to write about a film I liked. I wrote about a film, which he did not direct because I did not want to get into any trouble with my comments. After all this he told me that he was about to finish his film and to come back later. It was again back to square one. Again when Mani started his film I got across to him with great difficulty. He told me to write out a story and give it to his office. I had one ready for him. When I went back to him he told me frankly that he was yet to read it. A week later when I met him he asked me to join. The story outline that I gave to him while joining was the subject of Five Star.

He always believed spot improvisation was necessary. The locale or the natural surroundings gave him ideas to make the visual more appealing and make it a part of the story. He was the first person to show that visual beauty and technical enhancement was as important as story telling.
II
Renowned Art director, Mr. Thotta Tharani, recommended me to Mr. Mani Ratnam. I got an appointment with Mani Sir, but, 'it was a failure', as I couldn't convince the director that I wanted to be a filmmaker and not an automobile engineer. "Why do you want to waste your time when you are an engineer? If you really want to make films, write a script and meet some producers. An assistant director's job is the most idiotic job in the world. Why do you want to be an assistant? I never assisted anyone", was the director's comment. The problem was I did not know how films were made. I only wanted to make films. It took me one-and-a-half years after graduation to start working as assistant. "It was the most difficult period of my life. With the help of Mr. Thotta Tharani, I met Mani Sir again. This time, I convinced the director how serious I was about films. I was asked to submit a script. What I submitted to Mani Ratnam in 1994 has now come out as much acclaimed Five Star.

"Working as assistant to Mani Sir was like studying in a film institute". Full of excitement and enthusiasm.

I showed the first print of my first film, Virumbugirean to Mani Sir, and the first reaction of my guru was, "Well done! I never expected you to make a film like this". Within a week, to my surprise, I was given an offer to direct a film for Mani Ratnam's production house, Madras Talkies. "The initial shock was there but soon I considered it a great honour. It was like joining the school where you studied as a teacher. I got the offer after the first copy was ready".

Unfortunately, Susi Ganesan's first film never got released. "It's my first baby. I feel very sad that it is still lying in the cans because of financial problems between the producer and director".

The biggest compliment Susi Ganesan got was from Ratnam: "He told me, 'I think the film is one step ahead of what was written in the script.' It is a great appreciation from a person like Mani Sir. I felt very happy and proud of myself".
"I am very grateful to Mani Sir, it was nice working with him, like studying in big university it's like studying, he is always doing best films".
Susi Ganesan, Director, long standing assistant of many years to Mani Ratnam. He has directed Five Star, for Madras Talkies. Susi Ganesan's Interview at Rediff.com. Taking time...but making it.
---
Tigmanshu Dhulia
BSc.
(Haasil, Charas)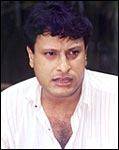 Originally from Garhwal, Dhulia graduated from Allahabad University in 1986 before joining the National School of Drama, New Delhi.
He then joined Ketan Mehta as assistant art director for Sardar Patel (Paresh Rawal) and followed it up with stints as chief assistant for Pradip Kishen's Electric Moon, casting director and assistant for Shekhar Kapur's Bandit Queen (Seema Biswas) and Dushmani (Sunny Deol, Manisha Koirala), dialogue writer for Mani Ratnam's Dil Se.. (Shah Rukh Khan, Manisha, Preity Zinta) and Goldie Behl's Bas Itna Sa Khwaab Hai (Abhishek Bachchan, Rani Mukherji, Sushmita Sen, Jackie Shroff) and screenplay and dialogue writer for Amitabh Bachchan Corporation Limited's Tere Mere Sapne (Chandrachur Singh, Arshad Warsi, Priya Gill, Simran).
In between, he continued polishing his writing and directing skills with short films and serials for television channels, including Krishna's Dream and Bombay Blue (Channel Four), Film India (BBC World) and six episodes of Star BestSellers (Star TV).
He also worked as casting director for Peter Ustinov's Stiff Upper Lip, Asif Kapadia's The Warrior and the Indo-Canadian production, Such A Long Journey. Tigmanshu Dhulia's Interview at Rediff.com. Mani Sir, more Sir - an interesting article from Tehelka.com
---
Dharani
BA. English Literature
(Dhill, Dhool, Gilli, Bangaram)

"I worked with Mani Ratnam in all his projects from Dil Se..to Alai Payuthey. It was a wonderful learning experience. I learnt a lot from Mani Sir and when I started making movies, I adapted this knowledge to my style of filmmaking. My movies have a mix of all elements with a strong vein of emotion. Initially I entered the industry with a dream of becoming an actor. Along the way, I found myself on the director's chair".
---
Shaad Ali
(Saathiya, Bunty aur Babli)
"For over four years," says Shaad Ali, "Mani Sir has been like a father to me. I was fortunate enough to work with him as associate director of the Manisha Koirala-Shah Rukh Khan starrer Dil Se..".
"Mani Sir is an institution. Film is his religion. There is no one better you can learn from. He is undoubtedly, and I say this without batting an eyelid, the best filmmaker the country has produced," states the 27-year-old.
Alai Payuthey was a project that Shaad Ali was closely associated with. "From the initial scripting to the final post-production of the film, Alai Payuthey was a complete hands-on project for me. After the film's success Mani Sir had three options: remake the film himself in Hindi, entrust it to someone else or he could give it to me. He chose the last. I jumped at the offer. I could not have asked for a better break.
Shaad Ali, Director, long standing assistant of many years to Mani Ratnam. He has directed Saathiya, the Hindi remake of Mani Ratnam's Alai Payuthey. Shaad Ali's Interview at Rediff.com. "Saathiya is like an exam for me".
---
K Subhash
(Pavithra, Nesam, 123, Shathiriyan, Sipahi)
Subhash is an erstwhile assistant to Mani Ratnam and has directed a number of films with Prabhu, Vijayakanth, Ajith and also 123 with the dancing brother, Prabhu Deva, Raju Sundaram and Nagendra Prasad with Jothika for the female lead. he is now directing Sipahi.
---
Srinivas Bashyam
(Shanthi Shanthi Shanthi, Paisa Vasool)
Srinivas assisted Mani Ratnam in films like Bombay and directed the Madhavan, Abbas, Prema starrer Kannada film (which had P C Sreeram cranking the camera), Shanthi Shanthi Shanthi.
---
Mani Ratnam's Family
Suhasini Mani Ratnam (Click here for Profile)
"Mani, is the first true male friend I've had! Now I am not about to talk and say great things about my husband Mani, simply because he doesn't have great things to say about me. I will only say this - He is a friend! . I call him my husband when I am very upset with him-- and when he treats me like a wife when he is angry with me! The rest of the time we are great pals! I don't miss most of my friends when I am with Mani! I don't think I have met any man who is as incredible as him in my life . And I hope, I do so not in the future!. Mani is one person who strongly feels that I am cut out for direction. We are good friends and there is no ego in our relationship. I'm the lazy one and Mani is the arrogant one. Some of his stories are decided by me and mine by him. I don't like to get too involved with his movies because I prefer to enjoy them as a regular viewer". - Mrs. Suhasini Mani Ratnam. Mani Ratnam lives with his wife Suhasini (actress and director) and their son, Nanda.
The jewel in her life..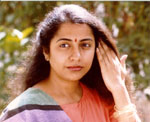 He is quiet. She is friendly, vivacious and bursting with life. He is an acclaimed director and she is an acclaimed actress in South Indian films. Both have won innumerable awards. His might be the name on most cinegoers' lips, but she is far from wallowing in obscurity. Suhasini Mani Ratnam is definitely not living in husband Mani Ratnam 's shadow.

In a marriage of two such successful personalities, there could be a clash of egos. Not so, avers Suhasini, "We are good friends and there is no ego in our relationship. I'm the lazy one and he is the arrogant one. Sometimes, he decides a story for me when I crib that I'm a homemaker and can't find time. Some of his stories are decided by me. For instance, I read the story idea for Kannathil Muthammital in Time magazine and suggested it to him and he developed it into a film."

What does the cinematographer-actress-director think of her husband's films? She doesn't gush but her fondness for Mani 's films is evident. "I love his films. That's why I don't like getting too involved with his movies. I have been a part of most of his films and when the movie releases, there is no excitement. I prefer to watch his movies like the rest of the audience. I enjoyed Alai Payuthey because I saw the finished product," she explains.

And it's not that she is not critical about his work. "We have absolutely no problems in criticising each other's work. If he points out a flaw in my work, then I take it as a learning experience and if I point out a mistake, he views it objectively. Mani is the only one who believes that I am cut out for direction," admits Suhasini.

"My heart lies in direction," she says. And the spark was more than evident in her critically acclaimed Tamil serial Penn , where she got prominent actresses from the Tamil film industry to act in each episode. Indhira , her first feature film, didn't exactly create a stir, but it certainly proved her ability to direct. Talking about her next project, she says, "I have just completed a one hour tele-film for a channel, which features Revathy and me."

Suhasini is equally serious about her home and hearth, when she says, "I have an 11-year-old son Nandan and it is imperative that one of us stays at home. He is into science and history in a big way. He wants to become an archaeologist when he grows up."

Three different identities living under one roof. The Ratnams are one unique but fascinating family.
Mrs. Suhasini Mani Ratnam's Interview at Music India Online.com