---
Mani Ratnam: A gem of a director

His film Nayagan was recently selected by Time magazine as one of the best 100 films in the world. Ace director Mani Ratnam speaks with G Ulaganathan on his next release.

Two heart attacks have taken a heavy toll of the man. He has lost weight, and takes extra care... be it food or meeting visitors. He almost totally avoids public functions and rarely appears in film premieres.

Yet, Mani Ratnam cannot keep himself totally cut off from cinema— his first love. After Ayudha Ezhuthu (Yuva in Hindi), he has taken a long break and is presently working on the script for his next film. "It will be in Tamil. It may take another six months for me to start shooting," he tells me during one of his rare visits to Bangalore recently...

Excerpts from an interview with Mani:
You started your career with the Kannada film— Pallavi Anu Pallavi. Any plans to make another film in Kannada?

"Not now. It is not that I avoid making films in other languages. I have made films in Telugu (Geethanjali), Kannada and Hindi. But I find it too strenuous. May be I will make a film in two languages, like I did with Yuva. But even that is too much of a strain. I like to understand what my actors say in the sets. If I have to depend on assistants for that, then I better avoid it".

How does it feel to be ranked along with Satyajit Ray and Guru Dutt (Apu trilogy and Pyasa were the other films in the Time 100 list)?

"Very happy. At the same time, I alone cannot take full credit for Nayakan. Its success was due to various factors... Kamal Hassan's extraordinary acting, Ilayaraja's super music, P C Sriram's brilliant cinematography, Thota Tharani's sets (he recreated the infamous Dharavi slum near Chennai for the film) etc. I only brought them together. Everybody gave their best and the story was based on a real life personality— Varadarajan Mudaliar who left Madurai in his childhood, went to Mumbai and became a don. But making Nayakan wasn't easy. We had to tell a lifetime story in about two and half hours. May be we missed some details but I think we did a fairly convincing job. This must have been one of the reasons that the film got selected".

Born in 1956 in Madurai, Mani has an MBA from Jamnalal Bajaj Institute of Management. He worked initially as a management consultant before getting into films. His father was a producer and his brother late G Venkateshwaran, a distributor turned producer. He did not undergo any internship as assistant director.

When he finally decided to enter the tinsel world, he approached Balu Mahendra, ace cameraman and director, who had just completed filming Moondram Pirai (Sadma) and told him that he wanted to direct a Kannada film.

Balu Mahendra was initially reluctant as Mani was neither a student of any film institute not worked as an assistant to any director. But, Balu Mahendra was impressed by Mani's enthusiasm and agreed to do the cinematography for the film.

Pallavi Anu Pallavi had Anil Kapoor and Lakshmi in the lead roles and Ilayaraja for music. It did not create any ripples, but the song sequences were well picturised. In fact, songs have been the highlight of all his films. Ilayaraja's score for Dalapathy songs has been rated as one of the best musical scores in the world cinema.

In the 1980s, most of Mani Ratnam's films like Mouna Ragam, Nayakan, Agni Nakshatiram, Anjali and Dalapathi were produced by his brother GV. His suicide a couple of years ago due to debts was another big blow for Mani Ratnam. Mani those days was a bundle of energy. He never used to waste any time on the sets and films like Roja and Bombay apart from Nayakan required shooting in different places and under the most extraordinary situations. "My major weakness is that when I begin shooting a film, I forget my health and get involved fully with the nitty grittys of the film. That has had its impact on my health. Now I have realised it and I spend a lot of time relaxing, playing tennis, so on. After Yuva I needed rest and spent time travelling and doing a lot of things which I would have ignored otherwise," he says.

There are many films being made these days with the gangster themes. Can we say that your Nayakan set a trend?

"May be, but my cinema is closer to reality. What you publish in the newspapers gives me inspiration. I am sure it is the same with other film makers. Nowadays even for peace one has to fight and that is what we tell through the medium of cinema. But there are also many young directors today who tackle various other subjects and they are also successful at the box office. This is especially true of south Indian films".

Our film makers seem to have a copycat mentality, If one genre of film succeeds, then ten others follow with similar themes. Comment.

"Nothing succeeds like success. If a gangster film clicks, there are ten more films with gangster themes with minor variations. But if you watch closely, not all of them will click. May be one or two. Then the director and the producers will be forced to look at some other themes. It is natural.

We make so many films in so many languages. There is bound to be some copying and one can be creative even in handling movies with similar themes. Why even in Hollywood, if there is one Spiderman, there are half a dozen similar films and they even go in for two or three sequels. But not all of them will be successful".

What is going to be the subject of your next film?

"I am still working on the script. It is too early to divulge anything. I will speak about it after some time".

How does the state that Indian cinema is in compare with that of the West?

"I think we are on the threshold of development. Today, a lot more films are made for an international audience. Technology will play a big role with the growth of the digital medium. Filmmaking will become a lot more personal. It will become like writing. Anybody will be able to make a film".

Among all your films, which is your favourite? Have you made a satisfying movie?

"No. Probably it may be the next one".

Why do avoid giving interviews to media?

"I am not against the media, only that I have nothing to relate to them. They can review and pass judgements on my work. I feel interviews achieve no purpose. Directors ought to be making films not talking about them".
---
Roja was just a small, experimental film" - Mani Ratnam redux
July 13, 2004
by Samanth
Optimists take note: It apparently never gets simpler. "When I was making these films, it was still as if I was doing my first film. Honestly! You start off by saying: 'I don't know how to do this. I want to do it. I would like to do it. But I don't know how.' I'm still struggling. It just gets more and more difficult. It doesn't get any easier." Pessimists take note: This is Mani Ratnam speaking.
"Yuva" and "Aayitha Ezhuthu," which premiered in late May at the IIFA awards in Singapore, are the movie events of 2004, paradigms of the gritty, hard-edged, urban cinema that Mani has made his own. Featuring a handpicked star-cast, they were rumoured to be inspired by Brazilian filmmaker Alejandro Inarritu's "Amores Perros" – a rumour at which Mani laughs heartily, remarks "It's so easy to classify a film, isn't it?" and mischievously refuses to elaborate.
Both films, says Mani, were as hard to make as "Pallavi Anupallavi," his first project, and the finished products are of just as uniformly high a quality. "You can never see your own films and judge, so I don't know. But I would hope that 'Pallavi Anupallavi', 'Mouna Ragam' and 'Yuva' would stand on the same plane."
"Pallavi Anupallavi" was Mani's roll of the dice, his gamble with an alternative career. After graduating with an MBA from the Bajaj Institute of Management, he had been traipsing around the job-market for a couple of years when he was invited by a friend to help out with a script. "I got hooked," he says. "Making that first film was either foolishness or guts, depending on how you look at it. I thought I would give it a six-month shot, see how I liked it, and if I wanted to do it for life. But when I started working, I knew this was what I wanted to do. From then on, it is was never a question of guts."
Unlike most other filmmakers, cinema for Mani had never been a constant calling. "I used to watch films, of course but only as much as the guy sitting next to me in the theatre. I probably appreciated it or criticised it a little more, but that was it. It was never a childhood passion or anything like that."
Mani learned on the job. Fast. Even as early as "Mouna Ragam" (1986), his fifth film and his first big hit, strong shades of his distinctive style began to emerge. "When I started out, I had no idea how to do it," says Mani. "It's always the films that have stayed inside you that go on to inspire you. It's like watching the Wimbledon finals and then playing some tennis – for no apparent reason, you will play better. It is just such a high watching something that is so good."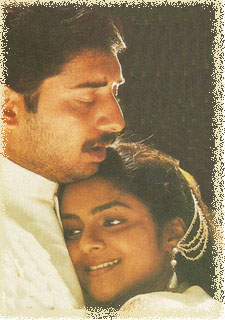 "Nayakan" (1987), "Agni Nakshatram" (1988), "Anjali" (1990) and "Dalapathi" (1991) established him further, but it was "Roja" (1992) that shoved him squarely into the national spotlight. "'Roja' was a small, experimental film," says Mani. "To me, it was very traditional Indian storytelling – the Sathyavan-Savithri – story set in contemporary terms. And because that was relevant everywhere, it could hold a national audience."
He admits he has gotten choosier since then, and more issue-driven as well. He tackled the riots of 1992 in "Bombay," Tamil Nadu's political history in "Iruvar," terrorism in "Dil Se," marital stress in "Alai Paayuthey" (remade as "Saathiya") and adoption in "Kannathil Muthamittal." Commercial success has been fickle, but critical acclaim has trailed his wake like a faithful puppy.
Mani's stature now is undisputable. Kareena Kapoor jumped at Yuva "just to have Mani Sir's name on my CV." Rajeev Menon, director of "Kandukondain Kandukondain," says: "At the moment, Tamil films are going through a regressive phase of lumpen rowdy heroism. [Mani] changes and reinvents his filmmaking with each release. His is the only film I want to go to the theatre and see."
For Santosh Sivan, director and cinematographer, Mani is "special, the best I've ever worked with. I've discovered the most unusual places with him on location and can mostly remember trudging out in the early morning with torches." PC Sreeram, acclaimed cinematographer, perceives a shift in the offing. "With 'Yuva,' he's going towards a more serious kind of cinema. His technique is taking a back seat, and he's now concentrating more on content."
"Not really," Mani contends. "I thought that was what I was always doing. I never thought technique was all-important. If an author writes, there is a certain style because that's the way he tells the story. It's like handwriting, like grammar. You don't write a piece to exhibit your grammar; it only helps to tell your story in a particular fashion, that's all."
Which is not to say, he hastily adds, that style should not be tailored consciously. "If you look at 'Nayakan' and 'Agni Nakshathiram,' which were done back to back, the styles are entirely different because the stories are entirely different," he says. "The editing, the photographing...it's all different. And it's because of the story. It is always the content that is predominant. The technique only helps you reach that content."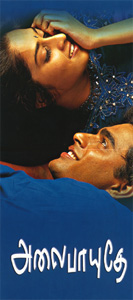 That kind of clarified, disciplined thought translates into the very process of making the film as well, a fact that Mani freely admits. "If you have to assemble at a particular time, you do that. You're not there to have a good time. You can have a good time after the shoot," he grins.
"But artistically, I'm not rigid," says Mani. "I don't want to tell an actor: 'Come from there to here. Stop. Turn left by 45 degrees. Look at her.' I have a character, and the actor is portraying it. Together we want to get one person who is real, and that is what we are searching for. I don't dictate, I just direct."
It is an evolutionary process, just as the ideation behind the script is one. "The germ for 'Yuva' was something that happened very long back, based on an incident at Osmania University," he says. "It was very exciting to read about it, and I tried working it a couple of times, but it wouldn't click. That happens often. I was supposed to develop 'Alai Payuthey' instead of 'Dil Se' for a Hindi audience, and I couldn't tie it up satisfactorily. So I left it, did 'Dil Se' and then came back to do 'Alai Payuthey.'"
So the script develops, diverges, runs into brick walls, doubles back on itself, loops-the-loop, growing all the time. "At some point, you make the decision that this is your next project. This is what you want to do," says Mani. "At that point, it's not about the subject or the artist, it's about what you can do. It's a high. It's a fever."
Eighteen films old, does the high still grab him? He says nothing, but if the multiple emphatic nods, adrenalin-charged eyes and the quivering smile of an addict are anything to go by, Mani Ratnam is not finished by far, and we are in for some riveting cinema yet.
---
I don't get shaken by criticism: Mani Ratnam
By Subhash K Jha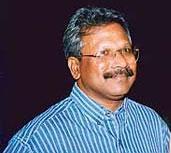 Thursday, 17 June , 2004, 09:56
Though the Tamilian maverick Mani Ratnam's new Film Yuva has done well in many centres including Bihar (where Mani and music composer A R Rahman combined are considered anathema by distributors) in Mumbai the film has been ripped apart by unforgiving critics.
"Why do you think this is so?" Mani is pensive.
He then chuckles. "I've learnt not to get shaken by initial reactions and wait for the film to grow. Of course I'm not jumping with joy at the criticism. It makes me wonder if I've slipped up. No point in getting worried about it. Interestingly now they say my first Hindi film Dil Se.. was good. At last that one has got good reviews. Maybe Yuva too will be praised when I make my next film."
Responding to the need to make a separate Tamil version, Mani reveals, "Shooting two separate versions wasn't tough since we finished the Hindi and then got into Tamil. At least that's how we planned to go about it. But then after 75 percent of Yuva, Vivek Oberoi had that accident in Kolkatta. I suddenly had free time until he recovered. That's when I started the Tamil version Aayitha Ezhuthu."
He admits he enjoyed making two versions of the same story. "Getting both the films ready together was a tough task. But I must say shooting the two versions wasn't monotonous. The actors were different and there was variations throughout. The songs are shot identically in both."
Then Mani grows pensive about the moviegoers' tastes.
"Audiences everywhere are similar in their tastes. I still chose to make separate versions of Yuva...now I wonder why! The Tamil version is more raw real and violent. That's because of the Tamil actors. Their body language and their screen projection affords more intensity. Also, since I went into the Tamil version after shooting a lot of the Hindi version I wanted to go further the second time. I shot the Tamil version with more edge to it. No point in doing the same thing twice."
Poohpoohing some media reports during Yuva claiming he had suffered a health setback when Vivek Oberoi was injured in Kolkatta, Mani clarifies, "It was wrongly reported that I suffered a heart attack. I just had a viral infection for which I was hospitalized. The very next day I was shooting on the very same bridge in Kolkatta. My blood pressure had shot up because I ran up that bridge when Vivek had the accident."
For now Mani hasn't decided what he wants to make next. "I need to take a break. Yuva and Aayitha Ezhuthu have really exerted me. I haven't thought of anything about the next. I don't even know whether it'll be in Tamil or Hindi. It all depends on the subject. Maybe I should make another Hindi film so Bollywood will get used to me."
Versatility will remain Mani Ratnam's hallmark, no matter in which language he makes his film.
"Each film that I make has to be different from the previous one. That's what keeps me going. Yuva is totally different from my previous film Kannattil Muttamittal. That difference is that keeps me creatively alive. It's like doing a first film each time. Instinctively I choose a different theme every time."
---
The Rediff Interview/Mani Ratnam

Give Yuva a chance. Don't kill it!
June 02, 2004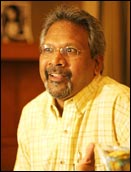 It must be a rare occasion when a filmmaker holds a press conference post the release of his film, to say that said film is not a flop.
Tuesday evening saw one such event, hosted by Mani Ratnam, arguably one of India's finest directors. For added emphasis, he was joined by stars of his latest film, Yuva: Abhishek Bachchan, Ajay Devgan, Vivek Oberoi, Kareena Kapoor and Rani Mukerjee.
The agenda was simple. The refrain being: Yuva is doing well. It is not a flop. They do not agree with trade magazines and box-office reports that have declared Yuva a flop.
Read the trade verdict on Yuva!
Don't Miss: The Rediff Yuva Special!
Yuva released May 21. While most critics seem to have panned the film, Ratnam loyalists and fans and metro centre audiences seem to have loved the film.
Bachchan, who played the rogue Lallan Singh in Yuva, declared, "The Mumbai distributor of the film [Ramesh Sippy -- not the Sholay filmmaker, but actor Jeetendra's brother-in-law, and head of BRA Enterprises], told me he made Rs 3 crore [Rs 30 million] from Yuva. There must be some reason why he said that. So I don't agree with the statement that film is not doing well."
Devgan added: "I am here to say I have checked the collections and they are very good in Mumbai. The fact is, the film has done well in A class centres."
Ratnam had only one mantra: "Don't pre-judge the film," he tells Senior Assistant Editor Syed Firdaus Ashraf:
Is this press meet a damage control exercise?
(laughs) No, I don't think the damage is so severe. But now that we are here, we cannot leave without saying anything about the film. We are saying give the film a chance. The facts are there, figures are there, look at them.
What are the figures you have of the Yuva collections?
The distributors [of Yuva] are here. I have not come here with figures and facts. I have come here as a filmmaker. I don't carry figures with me. If I carry figures, I won't be able to carry scripts (laughs).
I can say this film has done very well abroad. It is doing much better than other films in smaller towns.
You say the theatre collections of Yuva are good. Trade guides and box-office reports say Yuva is flop. These are contradictory facts. Are you questioning the trade industry process?
That is not for me to say. I have not looked at box-office figures in trade magazines. I don't follow them regularly. That is not my cup of tea. If they say the film is not doing well, we will give it some time. Wait and see for a week or so.
What is the research you have done to say the film has done well in A or B centres and the NRI market?
It is evident by the second week after the film's release how it has fared in the bigger and smaller areas.
Have you called the trade journals to explain this?
I think the distributors will do that. This meeting is about a group of artistes and technicians who are meeting to say that we are happy with the film. We stand by the film. We are happy with the reaction of the audience.
Do you think there is a lobby working against Yuva?
I don't think so. I make one film in three, four years. Why or how would that matter to any lobby?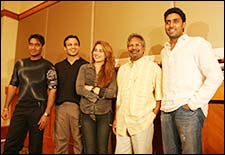 Would you cut the songs in Yuva -- filmmakers seem to do that after a film is labelled a flop.
No. If I had to cut the songs, I would have done so earlier.
Would you consider suing the trade magazines because this seems to have hurt your image and caused some financial loss to the film?
No, that cannot damage my image and money. A film is between you and the audience. The distributors are the ony people in between us. It is a straight equation.
But you say word-of-mouth about Yuva has been good?
That is what I am saying. People's reactions and word-of-mouth have been good. That is finally what matters for the film.
Yuva will sell. If you say the film is not doing well, that will counter the word-of-mouth. Give the film a chance.
What do you think has gone against the film when word-of mouth is good? What in your opinion has worked for the film? What hasn't?
Why do you assume anything has gone wrong? Nothing has gone against the film. Word-of-mouth is good. The film is good, so everything is okay.
It is also too early to analyse the film. If you ask a filmmaker to analyse his own film, it would take three or four years to do that, honestly. Because when you make a film, you have to be convinced about it. You are married to that film for a year.
I am very happy with the film. I am happy with the response I have got so far from the theatres.
I am glad that we can make bold films, different films within the commercial market and still do well.
How do you feel when people criticise your film?
You want to hit them first. (laughs).
After the anger has gone away, you try and find out whether there is a valid point in what they are saying. You know the ins and outs of your film. When I see a film, I have an opinion. Everybody has an opinion.
If you wanted to make a film the way you want, you go ahead and make it. I am here because I feel I can make a commercial film from my perspective.
Do you think the Hindi film industry needs a system whereby box-office figures come from one common source, not many?
I am not here to talk about trade guides and magazines.
All I have to say is, we will find out soon how the film has fared. Look at the film as a whole. I am not saying that because I am happy with what I have done. Look at the major areas and see how the film has done.
I am saying, don't pre-judge, don't anticipate that it will fall here and it will catch up in some other area. Facts are facts. Don't conclude in a hurry and hurt the film. This is an attempt to do something different that we believe in. Help it grow rather than kill it.
Do you think the Yuva trade status of 'flop' will change to 'average' or 'semi-hit'?
I hope it does not become a semi-hit (laughs). Why not a hit?
Reports say the Tamil version, Aayitha Ezhuthu, is not doing well either.
What can I say? If you have passed the verdict, why ask?
For myself, I am very happy with the results of both versions. The overseas results, everything has worked for the film.
When Dil Se.. did not do well at the box office, you accepted the verdict quietly. Why this hue and cry about Yuva?
I will accept the verdict of Yuva too. If it doesn't do well, there is nothing you can do. The only thing I am saying is, don't pre-judge the film.
Photograph: Jewella C Miranda
---
Interview excerpts from Rediff.com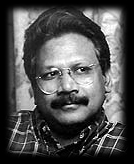 The Hindu
May 28 2004
GOING BY the hype for his twin releases, distributors will soon spell money as M-A-N-I.
Ratnam - Tamil for gem - the director who has been the crowning glory of the Indian film industry.
There are several reasons why "Yuva" and "Aayitha Ezhuthu" are the most-awaited releases of this season. One, Mani Ratnam. Two, the star-studded cast. Three, the innovative narrative structure. Four, it is about the youth, politics, violence. Five, it has a lot of fast-paced action. Six, the secrecy surrounding the projects.
The usually quiet filmmaker broke his vow of silence.
Your projects are always hush-hush.
I'm glad. (smiles) The way I see it, I want to show the film in its complete form. It's much better to show a finished project than just snippets.
How would you describe the film?
I don't describe it. I just show it. (pause) It's about the youth. So it's entertaining, pacy, aggressive, modern-age ... the style reflects the characters who have different points of view.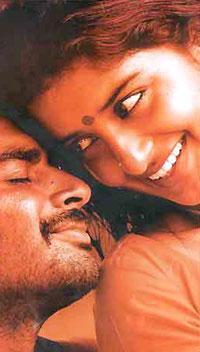 Multiple points of view, an offbeat narrative and reports that the film is inspired by Amores Perros, (the Mexican film nominated in the Oscars in 2000). Is it your way of paying tribute to people who have influenced you?
My film is more close to "Rashomon" than Amores Perros. "Rashomon" is the most significant film of my life. It was when I really fell in love with cinema. Structure-wise, it's classical. There is a cause-effect and a third-view. It is a simple story told in a slightly different fashion. It's not drastically different. Within the story, there are three stories of three men and their points of view.
SURIYA is the fulcrum of the movie. He carries off the role with conviction. He's aggressive and forthright. When ESHA DEOL heard about our plans to shoot in sync sound, she panicked and called her mom. We had to convince both mother and daughter.
So have you taken sides with any one character or just let your characters reach a logical conclusion?
I wish I was that liberated. But when you are making a film, you tend to hold the reins. There would be an emphasis on certain things with a certain level. But all the characters are ones you can identify with... within a level, all of them with yourself.
Have you been fair to all the three heroes?
I hope I've been fair to all the characters.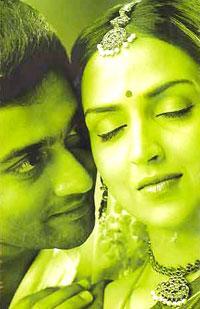 How do you deal with the actors? Are you the boss or a friend? Do you act it out?

Not because MADHAVAN has worked with me before. This was right across the board for him. We had something new to work on. He plays man from the street ... rugged. MEERA JASMINE plays a lower middle-class girl. She worked hard speak Tamil without a Malayalam accent. She was keen on getting it right.
I'm a chilled out guy. (laughs) I'm ready to do any role. Sometimes, you have to be firm. Sometimes, you have to nudge them. I don't dictate. I work very closely with them. I want something of them, something of the character that is inside them. I want to draw that out.
You've shot with live sound for both the versions?
Sync sound is fantastic. Some of the best performances come out the first time. In the regional version, we needed a bit of an effort because the girls had to learn the language. But we managed to pull it off.
How similar or different are the two versions?
Small changes. The story is the same. The difference would be that similar characters have been interpreted by two different sets of actors.
Your Hindi debut Dil Se.. was labeled as `ahead of its time' because it had an ending nobody expected. Do you have similar shocks lined up in Yuva or is it mainstream commercial?
When I made Dil Se.., I made it believing it was commercial. Only after I released it did I realise that it wasn't. You do a film because you believe in it. You just be as honest as you can.
Is our audience ready for new cinematic techniques and alternative narratives?
I don't know. Sometimes, we don't know because we don't try. But today, with the growth of different kinds of medium like advertising, people are able to put things together. The way editing has changed ... grasp and conversion of thought are now quicker. If they were willing to accept the ups and downs in Alai Payuthey, it encourages you to try something different.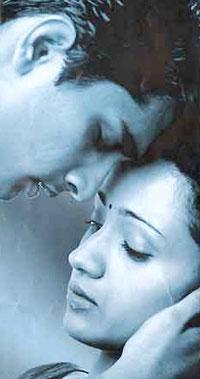 You initially did not want songs in the film?
Yes, when we started out, we didn't want songs in the film. But we just wanted songs for the album. When I told Rahman that, he just smiled. And once he records a song, it is very difficult not to use it in the film. Once he gave us a track, we had no choice but to do reasonable justice.
Are you happy doing one film a year or sometimes just one in two years?
It takes a year to do one film. Anyway, when you have Rahman scoring the music, it does take a year (laughs).

We needed somebody young, chilled out and who could look at the world in his own way. SIDDHARTH just fitted in. This is the first time TRISHA has dubbed for a Tamil film. She plays this hip, modern girl. She's come through looking genuine.
So you are all set for the premiere?
Yes, the film is premiering at the International Indian Film Academy awards. We had the opportunity to tie up for the premiere. We got an international platform to launch and premiere both films simultaneously.
Is the movie for an international audience?
It is for an Indian audience. Hopefully, we can take it to an international audience as well.
Where do you think is the state of our cinema compared to the West?
I think we are on the threshold of development. A lot more films are today made for an international audience. Technology will play a big role with the growth of the digital medium. Filmmaking will become a lot more personal. It will become like writing. Anybody will be able to make a film.
---
Interview excerpts from Rediff.com
The Rediff Interview/Mani Ratnam
I had two nightmares!

May 20 2004
He had two nightmares, confesses Mani Ratnam, arguably one of India's finest directors. The task of shooting a bilingual simultaneously in two languages, with two sets of star casts cannot have been easy. Yet, Ratnam seems to have come out none the worse. Like all his movies, under the aegis of his production company Madras Talkies do, Aayitha Ezhuthu (Tamil)/ Yuva (Hindi) have been the subject of much speculation and hype -- as all of Mani Ratnam's films are. But as Siddharth, one of the leads in the Tamil version says, "We at Madras Talkies believe in keeping our traps shut." And so shut they shall be, about the plotline of this latest offering of Ratnam.
In an extended telephonic interview with Managing Editor Saisuresh Sivaswamy, Ratnam reveals exactly what we should know about the movie. No more. No less. Excerpts:
Be it Roja, Bombay, Dil Se../Uyirae or Kannathil Muttamittal, your movies deal with contemporary issues. What issue does Yuva/Aayitha Ezhuthu deal with?
Yuva is contemporary in that it deals with three youngsters, their attitudes. How today's youth, from three different backgrounds, deal with a situation. The film is set against student politics. When you make a film, the bigger picture is to take the heart of the story and managing to convey it on screen. That is the challenge.
Directors normally find it a nightmare to juggle just one cast, and here you have gone made the same movie twice, in Hindi and Tamil. What was your experience?
I had two nightmares (laughs). I have not done this before, and the two movies were shot back to back, not simultaneously. I dealt with two different set of actors, and each brought its own changes. Filmmaking brings its own organic way of doing things, changes, it develops a character of its own.
Did you resort to this because in Dil Se../Uyirae, the same cast speaking in two different languages did not gel with the audience, and that the north and south have their own sensibilities?
Dil Se.. was dubbed into Tamil as Uyirae. Dubbing a movie brings its own set of compromises, and you end up losing some of the elasticity.
Abishiekh Bachchan plays Madhavan's character in the Hindi version. There is a tremendous buzz about him even though box-office success has so far eluded him. What is your take on him?
I am very happy with Abishiekh Bachchan. He has played a very interesting character, and the rest you will see for yourself.
Yuva is a youth film. Although your films are young, two of your previous films -- Thiruda Thiruda and Alai Payuthey -- also had youth in the centre. Did your experiences with those two movies impact on how you shaped Yuva?
No impact. Once you identify the script and characters are formed, the whole thing just drags you in. There is no baggage. The most important thing is to be honest to this particular script, and not to start off with the intention of making a good film. It depends on the story, and the characters. Each dictates its own rhythm.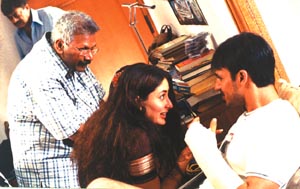 The project also earned its share of headlines, what with Vivek Oberoi's accident etc. How was the schedule affected?
That was a most unfortunate thing. Sometimes the most ridiculous things happen and Vivek's accident was one of those. Yes, it did push back the schedule by some three months, but then there is no other choice. It was particularly hard on Vivek.
Yuva is a multi-starrer, which is a sort of break from the past in that this is the first time you have worked with three protagonists.
That is because the script demands three different attitudes. Sometimes films work with just one character, sometimes with more. It all depends on the script, and is built in. I had not done it earlier because the scripts did not require that. There was no specific intention of doing a multi-starrer, it so happened that the story is about three youths. The story decides whether I use new faces or not.
You are also a tech savvy director who constantly pushes the boundaries. You have used sync sound in Yuva. What else is new?
When you do something new, you don't do it in order to do something new but because it is required by the story, because it improves your filmmaking. Sync sound is used now because the story demanded it. These things are done without realising that one is doing something new, because that is not the intention.
Do you have a favourite character among the three protagonists in Yuva/Aayitha Ezhuthu?
I hope not. I hope I have been able to do justice to all three. All three are important aspects to the film, so there is no choosing one over the other. When you see the movie you will be able identify with the characters, not necessarily with just one of them. You will feel at different times, in different circumstances, you are able to identify with all three. That way, each of us has a bit of the characters in us.
The burden of being Mani Ratnam, the pressure of consistently being among India's better directors. How do you handle it?
I ignore it. One knows where one stands, so there is no burden. The only burden is to make the film right, and constantly struggling to make it right. The pressure is enough to not only bring anyone down to earth but also take you a couple of feet under (chuckles).
You don't suffer from pre-release jitters?
The journey of filmmaking is so amazing. You start off with great confidence, and develop insecurity at the time of release. When you are ready with the finished product, you are constantly wondering if you have been honest to the story you started out with, if you got what you wanted. One is too close to the project by then to be objective. You never know if you have been true.
You have said Yuva/Aayitha Ezhuthu is a seed that has germinated with you for some time. How does your creative process work?
Sometimes it is quick and happens fast. Sometimes the seed remains with you for a while, as is invariably the case with me, been with me for two-three films. Unlike in the West where an idea goes into development, with different departments taking over different stages of its development, we work differently here. Sometimes you have not found the writers to develop the script, so it remains with you for a while. After some time it falls into place. Everybody works this way. It is important that you have people around you with the same passion for good films, and have the same flair. That is as important as the story itself.
Actors, and technicians will give their right hand to work with you. Since you can have anyone you want, how do you pick and choose for your movies?
When it comes to casting for movies, it is a priority that you cast right. The guiding principle must be what is right for the movie, that is the basis you cast someone, not because so and so is a friend. It helps to have a wide choice, it makes filmmaking easier. But the priority must be the film, and to be clear about it. Of course, the person you want may not be available, say, then you go for the next best choice.
About Yuva/Aayitha Ezhuthu you have said it is about how three different characters react to the same situation. Do you see a bit of yourself in any of or all the three characters? Is the movie then a vehicle for self-examination?
No, not self-examination. This is true for everybody. Everyone will identify with the characters at different times. About a bit of me in my films, every filmmaker puts a bit of himself in his movies, that's how it is done. Just as every actor puts a bit of himself into every character he plays. In this case it could well be about three different aspects in the same person. When you are in one person's shoes you see things differently, when you are in the other person's shoes you will see it differently yet.
You have also said the kernel is a real-life incident. Do you think you have remained true to the original incident or changed it anyway?
No, it is totally different. That incident I referred to was just the starting point. I have taken the spirit of the person, and this is in no way a real-life drama.
Your films have never used the female character as simply an adornment, rather they have very strongly delineated characters. Your promo material, however, focuses on the male characters?
Wait till you see the film (laughs). I don't use women characters for the sake of using them, this movie calls for very specifically designed characters. They have strong feelings and express them. They are not heroines, they are characters. They all have a mind of their own.
Your wife Suhasini is a talent in her own right, and is an integral part of your filmmaking process. What is her contribution to Yuva/Aayitha Ezhuthu?
She is a critic first. She is the bouncing board for this film. She brings in the objective view, and was involved at the script and the post-production stages. She has the long-distance perspective.
Be it in Roja, Sonu Walia in Dalapathy, Malaika Arora in Dil Se../Uyirae, you have used what Bollywood calls 'item number' long before the term became fashionable. Is there one in Yuva?
The songs were not considered 'item numbers' at that point (chuckles). The point is, because I used Sonu Walia from Mumbai it became an item number. Had I used, say, Disco Shanti, it would not be considered an item number.
In Yuva the songs are more an integral part of the story. I had started off saying there will be no songs, and then changed my mind. But when you see the movie you will realise that nothing stands out as a song, but they flow with the story. The music too deals with three different people with three different styles, and is more in tune with the characters.
A R Rahman has said working with you is a two-way give and take. Music is a strong element of your movie-making, and it has a tremendous Tamil idiom. What is the extent of your involvement with Rahman's music?
I don't make, but merely choose, the music. I get to tell Rahman, sometimes push him to what I want, but finally it is up to him to deliver. Rahman is very very director friendly. He is ever ready to go whichever the director wants, the story wants, depending on the kind of movie or the music you want, and within that he finds his niche. It is a constantly complementary process. At the end of the day he is not pleasing you, he has to please himself.
Nayagan was the only movie you and Kamal Haasan, the two powerhouses from Tamil films, worked together. It has been a long time. Are movie buffs to be denied a chance to see you together?
I don't know. Kamal Haasan is a huge talent. We need to have something to offer like Nayagan, we need to cross that benchmark, or at least go up to it. We are not merely doing a project, that is very easy, but we need to something good. As of this moment we have not hit on anything.
From the Western perspective, Bollywood has become an all-encompassing term for Indian cinema. It does not justice to talent like you who are out of the Mumbai film industry, or to the Malayalam and Bengali industries. Does it irk you?
The name itself. Calling yourself after something that rhymes with Hollywood is, well, sad. Obviously they are doing it to identify Indian films, but that is a classification one can grow out of. As long as you are making the kind of films you are happy about, it is okay. One is not in competition with Hindi films.
Making films appealing to the NRI sensibility is the trend now, but Tamil films seem to stay out of it. Do you see yourself making an NRI film?
My focus is on the script, and the characters are rooted here. I don't think it is easy within the script to take them over there and bring them back. I have to be honest to the story I have. If the story is based over there, I will have no problems doing it, but not with this story.
Your films are rooted in the local idiom and have done well for that reason. Dil Se../Uyirae was one movie that failed to connect at that level. With the 20:20 vision of hindsight, what could you have done differently?
I don't know. When you make a movie for a year-and-a-half, obviously you are convinced that it is right. Yes, the film didn't do commercially well. Yes, I made a mistake, but that doesn't mean the one-and-a-half years were a lie. It was intended to be right, but some elements didn't work. There could be a few faults, I was aware of them at that time, but despite it I thought we will be able to make the film work. It was confidence. But, then, you get on.
Among all your movies, do you have a favourite, one that you can look at and say, 'yes, this was it'?
No. Probably the next one.
(Parts of this interview first appeared in India Abroad)
---
Interview excerpts from Mid Day.com
It's Mani that matters
By: Udita Jhunjhunwala
Tuesday May 19 2004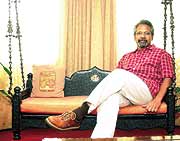 Director Mani Ratnam's first (and last) Hindi film was Dil Se.., released in 1998. Its box-office performance was below par for a filmmaker of Ratnam's reputation who has films like Roja and Bombay to his credit. Six years later Ratnam is ready with his second Hindi film. Speaking from Chennai, where he lives and works, Ratnam speaks about Yuva...
How do you make a film in a language you do not read or speak?
If the language were in my control, I'd try and get involved everywhere. But since I don't speak Hindi, I trust the actors a lot more. Different actors do roles differently. I try to use that without deviating from the character or from the scene and its flow.
There is a difference in the meaning of the Hindi (Yuva) and Tamil (Aayitha Ezhuthu) titles…
Aayitha Ezhuthu is the last letter of the Tamil alphabet. It is denoted by three dots in a triangle. This is a film about three individuals.
There are strong resemblances between Yuva and the Mexican film Amores Perros (Love's A Bitch).
Not really. There are three stories in my film which are related to one particular route. I'd say that my film is closer to Rashomon. The starting point of my films was the spirit of a person who was at Osmania University.
How did you go about casting for Yuva and why did you decide to cast Esha Deol in both?
Casting is a process. You have to consider who'd be likely to fit in, be available, be interested. Work becomes easier later if there is passion. It was good to get the cast we have. Esha did the Tamil film first and did it quite easily. We have used synch sound and since she knows the language, she could make the transition easily.

A R Rahman and you have worked together since Roja. Is he the only composer you work with?
As long as we are able to inspire each other and enjoy it we'll work together. When it gets stale, we'll need to look ahead. Rahman is big now internationally; he's been great with the score.
Yuva is set in Kolkatta. Why there?
It could have been set in any metro. Kolkatta has a nice character and ring. Bombay is overused.
Why has it taken you six years to make your second Hindi film and what lessons did you learn about the Hindi film market from Dil Se?
In the six years I made two films Alai Payuthey and Kannathil Muthamittal. Some films cannot be made in any language at all, like Kannathil Muthamittal — that is rooted in Tamil. Alai Payuthe was made in Hindi as Saathiya. Then Yuva's script came along, and this film could be made in any language. You learn from every film, especially those not received well. I don't think of it as linguistic audiences, even the Tamil Dil Se.. was not well received. When a film does not work, there's a flaw in the storytelling.
What next after Yuva?
You usually start ideating for the next project about halfway through the current project itself. But first I want to take a holiday, and catch up with the rest of the world. A film possesses you and takes the wind out of you.
---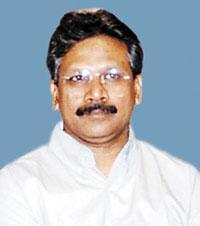 Interview excerpts from NewIndpress.com
'I make films to please myself'
Tuesday May 18 2004 11:40 IST
CHENNAI: The moment Mani Ratnam announces his film – and goes about his work silently – the world around him goes crazy. Now add Ajay Devgan, Rani Mukherjee, Abishiekh Bachchan, Vivek Oberoi, Kareena Kapoor, Esha Deol, Madhavan, Surya, Siddharth, Trisha and Meera Jasmine to this equation. Is it any wonder that Yuva and Aayitha Ezhuthu are selected for the International Indian Film Academy World Premiere in Singapore?

With only post production work to worry about, Mani Ratnam finally agreed to meet the media – an IIFA pre-condition – on a sleepy Sunday afternoon at his office, the Madras Talkies. An excerpt...

It is said Yuva and Aayitha Ezhuthu are based on a Mexican film, Amores Perros?

What can I say? It is sad that nobody thinks we are capable of doing an original film. Instead of asking me for an explanation, why don't you wait for four more days and see for yourself?

Usually, you make the film in one language and later dub it in other languages. So why is that this time you decided to make it bilingual?

Because, while dubbing the films, a little bit of compromise is built into it. It becomes difficult to avoid a few glitches. For instance, when we dubbed Roja in Hindi, we faced a situation. In the original, the heroine, a Tamil girl in Delhi, is not able to communicate because of the language problem. But in the Hindi version, how do you say that? We ended up pushing a lot under the carpet.

How come you seem to promote the Hindi version, Yuva, more than your Tamil version?

They are two different markets, that is why. If I make a Hindi film, I have to promote it the way it is done in Bollywood.

You seem to have a preference for the actors and actresses that you have already worked with.

You give me an example.

Madhavan?

I needed three male leads, so I signed up Madhavan this time too. But he is doing a role that is diametrically opposite the one he did for my last film. In fact, we are exploring something different here.

Has the reverence that the stars seem to treat you with ever come in your way?

I don't think it's the question of reverence. It's more like distance. I maintain my distance. It's a different thing we wanting to work with one another. But when it comes to work, it's essential to maintain a certain distance.

You seem to pick your actors and actresses right. They almost always fit the the part. How do you do it?

There's no particular way to do it. I am aware that casting is very crucial. It is important that actors fit into the role – helps to shape the characters better. There's no rule as such, I just trust myself.

What is difficult – working with absolute newcomers or stars?

New or experienced, it doesn't matter. It's just that certain roles demand a new face. For instance, I decided on Madhavan for Alai Payuthey because I thought he'd be like a fresh breath of air.

Apparently, you have gone on record saying if you could make Alai Payuthey without September matham, you would have. So are there any commercial ingredients in Yuva and Aayitha Ezhuthu?

My films are commercial from frame one. I don't think commercial is a bad word. Nor do I think that it is a crime to reach across people commercially. Yes, it is true that I am not too keen on songs in general. Five songs a movie is a huge effort. They are a burden and should be incorporated in the film well. At the same time I enjoy filming songs too. I enjoyed making September Matham. I take songs as a challenge.

Some people seem to have gauged the market well. Farah Khan, for instance. Main Hoon Na has all the elements of a box-office success. Have you ever approached films like that?

It is sad if you think that. I don't think filmmaking is about X+Y+Z. You do a film because you believe in it. For Farah Khan, Main Hoon Na must have been something that she wanted to share with people.

Does it hurt when people reject what you hold dear to your heart? You say Kannathil Muthamittal is your favourite, but it flopped in theatres.

Every film is close to me. And yes, it does hurt to an extent. But that doesn't mean I'll analyse the films, trying to figure out what went wrong. Besides, Kannathil Muthamittal is a different genre from Aayitha Ezhuthu. And I make films not just to please you but also myself. Sometimes my confidence is proved right and sometimes it is not.
---
Interview excerpts from Anand Vikatan
Mani Ratnam's interview in Vikatan Part 1 and Part 2 about the philosophy behind the three dots of Aayitha Ezhuthu is intriguing.
---
Interview excerpts from Mantra Online.com
Mani Ratnam - "Violence is not a prerequisite ffor my cinema"
Hindol Sengupta (IANS)

He has been called South Asia's greatest storyteller of human strife, but behind his solemn golden-rimmed spectacles, director Mani Ratnam prays for peace.

Your films have been tremendously successful in translating human strife and suffering into cinema. Comment.
I've tried my best to tell the human story behind the blazing fires, beyond the hatred. Yes, my films have been successful, yes they've brought me fame and fortune, but no more.

But how come you focus mainly on the subject of terrorism and violence?
Violence is not a prerequisite for my cinema, I just told stories about violence because it is happening. Anyway, my films always look at violence as the backdrop of love, and I would much rather talk only of love, without the backdrop. I pray that there is peace and I promise to make wonderful films about peace.

You have indeed come a long way off from the career that you had initially planned.
Indeed. From a business management degree from the Jamnalal Bajaj institute in Mumbai to becoming a movie director has been a paradigm shift in my career path. Not very orthodox I must add.
Your controversial film Bombay put you in the line of fire. Something that perhaps would not have happened if you had stuck to management.
Specially in 1995, when bombs were hurled at my residence after the release of Bombay, which retold the gory tale of communal riots that had torn apart India's business capital of Mumbai a couple of years before. The milder critics had accused me of trying to promote a kitsch communal harmony (the lead characters were a Hindu boy and Muslim girl in love), and the most vitriolic threatened to kill me for showing Hindu hardliners inciting rioters. I had to tell these stories, through them I've responded as a filmmaker and a human being, and the same human being is repulsed by the violence. How can reality be controversial?
Comment on the tag of being a controversial filmmaker.
I do not make controversial films. Some people make them controversial for their own reasons. What I just do is try to look at the problems of our society from a new perspective. Roja, Bombay and Dil Se.. have told the story like it is.

With Kashmir being in the spotlight your film Roja too is being looked at with a renewed interest.
Quite right. With Kashmir increasing in world focus, there has been great renewed interest in the film. I plan to market a subtitled version of the film across the world.
While highlighting the problem the macro level you also focus on the individual strengths and weaknesses of your characters at the micro level.
Roja (meaning rose) was about my kind of heroine who is demure but determined. People are always special -- from the disabled child in Anjali to the Amudha in Kannathil Muthamittal (A peck on the cheek), which deals with the Tamil insurgency in Sri Lanka.

Your focus has shifted from Kashmir to Sri Lanka. Comment.
Sri Lanka has been happening in the backward of Tamil Nadu for decades. But I never thought of making a film on it until I found this story. The film that depicts a young girl's search for her guerrilla mother fighting for a Tamil homeland in the island nation.

You use dollops of song and dance in an otherwise serious film. Why?
Some say you can't be serious filmmaker and still use songs and dance but they are our heritage as Indian filmmakers. We can't be ashamed of it.

Indo-Asian News Service
---
Interview excerpts from All Indian Site.com
I am a pucca commercial director
Mani Ratnam, who gave such memorable films like Roja, Bombay, and Sakhi, in now back with Amrutha, This film is a continuation of Mani Ratnam's tryst with terrorism as it is woven around the LTTE brand of political violence. Of course, his fascination with human relationships is all too evident in Amrutha as well. Mani Ratnam, who was here on the eve of the film's release, was all praise for Hyderabad. An informal chat with the renowned director.
What is Amrutha's storyline?
Since the film is going to hit the screen on February 14, don't you think it would be nice to discuss about it after the release? Basically it's a story of human relationships revolving around a kid called Amrutha.
Why do you always go in for themes that revolve around terrorism? Your films Roja, Dil Se.. and Bombay had similar themes.
I react to things that happen all around me and make them into movies. I try to interpret it and provide solutions in my own style.
There was a bomb attack on your house after Roja... Can one stop being creative just because of such attacks?
As a director I have a responsibility towards the society and I try to discuss contemporary problems in my own way.
You did not go in for multi-starrers after Dalapati. Any reasons?
I choose the stars to suit the storyline. I believe that right casting is 50 per cent of direction. Dalapathi demanded big stars. So I went ahead and cast well-known stars. I strongly believe that story is something that has to come from deep within and not something that is haphazardly concocted.
All your films seem to have a first-night song...
Songs are links between one scene and the other and should be an integral part of the story. It should help the story in its natural progression.
Yours films can be called commercial films that look like art films. What according to you is the difference between the two?
I am pucca commercial director. The same story can be told in many ways. But I like the main stream films. However, I try to retain the sensitivity. All my films were commercial films, though some of them were not commercially successful.
You seem to like working with kids. You made Anjali, Amrutha and Bombay with children as central characters. Any special reason for this preference?
I derive more satisfaction working with kids, Also unlike the big stars they do exactly what you want them to do.
Why aren't you making a film for the international audience like the way Shekhar Kapoor did?
For any cinema, the canvas is dependent on the storyline. I am only trying to place local sentiments and human relations in perspective. Our films have already crossed territorial limits. That is no mean achievement.
Your wife Suhasini is great actress in her right. But you never gave her an opportunity to work in your films...
(Laughs) I asked her to work in my first film. She rejected the offer. So I am not going to give her another chance.
---
Interview excerpts from Sify.com
There is a magnetic quality about Mani Ratnam's movies, which stems from his art of story telling and innovative techniques. Every frame in his films will have a lyrical quality in it. Mani's latest release Kannathil Muthamittal has been getting rave reviews. The film reassures you that good cinema is still alive and throbbing despite the moribund state of mainstream cinema in India.
Mani, India's number one director met Sify.com at his aesthetically done Alwarpet office in Chennai, and talked about his style of filmmaking. Excerpts:
Congratulations on getting the 'Padmashri' and making a wonderful film like Kannathil Muthamittal.
Thank You. Nice to know that Kannathil Muthamittal is being appreciated. I am very happy with the way the film has been accepted.
Have you finally made the kind of film you wanted to?
Yes. The audience are ready for a change. I make mainstream films that are sensible, logical and have characters that are natural.
Have you lost any of your ideals?
(Laughs) No, I still try to hold on to them. Have I made any compromise in Kannathil Muthamittal? Success can be alluring but no way will I compromise on my goals, conviction and belief.
Was Kannathil Muthamittal on terrorism or adoption?
It was definitely on adoption, set in the backdrop of terrorism-ridden Sri Lanka, where there are many more Amutha's searching for their roots. Actually an article in the Time on adoption motivated me to do the film.
Are you fascinated by terrorism? All your films like, Roja, Bombay, Dil Se.. and now Kannathil Muthamittal had terrorism in the background. Please Comment.
Terrorism does not fascinate me in fact it worries me. Look, what is happening now in Gujarat? It is a reflection of our times. Terrorism is all around us and we are living with it. Some solution has to be found to it, so that we live in peace and without fear.
What is your political ideology?
I am a rationalist. I would like to define myself as an average citizen with a lot of angst.
Now, let us move to your art of filmmaking. In your films what is the driving force or the most important aspect?
The most important thing is the passion to make good cinema and a story to tell. The way I do a film is like writing. I make it a point to blend the story and discuss it with my wife. I always do that as she helps me with my scripts. Story is of paramount importance. I also bounce the story idea with my friends.
How do you manage to take so much out of your technicians?
All of them are good in their own fields. But for me the most important thing is that they should be in the same wavelength. When I discuss the story and shot with them, they are also able to give inputs for the betterment of the film. The film as a whole is the most important factor for me.
You are known to get the best performance out of children, Anjali, Bombay and now Kannathil Muthamittal?
Kids are real, natural and spontaneous. The problem is actually to get the correct children. After that it is easy to work with them.
They say you can get even a wooden actor to emote. Please comment.
(Smiles) I have a passion for getting my shots correct. I never act out my lines for artistes, I just tell them to be real and genuine. My idea is to make the scene work. I tell them that it is two of us together which will make the character.
There is a feeling that Madhavan apes Shah Rukh Khan a lot. What do you think?
I have worked with both of them and have never felt so. Madhavan has improved leaps and bounds from Alai Payuthey to Kannathil Muthamittal as an actor.
Tell me, how do you get such good music out of A R Rahman?
Rahman is every director's dream. Before I start a film, as soon as the story is ready we discuss the situations where songs can be incorporated. If I am not happy with a tune, Rahman will dump it and create a new one. He has no ego problems and tries to come out with a new number with the same kind of passion with which he did the earlier one.
So, What will be your next project?
I have not even thought about it.
Did you have a meeting with Aamir Khan?
Yes. I did meet Aamir sometime back. And discussed in general about films. Sometime in future if I have a script suitable for him and if he likes it, then there is a possibility of doing a film with him.
---
Interview excerpts on Kannathil Muthamittal.
Mani Ratnam is a man associated with realistic cinema. So much so that every film of his has been compared with incidents that take place in society. Roja, Bombay, Uyirae (Dil Se..) and now Kannathil Muthamittal (A peck on the cheek) starring R Madhavan, Simran, Nandita Das and J D Chakravarthy.

We meet the man who is in town to promote Kannathil Muthamittal, which narrates the Sri Lankan conflict through the eyes of a girl.

Mani Ratnam and realistic cinema are inseparable ...
It is not just me. There are so many people.
But very few manage to make realistic films within the parameters of commercial cinema
That is true. I have always tried to retain the sensibilities within the domains of mainstream cinema.
A bomb was dropped into your house, because you have been tackling real subjects
I am fighting against these very things when making a film. Why should I stop? Anyway, that matter is a little old now.
After Roja, Bombay and Uyirae, why a film on the Sri Lankan conflict?
Why not? It is happening behind my house. I react to such situations in the same manner as you do. I do not react differently. The incidents trouble me. It is as relevant to me, to you, a newspaper or any other media.
What went wrong with Dil Se..?
I don't know.
Was it the language?
I don't think so.
Why are you making more films in Tamil then?
It is easy to cater to a regional audience and its tastes. They are not so varied and they accept changes faster.
I beg to differ. Your films have found lot of patronage among the Hindi belt too.
I was just giving you my opinion. Maybe, you are right.
One query about Lagaan have you seen it? What do you feel?
I really hope it wins. It is a brilliant film. The characters are well etched and the screenplay is very good. The quality of writing is really remarkable.
The girl in your film Keerthana, the daughter of Parthiban and Sita, has done extremely well.
Indeed. She is a brilliant actress. She is so natural that you don't have to work hard with her at all.
Any film in Hindi now?
I am working on a script. It depends on how it turns out and whether it is relevant to the Hindi or the Tamil audiences.
---
Interview excerpts from Deccan Herald on Dil Se..
At high noon, Mani Ratnam's showered and scrubbed in his club select Juhu hotel room. He looks the way he always has: blue jeans, striped handloom shirt, keds, and a bemused smile dancing on his face.
An assistant is jotting story ideas on paper sheets. Evidently a potential plot is already percolating. I detect and errant crease on the ace director's forehead. Could he be a tad anxious about the impending release of his first Hindi film Dil Se..? Or am I just imagining the stress pangs? Ergo, the first question
Hello, are you trying to look cool when you're actually quite hassled?
Hassled? Who me? No, way, I'm fine. I always feel relieved on completing a film. You're excited when you start a project, but three-fourths of the way, you're desperate to reach the shore. Like it or not, although hands-on film-making is the priority, you also have to be something of a marketing and business person. You have to ensure that enough money is made to survive and bankroll your next film.
Did you opt for a Hindi film because your Tamil film Iruvar didn't fare well commercially?
No, there weren't any trade pressures at all. I opted for Dil Se.. because the story is set in the north. Earlier, I had to devise ways and means to place Tamil-speaking characters in the north, like Nayagan, Mouna Ragam, Roja and Bombay. (Laughs). Since I'd exhausted my bag of tricks, now I've gone for a straight Hindi film. In any case, it's not as if I've shifted bag and baggage to Hindi cinema...my next project will be in Tamil once again. I didn't have to grapple with the Hindi dialogue. Though I can't speak the language fluently, I can understand it. I could also place my trust in the Hindi-speaking actors and let them come up with their own inputs.
What was the kick-off point for Dil Se..?
I can't put my finger on the kick-off point. Usually a story starts off with a random thought, a germ. You can spend a year rejecting hundreds of ideas and then reach a crucial decision when you know, yes, this is it. I'd worked on another script for a sort of slice-of-life romantic film which starts where other love stories end. A couple fall in love, get married, and what happens. Maybe I'll still make this story some day.
Are you afraid of your ideas being stolen?
(Laughs) I'm afraid of ideas being stolen when they're in the conceptual stage. If they're stolen after I've finished a film then I'm flattered.
From the look of things, Dil Se.. seems to be a mix of Roja and Bombay.
It's probably that. It's the last of a trilogy on personal relationships against the political backdrop of India today.
What is the India of today?
I wish I knew. No one can define it, you can just reflect on the conflicts. What bothers me most are those nuclear tests. But no, it won't be the subject of my next script. I don't want to get stuck on topical themes. For a film-maker to remain alive and kicking, variety is essential.
Would you make a sex comedy then?
(Laughs uproariously) Why not? That's an idea, so don't accuse me of stealing it. But seriously, I'd love to make films of every genre. India is capable of making those blockbuster disaster movies too though I'm not fond of them personally, unless they have a sub-text like that tidal wave episode in Akira Kurosawa's Dreams. As for Titanic, what can I say? It was just a lovely Hindi film.
Can you truly make the kind of films you want to?
Not always, but I'm getting there. The snag is that you have to work in form that'll reach a large audience. I'm trying to give up some of the safety elements like the conventional format of story-telling where everything have to be explained and underlined. I still enjoy incorporating songs though. The solution is not to be apologetic about them but to let yourself go.
Like shooting Chhaiya Chhaiya for Dil Se.. atop a moving train?
Sure! I felt absolutely liberated shooting that song. A song sequence by its very nature is absurd so you might as well enjoy yourself while it lasts and make others break into a jig to your tune. I break into a jig too, but only after the movie's over.
Was the no-show of Iruvar at the Box-Office a step back for you?
In a way, it's a no-show allowed me to start all over again on a clean slate. It did hurt when it didn't do well commercially. Still I'm extremely proud of Iruvar, I think it's my best film to date. I thought Mohanlal came up with an amazing performance. Frankly, I was disappointed he didn't win the National Award for it.
Jayalalitha has stated you made a hash of Iruvar.
Everyone's entitled to his or her own opinion. In this case, the rest of Tamil Nadu also agreed with her.
Okay, are you satisfied with the way your casting turned out for Dil Se..
I'm thrilled. Shah Rukh Khan was thoroughly involved, treating the project like his own baby. And any other actress besides Manisha Koirala is unthinkable in her role. Yes, I did approach Kajol but that was for the earlier slice-of-life script which I abandoned.
Finally, how do you estimate yourself as a scriptwriter?
(Laughs) I'm fantastic! I love the struggle of creating a story which starts with one word on a sheet of paper and then starts flowing. I write my own scripts because I haven't found anyone who thinks and feels the way I do. A perfect rapport has to be established with the writer, which is as difficult as finding the right woman to marry and live with happily every after.
---
Interview excerpts: Director Mani Ratnam
"I like sunsets and do agree that human beings reflect better at dusk. With quietude, it's easier arriving at decisions"
Bhawana Somaaya

A collage of scenes from Anjali, Roja and Dalapathi form in your mind as the lift takes you to the third floor of Hotel Centaur, Juhu. Mani Ratnam is in Mumbai for the post-production of his new release. Quite easily the only South Indian director to be equally popular in Bollywood. Appreciated both by the classes as well as the masses, his Tamil film Dalapathi dubbed in Hindi is due for release by the end of the month, while Bombay dealing with the '93 riots is slotted for a January release. Clad in a grey shirt and spectacles, Ratnam appears pre-occupied. The pre-release tension is showing. After a brief greeting an offer of coffee, Ratnam gets down to the interview. His sixth since the afternoon. He admits he is not comfortable talking. "They ask the same questions and I give the same answers. What is in my mind will remain in my mind..." Or maybe sometimes flower into a film. You bide time, make polite conversations with the director. He drops his guard and you ask him to elaborate on the plots of his films.

A Sunset, one observes plays an important part in all your films. All decisive moments of your characters get resolved during dusk.

(Smiles) One can say it's a good observation. One can also call it slotting. Frankly, I had never thought of this until you pointed it out. Yes, I like sunsets and do agree that human beings reflect better at dusk. With quietude, it's easier arriving at decisions. Basically, I think I'm an outdoor man. God is the best art director and with nature looking its best, I like to set important scenes against nature.

Even rain seems to be an obsession with you. All your films have rain shots against lightning.
(Laughs) That's right, rain shots are repetitive. Perhaps I like rain too. It builds up drama. Even in personal life, moments spent in rain are more memorable than the rest. As a director, I just shoot the film, I don't study and analyse the way a critic does. But now that you've pointed out, even Bombay has a lot of rain shots.

Critics describe you as the most inaccessible director in film firmament. Why are you so anti-media?
I am not against them. I just have nothing to relate to them. My relationship is through my medium. They can review and pass judgements on my work. I have nothing against that. These days I'm learning to change, but interviews, I still feel achieve no purpose. According to me, directors ought to be making films not talking about them.

Not even when they become as controversial as your film Bombay?
What do I say? I didn't want the controversy. The film was originally to be released during the Pongal week but we had to wait till March 3. I certainly don't relish this torture but talking isn't going to help either. In fact, the more I'm asked about it, the more depressed I feel. Now the film has been removed from the Mumbai theatres too (sighs). Can we talk about something else please?

In retrospect what do you think clicked about Roja?
It's a question only the audience can answer. I don't think a formula has yet been discovered to make a sure shot box-office hit. Perhaps, Roja was a right film at the right time. Everyone was in a patriotic mood and the film catered to this restlessness.

A lot of people felt that the film should have concentrated more on the terrorists and less on the love angle.
The original script concentrated more on the captive and the terrorist. As the film progressed, we felt it was getting a bit heavy and so reduced the tension of Kashmir and concentrated more on the human angle. Now I'm wondering if retaining the old conflict would have been better.

Is it easy to detach yourself from your work? What is your cut-off point with every film?
Detachment is a cultivated art. The cut-off point is the release or maybe a little before the release. By then you are exhausted with your labour of love.

Most Hindi films take three years to complete.
(Laughs) I've heard that. Down South, we don't indulge in such luxuries. Majority of our films get completed within a year.

What inspired you to make a film on the 93 riots and how strange that a non-Mumbai-ite should make this film?
(Pause) I'm an Indian and Mumbai belongs to all Indians. Maybe it needed a neighbouring state to enable that much distance. The film isn't just about '93 riots, but the climate that the country is going through at the moment. The film is the anguished cry of a generation reflected through a family that could belong to Mumbai or anywhere in India. I've abstained from making value judgement. The film isn't about being right or wrong but about being heard.

It must have required a lot of research.
It did. I made a couple of trips, met a lot of makers, saw a number of documentaries, interacted with journalists who've done exhaustive articles for newspapers. A lot of material was supplied to me from the media. I have gone through all the matter published during the riots.

Everyone calls you a genius...
(Smiles) When you know you are not one, you don't get affected. People can say what they want. I know how much I've struggled... how much goes into achieving every frame. I met Javed Akhtar yesterday who so rightly put it, "Nothing humiliates you as much as your own work. Nothing can rub your nose on the ground as much as your own work" I agree with that.

How strange that a director of your calibre must feel self-doubt!
How strange that you should react thus! Humiliation and struggle are a part of every creative process. You have to polish the rough edges. Flowering is a very lonely and painful process.

It does not seem so when one watches your films.
Thank God for that consolation. Didn't you know that the screen is highly deceptive?

How does it feel to be a successful director?
Successful? The last film hasn't done well and I was unfamiliar with the equation. Sometimes, it's nice to be ignored. The thrill of surprise is greater. None of us expected Roja to be such a big hit.

Are you normally satisfied with your product? If you had to remake the same films, what would you like to change?
This is a hypothetical question. Change is a serious word. I don't know if I'd be able to change that much, but improvise most certainly. In doing so, I'd lose a few things...(Shrugs).

How long does it take you to get ready with a film?
About one year - and this includes the entire journey from the concept to the execution. Sometimes, the idea germinates for a longer time. These are subjects that need more fleshing out.

It's believed that you don't start shooting unless you have a complete script.
Ideally I'd like to work on a complete script. But that never happens. During the making, you have second thoughts. It's not possible to overrule improvisations. Normally about 75 per cent is worked out, the remaining 25 per cent happens on its own. I've normally been able to complete my films in two or three schedules and preferably with bulk dates from the artistes. I may not always achieve my goal, but I always know the destination of my journey...

Of all your films, which would you rate as the best?
It's a difficult choice and I have to admit I can't be objective. Nayagan is a sincere effort where everything fell into place. There have been terrific inputs from the hero. It's always a relief to have a good actor who takes care of the scene. This way, the responsibility isn't just of the director.

Too many suggestions from the actor can be interfering too.
A new flavour is always welcome. It's when you work with a lesser actor that you expend your energies. You try to add up other strengths in terms of sound or visual. Kamal Haasan didn't need any of these crutches.

Your critics describe you as a self-serving director. Do you agree?
I don't make films to launch careers or play godfather. That is for sure. Whether the actors agree to do the part or not is entirely their choice. Ours is a professional relationship and at the end of the day, I'm not looking for epitaphs but creative satisfaction. I want to be recognised and respected as a good director, not as a 'hero/heroine' promoting director.

What according to you is your strength as a director?
(Thinks for a while) I have an overall view which I think is important for film-making. I'm not one of those who concentrates only on few scenes, but on the entire script. I wish I knew the pulse of the audience - I don't think I do. But I know my heart. And I know my mind, and I follow my instinct. The media has made me out to be a wizard, but I personally look upon myself as a storyteller. What you say and how you say is more important than the technique. How you unravel and wind up the story makes all the difference.
---
---