---
The Chrysler History
1923-1970
Walter P. Chrysler becomes chairman of shaky Maxwell Motor Co. in Highland Park. The first Chrysler-badged car, the semi-luxury B-Series, debuts under the Maxwell corporate umbrella in 1924. First-year production tops 32,000. But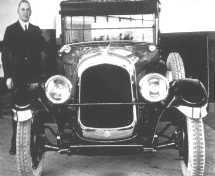 Maxwell Motor Co. ceases production, and Chrysler Corp. takes its place. Chrysler grows in 1928 from newcomer to major player in one summer with the introduction of the DeSoto and Plymouth lines and the acquisition of Dodge Brothers, Inc.
Chrysler hires consulting engineers Fred Zeder, Carl Breer and Owen Skelton to develop a new six-cylinder engine for a new car. Nicknamed "the Three Musketeers," the trio goes on to become the core of Chrysler's engineering staff for almost two decades.During the '30s, Chrysler had introduced fully flexible rubber engine mounts, Owen Skelton's "Floating Power" engine-mounting system gives Chrysler cars an edge in smooth operation and reinforces Chrysler's growing reputation for engineering excellence Optional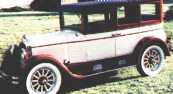 overdrive, hydraulic brakes, Fluid Drive (hydraulic clutch), and a new low-friction engine machining process called Superfinish. Chryslers had always been engineers' cars.
In 1930 As America marches into the Great Depression, Chrysler, like others, initiates major cutbacks. The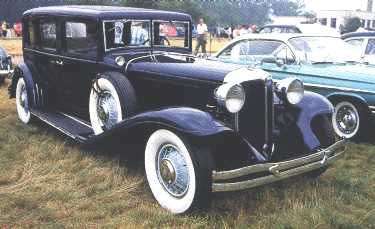 automaker shifts its emphasis to the low-cost Plymouth brand, offering the cars to all its 7,000 Chrysler, Dodge and DeSoto dealers.
In 1934, Arguably the most daring design to emerge during the Depression, the first Airflow startles America. An Imperial Airflow sets 72 speed records on Utall's Bonneville Salt Flats, including a 95.7-m.p.h. flying mile. Nevertheless, it is a flop commercially.
Walter P. Chrysler dies on Aug. 18 of 1940 War in Europe propels Chrysler into increased military truck production.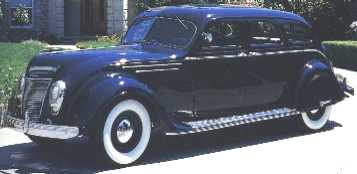 Chrysler Corporation restyled all its cars for 1940, capping a decade of notable engineering advances. Kaufman Thuma Keller succeeded founder Walter Chrysler as president in 1935. Although he lacked a technical background, Keller continued to emphasize engineering with his top managers. The general manager of Chrysler Division, for example, was David A. Wallace, an inventor with 75 automotive patents to his credit. The early'40s were good years for Chrysler Division. From dangerously low production in recession year 1938, the make rose steadily from 11th to eighth place in the industry between 1939 and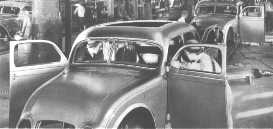 '41. its success was due partly to the 1940 line, which spanned a price scale ranging from $895 for the Royal coupe to $2445 for the Crown Imperial eight-passenger limousine. Styling was not radical: notchbacked, smooth at the front and rear, individual fenders. The design work had been directed by Raymond H. Dietrich, the famed coachbuilder. Yet engineering prevailed over styling, and was supported wholeheartedly by Keller, an archconservative. The design that resulted, as one wag put it, "wouldn't knock your eyes out but wouldn't knock your hat off either." (Chrysler's radical Airflow had sold poorly in the 1930s, so the division had gone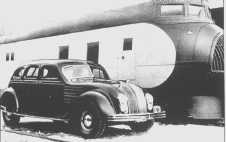 to quieterlooking cars in the '40s.)The line was set up in six- and eight-cylinder ranks. Six-cylinder Royals and Windsors rode a 122.5-inch wheelbase, with a 139.5-inch wheelbase for the eight passenger sedans and limousines. The eight-cylinder Traveler, New Yorker, and Saratoga rode a 128.5-inch wheelbase (the last two included formal sedans as well). A 145.5-inch wheelbase carried the Crown Imperial sedans and limousine. All of the upper models used a 323.5 cubic-inch eight that developed 135—143 bhp at 3400 rpm. Adding a little class to the 1940 line were two striking show cars from the house of LeBaron—the Newport and Thunderbolt. Six of each were built. The Newport, designed by Ralph Roberts of LeBaron, was a dualcowl phaeton built on the Imperial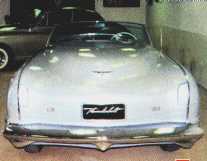 chassis. It had a rakish envelope body and smooth fenders. The Thunderbolt, designed by Alex Tremulis of Briggs, had a similar envelope body, but was a retractable hardtop with single bench seat mounted on the New Yorker chassis. Designed to wow the public at auto shows, these two dream cars would later inspire postwar styhing. After the war, Chrysler would continue to use separate fenders, even for the total redesign of 1949. More customs, one-offs mainly, were turned out by the Derham Body Company. These included Town cars and a dual-cowl phaeton. Chrysler itself built a custom formal sedan, and A. J. Miller of Ohio built a long-wheelbase limousine/hearse. The most interesting new model of 1941 was Dave Wallace's unique Town & Country station wagon, the first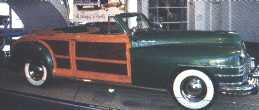 of that body style for Chrysler. Unlike other woodies of the day, the Town & Country had a clean, rounded shape and "clamshell" type rear doors that opened from the center. Built on the Windsor chassis, Town & Country was available with six- or nine-passenger seating. It sold for a remarkably low price, and a total of 999 were built, mostly the nine-passenger variety. Styling changes for the rest of the '41 line were minor, including simpler grilles and more ornate taillamps. The Traveler was eliminated. The Saratoga series was expanded from two models to include club and business coupes, two- and four-door sedans, and a Town sedan. Chrysler also issued a wide variety of upholstery in '41. There was Highlander Plaid, a striking combination of Scots plaid and leatherette trim; Saran trim, a woven plastic and leatherette designed for certain open models; and Navajo, a pattern resembling the blankets of the Southwest indians. One new mechanical feature was optional Vacamatic transmission, a self shifter that operated between the two lower and two higher gears. Manual shifting was still required from the low to high ranges.
A significant front facelift marked the 1942 models. A smooth appearance was achieved by wrapping the grilles chrome bands right around to the front fenders. The hood line looked sleeker than before, and opened from the front instead of the side. The running boards were hidden from view, concealed under flares at the bottoms of the doors. Highlander Plaid was optional; another special upholstery called Thunderbird also borrowed Indian motifs. The Town & Country wagon was moved to the Windsor series. The six-cylinder engine was bored out to yield 120 bhp at 3800 rpm. The eight, which remained at 323.5 cid, was rated at 140 bhp for other models.
Like other cars, Chryslers built after January 1,1942 used painted trim instead of chrome. In early February, production ended altogether. In those two months, the firm built only 5292 cars. During the war, Chrysler built anti-aircraft guns, Wright Cyclone airplane engines, ¡and mine detectors, radar units, marine engines, and Sea Mule harbor tugs. But tanks were its most famous wartime product.
When they could during the war, small teams of designers and engineers would work on postwar car ideas, most of which never reached production. Planned but not implemented were smoother versions of the 1940-42 styles, with fully wrapped bumpers and grilles, thinner A- and B-pillars, and skirted rear fenders. Ultimately, Chrysler produced warmed-over versions of its 1942 cars from 1946 through the first part of 1949. Even the full redesign of mid-1949 was conservative compared to rival makes.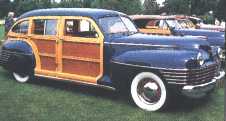 For 1946, fender brightwork was reduced. The grille was given prominent vertical bars, which made it one of the most highly chromed in the industry. The four wheelbases were continued with the same body style offerings as before. The six- and eight-passenger Crown Imperial sedans were dropped, leaving only the limousine. The '46 Town & Country was no longer a wagon, but a three-car line consisting of six cylinder and eight-cylinder sedans and convertibles. Originally, Chrysler had promised an array of nonwagon woodies, including two-door broughams, roadsters, and a hardtop, but only a handful were built.
There were seven hardtops in all, made by grafting an elongated coupe top onto a Town & Country convertible. The eight-cylinder Town & Country sedan was eliminated after a run of one hundred 1946 models. Prewar engines were carried over, but were detuned slightly. Prices increased dramatically between 1942 and 1946, mainly as a result of wartime and postwar inflation. A Chrysler Royal could be bought for a little more than $1000 in 1942; by '46, its minimum price had risen to nearly $1500. Prices would continue to rise through the rest of the decade, to the point where a Crown Imperial sold for nearly double its 1940 figure. Even so, Chrysler was back among the top ten in model year production in both 1947 and '48.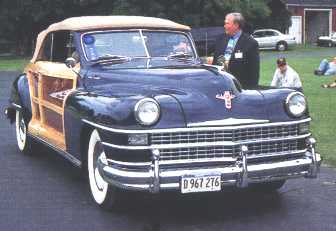 For 1947, there were only detail alterations to fender trim, hubcaps, colors, carburetor, wheels, and instruments. Between August and November, Goodyear low pressure Super Cushion tires were adopted. One new model in the Windsor series was the Traveler, a Luxury utility car with special paint and interior, and an attractive wooden luggage rack. Unlike the comparable DeSoto Suburban, the Traveler did not have fold-down triple seats or wooden floorboards in the rear, having a separate trunk compartment instead. The eight cylinder series went unchanged, except for a new eight-passenger sedan in the Crown Imperial series.
Chrysler's extravagant "Jukebox" dashboard was one of the flashiest in the immediate postwar period. Making use of solid or mottled plastics, it was a symmetrical affair with gauges at the left, a glove box at the right, and a huge radio speaker and a bank of control knobs in the middle. The knobs were made of clear Lucite; chrome plating was everywhere. The radio had a tone selector providing adjustment from "Mello" to Speech," with its dial changing from blue to red in the process. The steering wheel was 18 inches in diameter, and had three spokes with an enormous chrome horn ring. Over on the far left, the umbrella-handle handbrake was a long reach, but it was highly effective. It operated on the driveshaft rather than the rear brake drums—a heavy-handed approach, but it worked.
The 1948 line was a continuation of the '47 model run. The six-cylinder Town & Country sedan was discontinued at mid-year, but the eight-cylinder convertible carried on. Eventually, 8569 would be built from 1946, including a handful reserialed for the first part of 1949.
Chrysler wasn't ready on time with its redesigned Silver Anniversary models for 1949, so from December to March the old models were offered again—without the Town & Country. Prices weren't changed, and none of the old-style "first series" cars were actually built that year.
Many ideas had been considered for a streamlined '49 design with integral, skirted fenders. None of them came to pass. Kehler insisted on bolt-upright styling with vast interior space, and he got it—with some loss of sales appeal. The '49 Chrysler was ornate, with a massive chrome-laden grille, prominent brightwork on the sides, and curious vertical taillights ending in a little hump. (Only the Crown Imperial was spared those gaudy devices.) There was a new imperial sedan and a convertible Town & Country. Along with the new styling came a host of gimmick names for certain desirable features: Safety-Level Ride, hydra-lizer shock absorbers, Safety-Rim wheels, Full-Flow oil filter, and Cyclebonded brake linings.

An assortment of customs were built on Chrysler chassis in the late '40s, mainly by Derham of Pennsylvania. it offered a Town Limousine and a dual-cowl phaeton in the 1946-48 period, and tried the same padded-top treatment on the '49 New Yorker. But the wildest of all was a New Yorker promotion car with a midsection designed to Look Like a giant Zippo lighter. As the 1950s began, Chrysler was a high-volume line comprising no fewer than seven different series and 22 models. When the decade ended, it had become an upper medium-price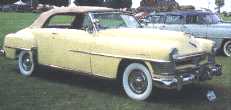 make with just 15 models in four basic series. The lineup shrank when Imperial became a separate make in 1955 and the Windsor sixes were dropped after 1954. But over the years, styling and engineering improved. The dowdy 1950 cars powered by plodding L-head engines would give way to performance machines with exciting styling by 1955. Eventually, Chrysler would have some of the best-Looking tail fins of the age.
Those tail fins, which arrived in grafted-on form in 1956, were nicely integrated into the all-new '57 styling. They were the work of Virgil M. Exner, who joined

Chrysler after leaving Studebaker in 1949. Exner's tastes ran to classic cars—meaning bold, upright radiator grilles, open-wheel designs, and rakish lines. On arriving at Chrysler he found the engineering-oriented boxes of K. T. Keller, who was then preparing for retirement. Unfortunately, people didn't want practical compact cars in the early '50s—at least, not the people who bought Chryslers. The division was having sales troubles, and before Exner was able to get any completely new designs into production, Chrysler sank from 180,000 units to barely 100,000.For 1950, the boxy cars that had emerged as Chrysler's first new postwar design were Largely carryovers. Several models were on their way out. The six-cylinder Royals, which sold for less than $2200, were dropped after that year. The exotic wood-decorated Town & Country series was down to one model—the Newport, a hardtop powered by the straight eight and equipped with four-wheel disc brakes. By then, it had outlived its purpose, to glamorize an unglamorous lineup by offering something vividly different, so the T & O hardtop was dropped for '51. After that, the Town & Country name was reserved for station wagons only. The Saratoga, also a peripheral seller, was dropped after 1952.For a short time, there were standard and luxury versions of the Windsor and New Yorker. But by the time the "Hundred Minion Dollar look" arrived in 1955, the me was down to just two series sans Imperial, which had become a separate make in its own right.
It's easy to summarize the 1950-54 Chryslers because they were all so much alike. All except the Crown Imperial and the long-wheelbase Windsor sedan were built on 125.5- or 131 .5-inch wheelbases. All were styled pretty much the same way. The '50 models wore broad, chrome, eggcrate smiles; the 1951-52 models had a more conservative three-bar grille. There were no significant differences
between the '51 and '52s, (the firm didn't even keep separate production figures for those two years. The only way to tell them apart is by the taillights: the '52s had built-in backup lamps. While it lasted, the Saratoga was the quickest Chrysler and a notable stock-car contender. It used a Hemi V8 in the shorter Windsor chassis. New Yorkers carne in roughly the same form as Windsor DeLuxe models, but on the Longer wheelbase. Imperials were built as sedans, club coupes, hardtops, convertibles, and long wheelbase cars in those years. For 1950, there was a special Imperial sedan with custom interior.
Perhaps it was the plain styling of this period that gave rise to Chrysler's reputation for engineering. It was certainly the company's great strength in the early '5Os. A change in powerplants was part of that emphasis. The Chrysler six had been a dominant seller for some years, so its disappearance after 1954 came as a
surprise to many. But in reality it was part of a broad based plan, partly instigated by Keller's successor, Lester Lum 'Tex" Colbert. Colbert set several early goals, among which were the decentralization of divisional management, the total redesign of all passenger cars as soon as possible, and an ambitious program of plant expansion and financing. Giving the divisions freer rein meant that people closer to the sales level could take more control in mapping policy. At Chrysler Division, the only market sector available was the top one. DeSoto had staked out the lower ground. When the hemi-head VS arrived in 1951, the six was gradually de-emphasized. It had taken close to 100,000 sales in 1950, but dropped to 84,000 by 1953 and to 45,000 in 1954. The 331-cid hemi-head VS was first offered on the '51 Saratoga-New Yorker-Imperial. Though not really a new idea at the time, the Hemi offered exceptionally good volumetric efficiency for truly outstanding performance. Also, it had a lower compression ratio and could therefore use lower-octane fuel than non-Hemis. Yet it was capable of producing as much power as a conventional engine with more displacement. The Hemi's output was more than ample: one early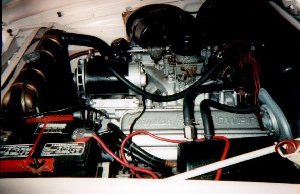 demonstration version achieved 352 bhp on the dynamometer after minor modifications to the camshaft, carburetors, and exhaust. Drag racers would later get as much as 1000 horsepower from it. On the other hand, it was complex and costly, requiring double the number of rocker shafts, pushrods, and rockers. The heads were heavy and expensive to manufacture. As result, the Hemi was replaced for '59 by more conventional 363- and 413-cid wedge-head V8s. But while it was around, it wrote a great story. A stock Saratoga Hemi would run from O to 60 mph in as little as 10 seconds and achieve close to 110 mph fiat out. Bill Sterling won the Mexican Road Race stock-car class in a Saratoga and was third overall—behind two Ferraris—in 1951. Chryslers placed high in NASCAR racing, though they were eclipsed in 1952-54 by the remarkable Hudson Hornets.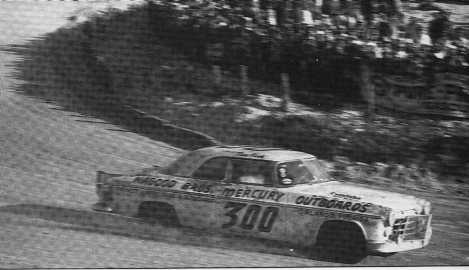 Briggs Cunningham began running his outstanding Chrysler-powered sports cars in European road races. In 1953, he drove his C-5R to third place at Le Mans, averaging 104.14 mph against 105.85 mph for the winning Jaguar C-Type. Chrysler engineers had built four special Hemi engines for the 1953 Indianapolis 500, all of which developed over 400 horsepower using Hillborn fuel injection. But a displacement limit prevented them from reaching their full potential. Then carne the Chrysler 300 in 1955, delivering 300 bhp from its stock Hemi. The 300 dominated NASCAR events in 1955-56, and probably would have done so for several more years had the Auto Manufacturers Association not agreed to de-emphasize racing in 1957.
The 300 was part of Virgil Exner's all-new 1955 line, which rallied Chrysler from a 100,000-unit year in 1954 to 150,000, and finally brought styling up to par with performance. Based on a long line of Ghia-bodied Exner show cars, the '55s were clean and aggressive looking. Their 1956 successors were generally even better—something rare for a facelift during the '5Os. The modestly grilled, gracefully finned Forward Look cars of 1957 were probably

Exner's design pinnacle, and that year's 300C was a breathtaking machine—big and powerful, yet safe and controllable. It was available as a convertible for the first time. For 1955-56, there was a second two-door hardtop in the Windsor and New Yorker lines called Nassau and St. Regis, respectively. They were more conservatively two-toned and offered slightly better interiors. There were six- and nine-passenger Town & Country station wagons from 1958 on. A hastily conceived item in '56, the new four-door hardtop sedan was especially pretty in its 1957 form. The Saratoga returned for '57, and over 37,000 were sold that year. It again offered a performance premium—a 295-bhp version of the Hemi. PowerFlite two speed automatic transmission had come along in 1953, joined by the three-speed TorqueFlite in mid-'56, one of the finest automatics ever built. In 1956, Chrysler automatics adopted the famous (or infamous) pushbutton controls, mounted in a handy pod to the left of the steering wheel. While the 1957 styling was superb, Chrysler's rush to set the pace had a negative effect on overall quality. Workmanship was also hampered by a series of strikes.
No discussion of Chrysler in the '5Os is complete without a mention of Torsion-Aire ride, offered from 1957 on. Torsion bars were not a new idea—Packard had introduced an excellent four-wheel system in 1955—but Torsion-Ai re went a long way toward proving big American cars could handle decently. instead of sending road shocks up into the car like coil or Leaf springs did, torsion bars absorbed force by winding up against their anchor points. The resultant twisting motion eliminated most of the upward force caused by road irregularities. Unlike Packard, Chrysler put torsion bars on the front wheels only. It's Likely they were used mainly to provide more engine compartment space rather than to improve suspension geometry. Nevertheless, torsion bars must be regarded as a major step toward better handling. They were still used on Chrysler products into the '80s, an indication of how well they worked.
Partly as a result of buyer dissatisfaction with quality control, and partly because of a recession, 1958 was a terrible year for the division. There was no major styling change to enhance the line's allure. Higher hopes were pinned on Exner's restyle for '59. The result was less graceful, but the new soaring tail fins seemed to solve the sales problem anyway. The "lion-hearted" 1959 Chrysler scored close to 70,000 sales for the model year. A Windsor convertible was added in 1958, but otherwise the '59 line stayed the same: Windsors rode the 122-inch wheelbase that had appeared the year before; other models kept the 126-inch wheelbase that had been used since 1955. The new wedge-head V8 wasn't as powerful as the Hemi, but it was much simpler to build, and would survive for a long time. That year's 300E has been unduly criticized as a performance weakling compared to its Hemi-powered predecessors, but road tests do not bear this out. It was just as quick as the 300D before it. With 10.1:1 compression, TorqueFlite, and a 3.31 :1 rear axle ratio, the E could accelerate from rest to 60 mph in less than 8.5 seconds; in 17.5 seconds, it would be doing 90. But production in 1959 was a record 10w for the 300 series. During the '60s, Chrysler advertising had a strident, almost belligerent tone, as the Company repeatedly declared there would never be a small Chrysler. (Of course there would be, when the time was right and the government would allow little else.) As rival manufacturers were rushing compacts into production, Chrysler cried out it would do no such thing. Let Dodge and Plymouth divisions handle the compacts; Chryslers would always be the large, brawny, luxurious cars they'd traditionally been. And so they remained through the end of the decade. The 1960-61 Chryslers were Exner's last outlandishly plumed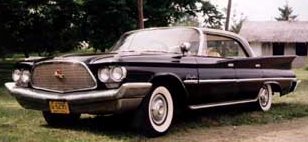 creations. In the vernacular of the stylist, they were clean—uncluttered by excess chrome—and fitted with lots of glass and aggressive, inverted trapezoid grilles. Detail improvements for 1960 included four-way hazard flashers and optional swivel seats that pivoted outward through an automatic latch release when a door was opened. The Saratoga had its last year in 1960. The Windsor lasted through 1961, replaced by the attractive Newport that became Chrysler's volume car into the '70s. Newports were competitively priced at just under $3000 through 1964, a point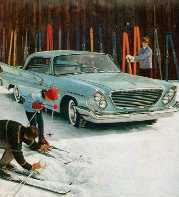 emphasized in division advertising. Sales soared, exceeding 125,000 units by 1965. The larger-engine models comprised six varieties of the luxury New Yorker, which sold at a rate of about 20,000 units a year. It was priced just under Imperial, and was competitive with the larger Buicks. The most exciting of all Chryslers in 1960 was the sixth edition of the "letter series" line, the 300F. It combined racy styling with a road-hugging suspension and an optional Pont-a-Mousson four-speed gearbox. A set of ram-induction manifolds boosted output of its 413-cid V8 to 375 bhp. The 300F would do the standing quarter-mile in 16 seconds at 85 mph. It rode hard, but cornered better than any other car of its size. A half dozen different axle ratios could be ordered. (Using the 3.03 ratio, special tuning, and some streamlining, Andy Granatelli came close to 190 mph for the flying-mile.) Offered as a hardtop or convertible, the 300F wasn't cheap, but it offered a lot of performance for the money. The 1960 models were significant in that they were the first Chryslers with unit body construction instead of the traditional body on frame attached with flexible mountings. Since unit bodies were held together more by welds than by nuts and bolts, they were not as prone to looseness or rattles, though they were more susceptible to rust.
The 1961 line was mostly a repeat of 1960, except for the advent of the Newport and the demise of the Saratoga. The Newport was equipped with a smaller engine, and that year's 300G did not use the F's optional four speed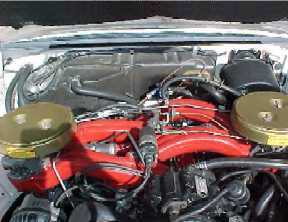 French gearbox. The letter series also returned to 15-inch wheels for the first time since 1956. Two engines were offered with 375 and 400 bhp, both with ram-induction. Management changes during 1961 had an immediate effect on Chrysler products. At the end of July, corporate president Lester Lum "Tex" Colbert retired under fire and turned over the presidency to his chosen successor, William Newberg. But Newberg quit after two months when he was found to have financial interests in several of Chrysler's suppliers. Lynn A. Townsend, former administrative vice-president, ultimately replaced Colbert. In 1967, Townsend became board chairman. Chrysler's president from January 1967 to January 1970 was Virgil Boyd. This shakeup brought with it a new styling head. Exner departed after shaping the 1962-64 models. His replacement was Elwood Engle, the former Ford designer generally credited for the elegant 1961 Lincoln Continental. As a result, the mid-1960s were years of change for Chrysler styling. For 1962, the division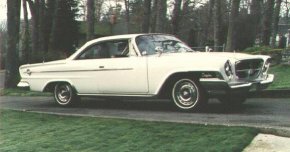 fielded what Exner called the "plucked chicken": a repeat of the conservative '61 but without the fins. The 1963-64 models had what Chrysler called "the crisp, clean custom Look." They were chiseled, chunky cars, the last designed by Exner before he departed. For 1965, Engle unveiled his smooth, concave-sided styling with fenders edged in bright metal, one of his trademarks. This shape continued through 1968, when Engle carne up with more rounded, less bulky "fuselage" styling for'69.For 1962, the Windsor name was dropped, replaced in the three-tier model lineup by the "non-letter" 300s. These were sporty-looking cars having fashionable features such as a center

console and front bucket seats. Offered as hardtops or convertibles, they were quite popular.
The New Yorker rode a 126-inch wheelbase in '62; all other Chryslers had a wheelbase of 122 inches. For 1963-64, the shorter wheelbase was adopted across the board, making New Yorker the same general size as the less expensive models. This did not hamper New Yorker sales, which were strong in both years. Two special models in this period were the 300 Pace Setter, two door hardtop and convertible; and the New Yorker Salon, a four-door hardtop sedan. The Pace Setter commemorated Chrysler's selection as pace car for the 1963 Indianapolis 500, and was identified by crossed checkered-flag emblems and special trim. The Salon carne with such standard luxury accessories as air conditioning; AM/FM radio; auto-pilot; power brakes, steering, seats, and windows; TorqueFlite automatic transmission; color-keyed wheel covers; and vinyl covered roof. Chrysler stayed with the same basic lineup in 1964.The 1963-64 300J and 300K (they skipped the letter "1" to avoid confusion with the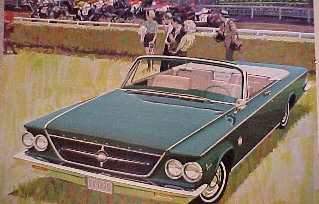 number "1") were big, burly cars in the Letter series tradition, the J only in
hardtop form. Some 400 of the 300Js were built (an all time low),but 300K production(with the convertible now reinstated) was increased considerably. The 1965 300L was the last of the true Letter series cars. The 1963-65 Letter series 300s weren't quite the potent machines their predecessors had been, but they did have tight suspensions and were the most roadable Chryslers in the Lineup. The series was discontinued after 1965 because of low volume; Chrysler had successfully attracted a sporty-car clientele with its "non-Letter" 300.All models did well in 1965 and 1966. The division built over 125,000 Newports, nearly 30,000 300s, and almost 50,000 New Yorkers in '65. Sales were even better in '66. Production of 300s nearly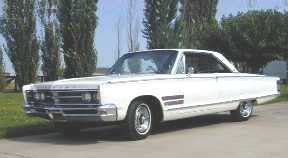 doubled, and Newport climbed by 42,000 units. The Engle Chryslers of 1965-69 were shorter than their predecessors, but just as big inside. Wheelbase on all models except wagons was 124 inches, up two inches from 1964. During the late 1960s, the lineup grew. The Newport was joined in '67 by a Newport Custom, priced about $200 higher. Promoted as "a giant step in Luxury, a tiny step in price," the Custom comprised two-door and four-door hardtops and a four-door sedan. Deluxe interiors were done in jacquard or textured vinyl upholstery and featured pull-down center armrests. The dash of a fully equipped Newport Custom had eight toggle switches, three thumbwheels, 16 pushbuttons, three sliding levers, and 12 other controls that, as Chrysler brochures proclaimed, "put you in charge of almost every option in the book." It was the ultimate in gadgetry. Vinyl-covered lift handles were used on the trunk. Chrysler wagons went through many changes during the late '60s. The Luxurious New Yorker Town & Country was dropped after 1965 (very few units were sold that year). During 1966-68, wagons carried the Newport name. AII-vinyl upholstery was used instead of the cloth-and-vinyl in Newport sedans. Standard features included power steering, power brakes, and automatic transmission. Wagons also had a three-in-one front seat that looked like a conventional bench. Each half could be adjusted individually, and there was a reclining seatback on the passenger's side. For 1969, the Town & Country returned as a separate series in its own right. Mid-year specials were the focus of the 1968 spring selling season. Sportsgrain simulated wood paneling (like that of the wagons) was offered as a $126 option for Newport hardtops and convertibles. Newport Special two-door and four-door hardtops were available with turquoise color schemes, later extended to the 300 series.
After record calendar year production in 1968, the fuselage-styled 1969s did almost as well. The '69s were handsome, with a combination bumper/grille, clean lines, and smooth contours. If not the most beautiful Chryslers of the decade, they were close rivals to the good-looking '62s and '65s. Wheelbase remained at 124 inches. Length kept growing, to almost 225 inches overall with width of nearly 80 inches—about as big as an American passenger car would get. Mid-year 1970 saw the first Cordobas: hardtop coupes and hardtop sedans in the Newport line, painted gold with special vinyl roof and bodyside moldings, gold wheels and grille, and "Aztec Eagle" upholstery. Newports were now offered with the 440-cid V8. A special Newport 440 hardtop was listed, complete with TorqueFlite, vinyl roof, and special accessories.
Another flashy product that year was the 300-H, formally known as the 300-Hurst because of the floor mounted shifter used for its automatic gearbox. Performance options were standard, including special road wheels and H70 x 15 white-Letter tires, the 440 engine, and heavy-duty suspension. All this was set off by a gold-and-white paint job, customized hood, rear deck spoiler, special grille paint, pinstriping, and a custom interior. Vast changes were evident in corporate administration by 1969-70. Quality control had become an end in itself for the first time in history, as engineers struggled to correct the firm's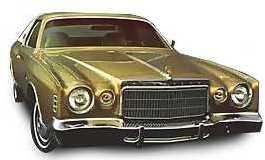 reputation for poor body durability. The old centralized structure had been decentralized under Colbert. Townsend recentralized it, but retained some divisional identity between Chrysler-Plymouth and Dodge. Still, the Chrysler marque would face tough sledding in the 1970s, partly because of its decision not to produce a smaller car until the very last minute.
Specifications and Models Table

[email protected]
---