---
Dateline: Daytona TRIALS ON THE BEACH
MEANWHILE, ON THE BEACH, the big noise was Andy Granatelli, the

Santa Monica, Calif., supercharger manufacturer — or more precisely, Granatelli's loaded-for-bear Chrysler 300-F. As is often the case at NASCAR's annual Flying Mile trials, there was a postponement of activity while officials waited for the sun and sea to hone the white 'sands to proper smoothness for top speed runs, but for Granatelli the wait was well worth it. Ah seemed in order the morning of February 18, and Granatelli was among the first to roll his big white bomb to the starting line. There was a last-minute check of the twin superchargers which had come from his own Paxton Products plant.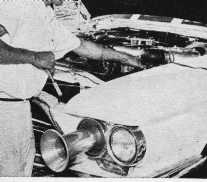 and then Granatelli was on his way, steadily increasing his speed as he buzzed through the two miles which competitors are allowed before hitting the Flying Mile traps. The first run was south, against a wind estimated at about 10 mph. Former Indianapohis driver Granatelli handled it like a trip to the corner market, blasting smoothly through the clocks at 165.441. The run north, with the wind at his back, was the big one. However The clocks showed a stunning 179.472 for a stock car record two-way average of 172.166. NASCAR had classified the machine in its Experimental division, which meant an end to Texan Karol Miller's old mark of 153.061 in that class with a Ford. As a production car, the 300-F is officially tagged with 400 hp at 5600 rpm. With the two superchargers, Granatelli figures the 413-inch engine was delivering better than 800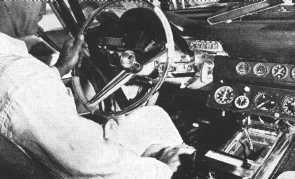 horses at 6800 rpm.
Since Chrysler introduced its "300" series in 1955, the strictly stock class runs have also been dominated by that machine, and 1961 was no exception. Gregg Ziegler of Elgin, Illinois, used a 300-G for a two-way Flying Mile run average of 143.027, best among the "showroom" stockers. Ziegler set the old record last year at 144.927 in a 300-F. Two drivers, Harry Faubel of Chambersburg, Pa., and Ken Fisher of Hamburg, N.Y., actually bettered Ziegier's speed but were among 10 who were disqualified. Faubel and Fisher were both erased because the decorative chrome molding on their windshields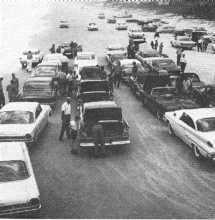 ripped lose and blew off during the runs. The rules state that a car must complete runs in exactly the same condition as it was when inspected at the starting line, and this unfortunately disqualified the car. Century Club (one-way) runs were topped by Tommy Charles of Birmingham, Ala., in one of the oldest (1958 model) Corvettes entered. His speed: 141.955. Only one record fell in acceleration Runs (one mile from a dead stop), that in Class Four, where Robert Loudon of Aurora, Iii., zipped his '61 Rambler through at 80.213, shattering the old mark of 71.785 set in 1957 by a '57 Rambler.
---
Back to Index


[email protected]