Trade with an Edge
Trading Tips - Bat pattern (BAMM - Bat Action Magnet Move)
This trading tip for the bat pattern focusses on the so-called "BAMM" - (Bat Action Magnet Move) - documented by Scott Carney, in his book "Harmonic Trading of the Financial Markets: Volume Two".
Consider the following emerging bat pattern:-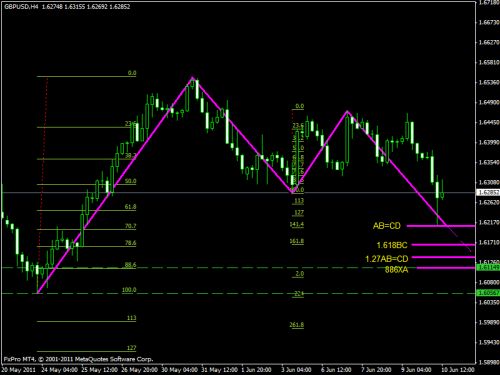 The BAMM is traded as a breakout from the B level of the potential Bat pattern, to target the D area in the 0.886xa region. But only do this - when the CD direction is with the predominant trend - as it happened to be here.
A strong demand zone, (green dashed lines) also coincides with the D target area.
In this case there was an opportunity to gain about 170 pips from the B level to the target at D.
And of course, at the D at the 0.886xa level, the conventional bullish bat trade was also on offer to be taken - for another 170 pips, at least, with the first target being the B level.
2 Key Tips for trading the BAMM
Take the trade at the B level to target D - but only when in the direction of the predominant trend
Price action should move decisively towards the D point after entry at B. If not and it looks like price is stalling, then close out the trade.