Show History


In late 1974, ABC approached Claire Labine and Paul Avila Mayer, who were the head writers of CBS' Love of Life at the time, about creating a new soap opera. The network wanted a soap opera similar to General Hospital -- even the proposed title of the new soap, City Hospital, resembled it. Labine and Mayer added a large Irish family to ABC's vision of the show -- the Ryan family.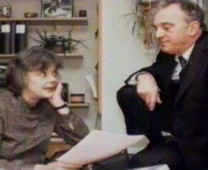 The show eventually became Ryan's Hope, although one of the proposed titles was A Rage to Love. The main characters were the members of the Ryan family, which operated a tavern across from Riverside Hospital in the Riverside district of New York. Other prominent characters included the members of the Coleridge family, who were close friends of the Ryans; Seneca and Nell Beaulac, a married couple who were originally separated; and Delia (who was married to Frank Ryan) and Bob Reid, who were both very close friends of the family and had been raised as semi-members of the family. Originally, there were several doctors on the show, many of which were related to the core families.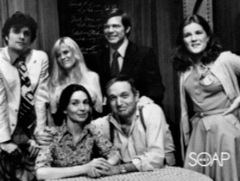 Casting soon went underway. Broadway star Helen Gallagher, who had won Tonys for her work in No, No, Nannette and Pal Joey, was cast in the role of Ryan matriarch, Maeve Ryan. Bernard Barrow (of The Edge of Night and The Secret Storm) was cast in the role of her husband, Johnny. Meanwhile, Ilene Kristen, who had been an original cast member of the Broadway production of Grease, was brought on as the scheming, neurotic Delia Reid Ryan. A young Kate Mulgrew was cast in the role of Mary Ryan, while soap newcomer Michael Levin got the role of her love interest, Jack Fenelli. Nancy Addison Altman (who had played psycho Kit Vested on The Guiding Light) was cast as lawyer Jillian Coleridge, while Ron Hale was cast as her brother, Roger. Other cast members included Faith Catlin, Justin Deas, Michael Fairman, John Gabriel, Malcolm Groome, Rosalinda Guerra, Michael Hawkins, Earl Hindman, Frank Latimore, Hannibal Penney Jr., and Diana van der Vlis.
Ryan's Hope premiered at 1:00PM on ABC-TV on July 7, 1975, pushing All My Children (which had previously aired at 1:00PM) to 12:30PM. Unfortunately, ratings for the first year (1975-1976) were not strong, and RH finished the season dead last in the ratings. However, at the Emmys that year, Helen Gallagher (Maeve) was awarded with her first Emmy for best leading lady.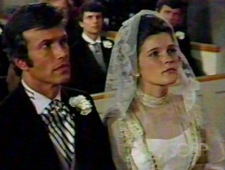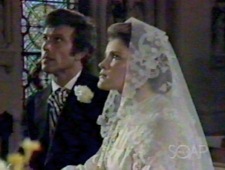 The ratings began to go up during the second year (1976-1977), during which Jack and Mary married each other. At this point, the hospital storyline began to become less emphasized. Ryan's Hope ended the season as the second highest rated soap on ABC, after All My Children. At that years Emmys ceremony, the show won the award for best daytime drama serial. Helen Gallagher won her second Emmy for best actress, while the writers got their first Emmy for best writing.
Between 1977 and 1979, the show underwent several changes. At the beginning of 1977, it's timeslot changed from 1:00PM to 12:30PM, serving as the anchor of the ABC daytime line-up. In late 1977, Kate Mulgrew announced she would be leaving in early 1978 after completing location footage shot in Ireland which depicted Mary's second honeymoon with Jack. Between January 1978 and December 1979, three different actresses played Mary. Although Labine and Mayer wanted to kill her character, ABC refused. However, after ABC realized no one other than Mulgrew herself would be accepted in the role, they agreed to let Mary be killed off. Mary died on the day of her sister Siobhan's wedding to Joe Novak.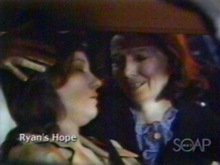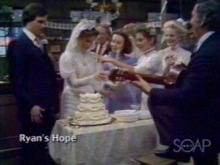 Several recasts also occured during this time period. Andrew Robinson (Frank #2) was fired in December 1977 and replaced with Daniel Hugh-Kelly. Malcolm Groome (Pat #1) left in 1978 and was replaced with John Blazo, then Robert Finoccoli. Catherine Hicks (Faith #3) also left in 1978, and was subsequently replaced with Karen Morris-Gowdy. Ilene Kristen decided to leave the show in January 1979, and was temporarly replaced with Robyn Millan. Randall Edwards then assumed the role.
Labine-Mayer Productions, which owned the show, sold Ryan's Hope to ABC in 1979 due to skyrocketing production costs. ABC was determined to make RH more like General Hospital by adding wackier plots. For instance, Delia was kidnapped by an ape named Prince Albert.
Despite this, the show continued to do well in the ratings and was still getting several Emmys. Nancy Addison Altman, Michael Levin, Andrew Robinson, Bernard Barrow, Ron Hale, John Gabriel, Louise Shaffer, Randall Edwards, and Richard Backus were all nominated for Emmys between 1976 and 1981. The show won the best writing Emmy every year between 1976 and 1980. The show once again won the best daytime drama award during the 1978-1979 season. The directing team was also honored with Emmys.
In 1981, a writer's strike occurred, so the show was not written by Labine and Mayer for several months. They returned in the fall of 1981, but their return would be short. In the spring of 1982, they were fired by ABC and replaced with Mary Ryan Munisteri, who had written under Labine and Mayer since 1975. Under Munisteri, the wealthy Kirkland family was introduced. This period of the show, in which the Kirklands became the prominent family, is known as Kirkland's Hope among many fans. The Ryans and Coleridges were all backburnered.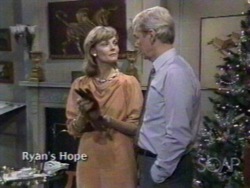 In early 1983, Labine and Mayer were asked to return. They sent all of the Kirklands packing, but introduced another -- Leigh. She became the love interest of widowed Jack Fenelli. To help Jack move on, Kate Mulgrew, as the ghost of Mary, visited Jack (and Maeve) during the spring of 1983. Two other fan favorites also returned during this time period: Ilene Kristen (Delia, 1982) and Malcolm Groome (Pat, 1983). The Ryans and Coleridges were taken off the backburner, and the show was re-energized.
Meanwhile, at the Emmys, Louise Shaffer won an Emmy for best supporting actress. The show won the best writing category two years in a row (1982-1983 and 1983-1984) for Labine and Mayer's 1983 return stint. However, this resumed critical acclaim would not last long.
In the fall of 1983, ABC, which had become upset with Ryan's Hope's ratings, fired Labine and Mayer once again. They replaced them with Pat Falken Smith, a popular writer who had written for Days of Our Lives and General Hospital. The producer at the time, Ellen Barrett, was also replaced, with Joseph Hardy filling the role.
Together, they created what is often regarded as the worst period of the show's run. Several vets were either fired or left during Smith's stint: Ilene Kristen (Delia), Karen Morris-Gowdy (Faith), Earl Hindman (Bob), John Gabriel (Seneca), Malachy McCourt (Kevin), and Louise Shaffer (Rae). The plots were weak and the Coleridges and Ryans were backburnered even more than they had been during the Kirkland's Hope period. The children on the show, Ryan Fenelli and (Little) John "Johnno" Ryan, were also aged so that they were in their late teens.
What hurt the show the most, however, was another timeslot change. In late 1984, ABC moved Ryan's Hope from 12:30PM to noon. Many stations aired the local news at that time, so RH was either aired at another time or completely dumped. Ratings fell drastically.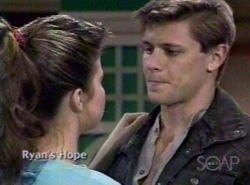 In 1985, Pat Falken Smith was replaced as head writer. The new writers were supposedly much better. The love story between Ryan Fenelli (played by Yasmine Bleethe) and Rick Hyde (played by Grant Show) was very popular. Kate Mulgrew returned for a brief cameo as a woman who helped Ryan elope with Rick. Ilene Kristen (Delia) returned full time in 1986.
In 1987, with Ryan's Hope as the lowest rated soap on television, the producers asked Claire Labine to return to the show as head writer, with her daughter, Eleanor Mancusi, as co-writer. The show was once again re-energized. Helen Gallagher won her third Emmy for best leading actress during the 1987-1988 season. Sadly, in 1988, original cast members Nancy Addison Altman and Malcolm Groome (who had been absent from the show from 1978-1983) decided to leave the show. Meanwhile, another writer's strike hit the soaps in mid-1988. Shortly after the strike ended, ABC announced that they were canceling Ryan's Hope.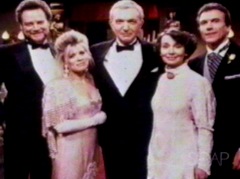 John Gabriel and Diana van der Vlis returned to the show in 1988, although Diana played a different character from the one she originally played. Several other former cast members returned for the final episodes, including Nancy Addison Altman, Malcolm Groome, Earl Hindman, Irving Allen Lee (Evan), Malachy McCourt, Karen Morris-Gowdy, Kate Mulgrew (in a voice-over as the spirit of Mary), Lois Robbins (Concetta), Louise Shaffer, and Cali Timmins (Maggie). Of the original cast members, only Helen Gallagher, Bernard Barrow, Michael Levin, and Ron Hale had stayed with the show during its entire run. The final episode, which involved Jack getting married to Leigh Kirkland (Felicity La Fortune), ended with Maeve singing "Danny Boy."
Many of the stars have since moved on to many different things. Kate Mulgrew went on to appear in Star Trek: Voyager. Marg Helgenberger (Siobhan #3) currently appears on the very popular CSI. Yasmine Bleethe (Ryan #3) went on to star on Baywatch, while onscreen boyfriend Christian Slater (DJ) has starred in numerous movies. Corbin Bernsen, who also appeared on the show, went on to appear in LA Law. Tichina Arnold (Zena) was one of the stars of the sitcom Martin and has appeared numerous times on UPN's One on One. Earl Hindman (Bob) was a regular on Home Improvement, where he played Wilson.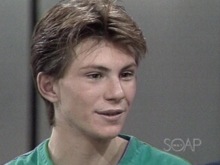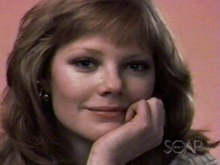 Other Ryan's Hope actors chose to remain in daytime. Shortly after leaving the show in 1976, Julia Barr (Reenie) joined the cast of All My Children as Brooke English. She is still on the show today. Ilene Kristen (Delia #1) went on to appear in Loving and can now be seen on One Life to Live as Roxy. Roscoe Born (Joe #2) has appeared on Santa Barbara and, more recently, One Life to Live. Justin Deas (Bucky) has won 5 Emmys for his work on Santa Barbara, As the World Turns, and Guiding Light, on which he currently appears. A few years after RH ended, Nancy Addison Altman had a two-year stint on Loving, where she played the bitchy Deborah Brewster. Bernard Barrow also appeared on Loving until his death. He won an Emmy for his performance on the show.
Unfortunately, some Ryan's Hope stars have passed away since leaving the show. Bernard Barrow died in 1993, just four years after RH ended. Nancy Addison Altman succumbed to cancer in 2002 after a three year battle with the disease. More recently, Earl Hindman died in December 2003.
In 2000, the new cable network SOAPnet picked up reruns of Ryan's Hope, which was one of the few daytime dramas from before 1978 which saved all of its episodes. They aired the July 1975 through December 1981 episodes from 2000 to 2003; in 2003 they began the run over again with the 1975 episodes in order to either (a) attract more fans or (b) try to bring up the ratings. SOAPnet continues to run it.