General Relativity
---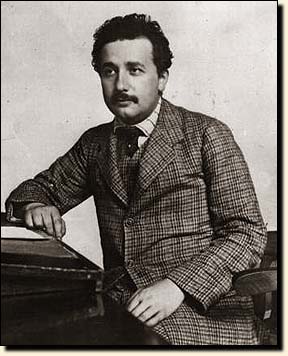 The son of Herman and Pauline Einstein, Albert Einstein was born in Bern on March 14, 1879, in Ulm, Germany. [TBD]
---
Philosophical Concepts - Quotes from Einstein regarding physical concepts such as
Physical concepts are free creations of the human mind, and are not, however it may seem, uniquely determined by the external world.
---
One day in the year 1666 Newton had gone to the country, and seeing the fall of an apple, as his niece told me, let himself be led into a deep meditation on the cause which thus draws every object along a line whose extension would pass through the center of the Earth – Voltaire (1738)
---
"Einstein's gravitational field," by Peter M. Brown (physics/0204044), Historical article
---
Basic Principles in General Relativity
I do not agree with the idea that the general theory of relativity is geometerizing Physics or the gravitational field. The concepts of Physics have always been geometrical concepts and I cannot see why the gik field should be called more more geometrical that f.i. the electromagnetic field or the distance of bodies in Newtonian Mechanics. The notion comes probably from the fact that the mathematical origin of the gik field is the Gaussian Riemann theory of the metrical continuum which we are wont to look at as part of geometry. I am convinced, however, that the distinction between geometrical and other kinds of fields is not logically founded. - From a letter from Albert Einstein to Lincoln Barnett
---
Embedding Diagrams (TBD)
...
...
..
[TBD]
---
Back to Physics World