Spirit Page

---
The spirit is a part of me...as I am a part of the spirit...
What is the spirit I am about to speak of?
Why am I going to speak of this spirit?

It may sound strange to you, but I'm not talking about the spirit religion speaks about...nope! I'm talking about a much more different spirit. I'm talking about the spirit in every one of us that makes us truely human beings.
Some call it the spirit of friendship or the spirit of love...but to many of us at the Site Fights, we just affectionately call it The Spirit.
OK, so all of us are 'supposed' to be fighting with each other to earn the top title in the Site Fights, but that doesn't mean we don't have The Spirit. In fact, we have plenty of it. And to prove it, here's what we do:
---
1. We join a team
When you're in a team, you learn so much more from everyone around you. Plus you get to know some great people. While I was with the Wombat Warriors last year, I met some really nice people & now that I'm with DTigers, I'm hoping to meet a lot more!

2. We Shout It Out!
How many of us felt the thrill of cheering your favorite team at a big event? We do that all the time at the Shout It Out!. For the poets in us all, this is definately a place to be.

3. We sign guestbooks
This is not something everyone does (trust me on this one), but it sure feels good when you check your guestbook & see someone say that your website has inspired them to make their own...so we do the same for everyone else, to pass on that great feeling. As a fairy (I'm D'Night Fairy with DTiger team), you sign guestbooks to encourage team mates to cheer too!
---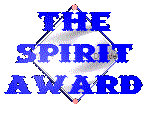 Awarded by DSpirit on 5th May '99
Thank you!!!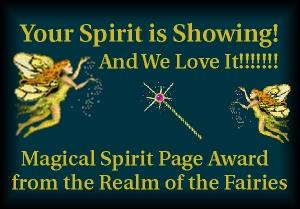 Awarded by the Fairies of DFairy Realm on 8th May '99
Birthday present..*grin* Thanks!

---
Click here to meet my fairy self: D'Night Fairy
Click here to see my Night Quill Page

---
[Mainpage]
[Datasheet]
[Journal]
[Family]
[Pet Gallery]
[Love Life]
[Friends]
[Site Fights Stuff]
[Coven of the Silver Unicorn]
[Articles]
[Art Cove]
[Library]
[Philatelic Corner]
[Cyberpets]
[Singapore]
[Awards]
[Webrings]
[POW/MIA]
---