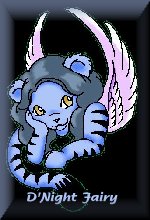 Hi there!
My name is D'Night Fairy & I'm with DTigers' Fairy Team. I joined the DFamily as a trainee fairy on 15th April 1999 & I've been loving every minute of it. True, it's a little tiring to do all the work involved with being a fairy, but hey! Why not? *grin* It's fun to go around websites and dust them with my Tiger spirit, getting them to CHEER IT OUT at the Site Fights, plus I have made so many fairy friends since I joined the team. Why am I blue & have feathered wings? Well, I spent a lot of time in the dark night & being a tiger, I guess my coat decided to adopt a better hue for camoflauge when I'm checking websites. As for the feathered wings, I grew them! *L* Actually, they fly a lot better than butterfly ones and they are so much softer...*rubs her cheek in her feathered wings*
Feel free to have a look at the various awards & stuff I've collected as a DTiger fairy!

These are my training wings from DFairy Star! Awarded to me 15th of April 1999



I finally earned my Official Fairy Wings on 31st May '99!
Thanks to Fairy Star & Lady DBlazin'!



This is my quilt piece for TSF Friendship Quilt.
Click on the pic to find mine among everyone else's.


Like my doll? I got her custom-made to look like me at Magical Kismet's Adopt-A-Fairy


Presented for participation in
the October Fairy Buddy Program.


Presented by DFairy Star on 10th Nov '99


I teamed up with Fairy Stargazer for this little fairy contest & we got 3rd place!!! In this contest, we had to come up with a Spirit Page and boy! Did we work on it! Go and take a peek!


I got this award for submitting 1 entry a week for the Spirit Cheer Award, Spirit Page Award and Spirit Award for a whole month.



Yah! I got the Autumn Spirit Seeker Award too!


Can you believe I got the Winter Spirit Seeker Award too!


This snow globe is courtesy of D'Magical Cats Fairyon 27th Jan '00. Every fairy in DTiger team got one & they are all so beautiful!!!
Click here to see my Spirit Page
Click here to see my Night Quill Page

**Important Note**
D'Night Fairy is my Site Fights registered fairy name & the picture of her was solely created by me. Under NO circumstances will either the two be saved/displayed/mutilated/copied in any form. Thanks!
---
[Mainpage]
[Datasheet]
[Journal]
[Family]
[Pet Gallery]
[Love Life]
[Friends]
[Site Fights Stuff]
[Coven of the Silver Unicorn]
[Articles]
[Art Cove]
[Library]
[Philatelic Corner]
[Cyberpets]
[Singapore]
[Awards]
[Webrings]
[POW/MIA]
---