Soups

Soups and stews have been seen, and mentioned in Star Trek, on a few occasions, but have been rarely seen. All of these dishes have been at least mentioned in an episode of some incarnation of Star Trek, EXCEPT for California Stew.

Gagh Stew (qagh tlhIq): Gagh is always best when served live! (yIntaHbogh qagh jablu'DI' reH nIvqu' qagh) But when it has died, the leftovers are often saved, then later heated and served as a sort of stew. ("STAR TREK KLINGON for the Galactic Traveler" [ST: Book])

Stewed Bokrat Liver: (boqrat chej Qevlu'pu'bogh) Seen only once in "Soldiers of the Empire", we know little about its actual appearance. The book "Star Trek: Klingon for the Galactic Traveler" describes the preparation as being bokrat's livers heated in a liquid consisting of the animal's blood and some condiments. There is a distinct difference in flavor between fresh and stale livers.

I would use FRESH chicken liver cooked in blood with onions, garlic, pepper, parsley (for appearance), and maybe some wine.

Maybe with a little bit of Bloodwine, It may be acceptable...
Yea, Three Barrels of Bloodwine and just about anything would taste acceptable!

Aubergine Stew: Trying to impress his future bride, Sisko offered to make his father's famous aubergine stew. Jadzia Dax was fond of it as well. ("Emissary" and "The Nagus" [DS9])

The Star Trek Encyclopedia has this listed as augergine stew, but [email protected], and [email protected] suggest that it is aubergine stew, as "aubergine" is French for "eggplant". Thanks to Franni, I have a recipe.

Aubergine Stew
Ingredients:

4 small eggplants cut into large cubes
2 tsp. salt
1 1/2 lbs chopped white onions
7 medium zucchini, cut into strips
2 sweet red peppers, cleaned and cut into large strips
2 green peppers, cleaned and cut into large strips
2 tbs. minced garlic
3 cans (16 oz each) plum tomatoes, drained
1 can (6 oz) tomato paste
1/4 cup chopped fresh Italian parsley
1/4 cup chopped fresh dill
2 tbs. dried basil
2 tbs. dried oregano
black pepper, to taste
good quality (extra virgin) olive oil.

Preparation:

Sprinkle eggplant with salt and toss well. Let stand (to remove bitterness) while you do the next step.

Pour some olive oil into large frying pan or wok. Sauté onions, zucchini, peppers, and garlic until lightly colored (about 20 minutes). Set aside in a dish.

Add more oil to wok and sauté eggplant. Mix in tomatoes, tomato paste, herbs, seasonings. Add back in the onion/zucchini/pepper that you previously set aside. Simmer for 10-15 minutes, stirring occasionally.

Serve hot or at room temperature.
Serves 12
Thanks again to Franni, and BRITATHRT for their input

Chile Con Carne: Listed among the items included in the menu of Constitution class starships. ("Mr. Scott's Guide to the Enterprise")

Chile Con Carne
Ingredients

1 - 2 lbs. ground beef
3 - 4 cups canned kidney beans
1 1/4 cups canned tomatoes
1/2 cup chopped onion
1/4 cup water
2 - 3 Tbs. bacon drippings or butter
2 tsp. - 2 Tbs. chili powder
1 clove garlic, minced
1 tsp. sugar
1/2 Bay leaf
1/4 tsp. salt

Preparation

Melt drippings or butter and sauté onion and garlic in it. Add beef and then stir and sauté until well done. Add other ingredients, stir, cover, and simmer for one hour or longer.
Clam Chowder: One of the many dishes that the Nutritech Corp's food processing unit is capabable of replicating. ("Mr. Scott's Guide to the Enterprise" [TOS Book])

Clam Chowder
Ingredients

1 Large onion, chopped
4 cups medium-size thin skin-skined potatoes, cut into 1/2-inch cubes
5 slices bacon cut into 1-inch pieces.
3 10 oz cans, minced clams reserving the liquid
1 cup chopped celery, including some of the tops
1/4 cup finely chopped parsley
1/4 cup water
3 tbs cornstarch
1/2 tsp salt
1/4 tsp pepper
1 qt regular-strength chicken broth (or 4 chicken bouillon cubes in 1qt water)
1 qt milk
butter or margarine
finely chopped parsley

Preparation

In an 8 to 10-quart kettle, cook bacon pieces, over medium heat until bacon is limp, about 5 minutes. Add the chopped onion and celery to bacon and drippings and cook, stirring occasionally, until onion is very limp, about 10 minutes. Add the potatoes, 1/4 cup parsley, salt, pepper, and chicken broth; cover and cook until the potatoes are tender, about 30 minutes.

Stir in the minced clams and reserved liquid, add the milk and cook, covered, until the soup is thoroughly hot, but not boiling. Blend the cornstarch with 1/4 cup water until smooth and add to soup; continue cooking until soup boils and thickens, about 5 minutes. Taste and add more salt and pepper to taste.

To serve, pour soup into a tureen and float a generous pat (about 2 tablespoons) butter or margarine on top of soup and sprinkle with chopped parsley.
Makes 6 to 8 servings

Corned Beef and Cabbage: Normally one of Chief O'Brien's favorite recipes. When Q turned the crew of the Enterprise into Klingons, O'Brien would rather have had a mess o'serpent worms. ("The Way of The Warrior" [TNG DC comic #33])

Corned Beef and Cabbage
Ingredients

5 lbs beef brisket
1/4 tsp. saltpeter
1/4 cup warm water
2 Tbs. sugar
2 cloves garlic, minced
2 tsp. paprika
1 Tbs. mixed pickling spices
3/4 cup salt
2 quarts water

1 large cabbage
bay leaf
2 large onions
cold water to cover
2 large carrots
ground black pepper
4 potatoes

Preparation

Place the meat in a large crock. Dissolve the saltpeter in the warm water. Add the next four ingredients. Dissolve the salt in the 2 quarts of water. Mix everything together and pour over the meat. Be sure the meat is beneath the surface of the liquid. Refrigerate for three weeks, turning the meat once or twice per week.

After curing the corned beef. Remove the meat from the crock, discard remaining fluid.

Quarter the cabbage and put aside. Peel and slice the other vegetables. Cover the meat with the water and bring to the boil. Skim the surface, add the vegetables (except the cabbage), the bay leaf and the pepper and simmer gently for 20 minutes. Add the cabbage and cook for a further 30 minutes. Serve the meat surrounded by the vegetables with additional mashed potatoes.

Saltpeter, KNO3, is also known as sodium nitrate or potassium nitrate. It is commonly used in veterinary medicine and some drugstores carry it.
Serves 4-6

Corned beef recipe from The Restaurant Show. Corned beef and cabagge recipe from Ireland's eye Homepage.

Egg Drop Soup: One of the chineese food items that Dr. Phlox (CMO of NX-01) enjoys on Earth. ("Broken Bow" [ENT])

Egg Drop Soup
Ingredients

2 Tbs. cornstarch
6 cups prepared chicken bouillon
2 Tbs. soy sauce
3 Tbs. distilled white vinegar
1 green onion, minced
3 eggs, beaten

Preparation

In large saucepan mix cornstarch with small amount of cold bouillon. Add remaining bouillon and other ingredients except eggs. Bring to a boil, then simmer, stirring occasionally. Gradually pour the beaten eggs into the saucepan while stirring. Serve at once.
Serves 6
recipe from Allrecipes
French Onion Soup: Under siege by a faction called "The Circle", Cmdr. Sisko would have really liked a nice French onion soup rather than combat rations. ("The Seige" [DS9])

French Onion Soup
Ingredients:

2 Tbs. margarine or butter
2 cups thinly sliced onions
4 cups beef broth
2 Tbs. dry sherry (optional)
1 tsp Worcestershire sauce
4 to 6 slices French bread, toasted
3/4 to 1 cup shredded Gruyere, Jarlsberg, or Swiss cheese


Preparation:

In a large saucepan melt margarine or butter. Stir in onions. Cook, covered, over medium-low heat for 8 to 10 minutes or till tender and golden, stirring occasionally. Add beef broth; dry sherry, if desired; Worcestershire sauce; and dash pepper. Bring to boiling; reduce heat. Cover and simmer for 10 minutes. Sprinkle toasted bread with cheese. Place bread under broiler till cheese melts and turns light brown. To serve, ladle soup into bowls and float bread atop.
Makes 4 to 6 sidedish servings.

Gumbo: The only secret that Joseph Sisko is keeping from his son, one that he will carry to his grave. Gumbo is a traditional Cajun dish, and a specialty of Sisko's Creole Kitchen. ("Image In The Sand" [DS9], "Homefront" [DS9])

Gumbo
Ingredients:

1/3 cup all-purpose flour
1/4 cup cooking oil
1/2 cup chopped onion
1/3 cup chopped celery or green pepper
4 cloves garlic, minced
1/4 tsp. Black pepper
1/4 tsp. Ground red pepper
3 cups chicken broth, heated
8 ounces andouille or smoked sausage, quartered lengthwise and cut into 1/2-inch slices
1 1/2 cups sliced okra or one 10-ounce package frozen cut okra, thawed
2 bay leaves
12 ounces frozen shelled shrimp
6 ounces fresh or frozen crab meat

Preparation:

Thaw shrimp and crab, if frozen. Cut up crab.

For roux, in a large heavy saucepan or Dutch oven combine flour and oil till smooth. Cook over medium-high heat for 5 minutes, stirring constantly, reduce heat to medium. Cook and stir about 15 minutes more or till roux is light reddish brown.

Stir in onion, celery or green pepper, garlic, black pepper, and red pepper. Cook over medium heat for 3 to 5 minutes or till vegetables are just crisp-tender, stirring often.

Gradually stir in hot chicken broth, andouille or smoked sausage, okra, and bay leaves. Bring to boiling; reduce heat. Cover; simmer 15 to 25 minutes, add crab and shrimp, simmer an additional 5 minutes. Discard bay leaves. Serve over rice. If desired, garnish with a carrot top.
Makes 4 main-dish servings.

I am fairly certain that Ben Sisko's cookware is Farberware's Millennium (available at better department stores). His place settings are Arcoroc's Novoctime, black octagonal dishes (available at Walmart for about $20.00 U.S.)

Jambalaya: A cajun stew that Jake and Kasidy are fond of. Joseph Sisko had problems with his wife and daughter failing to use enough cayenne pepper. ("The Jem' Hadar" [DS9], "Rapture" [DS9], "Homefront" [DS9])

Jambalaya
Ingredients

2 onions chopped
4 Tbs. butter
1 Lg. can of tomato sauce
1 small can Hunts Garlic Tomato Paste
1 green pepper, diced small
3-4 cups of cooked rice
2 lbs of smoked sausage
1 1/2 lbs of shrimp (optional)
1 lb. smoked ham (optional)
2 tsp. of thyme
1/4 cup water
seasoned salt
black pepper
cayenne pepper

Preparation

Chop smoked sausage into circles or semicircles. Chop smoked ham into cubes. Sauté onions in butter for 5 minutes. Add tomato sauce, tomato paste, thyme, and 2 tsp. of seasoned salt. Cook at medium-high for 30 minutes stirring frequently. Add green pepper. Cook for 5 minutes. Add smoked sausage, ham, and shrimp. Cook for 10 to 15 minutes, stirring frequently.

In a large pot add this tomato mixture and rice. Make sure you add the rice one heaping spoon at a time or you may add too much. Add water and stir the mixture constantly for 10 minutes.

Season with salt and black pepper to taste. Add cayenne pepper for a little kick in the flavor.

Serve hot
Kohlanese Stew: Displeased with the taste of his order, Asoth forced Quark to eat some of this before Odo interviened. Later, after Quark found a working replicator, Asoth complemented him on it. ("Babel" [DS9])

All I could tell was that the stew was white in appearance
Kohlanese Stew
Ingredients

1 pt. undrained shucked oysters
2 cups milk
1 cup light cream
1/2 tsp. salt
dash tabasco sauce
paprika
butter or margarine (optional)

Preparation

In a medium saucepan combine the undrained oysters and salt. Cook over medium heat about 5 minutes or till oysters curl around the edges. Stir in milk, cream, and hot pepper sauce. Stir in milk, cream, and tabasco sauce. Heat through, seasoning to taste. Sprinkle each serving with paprika; if desired, top with a pat of butter or margarine.
Serves 4

Lamb Stew: After kayaking in a holosuite, you might to have a bite of this stew, but don't forget your fork, as it might come in handy when playing "choose the changeling". ("The Adversary" [DS9])

Lamb Stew
Ingredients

2 lbs. stewing lamb
4 large potatoes
1 large white onion
1 cup consommé
1 Tbs. finely chopped parsley
1 Tbs. softened butter
3 tsp. flour
3/4 tsp. thyme
3/4 tsp. salt
fresh ground black pepper

Preparation

Cut lamb into cubes. Peel potatoes and cut into large dice. Coarsely chop onion. Chop parsley and thyme together, then butter a casserole dish.

Arrange a layer of 1/3 of the potatoes on the bottom of the casserole. Cover with layer of lamb, then a layer of onions. Season with the herbs, salt, and pepper. Repeat to form 3 layers, seasoning between each layer and ending with the onions. Add the consommé. Cover the casserole and bake in a 350 degree. F. oven for 1 1/2 hours until the lamb is tender. Combine the butter and flour in a teacup, and add the paste to the casserole. Continue cooking five more minutes until the juices are thickened. Garnish with parsley.
Oxtails & Cabbage: A traditional tera'ngan dish made by Chief O'Brien's mother as he was growing up. It is claimed that she was a master cook, and she believed that replicated food lacked nutrition. ("The Wounded" [TNG])

Oxtails & Cabbage
Ingredients

2 lbs beef oxtails
8 medium carrots
8 stalks celery
2 small onions
1 small turnip
1 small parsnip
1 cup cabbage
2 cloves garlic
1 bay leaf
1/2 tsp. basil
1/2 tsp. marjoram
4 Japanese peppers (dried)

Preparation

Peel the onions and wash the carrots, celery, turnip and parsnip. Cut 1 onion, 4 carrots, 4 celery stalks, the turnip and parsnip into quarters. Crush the garlic. Place the quartered vegetables, garlic cloves and beef oxtails in a 4 and 1/2 quart heavy bottomed pot. Add water to cover ingredients plus 2 inches. Heat to a boil then reduce heat to a simmer. Simmer uncovered for 1 hour. After the first 15 minutes, remove the brown scum that may have formed on the top of the stock.

Remove oxtails and set aside to cool. Remove vegetables and herbs and discard. Strain stock through a colander lined with cheese cloth. If you are concerned about fat and cholesterol, skim fat from the top of the stock.

Chop remaining vegetables into desired size and add to stock. Remove meat from the oxtails and add to stock. Add salt to taste. Bring soup to a simmer and serve.
Serves 8
Recipe from Gail's Gallery.

PCS: (Pulaski's Chicken Soup) Got the Flu? This is the Prescription for you. ("The Icarus Factor" [TNG])

Pulaski's Chicken Soup
Ingredients:

1 chicken (3 to 3 1/2 pounds), cut into 8 pieces
4 qt. cold water
4 carrots, peeled and cut into chunks
3 celery stalks, cut into chunks
2 medium-sized onions, cut into chunks
1 Tbs. salt
1/2 tsp. black pepper


Preparation:

Rinse the chicken under cold running water. Place all the ingredients in a soup pot and bring to a boil over high heat. Reduce the heat to low, cover, and simmer for 1 to 1 1/2 hours, or until the chicken meat falls off the bones, stirring occasionally.

Remove the chicken from the bones, discarding the bones and skin. Return the chicken to the pot and add an 8-ounce package of medium egg noodles to the hot soup; cook over high heat until the noodles are tender.
Serves: 4 to 6
Recipe from HomeArts: Eats

Plomeek Soup: Not knowing that Spock was in the grip of the Pon farr, nurse Christine Chapel brought this to him. He threw the bowl into the corridor. Quark has been known to use it to impress his Vulcan clientele, and Nelix makes a spicy version (much to the dismay of Tuvok). ("Amok Time" [TOS], "The Maquis, Part I" [DS9], "Faces" [VGR])

I'd like to thank [email protected] for her research into this soup. According to her: Plomeek Soup is "A thick orange Vulcan soup". It was suggested that the dish could be made from pureed pumpkin, Or if it is to be served cold, pureed cantaloupe.

This following recipe for plomeek soup came from S.L. HICKMAN.

Plomeek Soup
Ingredients:

2 Tbs. butter or margarine
2 or 3 medium onions, peeled & sliced
1 lb. carrots peeled & sliced
1/2 lb. turnips peeled & sliced
10 oz. potatoes peeled and sliced
5 Tbs. tomato paste
4 cups water
2 cloves sliced, or minced, garlic
2 1/2 tsp. salt
3/4 tsp. dried basil (or 1 1/4 fresh finely minced)
1/4 tsp. nutmeg
1/4 tsp. pepper
Sour cream and finely chopped parsley for garnish.
(for a spicier version, use cilantro or Chinese parsley)

Preparation:

Sauté the onion in the melted butter in 4 quart pot. Add everything *EXCEPT* the last cup of water, the sour cream, and the parsley.

Simmer covered 15 to 20 minutes, (25 over medium heat stirring occasionally) or until potatoes and carrots are tender.

Purée the soup with a blender 1 1/2 to 2 cups at a time rinsing the empty pan with the reserved cup of water to get any remaining purée, and add this to the soup.

Return the soup to the rinsed-out pot and reheat it before serving (use a very low heat to prevent scorching the soup). Ladle into bowls. Place sour cream in center of soup and using a spoon pull it into a spiral (Like the galaxy) and sprinkle with finely chopped parsley along the sour cream.
Recipe from the "OFFICIAL STAR TREK COOKING MANUAL" by Mary Ann Piccard (no relation) from 1978 by Bantam books

Once again Thanks BRITATHRT and S.L. HICKMAN

Ratatouille: One of the various dishes served aboard Constitution class starships. ("Mr. Scott's Guide to the Enterprise")

Ratatouille
Ingredients

1 eggplant (peeled and cut into rounds)
3 zucchini (average size)
3 - 4 cups diced tomatoes
1 medium onion chopped
1 bell pepper sliced
3 chicken bouillon cubes
6 cloves of garlic finely chopped
3 Tbs. chopped fresh basil
3 Tbs. chopped fresh oregano
2 - 3 Tbs. of olive oil
1 bay leaf
1 tsp. salt
pepper
rice, pasta or couscous

Preparation

Sauté garlic and onion in olive oil. Next add sliced bell pepper and eggplant, continue to cook over medium heat eight to ten minutes or until vegetables are tender.

Add zucchini, diced tomatoes and bay leaf along with one teaspoon of salt, a few pinches of pepper and three chicken bullion cubes.

Cover with a lid and let it simmer for about twenty minutes. Just before serving fold in about three tablespoons of fresh chopped basil and half a tablespoon of fresh chopped oregano. Add the fresh herbs last so you don't cook all of the flavor out of them.

Serve over pasta, rice or couscous.
Serves 4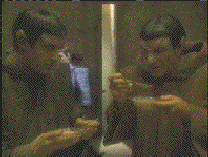 Romulan Soup: When on Romulus, Captain Picard and Data got to sample some of the local cuisine courtesy of a "loyal establishment" ("Unification Pt. I" [TNG])

I'd use Creamed Corn...Hot or cold, who knows.

Eat your soup!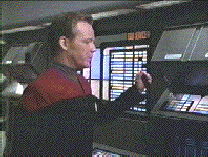 Hot Plain Tomato Soup: There are fourteen varieties available from Federation replicators. With rice, with vegetables, Bolian style, with pasta, with... Plain, it is available hot or chilled. Even with fourteen varieties the computer couldn't make it to Tom Paris's tastes. ("The Caretaker" [VGR])

Hot Plain Tomato Soup
Ingredients

2 Tbs. butter
1 med. onion, chopped
1 clove garlic
3 Tbs. flour
2 lbs tomatoes, chopped
1 Tbs. Tomato Paste
3 cups chicken broth/stock
1 tsp. dill weed
salt and pepper to taste

Preparation

Blanch the tomatoes in boiling water and remove the skins. Sauté the onion and garlic in the butter, remove from heat when the onion is clear.

Add the sautéed onion and garlic to the remaining ingredients. Using a blender, liquefy the mixture. Return to heat.

Simmer slowly and serve hot with saltine crackers
Vegetable Bouillon: Janeway had some while listening to Kes complaining about the crew's treatment of the Doctor. Kes had spinach juice with a touch of pear. ("Eye of the Needle" [VGR])

The soup dish was apparently a candle holder, which had a metal framework, Kes's drink was in another candle holder if I don't miss my guess.
Vegetable Bouillon
Ingredients

2-1/2 cups bouillon
1 Tbs. unflavored gelatin

Preparation

Sprinkle gelatin on 1/2 cup cold bouillon. Add 2 cups very hot bouillon and stir until gelatin is thoroughly dissolved. Serve hot.
Serves 6.

California Stew: One of my mother's recipes, never seen or mentioned in any of the incarnations of Star Trek (although it could be). It goes well with dinner parties, that's why I included it.

California Stew
Ingredients:

3 slices of bacon cut up
2 lbs of beef stew meat
1 cup dry red wine (I like to use Burgundy)
2 cans beef broth
2 cloves of garlic minced
1/4 tsp. dried thyme leaves
3 Tbs. minced (or grated) fresh orange peel
18 boiling onions (the little white ones) OR 1 onion cut up
3/4 LB sliced fresh mushrooms
2 cans of new potatoes
2 sliced carrots
1 can pitted black olives
10 oz frozen peas
2 Tbs. cornstarch (optional)

Preparation:

About 3 hours before serving, brown the stew meat and the bacon in a large pot (8 quarts). Add 1 cup of water and everything else *EXCEPT* the peas, cornstarch, and olives.

Simmer for 2 hours, then add the olives.

Simmer an additional 30 minutes, then add the peas.

Cook for 5-10 minutes more then thicken with cornstarch, if desired.

Serve!
Index | Unframed Index | What's New? | Recipes | Theme Party | Weapons | FAQ | Songs & Poems
Awards | Who is K'Tesh? | Day of Honor | Code Warriors | Linking Info | Links | Email
Sign My Guestbook

View My Guestbook






Gagh Stew
Stewed Bokrat Liver
Aubergine Stew
Chile Con Carne
Clam Chowder
Corned Beef & Cabbage
Egg Drip Soup
French Onion Soup
Gumbo
Jambalaya
Kohlanese Stew
Lamb Stew
Oxtails & Cabbage
PCS
Plomeek Soup
Ratatouille
Romulan Soup
Tomato Soup
Vegetable Bouillon
California Stew