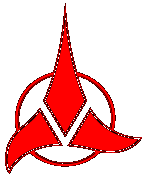 "DAYS OF HONOR"
The Klingon Fan Version
An International Klingon Fan Event weekend.
Index | Unframed Index | What's New? | Recipes | Theme Party | Weapons | FAQ | Songs & Poems
Awards | Who is K'Tesh? | Day of Honor | Code Warriors | Linking Info | Links | Email
Principal Goals:
| | |
| --- | --- |
| 1. | Every ship/chapter of EVERY Klingon-style fan club observes the "DAYS OF HONOR" in a way of their own choosing. |
| 2. | Each year it will be held the weekend closest to March 23rd. Next year (2002) the events will start Friday morning March 22th and continue until just before midnight of Sunday night March 24st. The weekend near March 23rd was chosen for that was the day when "Errand of Mercy" first aired in 1967 as part of the original STAR TREK television series. That was the first appearance of Klingons on television. |
| 3. | The Event each ship does should be VERY PUBLIC-ORIENTED and attract the attention of the local press and media outlets. It should be something positive that makes STAR TREK fans look good and impresses the average person in the community. |
| 4. | The Event must be something that can be viewed as 'honorable' or involves the concept of honor. (examples on next page...) |
| 5. | The Event should feature prominently UNIFORMED KLINGONS - both men and women Klingons preferably. Costumed "Aliens" of 'other' science fiction cultures are invited and welcome to join in on the events. |
| 6. | Federation and Starfleet-style ship/chapters, if interested, ARE WELCOME to 'join' in on the festivities. The Holiday was started to also celebrate the honor of a Klingon's adversaries as well. (The books propose that Cmdr. Kor and Capt. Kirk started the Holiday & Tradition.) |

THE WHEN:
| | |
| --- | --- |
| 3/22/02: | In the morning is the start of when events happen. ( "preparation" and travel would qualify) |
| 3/21/02: | Events are continuing or happening this day. |
| 3/23/02: | Events 'continue' until 11:59 p.m. |
| 3/24/02: | This is the day to Tell the Tales and "Spread the News". This would be the day for coverage and reports to show up in newspapers and on local TV stations. |

"DAYS OF HONOR" Examples of possible Events:

Blood Feuds (Blood donation drive vs. a Starfleet-style group.)

A canned Food Drive for a local food bank.

Cleaning up a section of Highway...or other public space.

Clothing Drive to benefit a local charity.

Discussing and teaching the Klingon Language at a school or Library.

A Jail & Bail to benefit a charity or community group.

A John M. Ford Trust benefit.

Reading to kids at a Library or School.

Sponsoring an animal at a Zoo.

A Toy collection for children in need.

Visiting patients at a local hospital. (Yes, in uniform.)

That is the Announcement. There will be a Web page devoted to this that will be on the KAG web site soon. If any of you have questions or suggestions please E-mail Commander Khar'Ton. We also ask that all of you to spread the word to those Klingons who do not have computers -or were not E-mailed
For more information telephone 1 (513) 923-3029.
Or snail-mail:
Commander Khar'Ton
PO BOX 53695
CINCINNATI, OH 45253


Index | Unframed Index | What's New? | Recipes | Theme Party | Weapons | FAQ | Songs & Poems
Awards | Who is K'Tesh? | Day of Honor | Code Warriors | Linking Info | Links | Email
Sign My Guestbook | View My Guestbook

&nbsp