Softskins
This page is a rather selective one - as I didn't think describing every truck the IDF ever made use of very funny I chose those I thought to be most interesting.
---
War of Independence
During the War of Independence, jeeps were widely used by the IDF. Apart from secondary duties they were also employed by several special attack units that equipped them liberally with machine guns.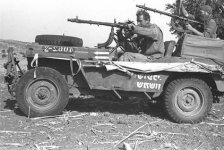 This picture shows such a 'special jeep'. The machine guns are of the German MG 34 type (of Chech origin).
---
Modelling options
As far as the jeep is concerned, the situation is rather bright, with several offerings on the market. Let's have a look at them!
Airfix
The only jeep Airfix offers can be found in their LVT 4 'Buffalo' set, together with a driver for the jeep. Surprisingly, it is quite close to 1/72 scale (not 1/76, as one would expect). There is not much detail on the jeep and I would judge the fit to be fair. The driver is not too convinving, either. On the other hand, together with the Buffalo it's a bargain, especially as the Buffalo is, in my humble opinion, a real winner.
Fujimi
In several of Fujimi's kits a jeep - 1/76 scale - is included as a kind of a 'goodie'. It's a very nice kit, overall fit being good. Overall detail is nice, although slightly inferior to the Matchbox kit.
Matchbox
Matchbox had two jeeps in their range of kits, one in the LRDG set, another one in the 17pdr set. Both are 1/76 scale, and both are even better than the Fujimi offerings. Overall detail is very good, and so is the fit. The LRDG jeep differs from the other one in having two machine gun mounts, water condensator, extra spare wheel, but no windscreen and no hood.
Hasegawa
Hasegawa's Jeep is in a set together with a trailer, a 37mm AT gun and some very, very strange figures. Although the fit is very good, and although I like the addition of the trailer and the AT gun, the kit is slightly too large for 1/72. It's not as much as the M4A3 HVSS, but I would say it's noticeable. Detail is rather on the heavy side.
Academy
And here cometh the big one! Academy sells a set called 'ground vehicles' comprising a German Kuebelwagen, a German Kettenkrad and the jeep, all 1/72 scale. All three kits are absolute beauties, with stunning detail and excellent overall fit. The jeep comes with a nice engine (an optional transparent hood is also provided - a clever idea) and a mount for a .50 cal. Just find some suitable figures, two MG 34s, some jerry cans (also provided in the set), and off you go with a 'special jeep'!
still under construction!!
---