- News -

Below you can find news on updates of the website as well as sporadic observations on certain developments of the market (Esci...).
---
10-10-2003
- this is the first update for more than six months; as I have been very busy during the last half year or so, I had precariously little time for modelling or working on the site; nonetheless, I'm still on it and plan to update it in a more regular fashion;
- what's new? not much for now, I'm afraid; I found out that I messed up some of the pictures, and this was sorted out, and some planning is underway for the expansion of the site;
- I succeeded in 'going team', as they say, with the managment of the site, gang-pressing my brother-in-law Stephan Beck as 'head of the photographic section' (or 'camera slave'...) into the team; all the pictures of my own models were taken by him, all the credits go out to him, and if you can't see anything, it's always due to myself trying to process the pictures;
- I decided to fit the pictures of my own models mainly into the existing sections and not into the gallery, which is reserved for contributions by fellow modelers;
- the Gallery itself got a long overdue update, as prolific IDF smallscale modeller João Coelho from Portugal sent me some pics of his work; many apologies to João, whose pictures lingered around on my computer for more than half a year!
---
01-02-2003
- I added another section on Cavalry, which may sound strange to you, but has its justification in the use of cavalry in the War of Independence! [Apart from that I like cavalry; I do like camel riders, too, so I will probably cover Arab Legion Camel Corps units one day...]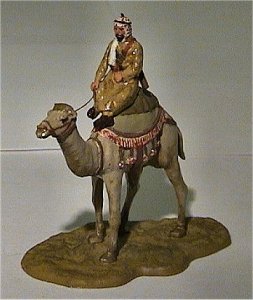 Arab Legion Camel Corpsman (from the Airfix Bedouin Set, painted by my wife)
- I also managed to snap up some information on new kit releases:
- a Revell Merkava III is indeed going to hit the shelves; as it's a completely new kit, it will probably be very good, judging from Revell's recent efforts;

- Heller has brought out a kit of the 4x4 VAB APC; this should be good for something (only I don't know precisely for what at the moment...);

- Italeri continues rereleasing Esci figure sets; this year it will be the turn of - among other things - the British Infantry (ET), which is quite useful for early IDF figures;

- Airfix rereleases the so-called Recovery Set (Coles crane and Queen Mary trailer with Bedford towing vehicle), which, in combination with the other softskin sets offers great conversion possibilities for any softskin of British origin;
---
27-01-2003
- a new and very worthwhile addition to the Gallery; I got some really good pictures of a very nice Merkava, but take a look for yourself;
- as I just the other day got a new set of Preiser figures, the title 'best source for K98k in 1/72scale' has to go to Preiser's Motorized Infantry/Panzer Grenadiers set (72503), which includes a seperate sprue with 9 most impressive rifles moulded in hard plastic;
- updated the Links section - go and see all that little soldiers at Plasticsoldierreview.com !
- I heard some rumours out there in the net (only rumours, mind you!) that Revell is preparing a Merkava III;
---
---
04-12-2002
- I felt that the start page really needed an overhaul; it should now be easier to navigate around the pages;
---
28-11-2002
- You might have noticed that I wasn't up to much on the site during the last few months; however, I'm again at it and hope to update the site more regularly in the future;
- recent (or fairly recent) developments on the market are quite interesting - together with the Merkava Italeri has brought out a T 62 (the old Esci T 62), PST's T 54 and T 55 have apparently finally arrived, although I still have to see them; Eastern Express, Military Wheels or Ace (I always mix these manufacturers up) are said to bring out a BTR 50 and a PTR 76 in the near future; unfortunately, all these plastic kits are rather expensive;
- apart from minor refinements to existing sections (I'm still on the hunt for typos!), further maior additions were made:
- the Overview section is planned to be a kind of first-stop for anybody planning a model; it just gives brief and basic information on the existence of kits and conversion potential; for now, however, only MBTs are in it;

- in the Missile section I will gather information on missiles in use with the IDF; otherwise, the Artillery section would grow too big; for starters something on the Russian SAM-2;
---
20-07-2002
- substantial update of the APC section, mainly on cats and women, including a picture of a Russian spin-off!
---
04-07-2002
- quite some work was done on the page, not the least spurred by the arrival of Italeri's new Merkava I, which is a beauty (well, it's Esci - what would you expect?):
- the Captured Vehicles section got a maior overhaul; I added information on early IDF tanks, tank formations, captured ACs and APCs, including more pics and a detailed look at the Hasegawa Daimler;

- the MBT section was updated as well, with more on early IDF tanks and some smaller errors and mishaps rectified;
- some work done on the APC section, mainly on the M 113; there remains, however, still a lot to do!

- quite a lot of additions in the SPG section, mainly dealing with Sherman-based conversions;
---
17-06-2002
- it's finally there! The long-promised White AC conversion package for the Depot section was finished last night and is now up for grabs. Together with the pictures on the AC section it should be possible to build an acceptable model of this vehicle. If you cannot wait, just click here.
- just found out that I goofed up the notes on the 'Napoleonchik' guns in the Artillery section - shame on me!
---
10-06-2002
---
05-06-2002
- Some new information on the APC section; I added a colour profile of an IDF halftrack, too - and dicovered that making such profiles is definitely NOT my forte!
---
---
17-05-2002
- I added The Infantry Pages which deal with figure modelling. The starting page was also slightly changed, for the last time, I hope.
---
04-05-2002
- it has been some time since the last news entry, but at last I am again at it.
- Italeri indeed purchased the old Esci mouldings; the Dodge is the 3/4 ton Truck version, nothing new on the Merkava; in the meantime I built the Italeri King Tiger just to see whether there is any difference to the Esci one I built a few years ago - there was none, the mouldings are still ok, and Italeri provides an additional rubber one-band track. Although I normally don't like these, they are nicely detailed and have all the detail on the inner side of the tracks that is missing on the hard plastic tracks
- HÄT is to release an eight-piece Sherman kit in 1/72, apparently an M4A2 or M4A3. Might prove a good way to built larger numbers of Shermans for diorama purposes. I have no price information, but it will be probably at the lower end of the price range.
---
23-01-2002:
- New Releases by Revell for 2002 (as in catalogue):
T-34/85; might be an upgraded Esci kit; at last a readily available T-34/85 in 1/72 again!!

Warrior; okay, okay, not strictly IDF, but an interesting kit nonetheless; most probably a new kit; possibility for conversion into Desert Warrior (in use by various Arab States)
- Italeri New Releases:
Merkava; most probably old Esci kit (like the M4A1 Sherman already on the market); whether Merkava I or Merkava II (or both?) I don't yet know

T-62; again probably old Esci kit; again uncertain whether T-62 or T-62M (or both...)

'a Dodge'; okay, my source was a bit sketchy on that; could be either the Dodge 3/4 ton Truck or the M-6 with 37mm AT gun or a Weapons carrier (or a mixture of some sorts); big possibilities for conversion to homemade AC
---