Gallery
It's finally there. Although I still didn't have the time to make decent photographs of some of my own models, if there is anybody out there building small-scale IDF models, feel free to send me pictures of your models to
and I will happily include them here. If possible, please use either .jpg or .gif files for your pictures.
---
10-10-2003
João Coelho from Portugal sent these two nice pictures (actually, he did send three - the pic of a very nice M 577 somehow got lost in the darkness of my harddisk; sorry about that!!).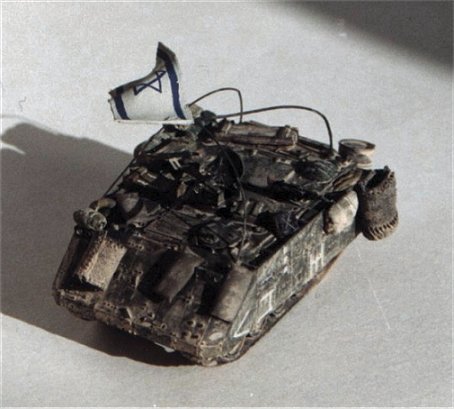 The uparmoured M 113 above comes from a Cromwell Models 1/76 resin kit; João added antennas, a very nice flag, extra equipment and sandbags. The markings for a vehicle belonging to a sapper unit were painted by hand.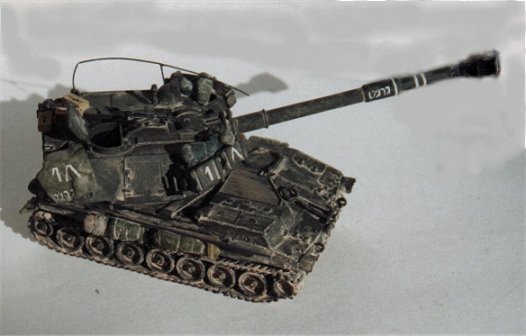 This M 109 also comes from a Cromwell kit; added were the baskets on the front of the turret, 30.cal machine gun, antenna, side railings for extra equipment and some jerry cans. Markings again were painted by hand - in the case of the vehicle above I find them very impressive.
Many thanks for these nice pictures!
---
01-02-2003
Another entry, this time from Tim Ridout, who is a member of the TRIAD modelling club in Muskegon, Michigan; the pictures were taken by fellow club member Chuck Stewart. The Merkava is an Esci/Italeri Mk I with additional armour, making it a Mk I upgraded to Mk II standard (it's not a true Mk II).
Tim opted for his own mixture of Israeli Sand Grey, and indeed it looks very much the part, not the least due to his weathering job, done with thinner/oil washes and pastels.

Note also the ball-and-chain armour below the rear turret bustle; this is by far the most difficult thing when modelling a Merkava.

Hopefully you'll one day find something on this armour in the depot section.

Especially noteworthy: the commander's head comes from one of Hasegawa's ground crew set, which is a very good idea indeed (sunglasses are a nice touch); other figures from these sets could - with a little conversion provide heads for modern tank crews.

Tim also added a photoetched engine screen, which looks much better than the moulded-on kit part.

Many thanks go out to Michigan!
---
05-07-2002
Ta-Taaaaaaah!! The first entries!
Werner Kattinger from Austria sent these two pictures.

On the right side a M 3 halftrack, with a nice crew, note various types of uniforms and personal gear.

Below a 'classical' M 113 without upgrade kit, again with nice figures.

Especially noteworthy is the fact that these vehicles are 1/87 scale!

Many thanks!
---
---