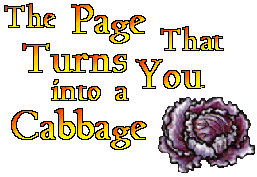 Power to the Cabbages
How many times have you stared mournfully into the coleslaw and thought "Gee, I wish I was a cabbage."
Well, now you can be! Activate the CABBAGE CONVERTER and you will instantly transform into a cabbage!
But that's not all! You can choose from becoming an ordinary cabbage, a purple cabbage, a Chinese cabbage, a cauliflower or even a brussels sprout!

THE CABBAGE CONVERTER
Turn into a Cauliflower
Cabbage Anti-Converter


[Turn into a Cabbage FAQ] . . . . [The Giant Slug Brigade] . . . . [The Cabbage Anthem]
[Cabbage Information] . . . . [Cabbages in the News] . . . . [Cabbage Miscellany]
[Cabbage Gallery] . . . . [Cabbage Collectibles] . . . . [Cabbage Links]
Comments? Questions? Write to Habbage.
DISCLAIMER: Turning into a cabbage is not an actual physical change. For more information, please read the disclaimer.
Last updated 6th November 2007.

MADE IN NEW ZEALAND