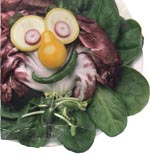 Cabbage Miscellany
---

cabbage n. A common kitchen garden vegetable, about as large and wise as a man's head. 

-Ambrose Bierce, The Devil's Dictionary. - Thanks to Leland Tatham.
---
World Cabbage Day is celebrated by cabbages and cabbage lovers alike on February 17th.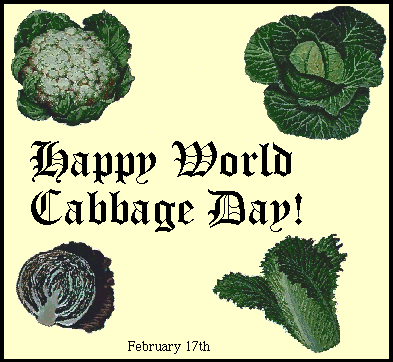 ---

BIGGEST CABBAGE: The largest cabbage ever grown was 124 lb , and grown by B. Lavery in Llanharry, Great Britain, 1989.

---
Cabbage Comments
The following are a selection of the most interesting comments made by members on joining the Cabbage Alliance.
"I am a Cabbage and I rule!!!! Power to the cabbages of the world!!!" -
Cabata Cabbage (Later made into the motto of the Alliance)

"I can now feel the power at the tips of my leaves now I'm a cabbage. I'm proud to be a vegetable." - The Purple Prince

"I'm enjoying my life as a cabbage. NO! NO! MOM!!! I'M YOUR DAUGHTER, NOT YOUR CABBAGE FOR COLESLAW!!!" - Dentille

"I am also a fish" - Dave

"I HAVE TAKEN PART IN PURPLEDOM!! HERKA! I CAN NOW MAKE SALAD EATER'S AROUND THE WORLD'S FACES LIGHT UP AND SAY "HEY! MY CABBAGE IS PURPLE!" OH JOY! OH ABSOLUTE RAPTURE!" - Nazermichaelkae

"The best thing that ever happened to me. Well it is if you don't count that time i got accidentally sucked up into Henry the hoover and had a well exciting conversation with a dried up lemon, who sympathised with my dreams of becoming a purple cabbage." - Carrot

"Everyone is taller than me." - Eric Moore

"Being a cabbage is so fun, I wish i could be a yeti though." - Mr CabbageHead

"This is a very unique experience. For all of you out there who have never been a cabbage, I suggest you try it immediately." - Bok Choy

"Wow! To everyone reading this, being a cabbage is great! I can't even begin to tell you.... Just be a cabbage!!" - Cabbage Goddess

"I feel like an inferior lettuce" - Cabbo

"I like being a cabbage. It helps me express my true feelings toward vegetables especially Cabbages." - The great Cabbagini

"I love the alliance and it totally changed me life" - Floo ha floorin

"I have longed for many years to reach the state of perfect cabbagedom. Cabbages make me happy. Cabbages are cooler than cucumbers. I have never been harassed by cabbages. Thank you for bestowing this great honor upon me and inaugurating me into the splendid state of cabbagery. " - Cabbage Ears

"Power to the cabbages! May they rule in great green multitudes!" - Egabbac

I walked a long way on the earth, and I was tired.
I looked for a place to rest, and found a beautiful garden.
It had rich, dark dirt, and the air was warm.
I decided, "This is just right!"

I laid down on the earth to rest.
I felt safe and secure...
Then one day, something wonderful happened!
I started to grow!
Before I knew it, I became a purple cabbage!

I crept over to a nearby pool,
and gazed at my new reflection.
To my surprise, I was beautiful!

Thank you for this peaceful garden...
where life slows down,
tired souls can rest,
and wake up refreshed and beautiful! - Leafy Locks
---