THE BOOK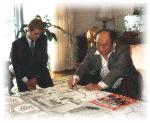 ~As you have seen already, if you have looked through my website, my family has been impacted by Sun Myung Moon and his Unification Church like few other families have. I have been involved to some degree with this movement since the age of 12 years old.
~I grew up in the South, part of the "Bible Belt" where many families, including my own, were of a strong traditional Christian background. It is almost inconceivable that I could get caught up in the web of deceit that Moon has brought to the shores of America, but through the influences of his early followers in this country, my mother and I were brought into a world one could only imagine. I advanced quickly in status in the Moon Movement, attracting the attention of Moon himself. He knows my family personally, and as a member, I was his personal guest in several of his mansions throughout the world on numerous occassions. I have seen how he is in private, in his real home-life, in a way that few members ever will. It lead me to see through him, and to see him for what he really is. I escaped and found a new life, after years of emotional and psychological struggles, undoing what I believe the Moon lifestyle did to me.
~I could have been content slipping into a quiet life with my family, happily free of Moon's clutches, were it not for the fact that I realised that I could help others to escape and see the truth. Getting their freedom and individuality back. More than believing this in my mind alone, I actually felt a calling from God to do this. God does not desire people to live in a lie. It is Moon's own words that have stated: "Even God lies to us very often". I have discovered that God is a God of truth, not of lies. God is exposing the lies of Sun Myung Moon, and my webpage and book, are just a few of the ways He is doing that.
~I have experienced great joy, from the many letters I receive world-wide encouraging me to continue my efforts. Many people have written to tell me that the information I have on my webpage, and in the personal correspodence I have given to others, have freed them from Moon, and even from other groups that teach similar teachings, and employ simlar techniques to those used in The Unification Church. I am very pleased that my efforts have meant so much to others, and that I have been so successful in helping others be free of Moon. Yet there is one person, more than any other that I desire to be free, and that is my mother. I ask everyone to pray for her, and for my family. I thank you for your interest in my life and book, and I promise that the book tells many parts of my life and experiences with Moon and his church that I have not released here. Some things have been too painful to express here, but the book is the right place to tell my whole story. It is an amazing story, that is made more compelling because it is true. I believe with all my heart that this book will help many, many people.
~John Smith, is a Christian Author that has collaborated with me on this project for an entire year. The story of our meeting itself is something only God could have accomplished. We both knew that God had called us to this appointed time, and we have labored intensely over the past year, to bring this book to it's completion.

We will be sending the book to publishers very shortly, and I invite you to register below, to receive Advance Notice of the publishing company and expected Date of Debut.
PLEASE NOTE: We are receiving pre-orders from both members and non-members, and the status of membership is collected only to determine where interest resides, and to know better who the audience for this project might be. Information is NOT shared with any other parties.
Thanks For Your Interest,
-Craig


CRAIG MAXIM - SECTION



My Life In The Moonies


Fast-Facts and Dates


My Media Exposure


My Life Now


Photo Album


Read My Letters


My Book


My Original Music

HOME