For Media Professionals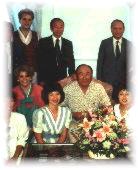 ~Craig Maxim was indoctrinated into the belief system of the Unification Church or "Moonies" from the age of 12 years old . He and his ex-wife became full time missionaries for the Unification Church in 1989. They were then told to live separated in different states and to be prepared for Rev. Moon to divorce them and marry them to other spouses . Upon learning of this , her parents had her counseled out of the cult .
~Craig stayed a member for several more years . His mother has been twice married by Moon and is still a member of the cult . While in the Moonies , Craig had extensive contact with Sun Myung Moon , Moon's wife and family . He was a personal guest of Moon many times in his various mansions throughout the world . He left the Cult in 1993 . After a few years of recovery , he became a vocal critic of Rev. Moon and The Unification Church & it's teachings.


MEDIA APPEARANCES

TELEVISION
FOX News - The Edge, With Paula Zahn - Filmed Interview
FUJI TV -National TV , JAPAN - Filmed Interview
ABC -WJLA TV Chan. 7, Wash. DC - Live Televised Debate
CNN (Cable News Network) - Filmed Interview
Nippon television , JAPAN - Filmed Interview
News Odyssey , Nashville - Filmed Special
ABC - WSET TV, Lynchburg VA - Filmed Interview -3 part series

RADIO
Crosstalk - Nationally Syndicated in 97 markets - Guest
RadioK - Guest
Roger Fredinburg Show - Syndicated - Guest

PRINT
Washington Post Newspaper - Quoted Numerous Times
Guardian Newspaper - England - Print Interview
Tokyo Sports, JAPAN - Print Interview
People Magazine - Consultant
The Boston Globe - Consultant
Christian Science Monitor - Consultant
Christianity Today - Website Reference
The Idiot's Guide to Religions Online - Paragraph devoted to Xmoonies.com website

TELEVISION INTERVIEWS - Behind The Scenes


~It was the first time I had been a guest on live television, and I was to debate the president of The Unification Church in America, Tyler Hendricks. To say I was nervous would be an understatement. But there was no one else available to represent the critical side, but me that day. Believing in God, I prayed a simple prayer, for protection. The next day, I went to the television station to meet whatever fate awaited me there. As I walked into the beautiful glass building and inside the waiting area for television guests, the Television Host greeted me before the show, thanked me for coming as promised, and then apologized because Unification Church President Tyler Hendricks had called just hours before to PULL OUT of the Debate! I was given the whole time slot, and made it through the program expressing the dangers of mind control, and the untold story of the Unification Church.

~It was News-13 in Lynchburg, Virginia on the phone. I was asked for an interview by the station, who was doing a story on Jerry Falwell's alleged acceptance of Moonie money to bail out his Liberty University.

Widely respected journalist Robert Perry had uncovered court documents suggesting that Falwell and associates had made a secret trip to The Republic of Korea, to solicit money from Moon personally. It was not long after, that Falwell announced that "God" had provided the funding to keep Liberty afloat. Having become a commited Christian and follower of the real Jesus Christ, I was incensed. This was, in my view, one of the great secretive issues or problems with the Christian Church today. Imagine, a man claiming to represent Jesus and accepting money from a man like Moon who had stated that "Jesus failed" in His mission as messiah, that Jesus mother was not a virgin, but practiced incest in order that Jesus be born. Moon himself, as Falwell surely knew, had claimed to be Jesus' replacement as messiah now. It was my obligation, I felt, to tell what I knew about Moon, his money and his empire.
ADDITIONAL INFORMATION

~The sign I held at the protest in Washington D.C. simply said "MOM COME HOME". I had desperately hoped my mother would see it on television, in between her hectic schedule of helping Sun Myung Moon perform his Mass Marriage Spectacle at "Blessing-97" where Moon once again married thousands of couples to complete strangers. My mother had already had one of Moon's arranged marriages. It failed. I only found out later, that she would accept another marriage from Moon, even as I was outside protesting the event.


~It looks innocent enough, but this cup inspired the Unification Church President to cancel a debate against me on live television in Washington, D.C. Earlier, he had written a letter to the editor of the Washington Post Newspaper explaining how the word "Moonie" was an epithet, and could inspire hate-crimes against Moonies if used by the media.
~Unfortunately for Tyler Hendricks (UC President) I brought a cup with me to the debate. It was sold by the Moonies in one of their church owned and operated bookstores. It reads: "I am a Moonie, and I love(sign of a heart) it!" This cup bragged of being a "Moonie". Are the Moonies self-deprecating? No, just a little PR ploy, that some of the media have fallen for, but I have exposed it, as typical Moonie deception. Get the full story HERE

Requests for Interviews
Can be sent via email: [email protected]

CRAIG MAXIM - SECTION

---

My Life In The Moonies

Fast-Facts and Dates

My Media Exposure

My Life Now


Photo Album

Read My Letters

My Book

My Original Music

HOME