1969 Avion Truck Camper Restoration

The trials, tribulations, and triumphs of restoring a neglected Avion truck camper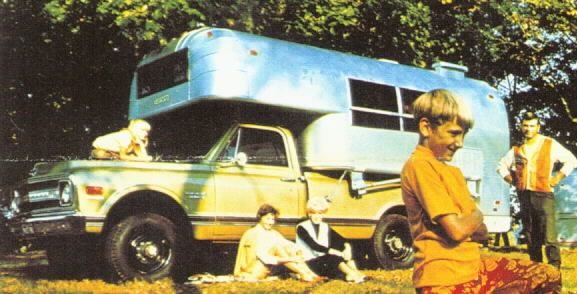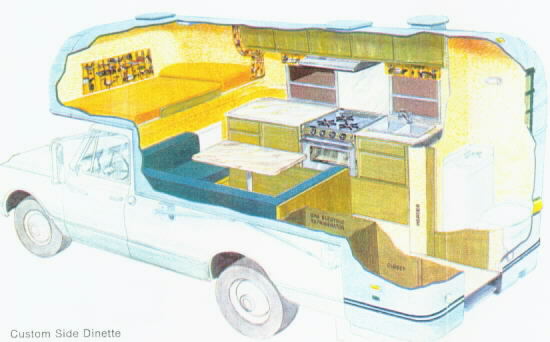 In the beginning........
It all started with some casual conversation between my friend Bob and me. Over the course of several months and several conversations, we talked about the truck camper that he had bought a few years earlier, and the fact that he just didn't have the time to devote to restoring it. One thing led to another and before I knew what had happened I was the owner of a 1969 Avion truck camper. Here is what it looked like when Bob bought it and brought it to his house: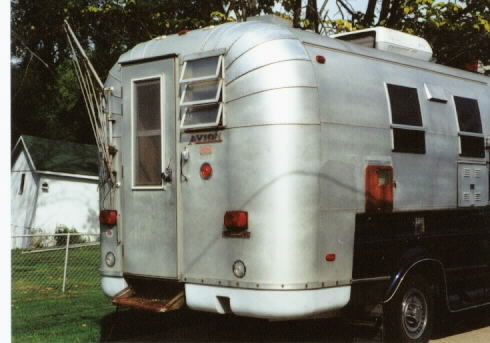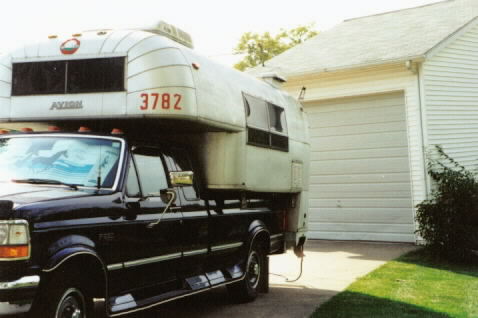 It appears to be in decent shape; however, looks can be (and are) deceiving. It will require substantial work (and a few?? dollars) to repair/refurbish/replace/refinish/redo all that needs to be done. Before I purchased the camper, Bob had already begun to dismantle it and this is what he found in the left "wing":

Yup, it had leaked and rotted the wood in the left wing. So badly, in fact, that it would have to be repaired before I could load it onto a truck for the 100 +/- mile trip to my house. Thank goodness Bob volunteered to help repair this mess. I'm still not sure whether he chose to help because he's my friend or because he was anxious to get it moved from his house before I changed my mind. After a couple of days work, the wood in the wing was replaced and the camper was ready to haul. I sure wish we could have stretched the work out for another few days------each day that we worked, I had a good home cooked meal prepared by Bob's wife, and I haven't found anything she cooks that I don't like. On May 3, 2001, my trusty brother-in-law (aka Tradin' Charlie) and I made the trip to pick up the camper---and all of it's pieces, parts, and cans full of screws from the dismantling that Bob had done. We brought it to my house and located it next to the garage. The following photos were taken soon after I brought it home and started some preliminary work---Since I live in a subdivision, I felt that I needed to install the marker light lenses and wash the outside right away so my neighbors wouldn't be too unhappy about looking at it.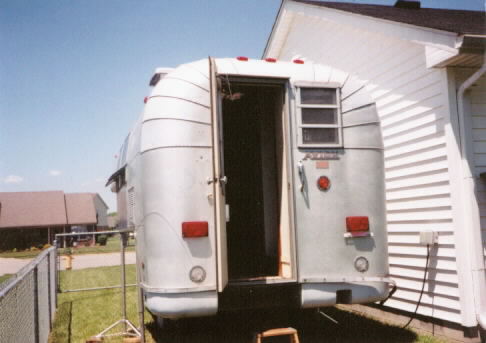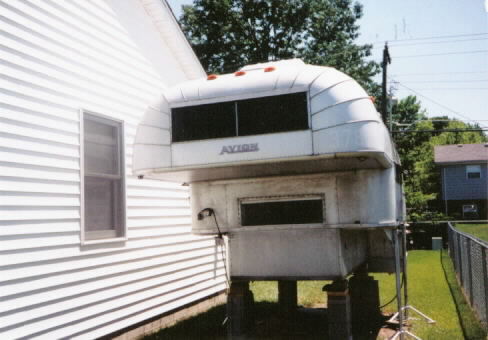 Click Here to see a list of questions and answers about this project.
Click Here to see other Avions the author has owned.
Links: Avion Travelcade Club - International
Avion Travelcade Club - Indiana Unit
Gene's truck camper - a different camper--some of the same problems
Charlie's Avion Page - another truck camper restoration
Page 2The plan and the starting point
Page 3 : The dismantling
Page 4 : The restoration
Page 5 : More restoration
Page 6 : And more restoration
Page 7 : The restoration continues
Page 8 : The finishing touches
Page 9 : Mount up, move out
Page 10 : Go West, young man [Horace Greeley, please forgive me]

Special thanks to: austinsailor, DrG, Bob & Thelma, Tradin' Charlie, Mark S., Mark M., Ken C.,
John B., and Mike H.
02102006

---

Please report any problems with this site to the webmaster

---

Copyright © 2002-20006 ---- T.J. DeArk

Any part of this web site or it's contents may be copied or reproduced for your own personal, non-commercial use only. Short excerpts may be quoted with proper attribution. Any other use of the material contained in this web site requires permission from the author.

[email protected]