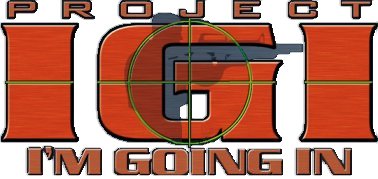 ---
Project IGI Walkthrough
---
This site will close October 26!!!
I will move the walkthrough to the IGI Databank (http://igi.wikia.com/).
I do not guarantee that these walkthroughs are complete. The routes described in each section are the ones I have found be the easiest. I know and you probably know as well that there are several different ways to finish each level.
Below are links to the walkthrough for the levels.
To (almost) every level is a list of items that can be found in the level and a map.
Game problems
Numerous of players have tried to contact me with questions regarding hardware problems with Project IGI. I don't have any solutions. The most common problem is that neither gun, "healthmeter" nor crosshair is displayed (well, who needs THAT in a first person shooter game?). Eidos Interactive has not worked their asses off to come up with a solution. Actually they haven't worked at all with any kind of help to YOU, who purchased the game with YOUR hard earned money.

The solution they come up with is "We suggest you take the game back to the store for a refund or exchange to some other game." (Yes, it's quotation marks, they actually state that on their home page!!! These guys don't have anything resembling a spine). They also propose that you shall change your graphic card drivers to older ones. DOH! IF YOU HAVE A NEW GRAPHIC CARD YOU DON'T WANT TO BRING DOWN THE PERFORMANCE WITH OLD DRIVERS! What then? Are we supposed to re-install our new drivers when we want to do anything else than playing IGI on the computer? No spine, no nerves...

Summary: Never, ever buy a game released by Eidos Interactive

Mats



Nathan Hall says:
All you have to do to get IGI (and a lot of other games like Deus Ex and Deadly Dozen and Noone Lives Forever) to work properly, is download the older NVIDIA drivers that came with earlier XP releases. I think it's 23.11 you want, although I got a package from somewhere that is called XP_21.83 and that does the trick too. You can easily track them down, anyway, by typing 'IGI+xp patch/problem' into Google.




Final update:
March 13, 2002
Final words
The final update to these pages is done. The reason is that the game Project IGI is getting old and the b-version of IGI2 is already out for testing. I've also noticed that the number of visitors have decreased the last months which is another indication that the game is old.
I will not update the pages, but I'll leave the guestbook open (I know, for some reason Yahoo/Geocities don't allow for more than 256 characters, but make two-three sections if you have much to say). If you have personal comments or want to send me money or ask for a date or whatever you can always try with a mail to

[email protected]

. Due to all spam-mail I get I only read mails with the subject Project IGI.

Unfortunately Eidos Interactive haven't put any effort into updating Project IGI. No patches to fix bugs or increase enemy AI have been released, no new maps, no multiplayer attempts whatsoever, no nothing. Let's hope that Codemasters won't be as ignorant with IGI2.

It seems like Codemasters are investing in IGI2. The name IGI2 Covert Strike sounds like they are making an effort to make a playable multiplayer game (Resemblance in names; Covert Strike / Counter Strike). Let's hope it will be a good one, more cheat-free than Counter-Strike. Read more about IGI2 Covert Strike. Maybe (if I get the time and interest) I'll be back with a walkthrough to the single play of IGI2, but until then;

That's all, folks!
Mats