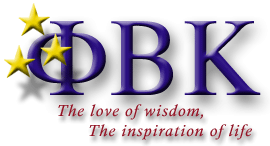 Phi Beta Kappa Publications

Phi Beta Kappa produces two outstanding publications for both members and nonmembers.

The Key Reporter is the Society's quarterly newsletter. It provides members with information about programs, awards, and activities of Phi Beta Kappa as well as articles on members, book reviews, and other Society news. The Key Reporter is free to all members and can be ordered by nonmembers for a small fee.

The American Scholar is the Society's scholarly journal, which strives to preserve the essay. The journal has won two American Society of Magazine Editor Awards, in 1999 for an essay by Clara Claiborne Park and in 2000 for general excellence among titles with circulations under 100,000. It is available to both members and nonmembers.