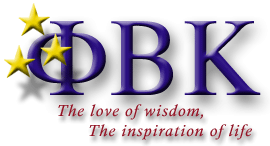 Phi Beta Kappa Announcements

For all chapters and members that has an announcement to make please send us your letter of announcement and we will post it here. Send at [email protected]

Announcement:

1.) Send us your Candidate for your Phi Beta Kappa Hall of Fame. Categories Best Chapter, Phi Beta Kappa member and most improved member.
at [email protected]

2.) We are now seeking for some advertisers and sponsors for our website and society. We would be proud and grateful to be part of the company.

3.) For companies that are seeking for people to employ, now it's the time for you to advertise with us for free in a certain time until we require you to pay for the advertisement. Prices will valued on how many words and how important for you to advertise. This free advertisement will run for 6 months or more as we continue to progress.

4.) All businesses, institutions schools and universities that want to place your address and directory. Feel free to e-mail us at [email protected] This is a free directory for 6 months or more. So don't regret to fill in our directory now.
5.) For all gaming online, bands, gigs, restaurants and radio stations now we can share to you our website in advertisements that you looking for. Fill in that space now. E-mail us now at [email protected]