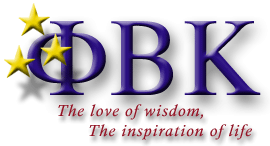 How do i become a PBK member? what does the PBK society do?

1. What does The Phi Beta Kappa Society do?
For more than 200 years, the Phi Beta Kappa Society has pursued its mission of fostering and recognizing excellence in the liberal arts and sciences. The Society's distinctive emblem, a golden key, is widely recognized as a symbol of academic achievement. Through the time-honored process of granting charters to the institutions that shelter Phi Beta Kappa chapters, the Society reaffirms that mission.
The chapters and their community counterparts, the associations, work with the national office to sustain a variety of programs that honor and champion liberal arts scholarship. These activities, whether local or national, provide support in the form of scholarships, lectureships, book and essay awards, summer institutes for teachers, and funds for visiting scholars. Each year Phi Beta Kappa, with its affiliates, raises and distributes over $1,000,000 to benefit students and scholars through these programs. The Key Reporter is the Society's quarterly newsletter.
The Society's respected publication, The American Scholar, has been published quarterly, for general circulation, since 1932. Widely recognized as an important forum in American intellectual life, the journal offers articles and essays on a range of literary, artistic, and scientific subjects. Credited by many for the current revival of the essay, The American Scholar has garnered an exceptional number of awards in that genre.