WELCOME TO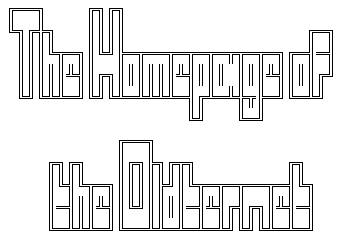 Main page // Pictures // Files // DooM // ROMhacks // Links // Programs // About

Welcome to the Homepage of the Oldternet, the coolest page on the whole Oldternation Megaroad!
Best viewed in Netscape Navigator and Microsoft Internet Explorer
Behold, the ultimate form of the Oldternet, available in this travel-size home page. Long, long ago, existed the Oldternet in its most primal form. It raged and burned out of control for nearly two decades before devolving into the horrid beast it is in the twenty-first century. Within is the blessed time (mostly) before Eternal September, without, lies only despair. But that ruination is a tale for another time.

So relax, kick your cyber-shoes off, and take solace in the embrace of sweet nostalgia!

---

Last update: counter 2657
Recent update contents:
Outer Base DooM WAD Corrected Icon pack 26
Updated RE1M1 DooM WAD
Programs and tools
Icon pack 27
Icon pack 26
Icon pack 25
Organization and images
DooM tips and tricks
Icon pack 24
Icon pack 23
NES ROM hacks
RE1M1 DooM WAD
Icon pack 22
Icon pack 21
Icon pack 20
Icon pack 19
Icon pack 18
Icon pack 17
Icon pack 16
Hexual Interface Wallpaper


---
Link free!


We've had

visitors to date!




THIS WEB PAGE IS UNDER CONSTRUCTION


Check back later for more updates!