| | |
| --- | --- |
| The Nichol Clan | Sarah Ralston Branch |
"Lately I have developed a great love for family trees and genealogical tables of the royal families, and have come to the conclusion that, once you begin, you want to delve still deeper into the past, and can keep on making fresh and interesting discoveries." Anne Frank - 27 January 1944
---
Sarah (Nicholl) Ralston (Family Number 11)

| | |
| --- | --- |
| | Sarah was born in County Antrim, Ireland in 1832. She married James Ralston in Ireland in 1849 and their first four children were born there. The names of their nine children are listed in the chart on our home page. James came to America first and Sarah and the children came later. He worked in the flax mill with the Nichol brothers in Salem NY. The Ralston's moved to North Adams, MA in 1892. They lived for many years at 5 Bethel St., which they passed on to their son Albert. |
---
The remainder of this page contains:
---
The Ralston Family - 1903
This picture was taken in 1903, two years after George Ralston died and one year prior to Sarah's death. Seven of their nine children are in the picture, along with many grandchildren.
Top Row - (Family Number 117) Jeanette (Nett) Weir (later Mattison), (118) George Ralston, George Foster (married to Kate), Della Ralston (married to George), (1121) Edna Foster-Gailbraith (Mary Anne's daughter), (111) Margaret Winning, Will Winning (Margaret's Husband).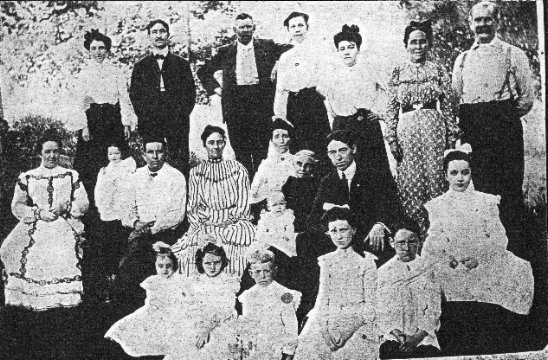 Middle Row - (113) Nancy (Nan) Body, (1173) Beatrice Weir-Kelly (Nett's daughter), Robert Weir (Nett's husband), (115) Elizabeth (Libby) Ross, (114) Kate Foster, (11) Sarah Ralston holding grandaughter (1181) Helen Ralston-Cushing, (119) Albert Ralston, (113-) Florence Body (Nan's daughter).
Bottom Row - (1172) Viona Weir-Ducket (Nett's daughter), (1171) Rena Weir-Fitzpatrick (Nett's daughter), (1143) Stillman Foster (Kate's son), (1142) Ethel Foster-Durfee (Kate's daughter), and (115-) Harold Ross (Libby's son).
This picture is from the Doris Elo (11212) collection.
---
Obituary of James Ralston
North Adams (MA) Evening Transcript
Saturday March 9, 1901
---
James Ralston of 5 Bethel Street died very suddenly this morning. He was employed in the singeing room at the Windsor print works, and had just begun his day's work when he was taked seriously ill. His son, George, who is also employed at the works hurried out out and called a hack and started for home with his father, who did not speak after entering the hack, and was dead when the house was reached. Drs. Stafford and Brown was called and soon reached the house, but there was nothing for them to do except to announce to the family that Mr. Ralston was dead.

Mr. Ralston was 68 years old. He was born in Ireland, but came to this country 35 years ago and settled in Salem, NY, from which place he came to this city nine years ago, and had since been employed at the Windsor print works. He was a steady and industrious man and was highly respected by his employers, his fellow workers and by all who knew him. He was a good neighbor and citizen.

Mr. Ralston leaves a widow, three sons and six daughters; James, Albert and George Ralston and Mrs. William Winney of this city; Mrs Albert Body of Bellefontaine, Ohio; Mrs. G. A. Foster of Sushan, NY; Mrs. W. J. Ross of Florence; Mrs. Robert Weir of Greenwich, NY; and Mrs. Frank Foster of San Francisco. He also leaves a brother, Edward Ralston of this city.
---
Obituary of Mrs. Sarah N. Ralston
North Adams (MA) Evening Transcript
April 20, 1904
---
Mrs. Sarah N. Ralston died this noon at her home on Bethel Street, aged 71 years. She had been in poor health for three years, and for the last year she had been failing perceptibly. For some time past her condition had been such as to afford no hope of recovery, and her death occasioned no surprise.

Mrs. Ralston was born in Ireland, but came to this country many years ago. For the last 12 years she had lived in this city, to which she came from Salem, NY. During her residence here she became acquainted with many, and she was much respected by all who knew her. She was the mother of a large family, to which she was throughly devoted, and her death is an affliction to her children, which brings to them the sympathy of many friends.

Her husband, James Ralston, died two or three years ago. She leaves six daughters and three sons. Mrs. William Winnen of this city, Mrs. Frank Foster of California, Mrs. Albert Body of Bellefonainet, O., Mrs. George Foster of Shusshan, NY; Mrs. Robert Weir of Greenwich, NY,Mrs. William J. Ross of Springfield, James Ralston of Salem, NY, George Ralston of Johnsonville, NY, and Albert Ralston of this city. She is also survived by two sisters and three brothers.
---
Helen (Ralston) Cushing (Family Number 1181)


Helen delivering the sermon at her church at Easter 2001
Helen was the grandaughter of James and Sarah (11). She was born in North Adams, MA on February 9, 1903, the daughter of George (118) and Della (Bennett) Ralston. George was the barber in Johnsonville, NY. Although George also sold dry-goods from his shop, Helen likes to say that she "was raised on 10¢ a shave and 25¢ a haircut."

Helen attended Hoosick Falls (NY) High School. She took the train back-and-forth from Johnsonville to school every day. After she graduated in 1922, Helen attended Oneonta Normal School for six weeks, which qualified her to teach grades 1-8 in her hometown. In 1924 Helen enrolled at Miss Wheelock's Kindergarten School in Boston. (The school is now known as Wheelock College and Helen has recently attended alumni functions in Florida.) After graduating in 1924. Helen taught 3rd grade in Balston Spa, NY. While there, she was the first teacher to sport "bobbed" hair. This hair style was against the school's rules, so Helen was released. However, "the rebel" was reinstated a week later and given a raise. In 1927 Helen married Norman Cushing. It was also against the rules for female teachers to be married. Helen, however, decided not to "fight city hall" on this one. So, the happy couple decided to move back to Johnsonville.


At Helen's 100th
Birthday Party
March 2003
After Norman died, Helen moved to Bradenton, FL where she lived in her own trailer until she died in 2003 at the age of 100. Helen was very active and loved by all who knew her. She loved to play cards. Her trailer was jokingly called "Helen's Casino" because there was a card game there almost every night.
Helen was very religious. The picture on the left shows her giving the sermon at her church on Easter Sunday (2001) at age 98. The theme of her sermon was "Faith is the Key to Heaven." Many thought Helen was an ordained minister.
---
Doris Elo (Family Number 11212)

Doris and her brother Jack
Doris is the grand-daughter of Mary Anne (Ralston) Foster (112) and daughter of Edna Mae (1121) and Milo Galbraith. She lives in Cambridge NY and would love to show interested cousins the nearby Salem Cemetery, which contains many of our ancesters.

Doris and her brother Jack took a trip to Ireland and Scotland about 10 years ago. They went to Ballyminstra in County Antrim where the Nicholl family had lived and her grandmother was born. They also visited the church where there were several Nichol memorial stones.
Click to return to top of page