| Date | Description |
| --- | --- |
| 4/8/04 | R. S. Nichol went to went to Moose Jaw, Sask. Tuesday with the view of relocating. |
| 1/27/05 | Mrs. R. S. Nichol and baby left last week for their new home in Moutain Home Idaho. Miss Mary Dunbar went with her. |
| 9/6/07 | R. S. Nichol and family, who have been in Moutain Home, Idaho for the last 3 years, are expected home tonight and will again make their their home here. |
| 5/5/11 | Robert Nichol Sr. and son R. S. returned from St. Paul. The nerve specialist consulted by the latter, gave him assurance of early recovery from his ailment. |
| 1/25/12 | R. S. Nichol left for the Twin Cities to consult a specialist in diseases of the nerves. He has been a sufferer with locomotor ataxia for over a year. |
| 4/19/12 | R. S. Nichol returned from the Twin Cities where he had spent several months to regain his health. We are sorry to report that no marked improvement is apparent. |
| 11/12/15 | R. S. Nichol a brother of T. B. Nichol, moved his family from Redville, Sask. to Bottineau last Thursday. |
| 5/11/17 | T. B. Nichol was at Minot and brought back his brother R. S. Nichol, who will be making thier home in Souris. Mr. Nichol has been doctoring in Minot. |
| 4/15/18 | Mr. and Mrs. R. S. Nichol and family moved a couple of weeks ago to the Sam Dunbar farm. |
| 10/9/19 | A Few members of the 1899 Bottineau High School class held a reunion last evening. Those present included Mrs. J. W. Caldwell (Ella Coulthard) of Mountain Home, Idaho and Mrs. Robert Nichol, Jr. (Bella Fleming) of Souris. |
| 10/1/20 | Mrs. Robert Nichol and family took the train here Tuesday for California, where they will spend the winter. |
| 3/5/28 | Word was received by Mrs. James Dunbar of the death of her brother, Robert Nichol , of Tulare Calif. Which occurred March 10th, caused by paralysis of which the deceased has suffered for many years. |
Bella (Fleming) Nichol (123) had the following recollections about her pioneering childhood in North Dakota.
This was contributed by her granddaughter Priscilla Mathews (12312)

Bella
c. 1900
"Bottineau City and County was named for Pierre Bottineau. His father was a Hudson Bay tracker and his mother an Ojibwa. He was the Davy Crockett of the North; amazing horseman and woodsman. Always on a life saving mission. Trusty and honest; and as such the people honored him."
"Indians that roamed over the county were Chippewas (also called Ojibwas) They were friends of the Assiniboins, a tribe in Canada. The U. S. gave the
Chippewas their rations twice a year. Then they would have a great feast and invite the Assiniboins who could be seen coming in a long line. I've seen them often. They followed the east bank of Oak Creek and Bottineau was built along the west side. Oak Creek was a paradise for the Indians; running waters, shade, and a town close by. Often camps would remain there for weeks. We were never afraid of them. We children would often visit their camps and were never molested in any way."

"The Souix were warriors. When they went on the warpath, the white man trembled. They were cruel and vengeful and the Chippewa were their traditional enemy. Sioux means Dakota. So their name was taken by the territoty and later by the state."

"Old Bottineau at the end of the foothills had two stores and a post office in 1883. Devil's Lake, over a hundred miles away, was the nearest market. Getting goods required two weeks using oxen. The women were versatile they grew and made almost everything they needed. Grandma Emde made her own candles; spun her own yarn for mitts, socks and scarfs; and even had a loom and wove some of her own cloth. She made soap from ashes, water, and grease."

"I use to read and sing to my children when they were terrified by storms and such. We had occasion for such things when we pioneered in Saskatchewan. It helped a lot."
---
Bella's Poems
Bella loved to write poems. The two below were written by her.
Taken from the book "A Collection of Poems by Bella Nichol." Compiled by her granddaughter Marlene Nichol Baker(12331).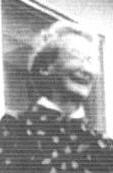 Bella c.1954
Morning

I opened my windows this morning
To a sparkling, laughing sun.
And the breeze was blowing kisses
As tho it was loads of fun.

Air heavy with perfume,
Orange blossoms, roses and lilies
Crushed mint, sweet grass and clover.
Butterflies reveling in fragrance.

Birds joyous from caroling,
Throats quivering with melody,
Sending their love heavenward
To the listening ear of God.

The Daisies Song
The daisies were standing
so graceful and tall,
in a glow of the sunlight bright
like good little girlies
in caps of gold and colors
of snowy white.

The daisies were singing
a sweet little song,
as they waved in the
morning breeze
and the butterflies hovering
above their heads,

Just told me the words
were these.
There's something for every
thing to do
and we little daisies are
doing our part.

As the summer days
glide along
and we think for each child
'twould be a God plan
to remember the
daisies song.
---
Mae (Nichol) Dunbar (Family Number 126)
---