Florie was born 11 Feb 1913 on the family farm 2 1/2 miles north of the village of Bagot, Manitoba. She attended elementary school in the one-room schools of Bagot and also the Mountain View School near Neepawa. Florie attended high school in Bagot along with the Portage Collegiate Institute in Portage la Prairie. She then received a diploma from the Success Business College in Winnipeg, went to work for a law firm, and later worked for the Department of National Defense. In 1959 Florie started nurses' training at Brandon General Hospital and graduated as a RN in 1962. She worked at Brandon General until moving to Calgary in order to work in the New Born Nursey of Foothills General Hospital.
Florie got interested in genealogy when she was in nursing school. She had an assignment in her sociology class to trace her ancestors back as far as she could. Later Florie's interest got a big boost when she was contacted by Marlene Baker (#12331). Marlene, who is in the "Robert Nichol line" was also compiling Nichol genealogy. Florie and Marlene have since colaborated, along with Marlene's publisher-husband Byron, to produce the "Nichol Book" that most of you are familiar with.
Florie has visited the Ahoghill area of Northern Ireland, where the Nicholl family resided before coming to North America. She has also visited many relatives, especially those in Washington County, NY, where the the family first settled on this side of the Atlantic. The picture on the right shows a younger Florie with some of her Nichol cousins as they explored a cemetary in Washington County.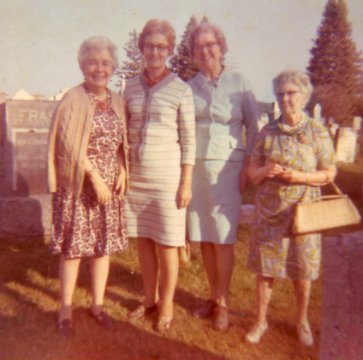 Helen Cushing (1181), Florie (1455), Ada Eastgate (1331) and Ethel Durfee (1142)