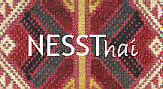 ON-LINE
Please E-mail us at:
CopyrightŠ1998, The NESSThai
Network for Environmentally- & Socially-Sustainable Tourism (Thailand)
Book Reviews
Categorised into five separate topics, our book reviews cover a wide range of books on or related to tourism and travel, and to the environment and culture of Thailand. These reviews might be of interest to travellers and arm-chair travellers alike, to students studying tourism/culture/development, to practitioners in the field of tourism, and to a multitude of other disciplines. Our list of book reviews will grow in time. Just browse or buy a book. We also invite you to make your own reviews, and, if you'd like, share your thoughts on the NESSThai discussion boards.
| | | | | |
| --- | --- | --- | --- | --- |
| | | | | |
| | People, History and Culture | The Natural World | Tourism Studies | Miscellaneous |
 Please e-mail us:


[ Up ] [ Discussion Board ] [ Meeting Grounds ] [ NESSThai Diary ] [ Weblinks & Reviews ] [ Photo Gallery ] [ Book Reviews ]