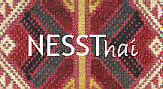 ON-LINE
Contents On-Line
Focus On Thailand
NESSThai Highlights
NESSThai Programmes
About Thailand
About NESSThai
NESSThai Archives
Please E-mail us at:
NESSThai Inc.
P.O. Box 48
Amphoe Muang
Krabi
Thailand
Network for Environmentally- & Socially-Sustainable Tourism (Thailand)
Welcome to NESSThai Online
Our Mission
Our mission is to encourage the integration of the tourism industry into more sustainable development in Thailand. We believe that this can only be achieved with a participatory approach, through research, action and extension.
This Website is designed to serve Travellers, Tourism and Environmental Researchers, the Tourism Industry, and anyone else who is interested.
| | |
| --- | --- |
| In line with NESSThai's philosophy to encourage openness of information and discussion, NESSThai Online provides news and features, details of our programmes and activities, information about NESSThai, and extensive information about Thailand. If you have visited NESSThai before, you may find the Contents On-Line section the easiest way to navigate back to sections which interest you. Otherwise, please browse through the different sections on NESSThai Online. Details of the contents of these different sections are provided below. | |
| | |
| --- | --- |
| | A feature for travellers perhaps? Browse through our Focus on Thailand, read articles and diaries about tourism, NESSThai activities, the experiences of visitors here, and the communities that receive them. For example, in Meeting Grounds we introduce you to local people living in the South of Thailand, and our Photo Gallery provides thematic presentations of photographs with stories to tell. For Your Information has more general information on environmental and tourism issues applicable to Thailand. |
| | |
| --- | --- |
| NESSThai Highlights provides shortcuts into some of the achievements of our programmes, and some of the star features and stories in NESSThai Online. | |
| | |
| --- | --- |
| | NESSThai programmes gives details of the philosophy, goals and practices of our eight interlinking programmes. Many of our projects, described in these sections, provide opportunities for your input. |
| | |
| --- | --- |
| Our About Thailand section is an ever-growing collection of information on the Kingdom of Thailand. From the history and culture of its peoples, to the diversity of its environment, the About Thailand section provides you with stories and photographs to enhance your view of the country. Through our schools associations, we include in this section, articles, stories and pictures written by the school children of various Thai provinces about their homes. | |
| | |
| --- | --- |
| | To provide more information about who we are, and why we started NESSThai, please take a look at the About NESSThai section. |
| | |
| --- | --- |
| Lastly, NESSThai Archives gives you links to larger files in our on-line library. Here we store back issues of our Newsletter, and some of the bigger pictures and maps produced in some of our programmes, together with articles of interest and past stories from features listed above. | |
NESSThai is currently undergoing some major organisational changes. More news on this is available via our email: [email protected] We hope to continue working in the South of Thailand, but will be changing the way in which we work.
"There is grandeur in this view of life ... that, whilst this planet has gone cycling on according to the fixed law of gravity, from so simple a beginning endless forms most beautiful and most wonderful have been, and are being evolved." (Charles Darwin)
Number of Visits to this Page: