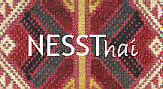 ON-LINE
Meeting Grounds
FYI
NESSThai Diary
Photo Gallery
Book Reviews
Please E-mail us at:
NESSThai Inc.
P.O. Box 48
Amphoe Muang
Krabi 81000
Thailand
Photo Gallery
[ Focus on Thailand ] [ NESSThai HomePage ]
Time to reminisce, to wonder, or to imagine... it all depends on whether or not you have visited our country, where you have been and what you have seen.
The images we have collected here were taken by friends or family, or by us. They show something of the country we live in. But, our aim is to show more than the picture postcard views (although we've put in a few of those too!). We also want to tell you something more about the circumstances under which these photographs were taken, or to go a little deeper into the story behind the images, and why they have such strong significance for Thailand.
Fisheries

The Thai have always depended on fish for a large part of their foods, and travellers to Thailand revel in the flavours of fresh seafood on the coast. Discover some of the threats to the coastal fisheries of Thailand and Southeast Asia, and learn what you should be aware of when you sit down to dine!

Kite Flying

While the kites pictured above are purely decorative (and in Southern style), the photo gallery page shows some kites carrying serious messages at a festival in the Northeast of Thailand.

Splash!

What could be better on a hot summer's day, than to head for the hills and a nice cool river?
If you have images and insights you would like to share, please send them to us and we will display them in this Feature if possible (with all due credit of course!).
Please e-mail us:

Number of Visits to this Page