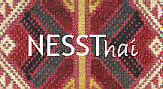 ON-LINE
Meeting Grounds
FYI
NESSThai Diary
Photo Gallery
Book Reviews
Please E-mail us at:
NESSThai Inc.
P.O. Box 48
Amphoe Muang
Krabi 81000
Thailand
NESSThai Diary
[ Focus on Thailand ] [ NESSThai HomePage ]
| | |
| --- | --- |
| | Read our diary of what NESSThai's been doing, and browse through diaries of visitors to Thailand. If you have some experiences in Thailand that you would like to share, e-mail us with your stories and we'll try to include them in this feature. |
---
I first met Simon about 7 years ago when he was visiting Catherine Chalk, an old friend of his, then working as an Australian Volunteer Abroad in Buriram, in the Northeast of Thailand. I was also working in Buriram, and living in Catherine's house. When he called me a couple of months ago, to say he was travelling in Thailand with his wife, Dani, Eddy and I were more than happy to catch up with what they had been doing.

Simon and Dani have been travelling through Thailand for about four months now. They have also visited Laos. With experience as developmental educators, they are keen to find work in Asia, and right now are looking for possibilities in Laos. Over the month they spent with us, we had plenty of opportunities to talk about their experiences, and our plans for the future. And naturally, we asked them to contribute an excerpt from their diaries written on Lanta Island ("Koh" Lanta), in Krabi province.

Simon and Dani were in Koh Lanta in the rainy season, which is the off-peak season in Southern Thailand. They were able to join in many of the day-to-day activities of their hosts at the small resort where they were staying. Like many places in the South of Thailand, Koh Lanta is predominantly Muslim. Men and women spend their time very differently, and Simon and Dani's diaries show some of these differences. (September 1998)
---
A year ago, close to the Thai New Year, or Songkhran Festival, we spent five days on Ngai Island (Koh Ngai) near Pak Meng, Trang province. Koh Ngai is actually in Krabi province, but is more readily accessible from the mainland in Trang.

For most of the time we were at Koh Ngai Villa we were the only people staying at the resort. For one night there was a large Thai tour, staying in the bungalows and setting up tents and hammocks, but otherwise we had the resort and the main beach pretty much to ourselves. It was a blissful and peaceful five days, and a time to gather our thoughts
---
In 1992, when I was living in Buriram province, I spent an afternoon with a professional photographer by the Huai Talat reservoir near where I lived. Although altogether we probably only spent about four hours there, my memories of that day are still fresh and clear in my mind.

This diary page introduces some of the people we met near the reservoir - a centre of activity for many people in the area.  In the dry lands of the Northeastern region, waterways, natural or man-made, have always been a centre of activity and a green, cool place to rest and think. In addition to the people who make daily use of the water for fishing, bathing, and drinking, the water ways are also places for play and relaxation, and a home for waterfowl and other wildlife.
Please e-mail us:

Number of Visits to this Page