Aleutka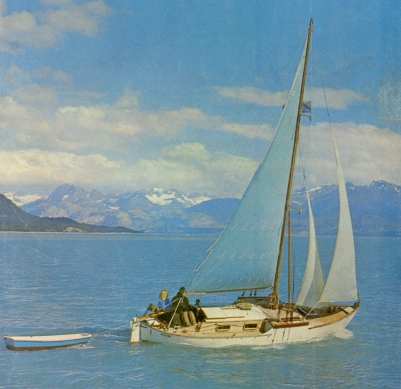 The Aleutka was a small, ideosyncratic boat built by John Letcher, author of Self-Steering for Sailing Craft and Self-Contained Celestial Navigation with H. O. 208 . It had twin keels, fiberglass-over-wood construction, and was designed for minimalist cruising by a noted hydrodynamicist, Dr. J. S. Letcher (yes, that's the builder).
The twin keels, the fact that the designer is an interesting fellow, and the fact that the boat has a local connection (he sailed in my neighborhood for three summers) all prompted me to take an interest in it.
Click the link for More information about John Letcher's Aleutka, including a much larger version of that photo.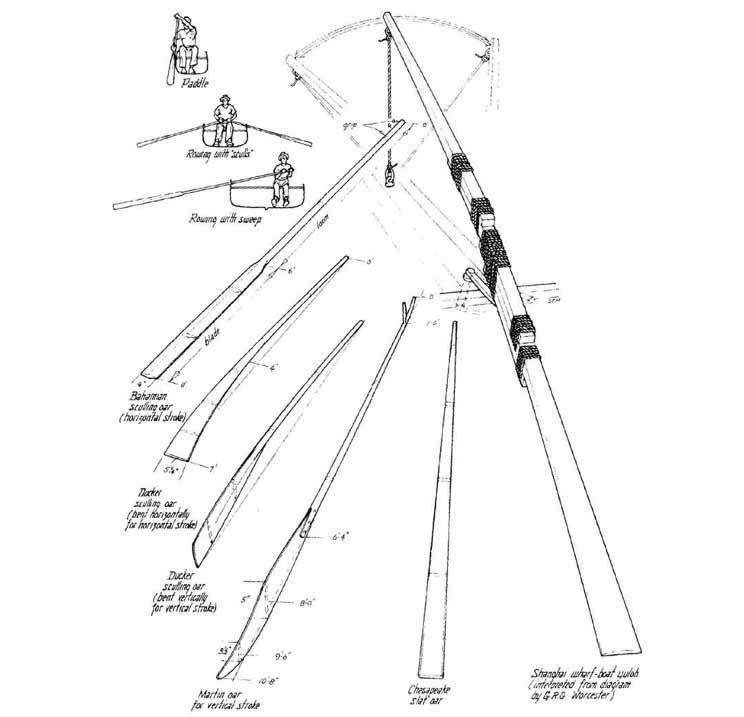 Sculling is a method of propelling a boat using a single oar, which is pushed side-to-side through the water, and twisted appropriately, to move the boat. A yuloh is a Chinese version of this idea: a bent oar with a tether, which partially automates the process, and minimizes the upper-body strength required.
Unlike the Aleutka, there is a fair amount of information on the web on this topic. Google turns up well over 100 pages, and I have gathered some of the more interesting and useful information on single-oared propulsion here.
Twin keels offer advantages like slightly shoaler draft than a comparable single keel design, the ability to go agound safely and comfortably and the ability to do bottom maintenance wherever the tide range is great enough. The only necessary disadvantage seems to be a loss of performance in light airs.
There is a fair amount of interesting and useful information on this topic on the web, and I've tried to summarize and index it on my page on Twin Keels
Nifty bookmarks
I've started using
del.icio.us
to keep track of nifty sites I find.
My del.icio.us bookmarks
are here. Below, you'll find my most recent five bookmarks on boats. This will automatically be updated as I add more, so do check back occasionally.