I'm not putting pictures of my slide rules here: you can find better pictures of these and other slide rules on the web, at the
Slide Rule Museum
, for example. I am putting up some pictures of my Powley Computer, a fascinating and useful slide chart for interior ballistics.
Slide Rules
I have:
my father's old K&E 4080-3, the 12-inch Log-Log Trig model (with the trig functions listed in degrees and minutes),
a rather ratty K&E-4081-3, the 12-inch Log-Log Decitrig (this uses decimal portions of degrees, rather than degrees and minutes), which sits on my desk at work,
a very nice, clean, Post Versalog, which I use at home,
an even nicer, cleaner Post pocket model of the Versalog, which rides in my briefcase
and three cheap simplex rules, all made in the U.S.:
an aluminum Picket 902ES (ES means EyeSaver yellow color)
a plastic Picket Microline 120
a K&E GP12 (Model number 68 1565)
and finally, an E6b flight computer: a circular slide rule, with c and d scales and some specialized scales for computing altitude on the front, and a clever device for graphical solutions to vector problems on the back. The front scales have a number of gauge marks for converting kilometers to miles, imperial to U.S. gallons, and so on.
Slide Charts
Powley Computer
The Powley Computer is an interior ballistics slide chart for reloaders. It was designed in the 1960s by Homer Powley. I can't find any evidence on the web that these are still available, which is unfortunate. They're wonderfully handy, in a way that the computer programs which seem to have replaced it cannot be. The
equations behind the Powley Computer
can be found here, thanks to the
Wayback Machine
. This may be one of the most complicated slide charts ever sold to the public.
I believe, now, that the aspect ratio of both pictures is correct.
There are also two large tiffs, which will allow you to see the details of the computer and its inner workings. These are nearly four megabytes each, so be prepared to wait.
Powley Computer front detailed view
and
Powley Computer back detailed view
. It might occurr to you that you could print these out, cut out the windows, and assemble your own. I'd advise against using it if you do: reloading can be hazardous! You could easily blow up your gun and yourself if there is some problem with a homemade computer.
Please email me at nelstomlinson at acsalaska dot net if there are any problems with these files.
This just in: rumor has it that the Powley Computer is still available in cardboard! Try a letter to:
Hutton Rifle Ranch
P.O. Box 45236
Boise, IDAHO 83711
They are said to go for about $16.
Mark 1 Nautical Slide Rule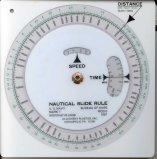 Though the printing on the front says ``slide rule'', I say it's a wheel chart. It doesn't have any general purpose scales, so I wouldn't call it a slide rule. It solves the equation Time∗Velocity=Distance, in units of yards or nautical miles and hours or seconds. It may not be clear from the picture that the inner disk is the white part, with two windows and two pointer marks for reading speed and time, while the outer (underneath) disk has the distance scales.
The computer is nicely made. The back plate is stiff, heavy plastic, about 1/16th inch thick (about 1mm). The two disks are also made of a stout plastic, perhaps half that thickness. Each disk has several tiny bumps molded on the underside, to minimize damage from rubbing together. The pivot point is a rivet, with a springy washer to give just the right friction, so that you can rotate either disk without moving the other.
I have no instructions for it, but it seems to be trivially simple and self-documenting.
Prinsco Flow Calculator
This is a drainage flow calculator, put out by Prinsco and the University of Minnesota extension service. A farmer could use this to calculate the pipe sizes, spacing and quantities he would need to drain his fields. It's still available. If you go to
http://www.prinsco.com/free.cfm
, you can ask them to send you one.
Remember the HP-15c? Sign the petition asking HP to bring it back. If the accountants can have their 12c, we should have our 15!

Bring Back The