The Olympic Games in Atlanta 1996
Host country: The United States of America
The Danish Team meets:
No.
Teams playing
Result
Most goals made by
1.
Denmark - USA
29-19

Anja Andersen (8)
2.
Denmark - China
33-21

Gitte Madsen (7)
3.
Denmark - Hungary
27-22

Camilla Andersen (7)
4.
Denmark - Norway
23-19

Anja Andersen (9)
5.
Denmark - South Korea
37-33

Anja Andersen (11)
The finals was a nightmare: after prolonged time and biting of nails, Anja missed the decisive penalty shot a few minutes before ordinary time was over. But...then the whirlwind started and the result: The greatest victory ever - and worth all the years of training and all troubles encountered and overcome along the way to the top! Perhaps it was not the sport that most people around the world followed on the screen, but for the Danes, it was a national miracle. The match is still considered the best played in women's team handball ever!
Gold: Denmark
Silver: South Korea
Bronze: Hungary
4. Norway
5. China
6. Germany
7. Angola
8. USA
The Danish team consists of:
Anja Andersen, Camilla Andersen, Heidi Astrup, Tina Bøttzau, Marianne Florman, Anja Byrial Hansen, Anette Hoffmann, Tonje Kjærgaard, Janne Kolling, Susanne Munk Lauritsen (keeper), Lene Rantala (keeper), Anne Dorthe Tanderup, Conny Hamann, Gitte Madsen, Gitte Sunesen. On the bench: Kristine Andersen.
Coach: Ulrik Wilbek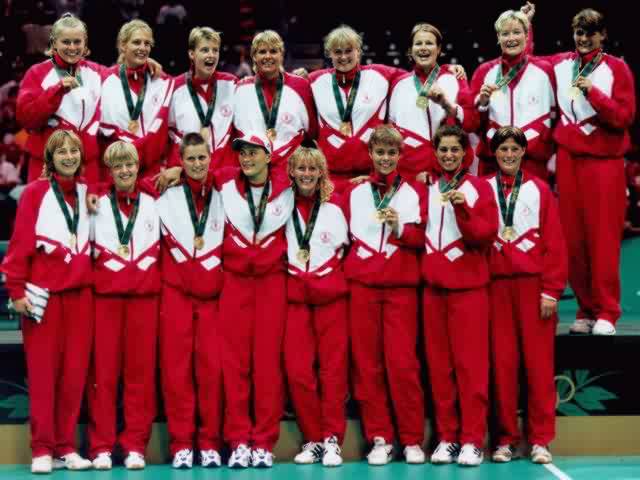 Get help with the names if you can't remember who is who.
Read the story sent to me by Carlo Rodota, who saw some of the matches.
All-Star Team

Anja Andersen (Denmark)
Kjersti Grini (Norway)
Jeong-Ho Kong (Korea)
Eun-Mi Kim (Korea)
Erzsebet Kocsis (Hungary)
Susanne Munk Lauritsen
O-Kyeong Lim (Korea)

Efficiency of attack

1. Korea 60,5%
2. Denmark 59,4%
3. Hungary 58,9%
4. Norway 56,3%
5. Germany 54,7%

Best scorers

1. O-Kyeong Lim (Kor) 41/24
2. Kjersti Grini (Nor) 39/18
3. Eszter Matefi (Hun) 35/18
4. Anja Andersen (Den) 33/11
5. Wei Shi (Chn) 31/6
12. Camilla Andersen (Den)20/11



Group A

Hungaru-China: 29-19
Denmark-USA: 29-19
China-Denmark: 21-33
USA-Hungary: 24-30
Hungary-Denmark: 22-27
China-USA: 31-21



Group B

Norway-Angola: 30-18
Korea-Germany: 33-20
Angola-Korea: 19-25
Germany-Norway: 23-28
Germany-Angola: 27-12
Korea-Norway: 25-21

See also: The links page
Olympics in Sydney 2000
Washington Post article
Old and new team

News | The results | The rules | The team | Links | Chat | Board room | Your stories | Camilla Andersen
View Guest book | Sign Guest book | Anja Andersen
Front page | Danish site