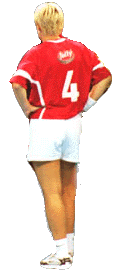 To archive no. 1 | Archive no. 2
Camilla says goodbye to handball after a long glorious career
A legend leaves handball after more than 14 years, Camilla Andersen is perhaps, next to Anja Andersen, the most well-known Danish player. And she has now decided to leave not only FCK where it all started, but also her beloved sport alltogether. She wants to spend all of her time working in her sports travel agency and feels, that she has had her share of handball. [April 2005]
*
Back to FCK and Copenhagen
It was a bit of a surprise to learn that Camilla no longer wanted to be part of Anja Andersen's big project Slagelse. It was too successfull for the player, who only wants to have fun with her sport. Camilla could not live with the constant pressure and expectation of eternal victories. She now returnes home to her old club FIF (now FCK) in her hometown Copenhagen. Here she can feel happy about winning again - not just a feeling of relief having avoided disappointment. This will be her last club. [Sept. 04]
*
Come to our aid, oh saviour of the weak and troubled!
What does a poor trainer do, who is facing a World Championship where most of his best players are injured? Break down in tears or lock himself up in a box labelled Timbuktu? No, he calls out to the Superwoman, who can fight and win all on her own against the most frightening enemies. Only, the one to whom he is sending his plea is "pensioned" from the national team. And though flattered, our heroine will not step back into the ring and do the work of an entire (doomed) team. That would be too much of a burden. [Nov. 03]
*
Player of the year 2003
As if it was not enough to win the Danish Championship with Slagelse, Camilla also received the honour of being chosen as the best player of 2003. There must be a first time for everything, and she is probably glad that she chose to hang on to Slagelse a bit longer than first planned. She has never been better and scores a record number of goals - even now when she has to deal with personal problems. [May, 2003]
*
Another season with Slagelse
Camilla has surprisingly (perhaps also to herself) signed on to another two years with Slagelse. Earlier on, she has stated that she would stop by the age of 30, but now she has changed her mind. As long as she has something to give the team, she will stay.
On the other hand, her ex. does not know, wether to renew the contract or not. But Mia does know that she wants to leave the Norwegian national team again, in order to spend more time on her job and studies.
*
Go travel with Camilla
Camilla has now passed an international exam within the travel agency business, enabling her to get a job worldwide. But for now, she has started her own travel agency in Denmark together with three old collegues from her former place of work (Rejsegalleriet). The name is Travelsense and deals with sports travels.
*
No activism
Camilla states in the press, that she does not bother taking part in any political activism for homosexuals. She is not interested in participating in any "crusades" or public debates, even though many have asked her to. She just want to be a handball player and otherwise be left alone. People must fight their own battles.
*
Unfair treatment
Camilla's red card in the match against Randers also made Anja's temperature rise to "red alert" (see news page) which had severe consequenses not only for Camilla and Anja but also for Slagelse, which missed important points. On tv, Camilla seemed calm when interviewed shortly after, but deep inside she was angry too. How could anybody think she shot against the goalkeepers head on purpose doing that penalty shot? On her homepage she comments: "The reason I did not complain more about the incident is the fact, that no matter how I behave, I cannot make the referee change his mind. But furious I was, and I still find it unfair and incomprehensible that the referees could make a report giving me quaranteen - also after having seen the video tape." [2002]
*
Pin-up calender with the Slagelse players 2001
The calendar can be bought from Slagelse's homepage (if you can find the right formula, that is) and if you want a sneak-peak for free, you can visit the gallery in Ekstrabladet. Personally, I prefer the girls in combat gear and sweaty hair instead of artificial posing, tonz of make-up and busy stylists. No nudes, I must disappoint you.. and Camilla is presented as James Bond in a white shirt.
*
To archive no. 1
Archive no. 2
---