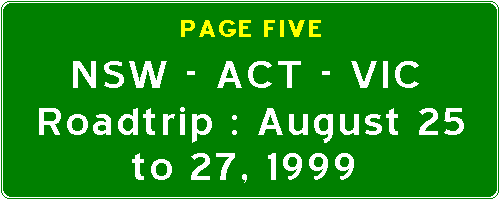 Page 1
Page 2
Page 3
Page 4
Page 5
Page 6
Page 7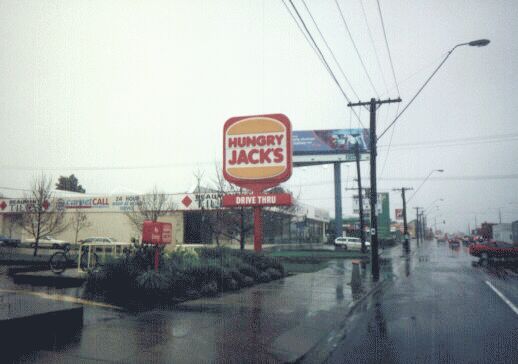 I woke up, packed my bags and went off in search of a decent breakfast. I headed north-west along the Princes Highway (also known as the Dandenong Road) and found a Hungry Jack's. I took this photograph to show overseas viewers what Burger Kings are called in Australia. They have almost exactly the same menu, the same logo and the same décore inside. But alas, the restaurant was not open... so I had to settle for a McDonald's breakfast, one of the most effective laxatives known to mankind.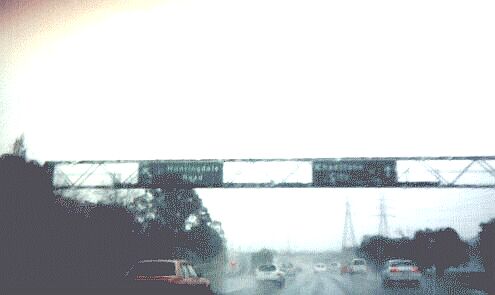 As I mention elsewhere on my Australian Highways Page, New South Wales tends to use graphical exit signage on its freeways, whereas Victoria uses American-style gantries. For the entire time I was in Melbourne, the rain was heavy and constant, so I apologise for the poor quality of the photographs from here on. In any case, the left sign says "Huntingdale Road" with a metropolitan route marker, which looks exactly like a NSW state route marker. The right sign says "Chadstone - City - M1". This gantry is on the M1 (Monash Freeway).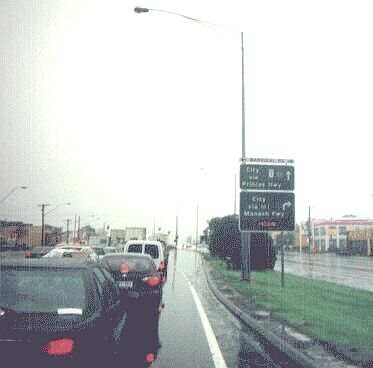 This is back on the Dandenong Road (Alt-1), and shows what a typical advance intersection directional sign looks like in Melbourne. What is interesting about this sign is that a variable message sign at the bottom tells you what traffic conditions are like on the parallel freeway, the M1. The top sign says "City via Princes Hwy (Alt-1)", the bottom sign says "City via M1 Monash Fwy (MEDIUM)", which indicates that traffic conditions are of a medium quality. Other words I have seen are "HEAVY" and "LIGHT". I've never seen "DEAD STILL" or "DON'T BOTHER" though. :-)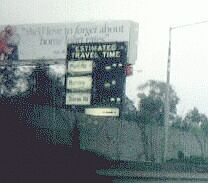 Dotted along Melbourne freeways, you will see variable message signs which give the estimated travel time in minutes to a variety of interchanges. As my windscreen was blurred by a sheet of rainwater, this photo isn't very clear. There are also coloured bars between each interchange name - if it's green, it means that the particular section of the freeway is experiencing light traffic conditions. Yellow means medium, and red means heavy. I think a skull-and-crossbones should be used for heavy traffic myself. :-)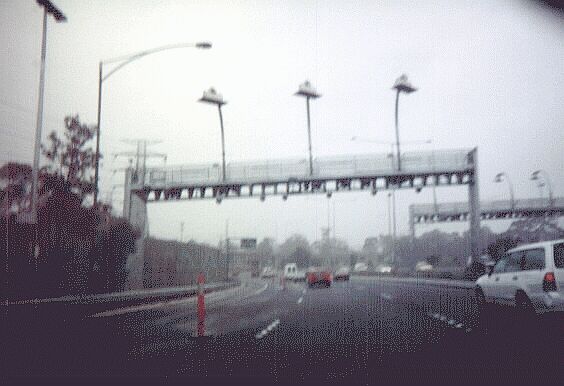 Part of the Monash Freeway is part of the CityLink tollway. This is the first electronic tollway of its kind in Australia, modelled on Toronto's 407 tollway. Though this section was previously free to use, Transurban - the corporation which runs CityLink - widened and upgraded this section, so the State Government gave them the right to toll this section. The gantry has several electronic sensors, each covering one lane, which communicate with transponders known as E-Tags attached to the windscreen of the passing car. The toll is then deducted from the account for that car. If the car does not have an E-Tag, a camera takes a picture of your registration plate, and Transurban then sends you a fine. However, if you have bought a DayPass and registered your number plate to use CityLink for that day, you will have no worries. More information can be found at CityLink's home page.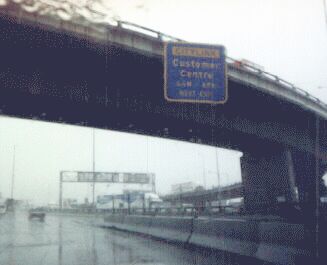 All signage related to the CityLink tollway is not in the standard green and white, but in this blaze orange and dark blue livery. Whatever your opinion on the aesthetics of this colour scheme may be, it is useful as it is easily identifiable as being related to CityLink and CityLink only. This sign directs motorists to the exit to the CityLink customer service centre, which I visited and from where I picked up some brochures and technical information.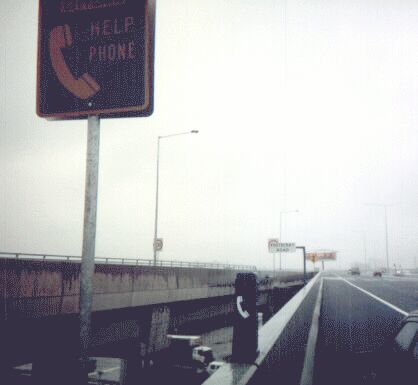 I then headed north from the M1 (Westgate Freeway) and onto the Western Link of CityLink. The Southern Link of CityLink is not yet open; it is scheduled to open in late September 1999. I did see the tunnelworks though, and they looked interesting, the traffic was too heavy for me to take any pictures though. The Western Link's route number is Metropolitan Route 43, and is basically an extension of the existing Tullamarine Freeway. On the Bolte Bridge over the Yarra River, my rear left tyre had a blowout at 90km/h and I pulled into this emergency bay in the pouring rain to change my tyre. The emergency phone, much to my chagrin, is not yet working (or perhaps I don't know how to work it). So on a 50 Fahrenheit / 10 Celsius day in 30-knot winds with the rain pouring down, I had to change the tyre with trucks and cars roaring past me, flicking up water onto yours truly. Several days later, and I am still shivering. In the background is an American-style graphical merge sign, the first time I had seen this anywhere in Australia. In NSW, a yellow sign with "MERGING TRAFFIC" written on it is used.
I then headed off CityLink and headed east along Metropolitan Route 83. This route is effectively the northern bypass of downtown Melbourne, and eventually becomes the Eastern Freeway. On this freeway, I noticed distance markers every 200 metres; the markers appear to be based on distance from Melbourne and look something like this:
1
2
.
6
I exited at Chandler Highway, and headed south to the suburb of Kew, where the VicRoads headquarters is located. I had much fun browsing through the well-stocked bookstore, which was replete with books, brochures and technical manuals on anything to do with roads. I bought a book called "Roads For The People: A History Of Victoria's Roads", which is a VicRoads publication; I also picked up a free magazine about the Hume Highway through Victoria, the official VicRoads map of Victoria, and a bookstore catalogue.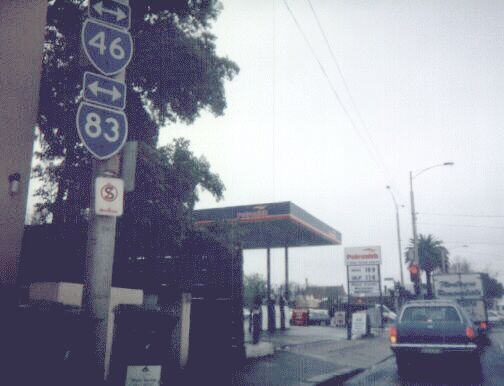 I then proceeded to head into the centre of Melbourne (the General Post Office, on the corner of Elizabeth and Bourke Streets), from where I would start my journey back home. This is the intersection from which all distances in Victoria are marked. On my way, I took this photograph of these metropolitan route shields. Metropolitan routes in Melbourne are very well marked, often with supplementary arrows. Beneath the markers is a No Standing sign - an "S" in a red circle and slash. New South Wales just writes "NO STANDING" in red.
Back
Home
Next
© Bradley Torr. Last updated 22-Jan-2003.