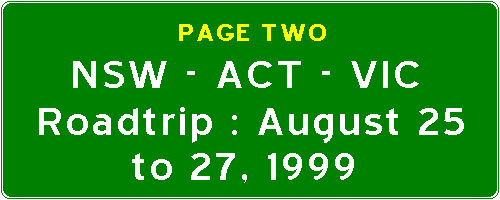 Page 1
Page 2
Page 3
Page 4
Page 5
Page 6
Page 7
After passing through the town of Robertson, I continued west along National 48 through Wingecarribee Shire to the town of Moss Vale, which is where the shire chambers are located. It's a fairly decent two-lane road with several overtaking lanes of considerable length and good quality shoulders, though I couldn't help but feel that it needed realignment in parts. There were some roadworks going on along this stretch. A railway bridge just before Robertson is in the process of being replaced, and trees which have grown to close too the roadway are being removed.
OK, so this picture isn't really relevant to my roadtrip as such, but I couldn't help but stop my car when I noticed this building on the main road through Moss Vale. 'Torr' is quite a rare surname - there are only about 20 of us in the Sydney telephone directory, and I know many of them - so I had to take a picture of this, because my family wouldn't believe that this car dealership exists. I popped in and said hello to the owner, who I could have sworn was my Dad's long lost twin brother. We weren't able to ascertain if we were related though.... but it's nice to know that one of the clan might have made it somewhere in life. :-) NOTE: As of November 2001, this car dealership had changed name to Southern Highlands Mitsubishi. The name must have scared potential customers off. ;-)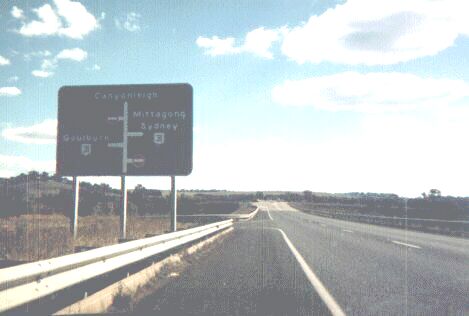 13km (8 miles) west of Moss Vale, Highway 48 ends to join up with National 31 (the Hume Highway). The Illawarra Highway itself continues on past this diamond interchange as an unnumbered rural road to the hamlet of Canyonleigh and eventually becomes unsealed. This sign shows how diamond interchanges are often signed in NSW - the off-ramps are marked with No Entry symbols. There is an error on this sign though - Hume Highway is marked as a National Route, when in fact it is a National Highway, and therefore deserves a green and gold shield.
The Hume Highway is my favourite road of them all; maybe because for 16 years of my life I grew up right next to it. About eighty percent of its length from Sydney to Melbourne is now dual-carriageway, much of it is of full freeway standard. The only place where it encounters a traffic light between Sydney and Melbourne metropolitan areas is in the city of Albury, a large town which has yet to be bypassed, and a pedestrian-activated signal in the small town of Holbrook, to the north of Albury.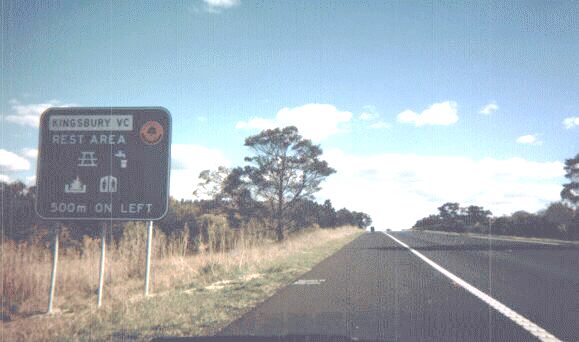 This stretch of the Hume Highway between Sydney and Canberra is also officially designated as the Remembrance Driveway. The Driveway was inaugurated by Queen Elizabeth II in 1954 to commemorate the fallen soliders of World War II. The RTA has recently upgraded many of the rest area signs along this route, and has officially named rest areas after the soldiers which the Driveway honours. The "VC" in the soldier's name stands for "Victoria Cross", which is the highest medal of honour given to defence personnel for acts of heroism in war, often given posthumously. The little shield in the top right corner is the Remembrance Driveway marker. Now, if only the RTA would upgrade the actual rest areas themselves, many of them are a little threadbare on the facilities side - where are our vending machines and free maps! :-)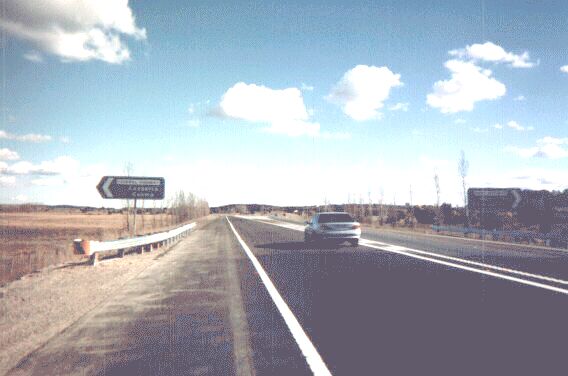 The Hume Highway then heads south-west and bypasses Goulburn. I remember the fanfare which occured when the bypass opened around 1992. I also remember the bleating of the many business owners who complained about how their business would collapse without the 20,000 vehicles or so passing through every day. Well, their predictions turned out to be false; the main street has been revitalised and the city is now almost free of traffic noise and air pollution. Soon after Goulburn, the highway splits off into two directions - left takes you onto National 23 (Federal Highway) to Canberra and the skifields; right keeps you on National 31 (Hume Highway) down towards Melbourne. This is a picture of the split (though the signs aren't very clear).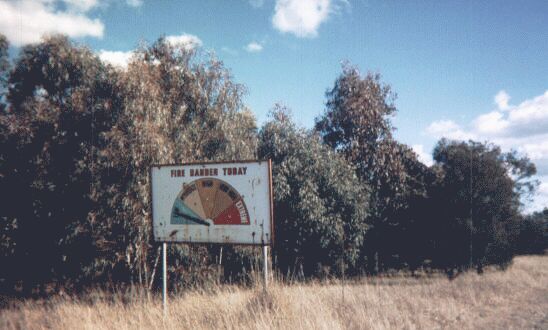 This sign is a common sight on rural Australian highways - a meter showing you what the likelihood of fire is on that day. As this picture was taken towards the end of winter, the Fire Danger Today is pretty much stuck on "Low". With bushfires being a major threat to life and property every year in Australia, these signs are necessary to inform locals and visitors alike. The levels of danger are Low, Moderate, High, Very High and Extreme. They are generally maintained by the local Bush Fire Brigade.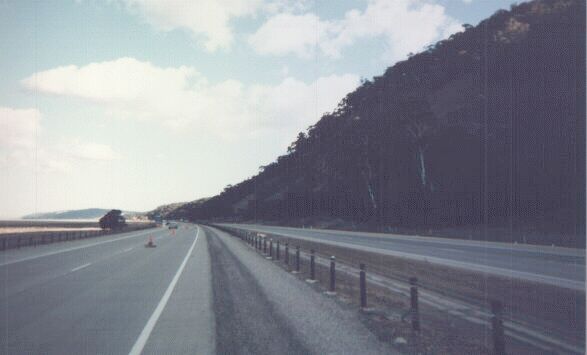 The Federal Highway isn't yet fully duplicated from the Hume Highway to Canberra, but rest assured, they're working on it. This is a recently duplicated section of the Highway as it passes Lake George. The lane closest to the camera is still closed as there are some grass planting and shoulder treatment works to be done in the median, and painted lines have to be sandblasted in some places on the existing carriageway. This section is concrete, reflecting the RTA's recent fetish for this pavement material.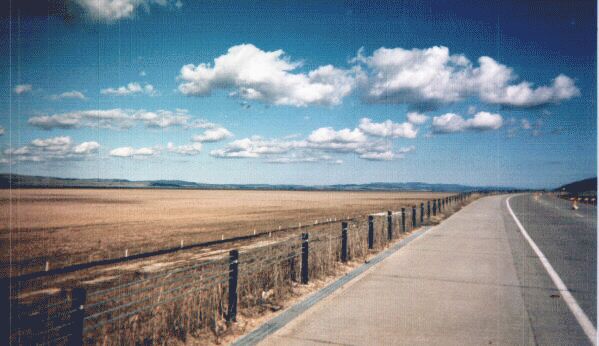 This is a view of Lake George from the same section of National 23. The Lake is quite an interesting phenomenon; it keeps appearing and disappearing with no correlation between rainfall and other climatic indicators. At the moment, it is quite empty and sheep can be seen from some places happily munching away over the lakebed. Legend has it that the lake is officially classified as land, so farmers are still liable for property taxes and the like even when the lake is full. The Lake, when full, is also a Bermuda Triangle of sorts; boats have gone out, never to be seen again... drainage works can be seen a little closer to the highway.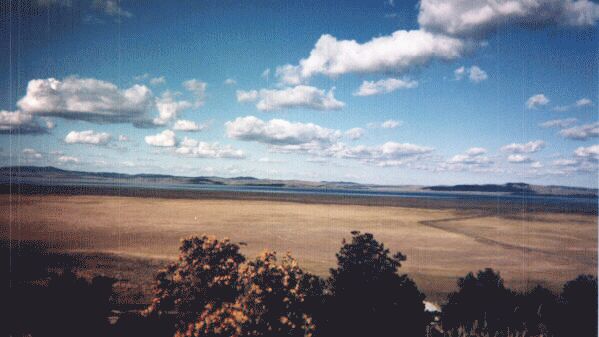 The road's right of way occupies a narrow plain between a range of hills and the lakebed; the highway turns south and passes through a pass in the range known as Geary's Gap. Up the top of the gap is a lookout, and from this lookout you can actually see some of the remaining water.
Back
Home
Next
© Bradley Torr. Last updated 22-Jan-2003.