The Modesto Bee Newspaper
Modesto, California - Modesto City Schools bus driver trainer Sandra Farnham made the surprise announcement to 60-plus drivers who arrived at Beyer High School on Tuesday morning for a back-to-school training exercise.
They would be the victims in a simulated busjacking.
But when the drivers playing the students they typically transport, piled into a Modesto City Schools bus, the warning didn't much matter. The situation was dramatically realistic.
The tools used by the student terrorists -- acted by Merced County Sheriff's Department SWAT Team members Mark Goddard and Scott Hall -- were real handguns, firing excruciatingly loud blanks.
CHECK THAT BUS!
• Find out how to safety check a field trip bus before allowing it to depart with kids on board.
Click Here
• FREE School Bus Safety Video
Click Here
• 2SAFESCHOOLS Transportation Policy Recommendation
Click Here
Like many terrorists, Goddard demanded to send a message -- to the FBI, the media and school district Superintendent Jim Enochs. He ordered Sterling Transportation driver Pat Chaves to radio Enochs.
Within 15 minutes, Goddard "executed" Scott Ousdahl, school facilities director, and bus driver Cindy Bettencourt, both of whom played students in the simulation.
"It was scary," school bus driver Cathy Watson said. "It's going to make me watch my kids a lot more closely when they get on."
One school bus driver was reduced to tears. Others admitted they were frightened. But the demonstration was entirely necessary, said Merced County Sheriff's deputy Vern Warnke, the training organizer. He also works as a substitute bus driver for the Weaver Union School District in that county.
"My big thing is you train for it, you train for it, you train for it," Warnke said, "and you hope you don't need it."
The hostage simulation and the subsequent presentation by Warnke are part of the minimum 10 hours of annual continuing education all school bus drivers must take, Farnham said. Later in the day, the drivers -- from Modesto City and other districts -- were schooled in how to handle a bus fire.
Warnke doesn't recall any major school bus hostage situation since the one in Chowchilla in 1976. Then, three men took control of a school bus. They transferred the 26 school children and bus driver to two vans, drove about 100 miles north to Livermore and put them in a moving van they had buried in a quarry. While they were trying to arrange for a $5 million ransom, the driver and some of the older boys managed to dig their way to freedom.
Put incidents such as the Columbine High School massacre in Colorado and Monday's arrest of a Beyer High student on charges of sending violent threats via e-mail to his school, point to an increasingly violent society, Warnke said.
"(Bus terrorism) is going to be the next wave," Warnke predicted. "(Terrorists) have been hijacking airplanes for a long time. That seems to be dying out."
Bus drivers need to be prepared to protect their students when a violent situation unfolds, he said. Continued on Page Two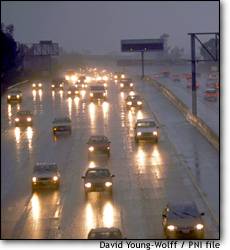 Some cars don't stop like they used to
FROM DATELINE NBC NEWS -  You're heading down the interstate. Ahead, a driver slams on his brakes, giving you just seconds to slow down and get out of the way. Do you push down on the brakes or pump them? How do you recover if your car starts to skid? If you don't know the answers to these questions, you should. Click Here for full story.
Anti-lock brake systems (ABS) are designed to prevent skidding and help drivers maintain steering control during an emergency braking situation.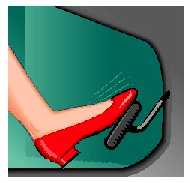 ABS has become an increasingly popular safety feature and was included in more than half of all new cars and more than 90 percent of light-duty trucks built in North America in 1998. Do you know - really know - how to use the ABS feature? Click Here for information on how to properly use ABS brakes.
ROSCO offers free school bus mirror adjustment video kit
School buses are provided with a variety of different mirrors for the driver to use while viewing the area around the bus. What most people don't know is that an alarming number of drivers don't have their mirrors adjusted properly. The mirrors on the school bus can go out of adjustment over time, giving drivers a false impression that blind spots are covered by the mirrors.

A free VHS video guide and pavement grid chart is now available from ROSCO. The video shows how to set up a painted grid on the bus lot pavement for bus drivers of small and large school buses to quickly check the adjustment of their mirrors in accordance with FMVSS 111. The video and accompanying diagram is free from ROSCO. Send $5 shipping and handling with your request for the "Field of Vision" video kit, to: Lew Lupton, ROSCO, INC., 144-31 91st Ave.  Jamaica  NY  11435. Click Here for ROSCO's website.