Free school bus safety video
By James Kraemer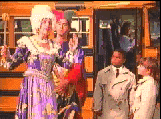 Navistar International has combined forces with the National PTA to offer a complete "Be Cool, Follow the Rules" cost effective school bus safety program, including a coloring sheet, you can print out on your computer.
Operation School Bus Safety, is part of "Be Cool. Follow the Rules," a nationwide school bus safety campaign. The award-winning children's video emphasizes appropriate behavior on the school bus, emergency evacuation procedures and instructions for the correct ways to boarding and exiting the school bus are also featured. The video is available for free (plus $5 S&H each) from Navistar.
2safeschools recommends this video as part of the school's bus safety program for kindergarten and elementary school age kids.
When placing middle school age kids in a mentor role the program can be effective through through middle school age at K-8 schools -- middle school age kids can learn a great deal when they are doing the teaching.
School staff may also want to recommend this free video to parents for viewing and school bus safety discussions with their children at home and in PTA meetings.
Your comments about this story, Subject: Be Cool
For more information on this school bus safety program click on Navistar.
Please Note: NAVISTAR has finished ugrading their School Bus website. In the event the provided links stop working or you have questions to 2safeschools about the program, please e-mail 2safeschools.
(REV: Mar 26 2004)
E-Mail your story
Every person has a great school or school bus story, idea, war story or "something funny happened today" story. Perhaps something for the rest of us grown-ups to think about or perhaps to affirm, encourage and support other adults.
When e-mailing please include your name, contact address and a little about yourself. If the story is controversial and you wish to remain anonymous we can often do that, depending on the story, or not print the story until it can be verified through another source.
For more about submitting stories, Click Here.

Copyright ©1998 James Kraemer. Click on this Copyright
Notice to view copy without charge limitations.