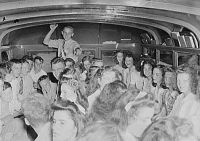 1943: Charlotte County, Virginia. Boy in back is member of safety patrol. One always went along to help keep order on the bus. Philip Bonn, photographer. Farm Security Administration - Office of War Information Photograph Collection (Library of Congress)
Standees on America's School Buses
On the one hand it is claimed that school buses do not need seat belts, because of the compartmentalization feature engineered in to school buses. The National Traffic Highway Safety Administration NHTSA recommends in their advisory, "The Number of Persons That Can Safely Sit on a School Bus Seat," that Federal motor vehicle safety standard No. 222, "School Bus Passenger Seating and Crash Protection" requires that the interior of large buses provide occupant protection so that children are protected without the need to buckle-up. Yet, some states violate the very engineering that is supposed to help keep kids safe. Eleven states currently allow students to stand in the aisle on their school buses -- transporting students up to 20 percent over the school bus rated capacity. Doing this allows school districts and bus companies to transport more students with fewer buses and fewer drivers. In Pennsylvania and other states a school bus caught with students or luggage forced part-way in to the aisle is considered

Seat Belts on
The School Bus!

POLL
Should America's school buses be equipped with seat belts?

Non 2safeschools members can participate in this poll by clicking on GUEST
at login.

CLICK HERE

unsafe and prohibited. Pennsylvania State troopers do not hesitate to hold an overcrowded bus. The bus is detained until another bus arrives to transport the students exceeding Pennsylvania school bus safety standards. Some school boards complain that the police are too strict. These choose to ignore the reality that when students are outside their seating compartment the students are no longer protected -- it is virtually the same as parents transporting children without child car seats and seat belts buckled. Parents and schools should lend considerable thought to stopping this kind of risky cost-cutting. Or, if overcrowding the buses is not really that unsafe -- apparently, eleven states believe this to be the case -- then should the rest of the country save some money by exceeding the school bus seating capacity? The following article is a concise look at this issue.

Original story title, Standees on the School Bus, School Bus Safety Fact Sheet, published by the National Safety Council, From the Motor Transportation Division/School Transportation Section School Bus Safety Fact Sheets (handy guides with concise information)

By The National Safety Council
The Nation - Approximately 24 million pupils are transported on school buses each day. The National Highway Transportation Safety Administration (NHTSA) Highway Safety Program Standard Guideline 17 specifically states that every student must be seated before the bus is in motion. Under Federal Motor Vehicle Safety Standard No. 222, school bus passenger safety is acccomplished either through "compartmentalization" or lap belts, depending on the Gross Vehicle Weight Rating of the bus. Some states and school districts have policies that allow students to stand on school buses. Standees are not afforded any protection in crashes or sudden driving maneuvers.

CHECK THAT BUS!

• Find out how to safety check a field trip bus before allowing it to depart with kids on board.
Click Here

• FREE School Bus Safety Video
Click Here

• 2SAFESCHOOLS Transportation Policy Recommendation


Click Here

Since the safety of pupils in school buses is of great concern to the public, and to parents in particular, the School Transportation Section of the National Safety Council recommends that a seat be provided for each child who rides on a school bus and that each child be seated before the bus is put in motion.

Note: Although the information and recommendations contained in this publication have been compiled from sources believed to be reliable, other or additional safety measures may be required under particular circumstances.

NHTSA recommendation:
"The Number of Persons That Can Safely Sit on a School Bus Seat"

Click Here to comment on this story - Subject: Overcrowded School Buses.

The National Safety Council invites you to visit their new "Driver Safety" page. Topics addressed in the NSC's new "Safety Agenda for the Nation" addresses critical areas where Americans are dying or being injured in record numbers.

Web site visitors will find driving safety tips, resources, games and products to keep their families safe on the road. Also included are articles on cell phone safety, multitasking, graduated licensing, and statistics on motor vehicle crashes and their related costs to the nation. The site also provides links to the NSC's highly successful Air Bag & Seat Belt Safety Campaign, the National Seat Belt Coalition, and Fact Sheets on Auto and School Bus Safety along with links to pertinent sites such as the National Highway Traffic Safety Administration and others.
Putting a stop to bullying
A new childrens' story about helping kids deal with bullies is for, "those of us who get scared sometimes," says Micheal Hardgrove, (Wewoka, Oklahoma), author of the story, "The Echo and The Pixie." Hargrove has made the story available on-line for schools. At the conclusion of the story is a link to a royalty free play of the story. Hardgrove hopes kids like the story, but says more important than that, "I hope you remember what the Echo learned about telling someone who cares whenever ANYONE is bothering you. There's always someone you can tell... Tell a Mom... Tell a Dad... Tell a Grandparent... Tell a Teacher... No matter what anyone says, It's still okay for you to tell." Click Here to comment on this story - Subject: Orge and the Pixie.
DEATH AT THE SCHOOL BUS STOP - what happens, how it happens and how to help prevent it
DEATH AT THE SCHOOL BUS STOP

More kids die at their bus stop, many run over by their own school bus, than die in the 55,000 school bus crashes that occur in the United States each year. 2safeschools looks at how parents and school staff can help prevent death at the school bus stop. Click Here for: Death at the school bus stop. Click Here for: 2safeschools Press Release. Click Here for: Free training presentation.