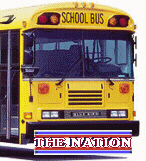 School bus seat belts issue heating up
Seat Belts on
School Buses

Should seat belts or other effective restraint system be required on America's big school buses?

Your Thought

After months of studying the school bus seat belts issue, my research indicated there's as much or more emotion than fact involved in this issue. This well written and balanced story from SHNS helps demonstrate what can happen when the bureaucracy becomes involved in what should be a relatively simple issue. -JK

By Joan Lowy
Reporter with Scripps Howard News Service. First published by Scripps Howard News Service, original story title, "SCHOOL BUS ACCIDENTS FOCUS ATTENTION ON LACK OF SEAT BELTS," 04/07/1999, Copyright ©1999, All Rights Reserved. Posted by permission from Scripps Howard News Service.
Scripps Howard News Service
The last time David Burzinski saw his 9-year-old daughter Kristine alive, he kissed her goodbye as she set off to catch a bus to school. Four hours later, he identified her body at a morgue from the clothes she was wearing, her face battered beyond recognition.
On the way to her school in Monticello, Minn., Kristine's school bus collided head-on with a gravel truck. Both vehicles spun around from the force of the impact, colliding again along the bus' left side. The bus went through a ditch and came to rest in an open field.
CHECK THAT BUS!
• Find out how to safety check a field trip bus before allowing it to depart with kids on board.
Click Here
• FREE School Bus Safety Video
Click Here
• 2SAFESCHOOLS Transportation Policy Recommendation
Click Here
Of the 13 children on board, three -- including Kristine -- were killed. Four others were critically injured. Like most school buses, Kristine's bus wasn't equipped with seat belts. "As far as I'm concerned, my daughter died for the corporate bottom line," David Burzinski said. "I firmly believe that had there been seat belts my daughter would be here with us today."
Private contractors, who operate a third of the nation's 440,000 yellow school buses, and many school officials have fought the installation of lap belts on school buses for nearly 30 years. For the most part, federal and state governments have gone along with them.
That may be changing. Greater public acceptance of seat belts and indications that serious injuries to students on buses are on the rise have reinvigorated the controversy.
Two federal safety agencies, the National Transportation Safety Board and the National Highway Traffic Safety Administration, are taking a new look at the issue following a series of tragic school bus accidents, including the one that killed Kristine Burzinski.
The safety board is expected to issue a recommendation by late spring or early summer on whether seat belts and other safety improvements should be required on school buses. The board, which investigates bus crashes, cannot mandate the installation of seat belts. But its recommendations carry significant weight and could influence a two-year study being conducted by the highway administration, the regulatory agency, on how to make school buses safer. That study is expected to be completed in June 2000.
Last year, the National Parent-Teacher Association for the first time adopted a resolution calling for all new school buses to be equipped with lap belts. The American Medical Association, Physicians for Automotive Safety, the American Academy of Pediatrics, the American College of Emergency Physicians and other medical groups also endorse belts.
The number of school districts or communities requiring lap belts in school buses also has risen in recent years to nearly 300. Only two states, New York and New Jersey, require that school buses be equipped with lap belts and only New Jersey mandates their use. But there has been an increase in bills proposed in state legislatures that would require school districts to phase-in lap belts as they purchase new buses. This year, bills were introduced in 31 states.
Most of those measures will die because of opposition by commercial school bus operators and school transportation officials. However, seat belt proponents say they believe they have a chance to enact laws requiring belts on new buses in North Carolina, Florida, Minnesota and New Hampshire.
Lap belts add about $1,100 to $1,600 to the price of a school bus, which typically costs between $40,000 and $70,000. School buses generally last 12 to 15 years.
Opponents of requiring belts contend that school buses are already the safest form of road transportation. Seat belts, they say, may do more harm than good. Kids may use them as weapons. They may slow students exiting a bus in an emergency. They may cause abdominal injuries in certain crashes.
Supporters can counter each argument. Students who are belted in are less likely to be discipline problems. Students dazed or knocked unconscious in a crash or rollover would have even more trouble exiting than students held in place by belts. The risk of abdominal injuries is negligible and those injuries are preferable to worse injuries without belts.
School bus safety has been exaggerated, seat belt supporters say. While deaths to students aboard buses are rare, they note that there are a significant number of serious injuries and they are on the rise.
Indeed, the ubiquitous yellow school bus is a vehicular dinosaur, slow to adopt modern safety features, critics charge. Only the United States and Canada use the yellow school bus. In Europe, children are transported on heavier motorcoaches with seat belts.
"It's become a joke on the international scene. When the German engineers see our yellow school bus, they laugh at us," said Dr. Alan Ross, president of the National Coalition for School Bus Safety. Continued